The 40th edition of the Limerick biennial, The Gleaners Society, takes a polemical look at the modern Republic of Ireland
Traditionally, gleaning refers to the act of gathering excess crops after a harvest and redistributing them to people in need. Curated by Sebastian Cichocki, chief curator of Warsaw's Museum of Modern Art, this year's EVA International, titled The Gleaners Society, borrows the concept to meditate on subjects including food, collectivity, ecology and climate change. Given its context – the modern Republic of Ireland, at once rural and firmly privatised – Cichocki's exhibition is also polemical: as a call to redistribute as well as to counter both accumulation and waste.
Food, how it is made and how it is allocated, is a constant theme here. One key art-historical touchstone is Gordon Matta-Clark's seminal project FOOD (1971), the New York restaurant and artists' cooperative documented in lustrous photos at the University of Limerick. At the same venue, My-musical (We-Musical) (2022), a musical film by My-Musical Collective and Pidsoma Shelter, profiles the various wartime efforts of an experimental kitchen in Lviv set up to deliver vegan food to the nearby front. At the Limerick City Gallery of Art, Iza Tarasewicz's small luminous sculptures made from the remains of obsolete farm machinery and Rosalind Fowler's trippy filmic portrait of the London agriculture cooperative Organiclea (All is leaf, so to amplify the wonder, 2020) convey the radical possibility of food in its ties to gathering and ritual.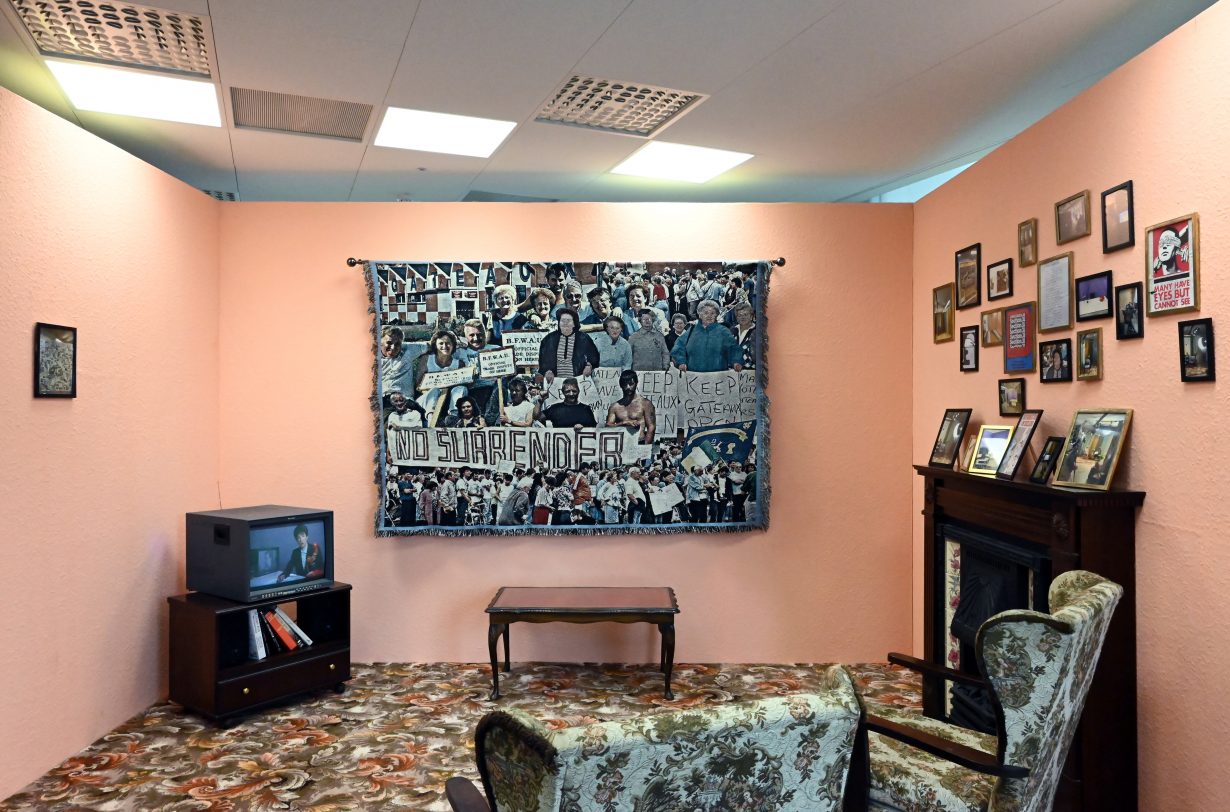 Navine G. Dossos's The Grove (2023) – an installation comprising a largescale mural and decorated furnishings in the eponymous vegetarian café – highlights the plants that have always played a role in Irish food culture. Cushions carry discreet Extinction Rebellion insignia, while the mural refers to the deep ecologist Joanna Macy, who has written extensively on climate grief. Sitting down at one of the café's small painted tables and looking at the affectionately painted hazelnuts and wild cherries covering its walls, I was struck by just how little I knew about the abundant surrounding countryside. Against a backdrop of climate breakdown, what Macy calls 'The Great Unravelling', this knowledge is of course bittersweet. 
In a small empty shopfront on Nicholas Street, Diane Severin Nguyen's film IF REVOLUTION IS A SICKNESS (2021) recruits Polish teenagers to stage an infectious advertisement for revolt – blending Marxist theory and K-pop – in the empty streets of pandemic-era Warsaw. Nearby, stretched high above visitors' heads at a contested vacant site of archaeological significance is Clodagh Emoe's Reflections on a City Lot (2023), a monumental print of common ragwort – a local weed of great value to insects, which landowners are nonetheless instructed to control. In different ways, both works explore urban space and history, gleaning moments of possibility in what is usually censored or overlooked.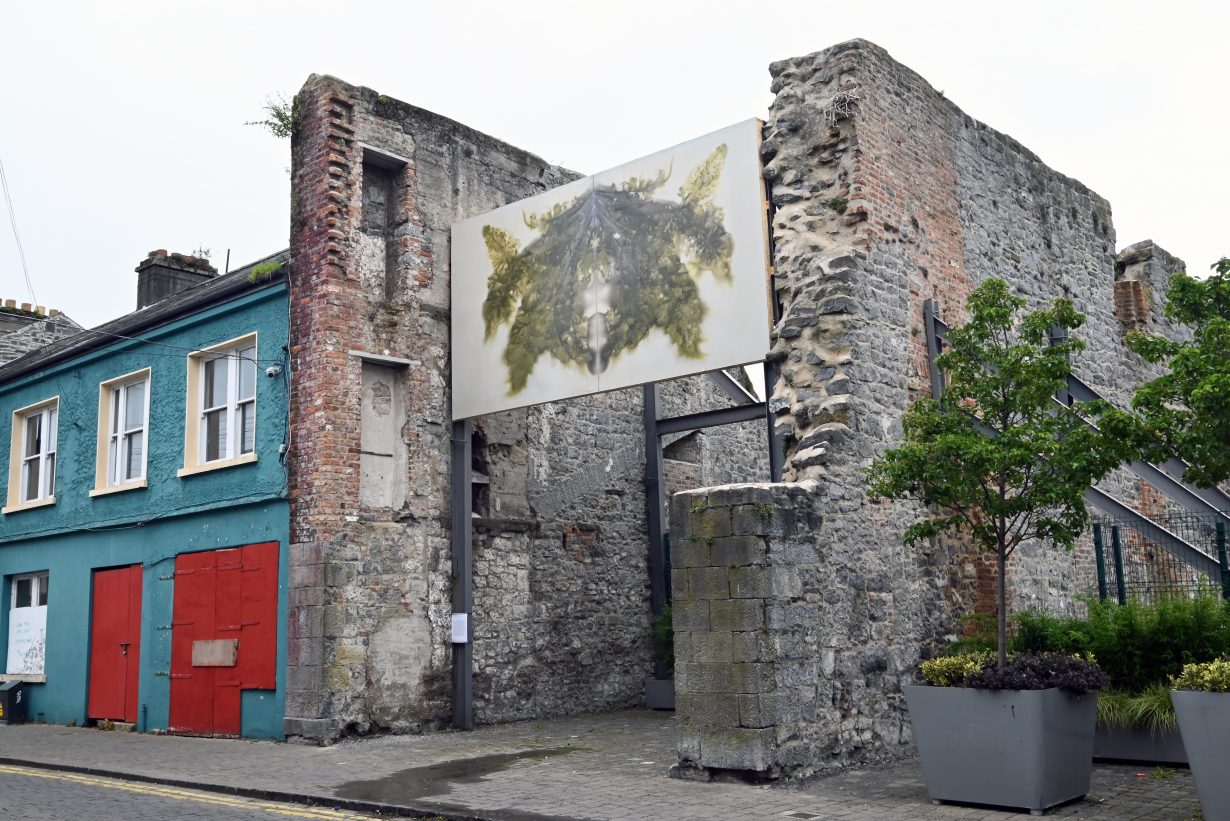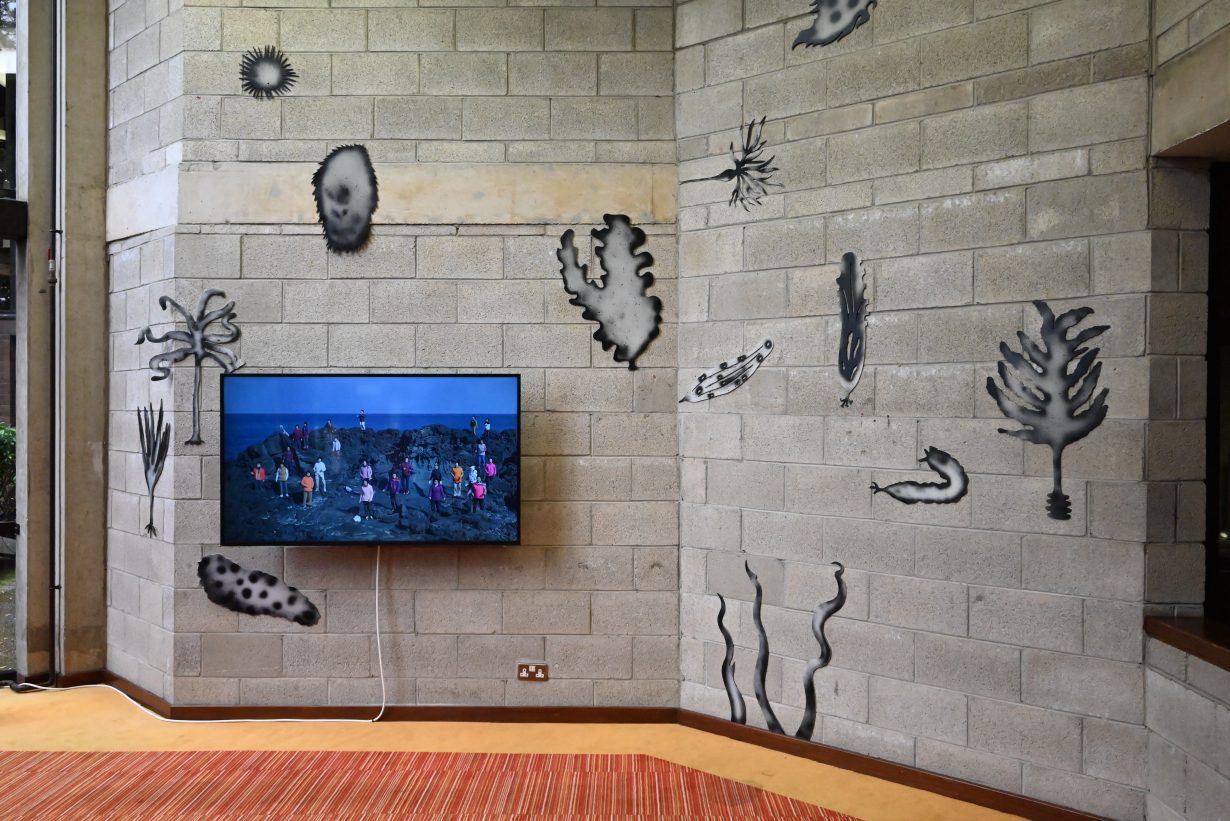 At the top of Gardens International, an as-yet fairly empty office block, Frank Sweeney's film Few Can See (2023) uses oral history to give voice to those censored by Ireland's state broadcaster RTÉ under the infamous Section 31 of 1960's Broadcasting Authority Act, which blacklisted members of, and those with even tangential links to, paramilitary organisations. The film is shown within a set of a traditional Irish living rooms, made in collaboration with artist Michelle Malone. Sitting in one of the two wood-framed armchairs in front of the tiny TV, the film made me think about passivity and what kind of citizens uncensored broadcasting would create. Downstairs, Bea McMahon's funny and uncomfortable film installation Another Shot at Love (2023) uses group improvisation (and self-inflating popcorn sculptures) to explore comedic tropes of romantic love. The collective is at the heart of both works: for Sweeney, the radical groups erased by Irish history; for McMahon, the friends and peers who come together to experiment and create the work. 
At the Limerick Gallery of Art, Rory Pilgrim's film The Undercurrent (2019) is a moving portrait of ten young climate activists in Boise, Idaho. Throughout, song and a specially composed score by Pilgrim get at the emotional heft of looming climate breakdown. In a University of Limerick atrium, ikkibawiKrrr's film Seaweed Story (2022) is a heroic portrait of the haenyeo, all-female divers who harvest seaweed in South Korea, singing in unison at the edge of a cliff. While the biennial pays particular attention to these marginal and at-times maligned groups, singing, it seems, is one way of lending their situations universal resonance. In this era of climate change and diminishing resources, collectivity is perhaps the most enduring and indeed hopeful aspect of this year's EVA – offering us an idea of artmaking that is based on coming together and sharing what remains.
40th EVA International 2023, Various venues, Limerick, through 29 October