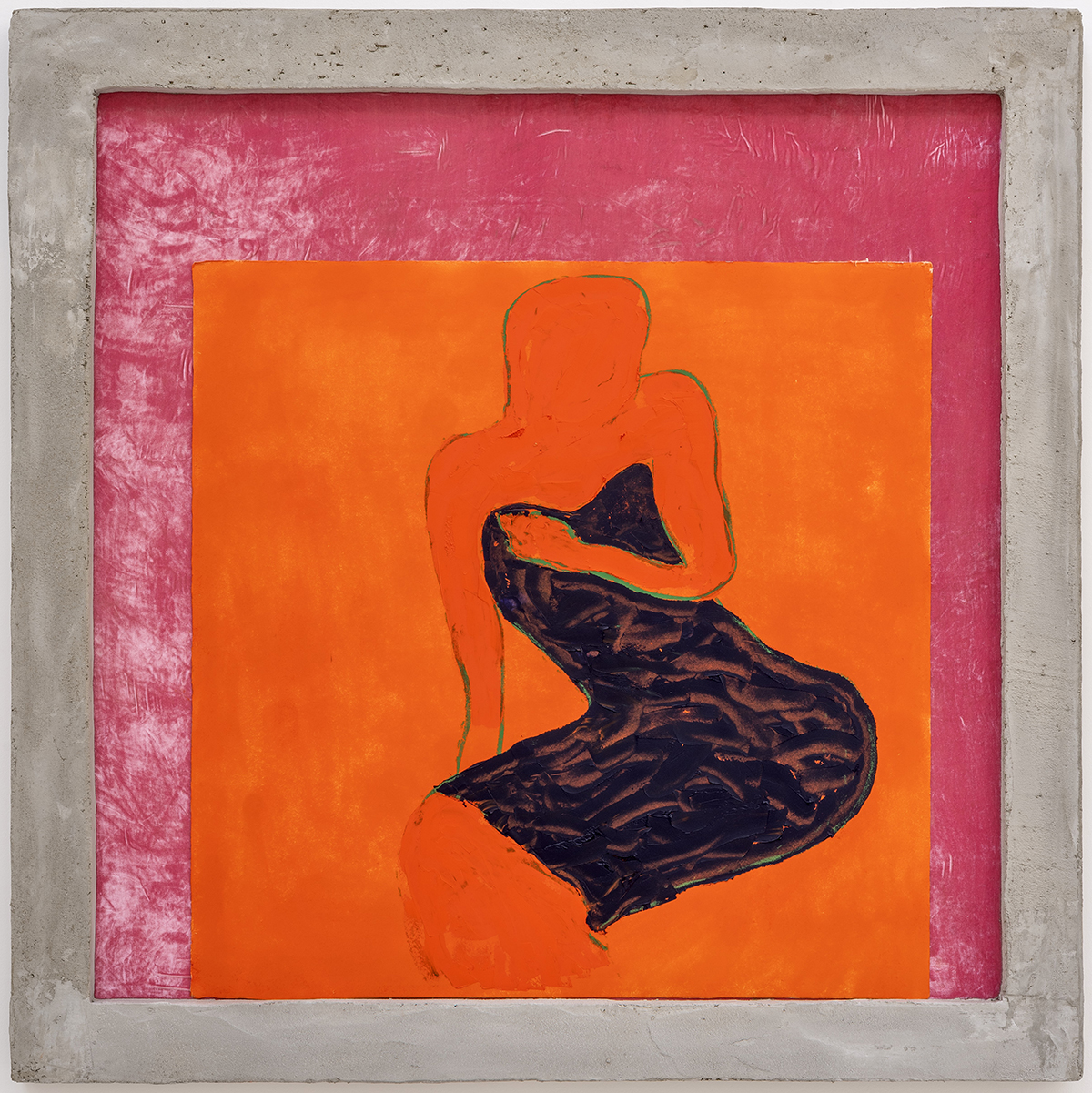 What Alvaro Barrington loves becomes the work. In 2019 the Venezuela-born, London-based artist displayed the work of 49 artists in Ely House, the site of Ropac's UK gallery, in an exhibition titled Artists I Steal From (cocurated with Julia Peyton-Jones). For his first show in France, though, it is music that takes the stage. The presentation has the frank sensuality, and vintage physicality, of a mixtape: the title of the exhibition is from Drake's Fancy (2011), Notorious B.I.G. lyrics are carved in concrete (When I was just trying to feed my daughter / Coogi, all works 2021) and the show's largest and most prominent work features Rihanna in the bath (The Bather Rio/Ro/St).
On the ground and first floors are paintings on burlap paper with hefty, brutalist concrete frames and plush fabric mounting, usually velvet but also carpet, each in its own block colour. The paintings rest on the bottom of their frames, as if displayed on a mantelpiece, sometimes in the middle, sometimes to one side. They are painterly renderings of silhouetted figures in a handful of colours – people stretching, reclining, standing. One is dancing, another is painting, a third is masturbating.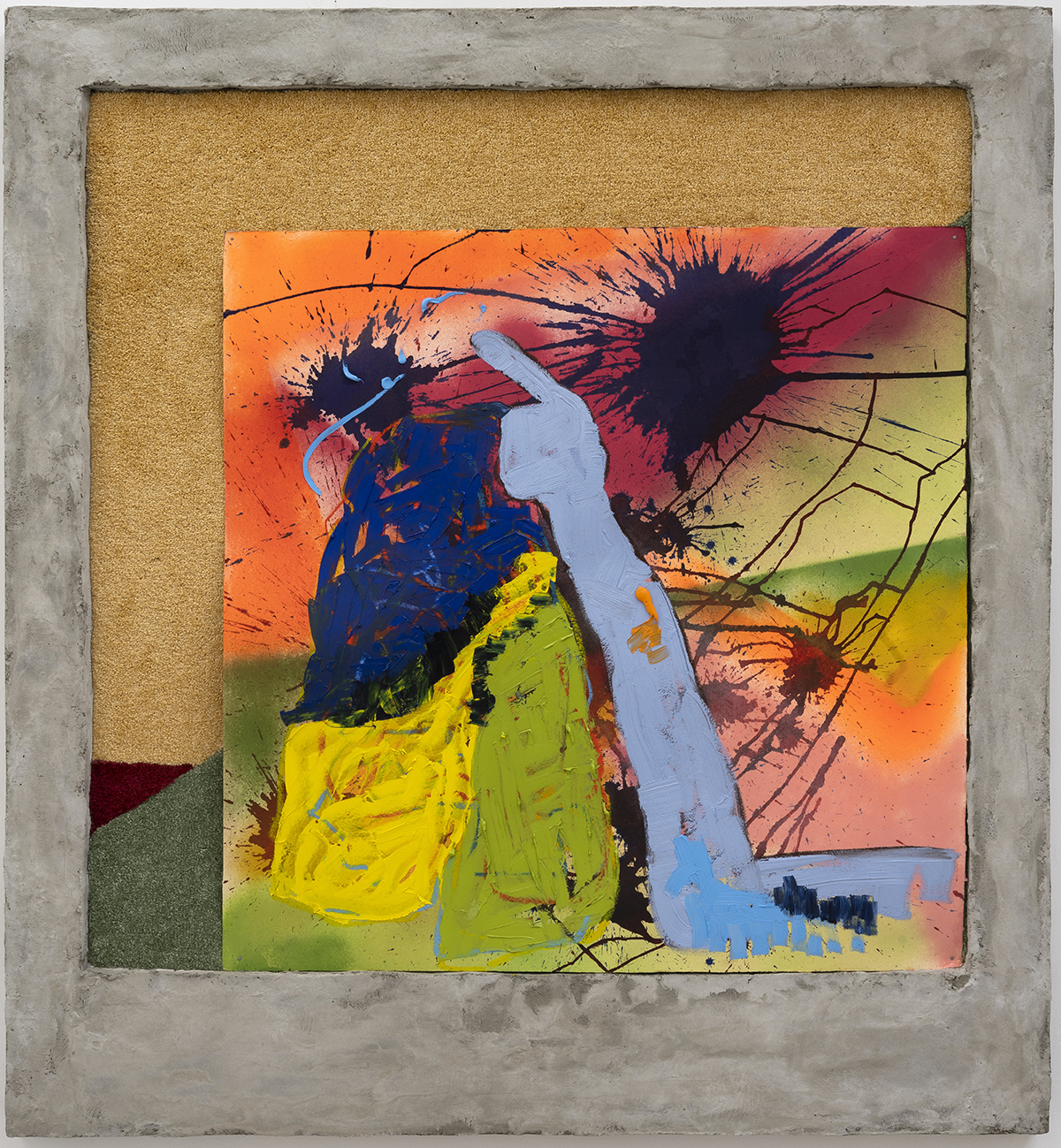 Back that azz up (Black dress) is a painting of a figure in orange silhouette wearing a black dress, against a heavily piled pink velvet backdrop. In m § m (Matisse § Meg), a silhouetted body in, as per the title, Blue Nude blue, surrounded by cloudy, transparent red, is placed against a rich yellow velvet. Each work is organised around a few tones, with bodily and spatial possibilities seeming to flow from juxtaposed blocks of colour. Barrington's breadth, and his candour as an artist, should not be taken for looseness – these works are tightly structured and controlled, verging on overly restrained. But these cool études are effectively set off against more unruly bricolage: When I was just trying to feed my daughter / Coogi is an exuberant hymn to 1990s Brooklyn in yarn, spraypaint, concrete, Biggie lyrics and a cardboard box. It ties the show together.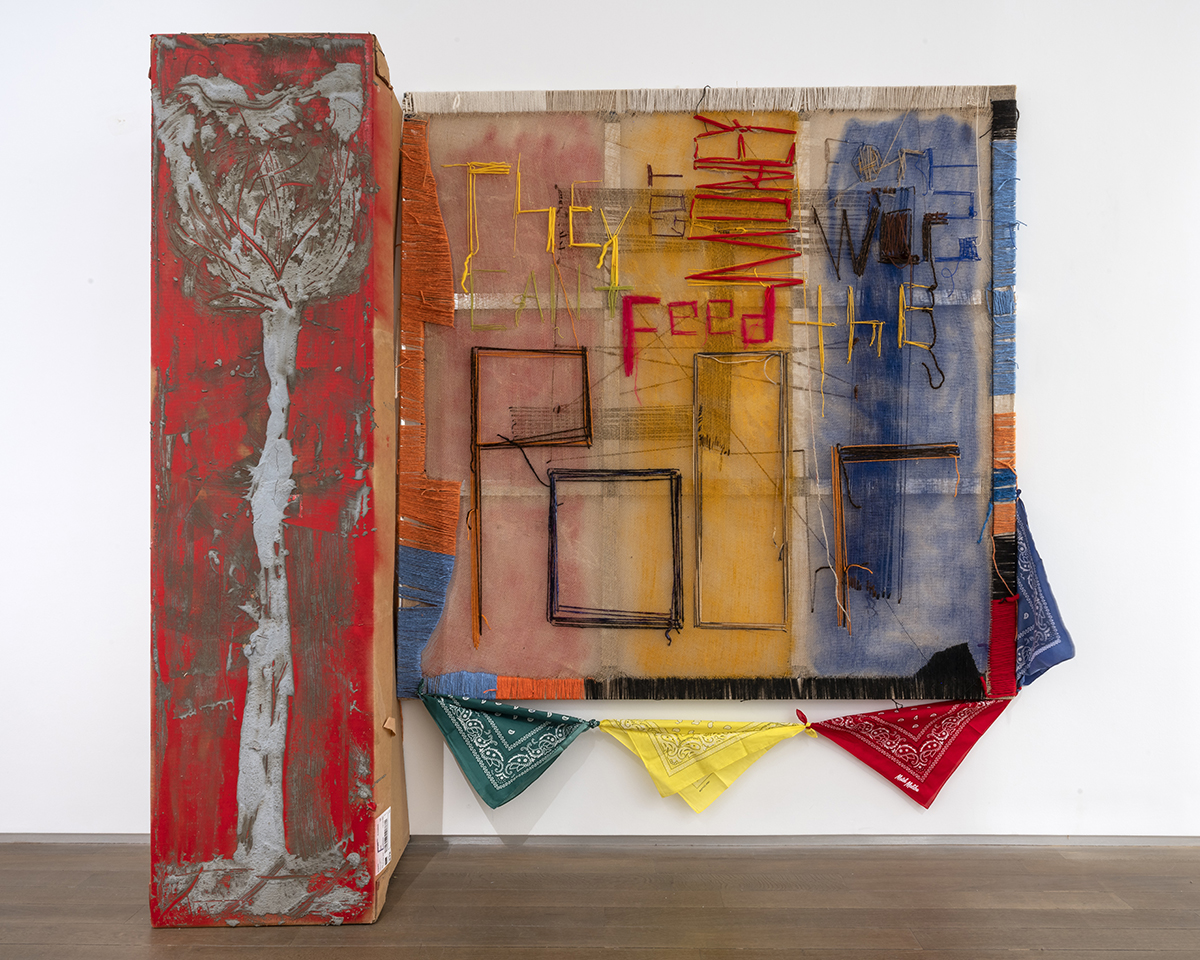 In 2017 Barrington shipped his studio of Post-its and works-in-progress to New York, where it was exhibited at PS1. He designed a float, in Pan-African colours, for the 2019 Notting Hill Carnival. He is an open, expansive sort of artist, and while these works recognise twentieth-century painting as an imposing and formative presence – like the concrete blocks – his effortless pilfering of the history of painting expresses a relationship to his forebears animated more by desire and playfulness than by the anxiety of influence.
Alvaro Barrington: You don't do it for the man, men never notice. You just do it for yourself, you're the fucking coldest at Thaddaeus Ropac, Paris, 2 March – 17 April
From the May 2021 issue of ArtReview