'Une biennale? A Rabat? Pour qui?' my friend texts back after I tell him I'm coming to visit him in Morocco (and stay on his sofa). The more people I meet in Rabat, the clearer it becomes that no one has a clue there is a biennale opening across 11 venues in the self-dubbed 'city of light' – the website wasn't up, there were no social media pages and, beside a few billboards, there was little communication with the public.
'For whom' strikes me as a fair question when it comes to a largely state-funded event on this scale. (Morocco's only comparable exhibition, the Marrakech Biennale, has been indefinitely postponed; sponsors pulled out when it emerged that the last edition, in 2016, operated with a deficit of €250,000.) At the press conference, curator Abdelkader Damani's answer to that question seems to be: for artists, for the public, but especially for women, as the biennale's 64-strong, women-only artist list is meant to show. Art history is too often written by men, he stated, and so, by offering women the stage, his biennale would be an act of 'reparation'.
The intent is laudable… but the tokenistic and marginalising effect of Damani's gesture felt not only self-congratulatory but deeply problematic
The intent is laudable: this is, after all, a country where women's rights are often dictated by religion and where, a few days into my stay, an open letter signed by over 400 Moroccan women condemned the imprisonment of journalist Hajar Raissouni, sentenced to a year in jail for premarital sex and having an abortion, and called for the revision of archaic and oppressive laws. Yet the tokenistic and marginalising effect of Damani's gesture, not to mention its implications (making women reliant on men to give them a voice), felt not only self-congratulatory but deeply problematic.
What rang true, nonetheless, were the acts of writing and rewriting performed by many works in the exhibition. Covering two flanks of the facade of the Musée Mohammed VI, the main venue of the biennale, Katharina Cibulka's monumental banner reads, 'As long as following our rules is more important than following our hearts, I will be a feminist'; an oddly utopian yet too-ambiguous statement, whose literal Arabic translation by the artist, running along the other side of the building, sparked debate among the public (the museum's director, Abdelaziz El Idrissi, says the institution was aware of the dubious translation but preferred not to interfere with the artist's work). Inside the museum, the thread is picked up by Ghada Amer's Private Rooms (1998), a series of satin garment bags hanging from a cloth rack, their silky surface embroidered with passages from the Qur'an that mention women, but translated into French. Here, the translation is both statement and encryption, a means of negotiating restrictions on representing the holy Arabic text.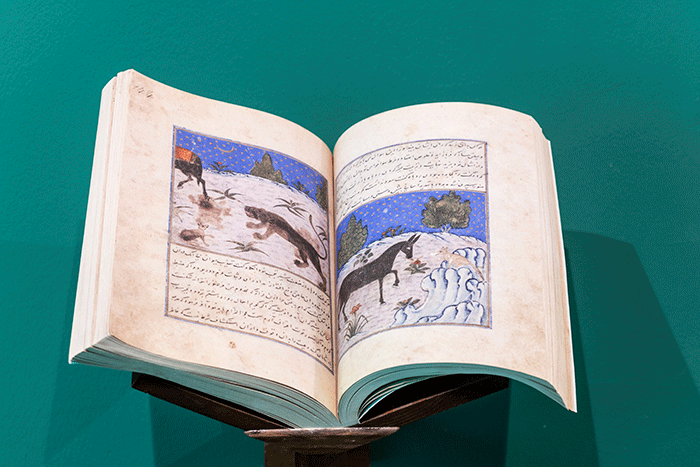 At the Oudayas Museum, a seventeenth-century Andalusian-inspired palace and its gardens housed in the Kasbah, a multimedia installation by Katia Kameli fittingly explores converging influences and how narratives move through cultures. Part of her ongoing research project Stream of Stories (2014–), it traces the genealogy of La Fontaine's Fables (1668) back to the Hindu Panchatantra, a collection of allegorical tales written in Sanskrit around 350 CE. While the original manuscript is lost, it survives through a stream of translations (into Persian around 570 CE, then from Persian into Arabic in 760). Kameli's display, which ranges from reproductions of original texts and animal masks to blown-up excerpts of the fable's script and a video projected onto a screen, focuses on the Arabic version, the popular Kalila wa-Dimna, which reached Europe in the thirteenth century as The Fables of Bidpai. The installation reveals how the stories (and their moral messages) were edited through translation to suit different cultures or political aims (up to La Fontaine's address to the dauphin), while pointing to the fluidity of certain foundational narratives across cultures and national borders.
Questions around our relationship to cultural heritage also run through the most compelling solo presentations. At Fort Rottembourg (built in 1902 to host two large cannons gifted by German arms manufacturer Krupp), such questions rise up through the cracks of Dana Awartani's tiled floor (Standing by the ruins, 2019). Replicating traditional Islamic geometric patterns, Awartani used the Moroccan tiling technique of zellij but skipped the tempering and firing that would have ensured the floor's conservation. The work's slow deterioration – and eventual crumbling – throughout the duration of the biennale feels like a muffled echo of the violent destruction of Palmyra and other heritage sites by ISIS. Taking a perhaps more preventative approach, Rand Abdul Jabbar's exhibition at Galerie Banque Populaire (one of several banks in the city with exhibition spaces) reads like her own sculptural 'musée imaginaire', composed of ceramic interpretations, we're told, of cultural artefacts from the Mesopotamian region encountered by the artist in various ethnographic museums (Earthly Wonders, Celestial Beings, 2019). Scrutinising the objects arranged in mysterious groupings on plinths, the museumgoer conditioned to look for wall texts offering clues as to their provenance and historical significance does so in vain; instead, by their quiet presence, the objects – some evoking tools, others human or abstract representations, all rendered in seductive glazes – ask us to imagine their stories, or consider them on their own aesthetic terms.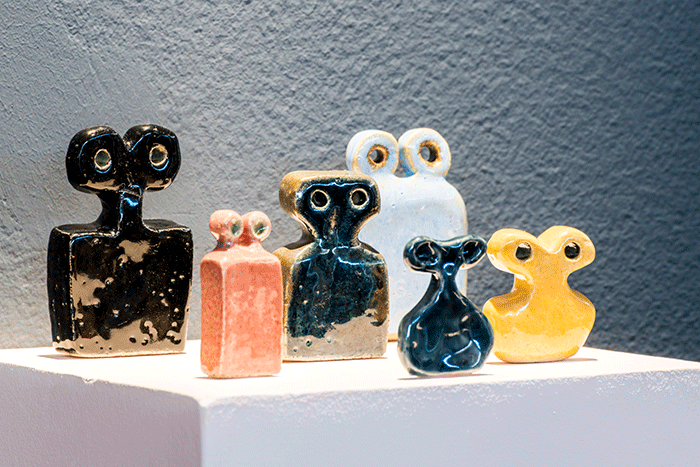 These presentations dedicated to a single artist's practice give depth and value to a biennale otherwise lacking in focus. The title Un instant avant le monde, no matter its poetic and philosophical underpinnings (the press release quotes Hannah Arendt's writings on the 'infinite improbability' of new beginnings), is so wide it could speak to any artwork ever produced, and as a result the selection here feels driven by a curator's whim. As to corrective gestures of gender imbalance in the artworld, the real change will come when exhibiting women artists does not warrant congratulation.  
Un instant avant le monde, Biennale de Rabat, 24 September – 18 December
From the January/February 2020 issue of ArtReview