From soft drinks as art, to murals of pop stars, the London Borough of Culture had to rethink 'the big show' in the face of the pandemic
Kensal Rise does not exist, John Rogers informed a Zoom audience of local residents. Which would be awkward if literally true: Rogers had just made a work, one of ten library-based art shows in the Brent Biennial, for Kensal Rise. Crisscrossing through a triangle of streets bordering the library, you encounter signs installed by Rogers inviting you to scan a QR code and listen to snippets of interviews with locals. Should you be inclined to track down all of the codes, the work becomes a promenade through a Kensal Rise of the mind.
Old local maps show how place names and neighbourhoods in Brent (as elsewhere) emerged and shifted. Rogers suggested that Kensal Rise was more idea than place: a piece of linguistic packaging that serves the purposes of estate agents and those who buy into their patter. Kensal Rise is an image, but not the kind you could meaningfully contain on a map. (As if proof were needed, a local boutique owner profiled in British Vogue recently explained that "Kensal Rise isn't strict suiting or catwalk gowns, it's a great flattering tee, cool leggings and skate shoes.")
A neighbourhood, like national territory, is a construct, its borders prone to shift. Ditto a city borough. There is a River Brent, which rises in Barnet and meets the Thames at Brentford. On 1 April 1965 the River Brent's name was taken for a new borough bolted together out of Willesden and Wembley. What would this April Fools' Day construct, Brent, become? Strict suiting and catwalk gowns? Cool leggings and skate shoes? Something else? 
Half a century later, Brent's residents speak 149 different languages, and 65 percent are from Black, Asian and minority ethnic backgrounds. The borough is home to Neasden Temple and the Jewish Free School. Just behind my house, there's an Islamic primary school founded by Cat Stevens. Living standards in the borough range from the fragrantly nourished Otollenghishire of Queen's Park, to overcrowded multigenerational households in Harlesden and Neasden. SARS-CoV-2 had a horrifying impact: by the time the Biennial opened in mid September, it was the worst affected area in the UK.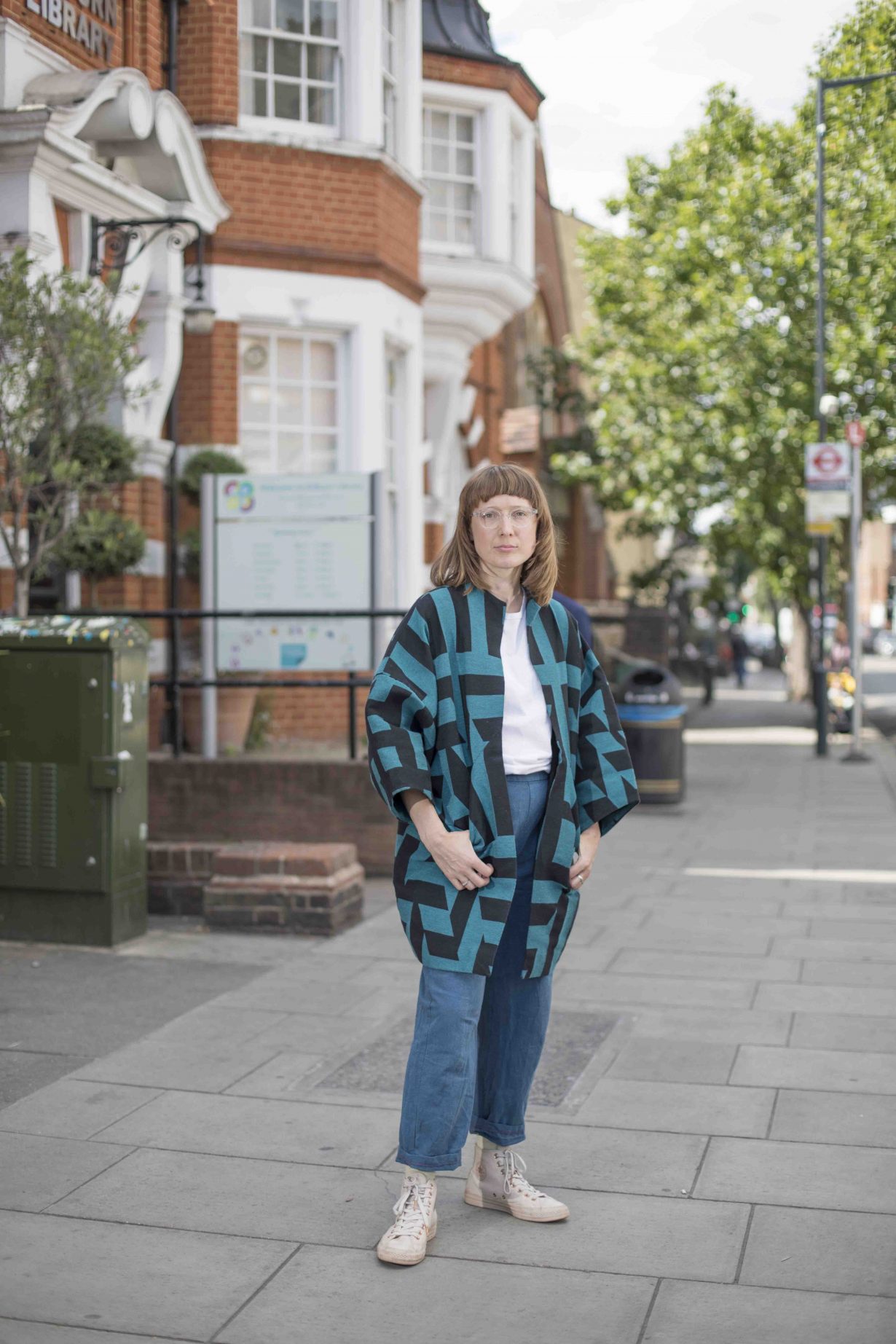 Ruth Beale originally wanted to hold a sleepover curated with a local school at Kilburn Library. Instead she started thinking about the 491 Brent residents who already died during the pandemic: "What does the community need? How can the library respond to that?" She selected 500 books, and made bookplates that could be dedicated, as a circulating memorial: once the Biennial finishes in January, the books will go back into the wider library system.
Brent doesn't have an easily marketable identity. Nor does it have a substantial institution dedicated to the visual art. When it was announced as 2020 Borough of Culture last November, organisers tactically re-branded the celebration 'Borough of Cultures' and publicised a programme of music, dance and theatre, headlined by Don Letts and Zadie Smith. There was no mention of a Brent Biennial: the visual arts only came to the fore early in 2020, as it became clear that mass public celebration, gigs and plays could not.
"The Biennial wouldn't have happened if the pandemic hadn't happened," says Lois Stonock the artistic director of Brent 2020. When the pandemic hit, her team "had to rethink and reformulate." Suddenly the modest visual art program had more prominence. 
"The exciting thing about Brent is that the culture isn't institutionalised," says Stonock: a positive way of saying that a Biennial structured around a substantial exhibition would have been a challenge with no museum, no art centre, no gallery to host it. Besides, a showy biennial full of imported art stars went against the community-focused Brent 2020 ethos. The question for Stonock then became, "How do you do a biennial without one author?" How to create a biennial that suggested plural perspectives: community- and artist-led, as well as curatorial?
Rather like the borough itself, the Biennial was largely bolted together from elements already in place, including the library projects. Smaller local enterprises were supported by the rolling Culture Fund. Partners were found for three works in the public realm: George Michael fan-art by Dawn Mellor with Studio Voltaire; two murals by Pio Abad with Create; and Paul Purgas's sound installation with Camden Art Centre. Five new community-based commissions – by Barby Asante, Adam Farah, Yasmin Nicolas, Dhelia Snoussi and Abbas Zahedi – were made with re-deployed Art Fund money.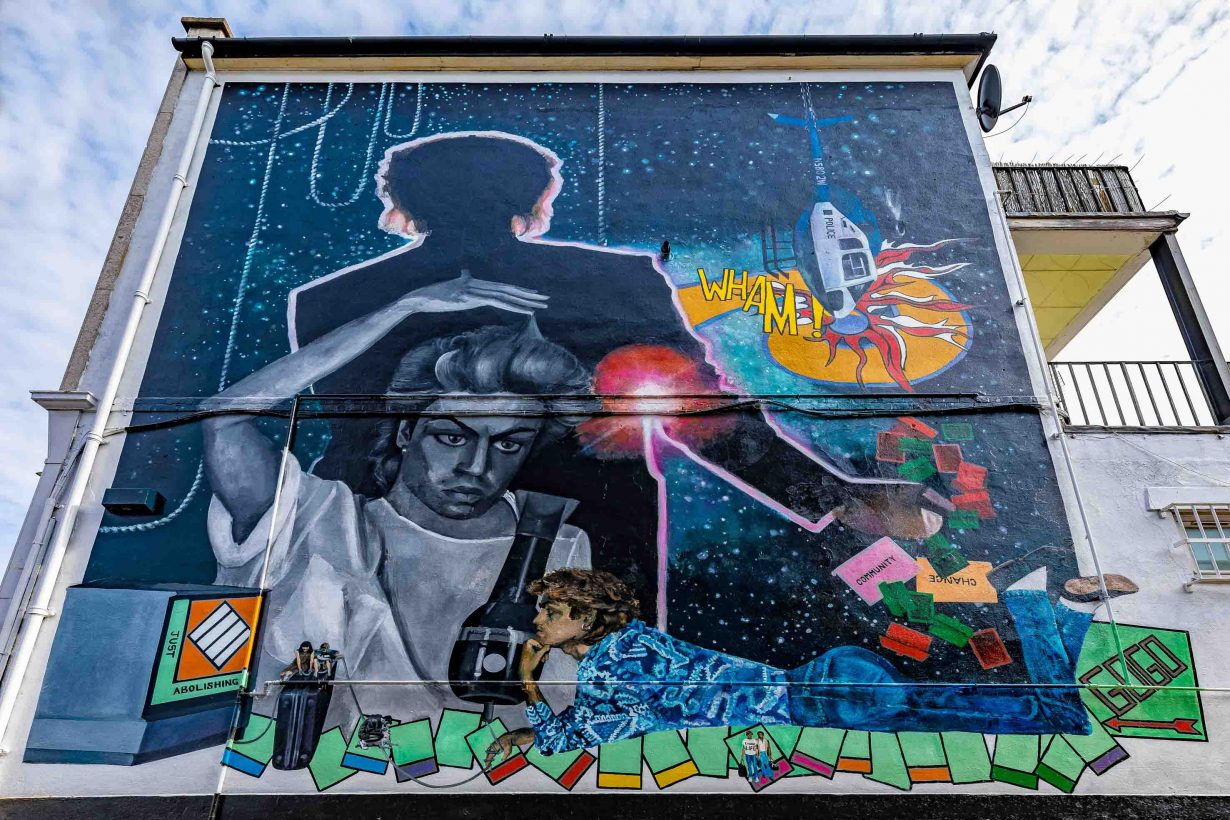 The result is a Biennial that is in many ways not particularly visible. For projects like Snoussi's South Kilburn 'zine, the discretion is deliberate, indicating commitment to a specific audience. In other instances, lack of visibility is circumstantial: even before lockdown, the libraries were open on reduced hours. Hoped-for public engagement has been impossible, even on a basic level (Beale notes that the chairs have been removed from Kilburn library.)
"The things that were always going to be difficult were made so much more so by the pandemic," admits David Blandy, who worked with Capital City Academy and Roundwood Youth Centre to build futuristic societies and scenarios for his role-player game The World After. Once the pandemic hit, communication relating to the project was essentially cut off because those collaborating with Blandy were minors. Blandy worked with illustrator Wumi Olaosebikan to use the ideas they had already developed as the basis for an installation at Harlesden Library intended "as the setting for the groups and others to engage with the games and imaginary spaces," says Blandy. That engagement, too, remains impossible.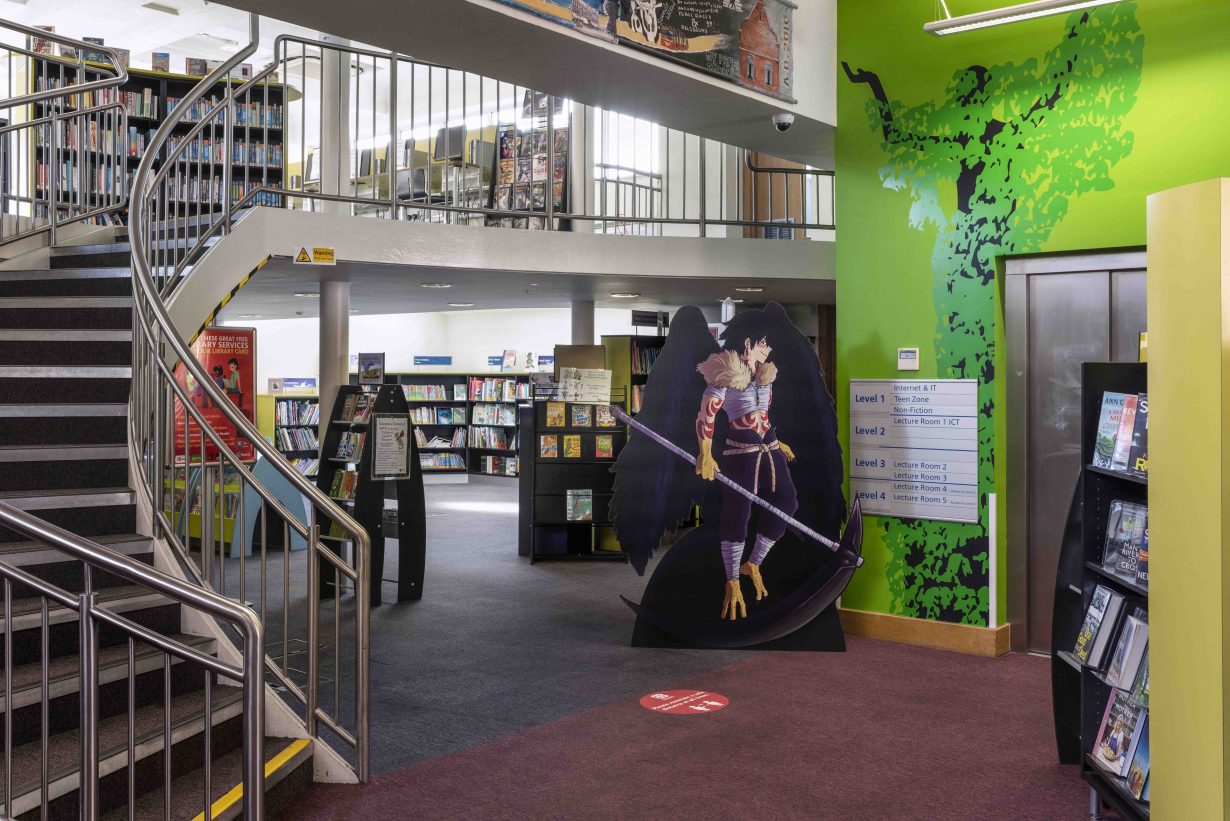 Structural problems encountered by the artists reflect wider issues in Brent. The first 500 books selected by Beale for her memorial got lost in a library transport system subcontracted to a private operator. Beale thinks few books have yet been dedicated: there's no easy way for her message to reach residents that aren't part of an established community network. Blandy was painfully aware that Roundwood, the last youth centre in Brent, was underfunded and under threat. 
All of the community-based projects used existing structures – schools, libraries, community centres – that had not received adequate (or any) additional funding to accommodate them. "The anxiety is that it's seen as a way of sprinkling some art dust on to save a situation," says Blandy, of public practice in general. "As an artist going in, you can see the structural issues already there: you can feel like a sticking plaster at times."
For his paintings off the Kilburn High Road, Pio Abad gathered ornaments from local households: "the minor, strange forms that occupy people's lives." Unable to meet community groups, the components for Abad's vanitas arrangements were solicited through conversations online. "I was open to accepting any objects," he says "It was interesting seeing how widely travelled a lot of them were, but also to find out which community groups were very active – try as I might, I couldn't get any Filipino objects."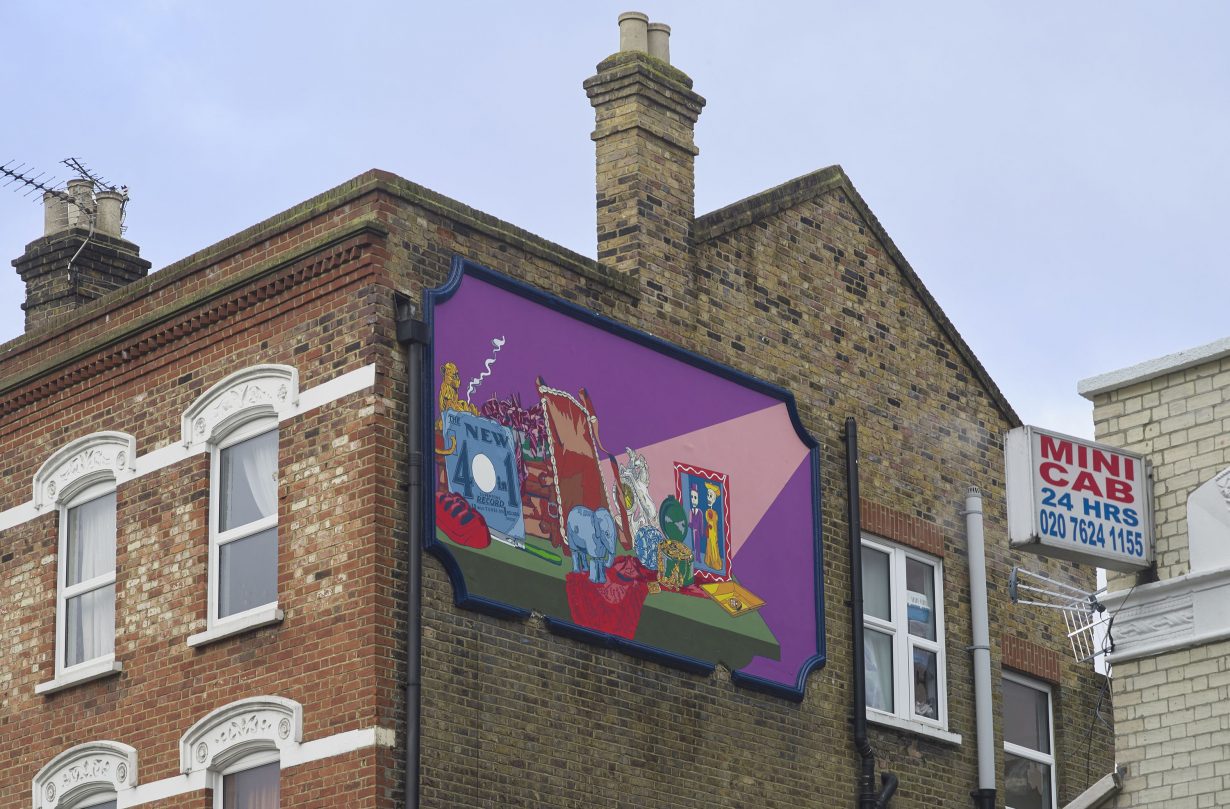 Painting outdoors for a month however allowed Abad at least to engage local Filipino residents in conversation, among them a café owner who once worked in a restaurant he frequented in Manila. Abad's audience included a small boy who watched him for hours each day from his window. "Being part of the street for a month invites very different interaction to a work in a library," he says. "I didn't think I'd be a muralist, but the civic role is something I really value… I realised that the public has a healthier relationship with street art in a way: it's immediate, and it's the most democratic form because it doesn't require you to go into a space."
(It's interesting how firm those boundaries between 'art' and 'street art' remain: Webheath Estate on the other side of Kilburn High Road was a hub site for the London Mural Festival, which happened concurrently but had zero crossover with the Brent Biennial.)
Anecdotal evidence suggests awareness of the Brent Biennial has been low. While Brent 2020 branding is on train stations and billboards, the Biennial's is limited to a few small signs, free maps and a logo spray-painted onto the pavement, long since faded. Does that matter? Does the term 'biennial' even indicate anything of interest to those beyond an artworld hardcore? The organising team describe it as a biennial by stealth. The term 'biennial' implies repetition, which makes it a tool at least towards on-going funding structures and studio spaces in the borough.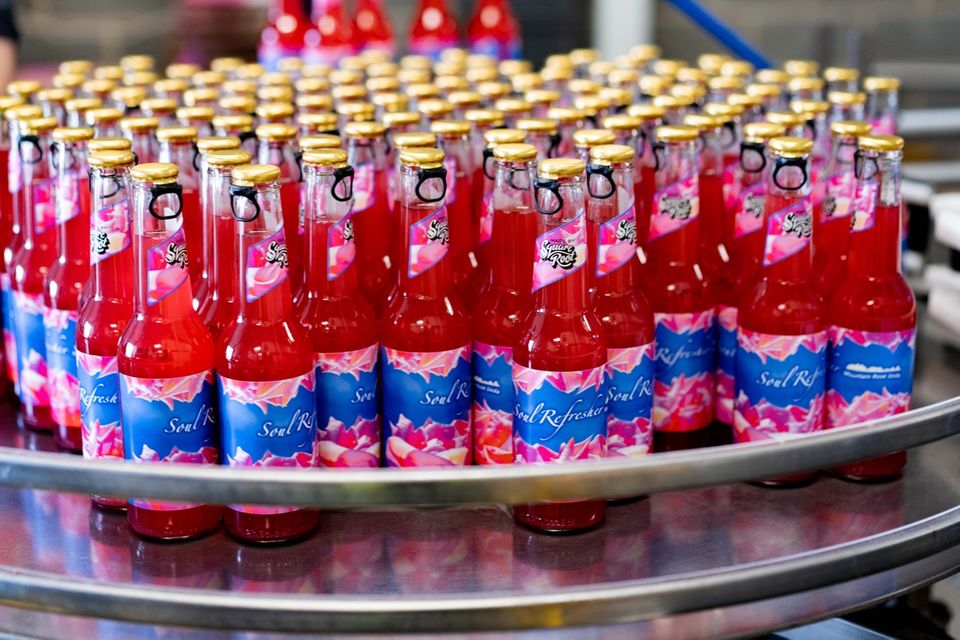 "How do you create a work that is distributed in a way that invites someone to engage with art?" asks Abbas Zahedi, whose Soul Refresher perhaps best exemplifies the concept of biennial-by-stealth. Soul Refresher is a pink soda formulated by Zahedi with Square Root Soda Works, inspired by the Indian sherbet syrup Rooh Afza. The alcohol-free drink is a symbol of inclusive gatherings, and recollects the music, spoken word and literary events once organised by Zahedi at Rumi's Cave on Willesden Lane. It also nods to Brent's diverse food cultures. Most of the bottles of Soul Refresher made for the biennial were distributed through the Sufra food bank, with which Zahedi also has history.
In its label design and rose-petal flavouring Soul Refresher plays with a specific set of references, and honours some of Brent's neo-diaspora cultures. It is readable on multiple levels: an artist's project for those who look for it, a pink drink for those who don't. Rather than placing additional pressure on stressed structures, it is generous: local stores and cafés that carry the drink set their own price, and keep money from sales as recompense for providing a distribution network. The Sufra food bank distributed six-packs, allowing families a moment of celebration in a difficult year.
Kensal Rise, Dollis Hill, or Fryent may not exist in any meaningful way, but for a while, at least, this year, you could meet there to share a soda.