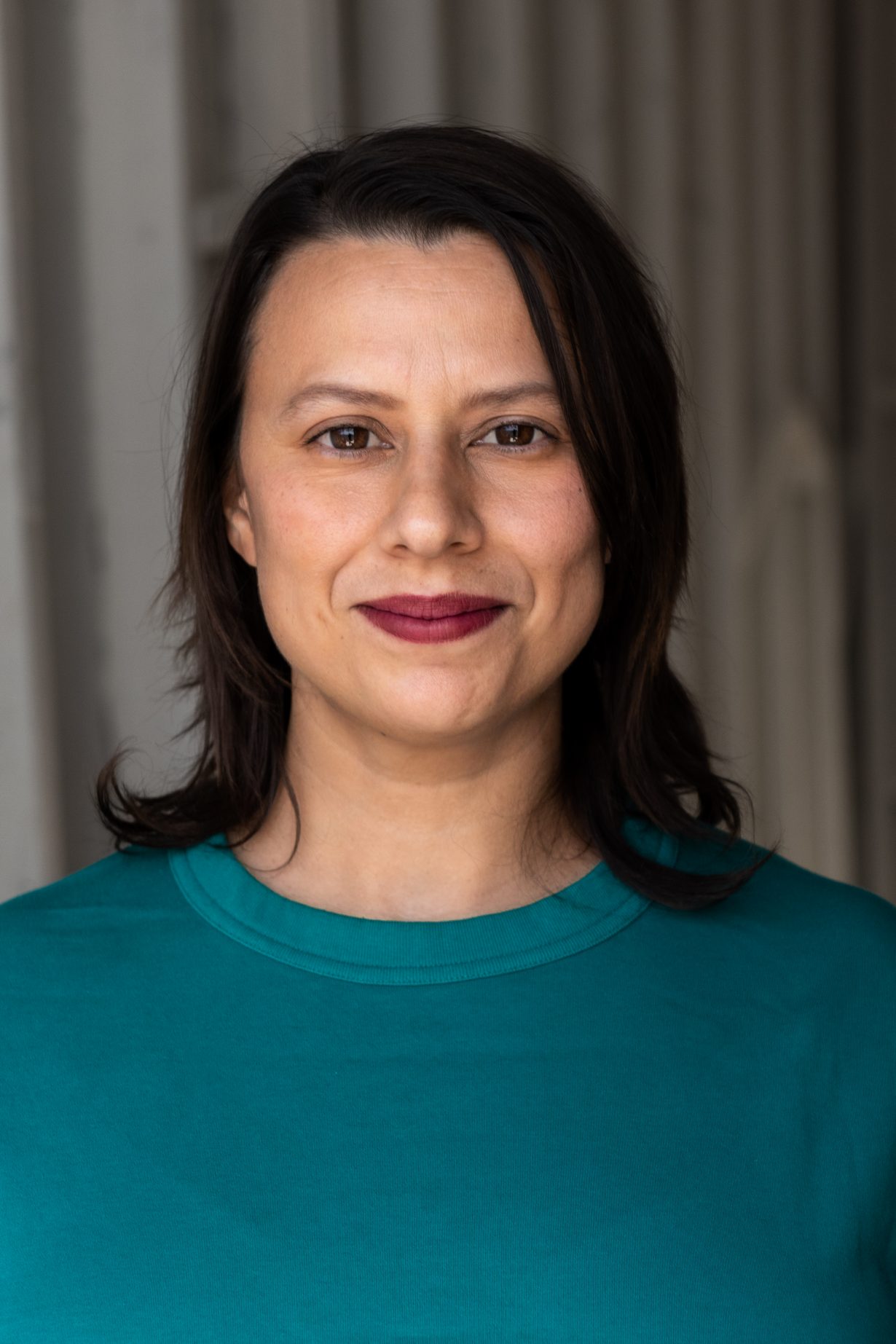 Carolina Caycedo is nominated for Artes Mundi 10 alongside Mounira Al Solh, Rushdi Anwar, Alia Farid, Naomi Rincón Gallardo, Taloi Havini and Nguyễn Trinh Thi. This year's 10th anniversary prize is presented with the Bagri Foundation and will be awarded to an established international artist whose practice has 'significantly contributed to art that resonates with our times'. An exhibition of work by the nominees is now open across five venue partners in Wales, with the seven artists presenting major solo projects that 'collectively address issues surrounding land use, territory and displacement through histories of environmental change, conflict and enforced migration, conditions that speak to us all today'. The winner will be announced in January. ArtReview is a media partner of Artes Mundi 10.
ArtReview Could you tell us a bit more about your project for Artes Mundi and what form it takes?
Carolina Caycedo I am installing a small solo presentation at Oriel Davies Gallery in Newtown with a selection of artworks from 2016 to present, including recent drawings from early 2023. I wanted the Welsh public to have a broader sense of my practice, the different materials and themes that I use to reflect on our relationships with nature and our common goods, as well as the feminine genealogies I inscribe myself in. I am also intervening in the facade lightbox at Chapter in Cardiff.
AR Are there other artists, groups or individuals who serve as an inspiration for your work?
CC For years I have been inspired by the existence and actions of the Welsh group, Women for Life on Earth. In 1981 they marched from Cardiff to the Royal Air Force base at Greenham Common in Berkshire, England, to protest the proposal to site nuclear weapons at the military base. The subsequent protests became known as Greenham Common Women's Peace Camp. Although harassed and arrested, the group produced numerous protest banners which I consider incredible works of art.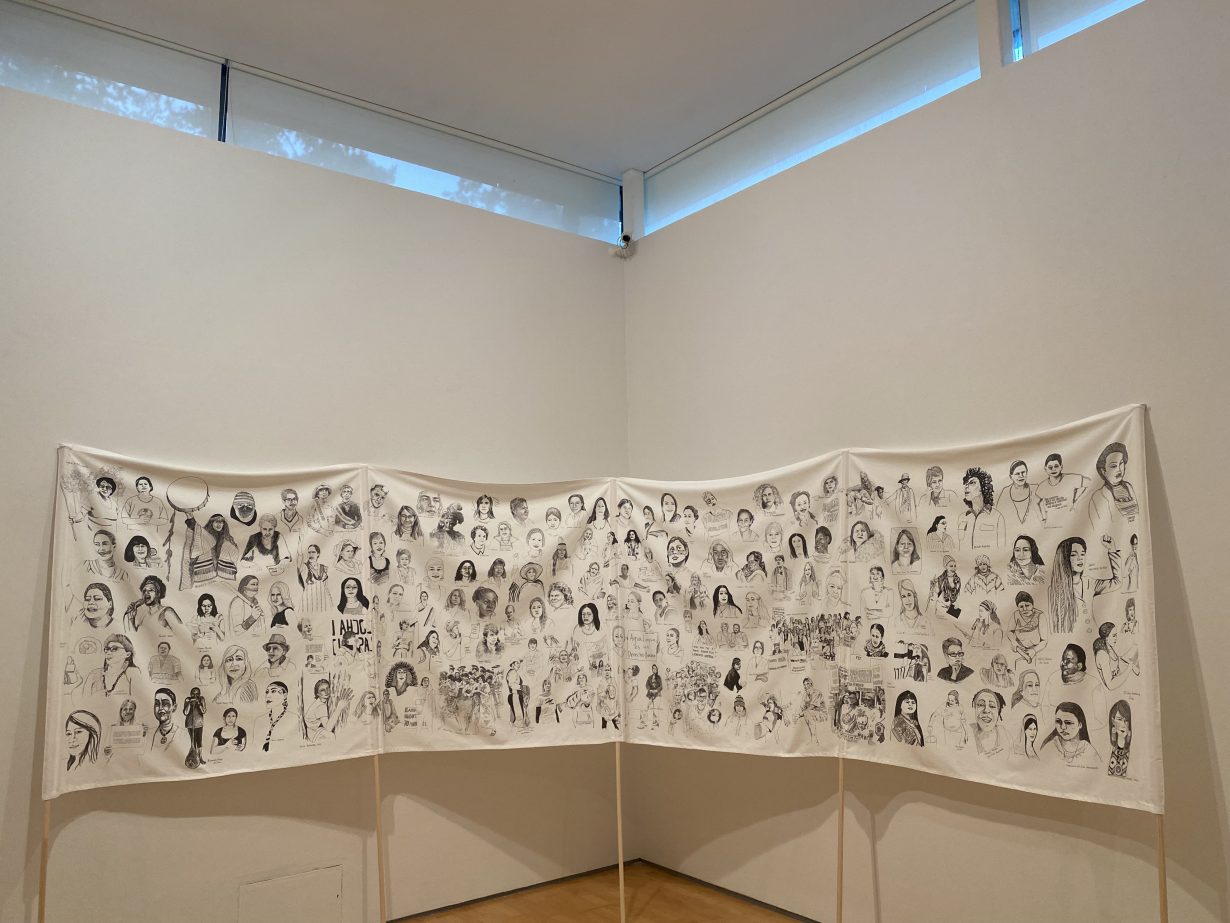 There is a newspaper photograph of one of the protests showing the women being arrested. I reproduced a section of this photo in the work, My Feminine Lineage of Environmental Struggle (2019–), which is on show at Artes Mundi along with loans of some of the original banners. So visitors to Oriel Davies can see the explicit dialogue between my work and the protest banners, and read these banners in an art context.
In the US, the Nez Perce Tribe in Idaho established the Niimiipuu Language Program to preserve and revitalise their language. As stated in their website : 'Learning to speak nimipuutímt and sharing it with your family, strengthens the bonds to not only our language, but also our culture'. They are actively building a bridge from the past to the future, and this effort motivates me deeply.
The Nez Perce, along with other local groups and individuals, are working towards the un-damming of the Snake River, which traverses multiple states in the Pacific Northwest. There have always been protests against dams, but there is now a widespread consciousness of the harm that these massive hydro-infrastructure projects create. I made the work, Reciprocal Sacrifice (2022), to help spread the word about the un-damming project. The video, which is on show at Oriel Davies, features a voiceover from Thomas Gregory / tátlo, of the Niimiipuu Language Program, who speaks of the original commitments between Human and Salmon. In the Nimiipuu people's cosmovisión, the Creator informs all People and relatives that humans will soon live on the land, and asks how those already existing will help them to survive. Salmon offers to sacrifice their body as food by coming up the river each year, in exchange for Human caring for the life of Salmon in the water.  In the Reciprocal Sacrifice, Salmon ask us humans to remember and honor this commitment, by taking care of the water and freeing the Snake River.
AR As well as working with some of the leading artists of our times, Artes Mundi 10 seeks to reveal something of the most pressing issues facing society at large today. What are some of those issues in relation to your practice and how can an artwork change our perception of or our means of addressing those issues?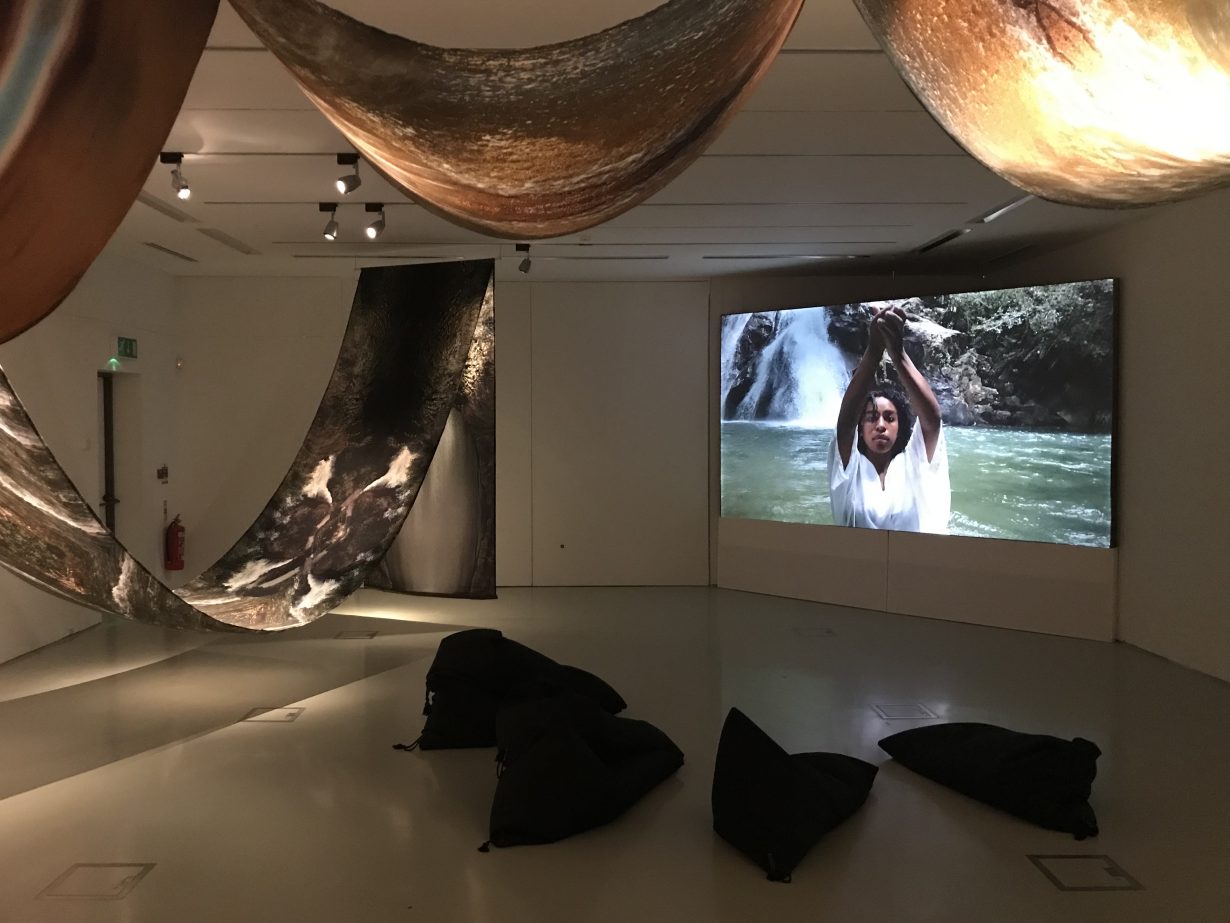 CC In my practice I am concerned with contributing to environmental and historical memory, by rethinking the commons and by understanding how colonial structures continue to unfold and determine aspects of life today. We need to remember and reimagine the traditional knowledges and ancestral technologies we inherit from our past generations. What is common between us are not only locations, relationships and materials that sustain us – water, trees or other natural entities – it is also our collective knowledge. We do well when we remember the wealth of collective knowledge that exists, but we need to tap into those memories and practices.
AR Do you think art needs to be relevant in those terms, terms that perhaps exist outside the traditional remit of art as a category in and of itself?
CC Societal issues have always been relevant and will continue to be relevant in the discipline of art. In any case, it's the only art I know how to make.
AR We live in a world in which there is a rise in nationalisms of various types and a global structure that separates people more than it unites. Do you see your work as furthering more general cultural exchange? As bridging some of those cultural divides?
CC Yes. I myself am a transnational subject – I was born in the UK to Colombian parents, I raised my first child in Puerto Rico and I currently live and work in Los Angeles. My mere existence produces scars to nationalism. All this cultural and political baggage accumulates and permeates the work and I'm fine with that. My desire is to make work that functions as a bridge, and with many entry points so it can be read in different contexts and by different communities.
AR Artes Mundi is the largest monetary prize in the UK, offering £40,000 to the winner. Should you win, how do you plan on using the prize money? Do you have a particular project that you would like to use it to realise?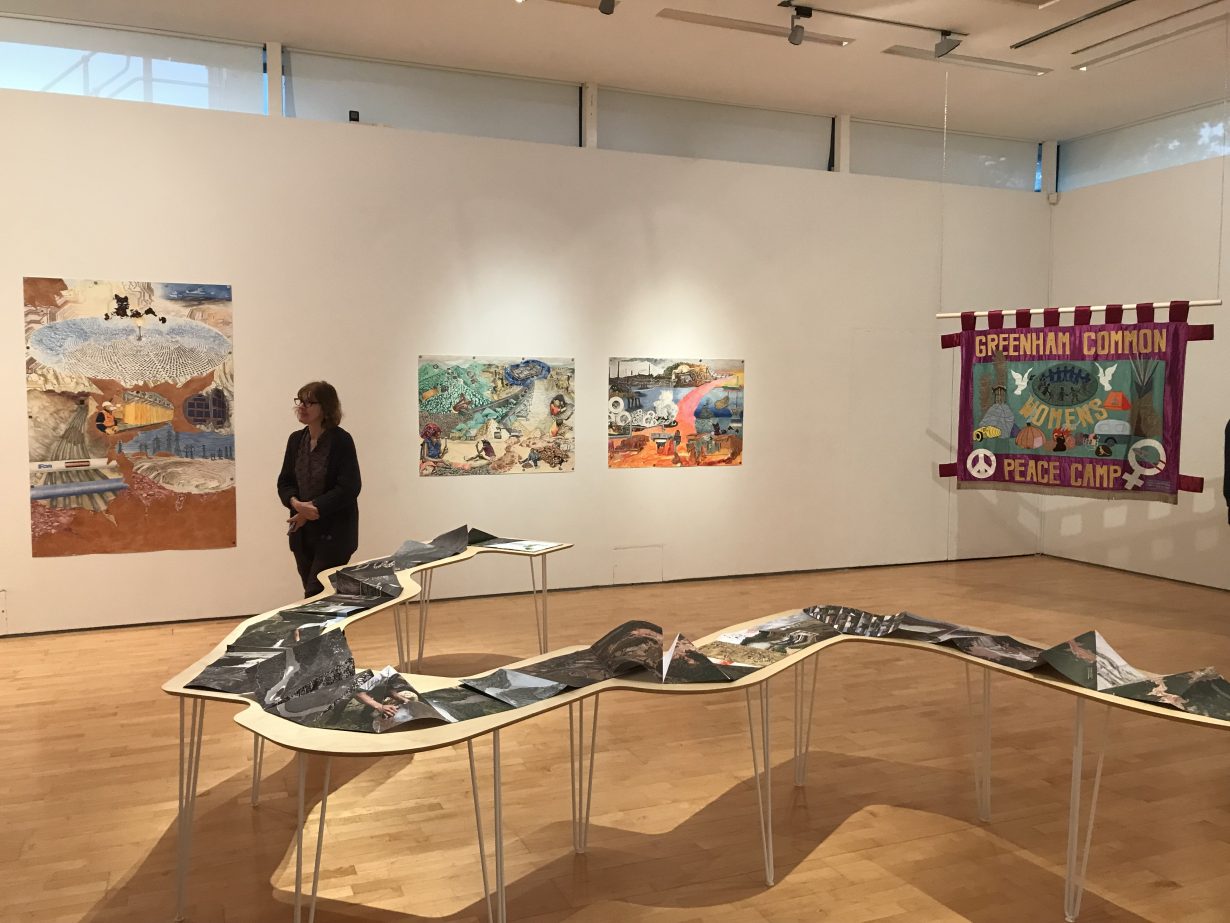 CC I am working on a series of gatherings with over 20 community groups on the frontlines of environmental justice and climate emergency across the Americas. These gatherings are an opportunity to nurture solidarity networks created around shared continental struggles, with folks who are working towards a Just Eco-social Transition. A culmination of the gatherings will be El Respiro/Respire, a weeklong convening of international environmental grassroots leaders at the USC Wrigley Marine Science Center on Pimu (Santa Catalina Island), California, in February 2025.
Almost all of the funds that come through my studio right now are being redistributed into this undertaking. It's a lot for my small operation to manage, but I am so grateful to be in the position to manifest a project like this, and to have numerous collaborators working to make it happen.
AR This is the tenth edition of Artes Mundi. What role do you think such prizes play within a more general arts ecosystem?
CC I'm aware of the mutually beneficial relationship between institutional prizes and artists; we both feed off each other's cultural capital. My focus is always on the art and the artists, and with Artes Mundi I'm excited to be in dialogue with a cohort of artists who I respect and who inspire me. I like the fact that in this edition the presentations take place across Wales. The redistribution of funds and resources to smaller cultural institutions contributes to the diversification of the arts ecosystem, hopefully making it more inclusive.
For Artes Mundi 10, Carolina Caycedo is presenting series of new and existing works at Oriel Davies Gallery, Newtown and Chapter, Cardiff through 25 February.