Artists and writers have decried a Polish court decision to prosecute Margot, the 22 years-old founder of Stop Bzdurom (Stop Nonsense) collective. The LGBTQ rights activist was arrested for vandalising a van belonging to Fundacja Pro-prawo do życia (Pro-right to live Foundation), a neo-nationalist Catholic group known for driving through city centres across Poland broadcasting anti-LGBT messages over loudspeakers and displaying them on large banners. Margot is also alleged to have assaulted a pro-life demonstrator on 27 June.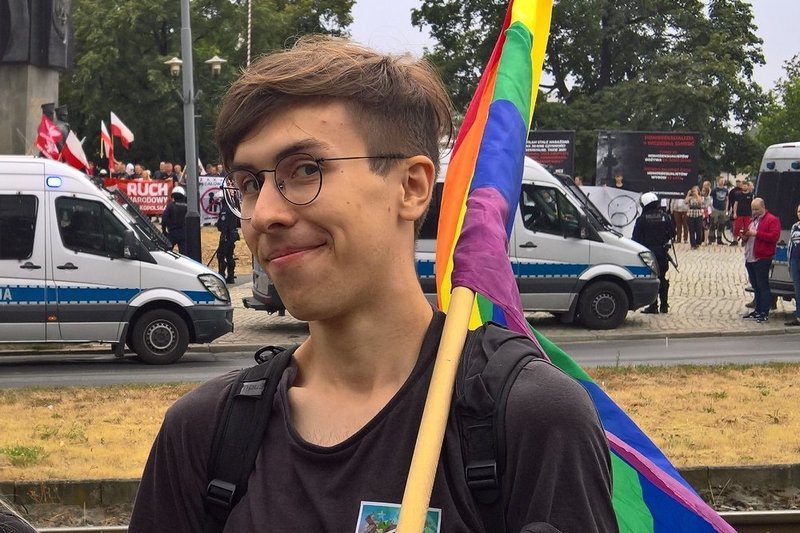 Among the claims made by the far-right group is: 'Do you know what things LGBT lobby wants to teach your children?: Four years old Masturbation!, six years old permission to have sex!, nine years old first sexual encounters and orgasm!'
Margot was arrested last week, alongside more than 40 activists, many for decorating statues in Warsaw with rainbow flags. Most have since been released but the court has ordered Margot's pretrial detention. Footage from the most recent protest shows the police pushing and shoving protesters as well as Margot being driven away.
An open letter, whose signatories include Paul B. Preciado, Judith Butler, Dominique Gonzalez-Foerster, Wojciech Pus, Sebastian Cichocki, Olga Tokarczuk and Antonio Negri, notes that 'Margot's arrest is part of a larger governmental and police operation to curtail and degrade the rights of sexual and gender minorities and to suppress all forms of critical antagonism.'
In contrast to Margot's prosecution, in February the Polish authorities dismissed a lawsuit brought against Fundacja Pro, claiming their work was 'informative' and 'educational'.
On the group's website Margot is singled out for attack, using the activist's birth name, among various strongly-worded blog posts against what the NGO terms 'rainbow hooligans.'
The recent presidential campaign of Andrzej Duda relied heavily on stoking a homophobic culture war, part of a prevailing anti-LGBT sentiment in the country that has seen various municipal councils, equating to a third of Poland, declare themselves 'LGBT-free zones.' Duda, who is allied with the ruling Law and Justice party (PiS), promised to introduce the 'family card', a suite of proposals promising to protect Poles from 'LGBT ideology', including a ban on teaching LGBT issues in schools and a pledge to not allow gay couples to marry.
In an interview with ArtReview prior to the election, Polish artist and activist Karol Radziszewski warned: 'You'd think because Poland is a European Union country, in the modern world, nothing really bad could happen, but the rhetoric of the politicians is encouraging open homophobia. For the younger people it is really hard to deal with that, it's really dangerous.'