'I hadn't realised that when an image you hold dear is broken, it could take a lifetime to pick up its pieces.' The artist on taking risks, her reading habits, and the challenges of creation in lockdown
In Chemnitz Hauptbahnhof, the main train station in Chemnitz in former East Germany, a motion flapboard display appears to be announcing train delays. Whirring and clicking letter by letter, the flapboard informs us that the next train is delayed, and the next, leading to services being suspended, and then DATE WITH MUM SUSPENDED, and finally, LCOKDWON ANNOUNCED.
This, however, is no ordinary announcement board, but an artwork by Mumbai-based multidisciplinary artist Shilpa Gupta using one of her trademark media: the motion flapboard that conveys cryptic (and in this case prescient) prose-poetry, fed to the viewer, line by line, with the odd misspelling. Thirty-five minutes long, WEARECLOSERTHANYOUEVERIMAGINED (2020) goes on a free-associative journey through intimations of mortality and meditations on digital surveillance, isolation, fake news and bigotry. Inaugurated on 15 August, the work was commissioned by Kunstsammlungen Chemnitz for the city's first international public art project, Gegenwarten | Presences.
Gupta has said the work deals with "contagion, infiltration and seepage" in a time where we are warned to distance ourselves from others and even from our own bodies ('DONT TOUCH YOUR SELF/DONT TOUCH YOUR FACE'). In this sense, while it speaks directly to the current public health crisis, it also ties in with the broader themes in her work: the complicating of borders (national, cultural, interpersonal), revealing their fuzziness and slipperiness, while embracing a warmer, more porous and interconnected way of being in the world.
Gupta's suspicion of boundaries has led her, in previous works, to superimpose 100 maps of India drawn by Indians from memory (100 hand drawn maps of my country, 2008) or wind a piece of thread one-fifteenth of the length of the India-Pakistan border into the shape of an egg (1:14.9, 1188.5 miles of fenced border – West, North-West, 2011-12). Alongside these, her huge outdoor light installations – with titles such as WheredoIendandyoubegin (2012), WMYEIAOSUTR (My East is Your West) (2014), We Change Each Other (2017) –  are direct statements of her vision of diversity and inclusion.
ArtReview catches up with the artist in Mumbai, where she is working from home amid disrupted schedules, to find out more about her city in lockdown, its changes over the years and the challenges of artmaking during this time.         
ArtReview What's the general situation like in Mumbai now, and how has it affected your day-to-day routine? 
Shilpa Gupta I remember turning on the TV (which I rarely do) on 24 March as a special Prime Ministerial address was expected. By the time the 30-minute speech was finished, we found ourselves in a sudden nationwide lockdown. The 21-day lockdown has now been stretched into five months.
Before the lockdown, I was in the midst of a rather hectic schedule with two public commissions and three upcoming institutional solos, one of which was a survey show at the Museum of Contemporary Art in Antwerp, with a new production. Then suddenly everything went on hold.
Slowly, one by one, new dates of the shows have been set and I am working long-distance on the public commissions. The outdoor projects in Europe after getting postponed are now opening.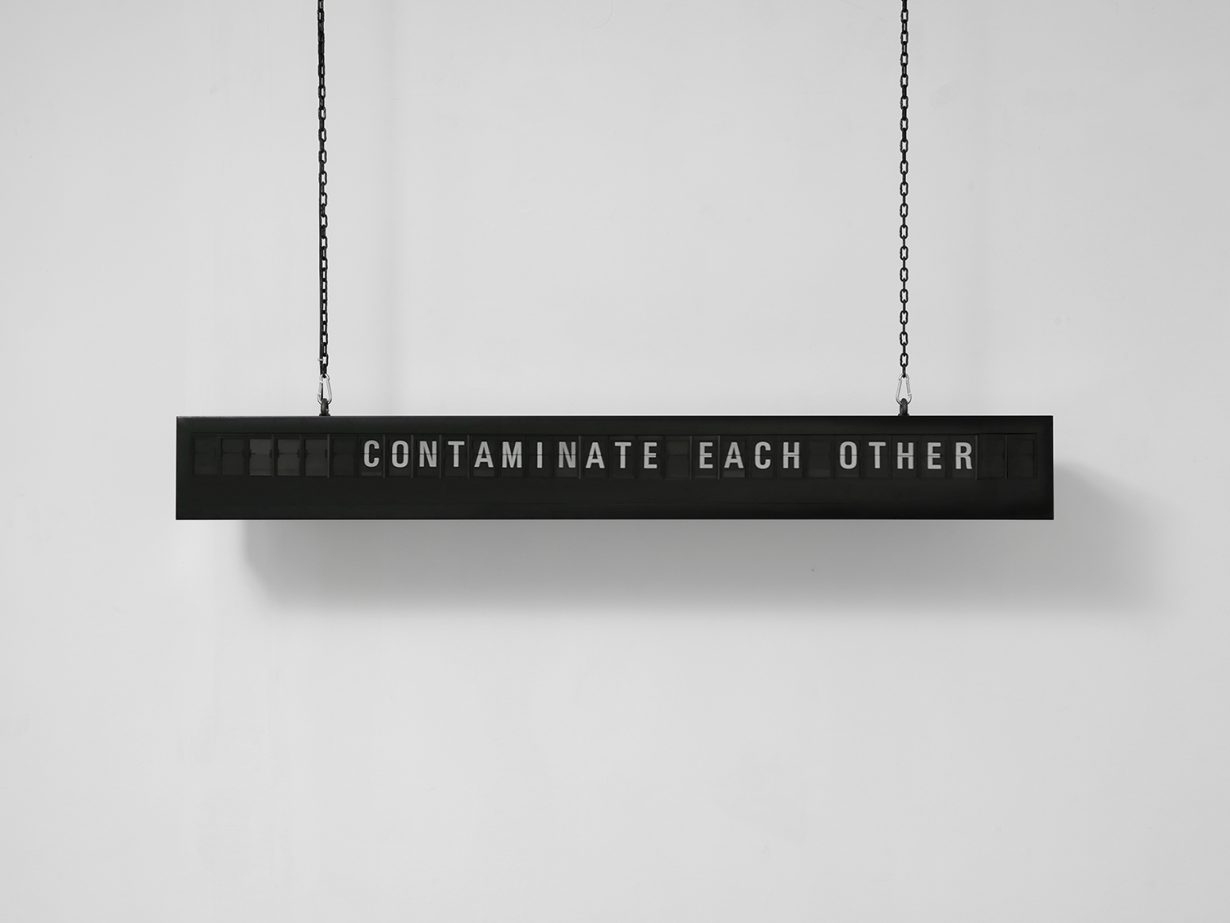 AR Is work at your studio affected?
SG Currently, only essential workers are allowed on local trains, so my studio is closed. Both people working in it stay far away, and only one is able to work online. However, as artists, we are lucky. We can find new ways of working with little means.
AR Walk us through the thought process behind the creation of WEARECLOSERTHANYOUEVERIMAGINED. Was it conceived before the COVID-19 pandemic? If not, the themes of social distancing, paranoia and contagion seem very prescient.  
SG The flapboard comprises of text written both pre- and post-lockdown. However, since it was woven together now, the present moment lingers through.
AR What is the writing process like for your text-based works? Do you know the form it will take (flapboard, wall painting, audio or light installation etc) at the moment of writing? 
SG I rarely know the form beforehand. For instance, the text for the interactive sound installation Speaking Wall (2010) was written around 2006. It was only two years later that I knew what I wanted to do with it. And it took another two years to work out the tech aspect. After showing the work, which is four years since the text was written, it struck me that the work was triggered by a casual conversation in a car journey between the Wagah border [between India and Pakistan] and Lahore!
The actual moment of creation, when the work is coming together, which can sometimes stretch for years, can be rather elusive. There is a bond of trust between you and the moment to accept the risk.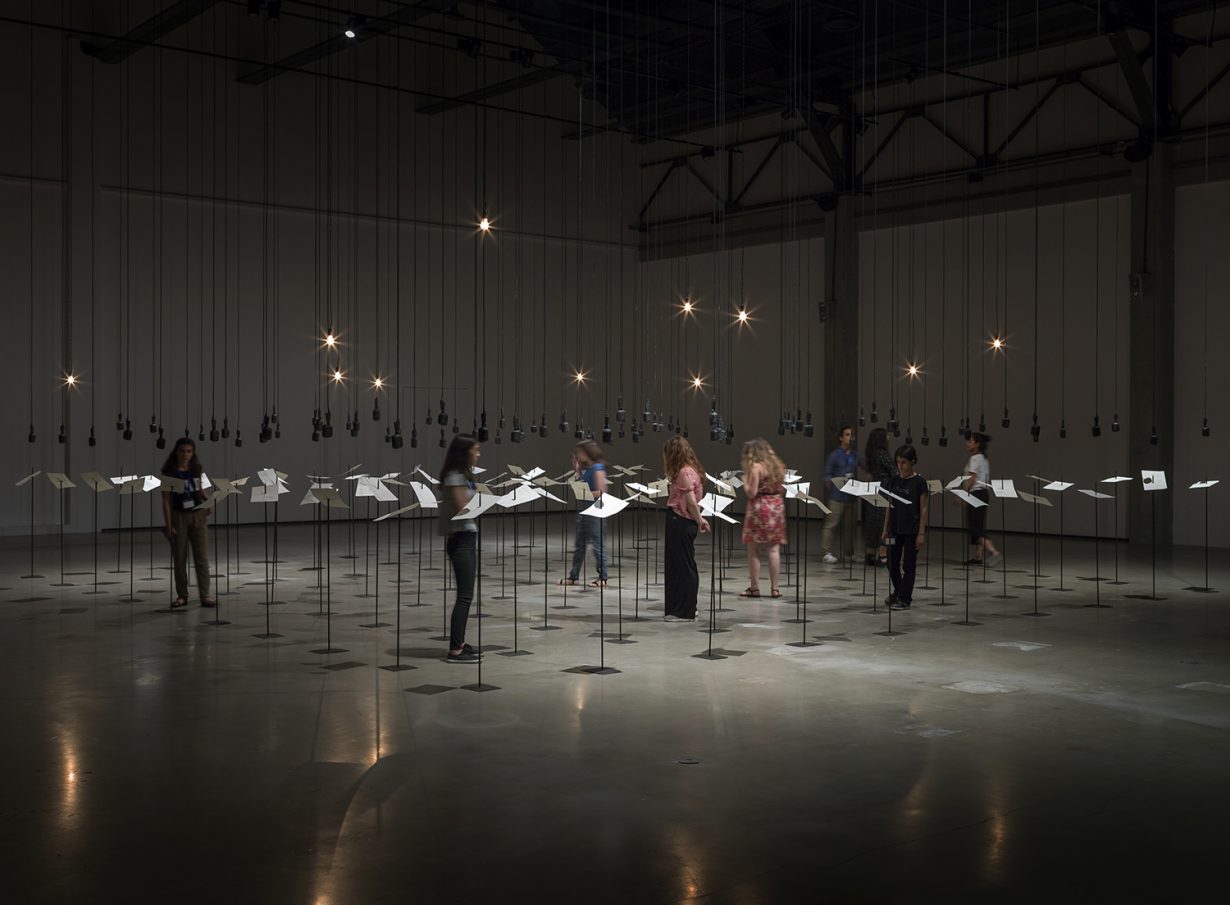 AR Given that a number of your works are text-based, I wonder if you're a great reader?
SG Yes. I am constantly reading a wide range of material, including history, fiction, cognitive science and technology. I am interested in all perspectives and curious to understand the processes that shape the way we understand the world. Works by [South Asian writer Saadat Hassan] Manto and [modern Indian writer Munshi] Premchand have been very close to me. I read Salman Rushdie's Midnight's Children when I was very young, and it revealed more than any history book. Other books which have stayed with me are The Master and Margarita by Mikhail Bulgakov, Seventeen by Anita Agnihotri, Things Fall Apart by Chinua Achebe or non-fiction like The Imam And The Indian by Amitav Ghosh and recently Em And The Big Hoom by Jerry Pinto. A perfect holiday for me is to be somewhere far away with a book.
AR Is there a biographical backdrop to your interest in national borders? What's your family background? How has your living environment shaped your work and its themes? 
SG There is no such family background. As a woman growing up in South Asia, I'm always negotiating with lines being drawn. I grew up in a very mixed neighbourhood with several churches, temples and mosques. Looking back, I realise that its cosmopolitan nature got etched onto me. But things changed as I grew older. In my first year of art school, taking the train from the suburbs to the city centre, I would just turn around and go home, because the art school was closed. At that time, the city was in the grip of sectarian riots of 1993. In 1995, the name of my city changed from Bombay to Mumbai under a right-wing government. Then the name of my street changed. I still wonder which name works better for directions: the one printed on the street sign or the one people remember?
When the 2002 genocide took place in Gujarat, it was very disturbing how people's attitudes around me changed. Majoritarianism was sinking in, appearing seductive and giving a fake sense of power. We had lost a whole lot more than Bombay.
Chance took me to Kashmir, where I realised that the nation-state looks very different when seen from its edges.
I hadn't realised that when an image you hold dear is broken, it could take a lifetime to pick up its pieces.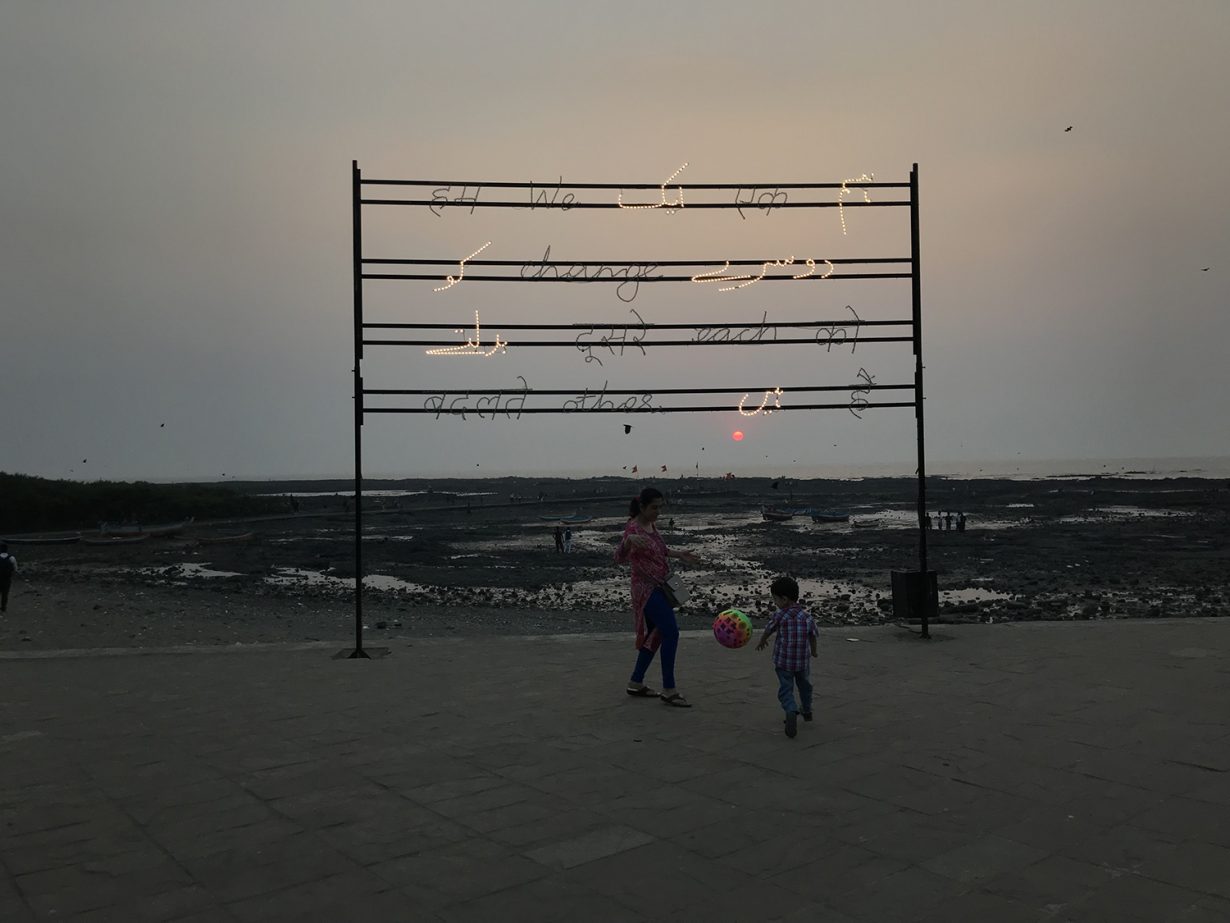 AR Has Mumbai changed as a place to make art from when you started your career? WeChangeEachOther (2017) is a beautiful piece of public art installed in Mumbai's waterfront. Had it been initiated by you? Why? 
SG Yes. I have initiated this and other outdoor art projects on the same stretch on Carter Road in Mumbai. I had previously shown Untitled, an interactive video projection in 2007 and the light installation I live under your sky too (2004) in 2013.
Organising such projects involves getting permissions, fundraising and waiting and waiting. I am particularly drawn to the Carter Road promenade, which is not far from where I live, which is very lively, where people come for their evening walks with their families. We don't have any vibrant public art institutions and few people make it to private art galleries. In this context, however hard it gets with chasing permissions, uncertainties and running into delays, the difficulties are worth it in the end.
AR Two works, For, In Your Tongue, I Cannot Fit (2017-18) and Someone Else – A library of 100 books, written anonymously or under pseudonyms (2011) deal with artists, whose voices have been threatened or silenced. What possible roles can artists play in society? 
SG There is no one prescriptive role for artists. Art is about freedom and there is space for many kinds of art and for many kinds of artists. Art is for exploring form, telling stories, making experiments, taking risks, asking what can art be, and so much more.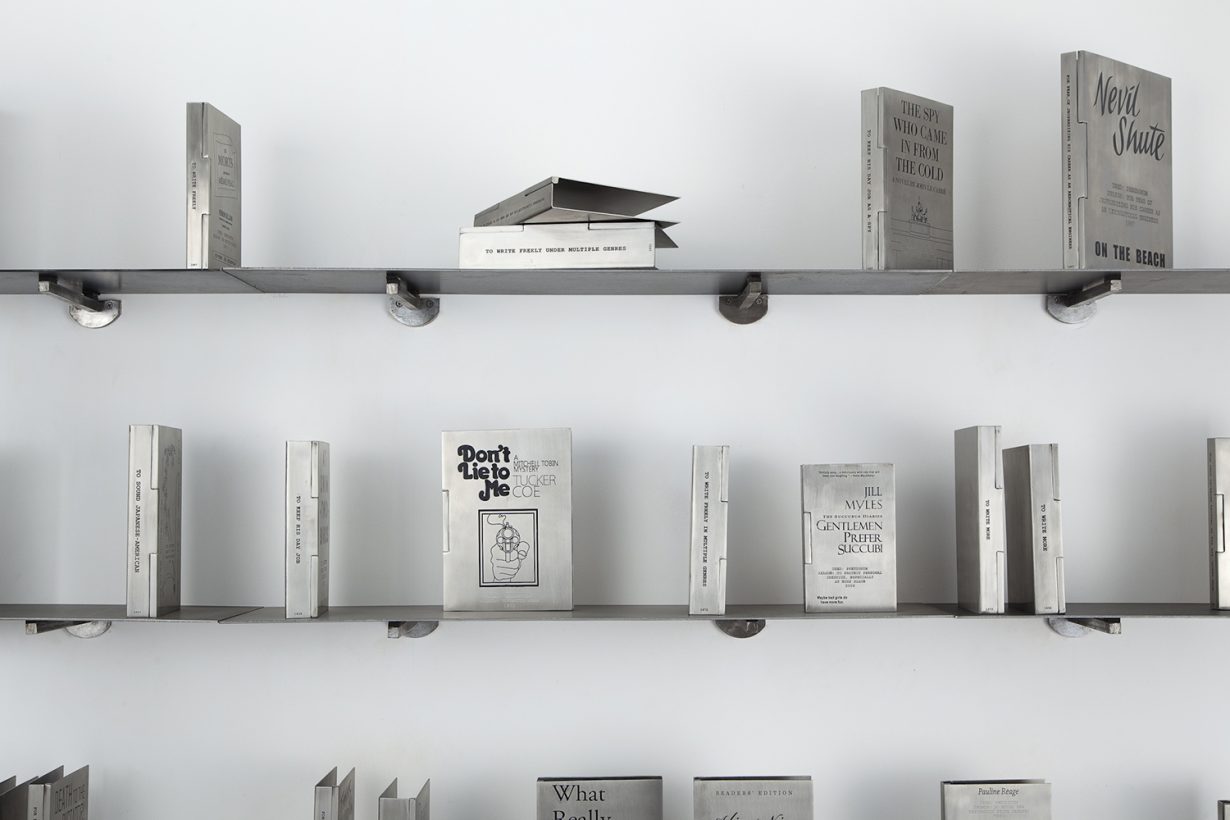 AR In an interview you said you didn't want to be called a political artist but an artist of the everyday. Is art continuous with life for you? 
SG Yes, and I like to avoid categories.
ARA What are you working on now? 
SG I am working long-distance on two permanent outdoor works, one at Bristol University and another in Sweden. There is an outdoor light work which will open in Boston later this year. However, my main concern now is how to find a way to restart the production which has been stuck. It was meant to be part of the show in Antwerp and I hope a new way can be found to make it happen!
AR Does COVID-19 make you want to create more art, or less?
SG I don't think it makes one create more or less. As an artist, one is always passively or actively absorbing the moment. Some of this will materialise now, some later or some perhaps might just be left as notes and drawings.
WEARECLOSERTHANYOUEVERIMAGINED is installed at Chemnitz Hauptbahnhof, Germany, through October. Work by Gupta is also in group exhibitions Push the Limit, at Fondazione Merz, Turin, through 31 January and Voice Over, at Bonnefanten Museum, Maastricht, 18 October – 28 February