From his 'isolation' studio in Bangkok, the artist discusses newly acquired survival skills, organising his video-art festival Ghost, and whether he really used to be a rapper
The Thai-born artist, who splits his time between Bangkok and New York, has a multidisciplinary practice that embraces video, installation, painting, sculpture and performance. The range of his references is equally expansive, melding techno-animism, the Anthropocene, human cognition, spirituality and Thai hiphop – an enthusiastic blend of East and West, old and new that has made his work among the best-circulated on the global art scene in recent years. His ongoing video series, together with history in a room filled with people with funny names (2012–) has travelled, in various incarnations, from biennales in Sydney to Venice to Singapore, and shortly to the Yokohama Triennale, scheduled, at the time of writing, to open in July. While Arunanondchai's solo exhibition at CLEARING Gallery in New York, which was due to take place this past May, has been postponed to "whenever", another exhibition remains scheduled to take place at the Serralves Museum in Porto, Portugal in November and the artist is currently working on a new work to be shown in the Gwangju Biennale and Kunsthall Trondheim, both in early 2021. Lockdowns or not, he is a busy man.
The artist had originally been commissioned to create a new work for Yokohama, but as travel restrictions kicked in it was decided to exhibit an existing work, with history… 4 (2017), together with a mural featuring a photo portrait of his grandmother alongside dried local flowers.
Currently in Bangkok, where his 'isolation' studio is housed in a previously abandoned shack next to his parents' house, he tells ArtReview Asia about his newly acquired survival skills, organising the second edition of the Bangkok-based video-art festival Ghost, which he co-initiated two years ago, and his working process. And whether he was really a famous hiphop artist in Thailand before becoming an artist.
AR: What are you doing right now?
KA: I'm living in my parent's house, where I've set up a small painting studio and office. I still run a studio in New York making stuff, so I stay up really late managing that and talking to my assistant. In the morning I help my mum do the gardening.
I've also been learning how to drive. My dad takes me out. I leave my house but I don't leave the car. I just drive to the mall, park, turn around, go to another place.  And then I'm working on a new video that has to be done in January. I have a rough idea of what I want to shoot, but anything I want to do would require me to drive a car. In the new world, it's better to be self-reliant.
I feel like my life has been pretty crazy for two years. In New York, where I am a third of the year, I'm never home. But now I'm living in a house looking out onto a garden, really enjoying the domestic life.
AR: Do you get claustrophobic staying at home?
KA: No. In New York, if I'm in the apartment longer than one day without seeing anyone, I get confused. If I'm alone, I can get crazy. I feel claustrophobic if I'm stuck in an isolated space without seeing people. Here, I see my parents every day. They still live in a different house. I'm in this shack that my mum renovated two years ago to be a studio.  
AR: Why have you chosen to show With history in a room filled with people with funny names 4 (2017) at the forthcoming Yokohoma Triennale?  
KA: Personally, I wanted to show this video because I've been thinking a lot about breath. The invisible has now become very visible. We're all thinking about coughing and sneezing. The air in between people is neither a stable nor an invisible agent anymore.
As part of the research for this work, I took part in an Ayahuasca ritual: you take this really strong psychedelic – it's like putting yourself through trauma and meditating. It's very similar to Vipassanā meditation, from my culture, where you focus on the breath, and you go through something very similar, for me at least, to how the Buddha described one part of his search for Nirvana: the part where he starved himself.  The soundscape in the video was created to sound like you're in the ritual. You hear a lot of breathing. The video gets intense and the breathing gets panicked. There's a part of it that creates – at least soundscapewise – a meditative psychedelic experience. And then you get to the end of the video and the sound disappears and you… [snaps finger] become nothing.
AR: How's the installation in Yokohama coming along?
KA: I can't travel there to do the installation [of the mural that accompanies the video], but I'm excited to see it. It's probably not going to be perfect. I'm communicating with some students from the art university. There's a way that I usually install the work with pillows [on the floor], but we agreed that in these unsure COVID-19 times that we were going to use plastic chairs spaced apart.   
AR: How do you feel about that?
KA: I want people to be safe, you know?
The other thing I'm doing in Thailand is to organise a video-art triennial called Ghost. I curated the last one. The next one's going to happen in a year. The whole thing about Ghost is based on the idea of an artwork possessing a space through installation. Last time, we had a performance where a group of dancers seated in the audience broke out and started to form an organism. They made movements that would suck the audience in, to the point that they were touching strangers' faces. It was a violation of personal space, but in an amazing way. Now we're trying to think about how to keep interesting things like that happening, but in a different way.
In this uncertain reality, because we don't know what's allowed, for now, it's best to tread carefully. In the end, you want art spaces to be safe spaces. You want people to a) be free to express themselves and b) feel physically safe.  
AR: Some of the themes explored in your work include accumulation of data, human cognition and memory, storytelling, ghosts, artists and their self-representation. Do you ever get overwhelmed by information?
KA: There are different worlds of knowing within the magnitude of being a person. My art, at least earlier on, involves finding a form that allows these different ways of knowing to fit together. Some iterations or pieces are more successful than others. I'm trying to be expansive, emotional and sincere, so that a communication and exchange can be made with the audience.
I write the work as I edit. It's always an open process. I get really confused in it a lot. It's difficult to work with me sometimes, because the process is so open. I'm doing something, my collaborator is doing something, and we don't know what it is going to become or what precisely is going to be used.
AR: Would you say your process has gotten more or less open with experience? Do you embrace randomness more now?
KA: I understand the process more, and I would like it to be even freer. I would like to have the impulse to let something exist, not just because I feel that it makes sense.
I've always tried to paint with my gut feeling. Not do something systematically, but to be expressive and to respond to the moment. But in paintings, I'm not skilled enough to do that, or it's not the right medium for me to do that. Eventually my paintings still need to go through some process.
When editing a video though, on a good day, I can get into that place where I can I think about the footage, where the experiences come from, what they mean to me, and how they connect to one another. My job is to make some kind of invisible connection between all these subjects material and visible.
I feel like I'm able to do that more, because I have been making one project all this time. It's not the same video, but it also feels like one continuous body of work.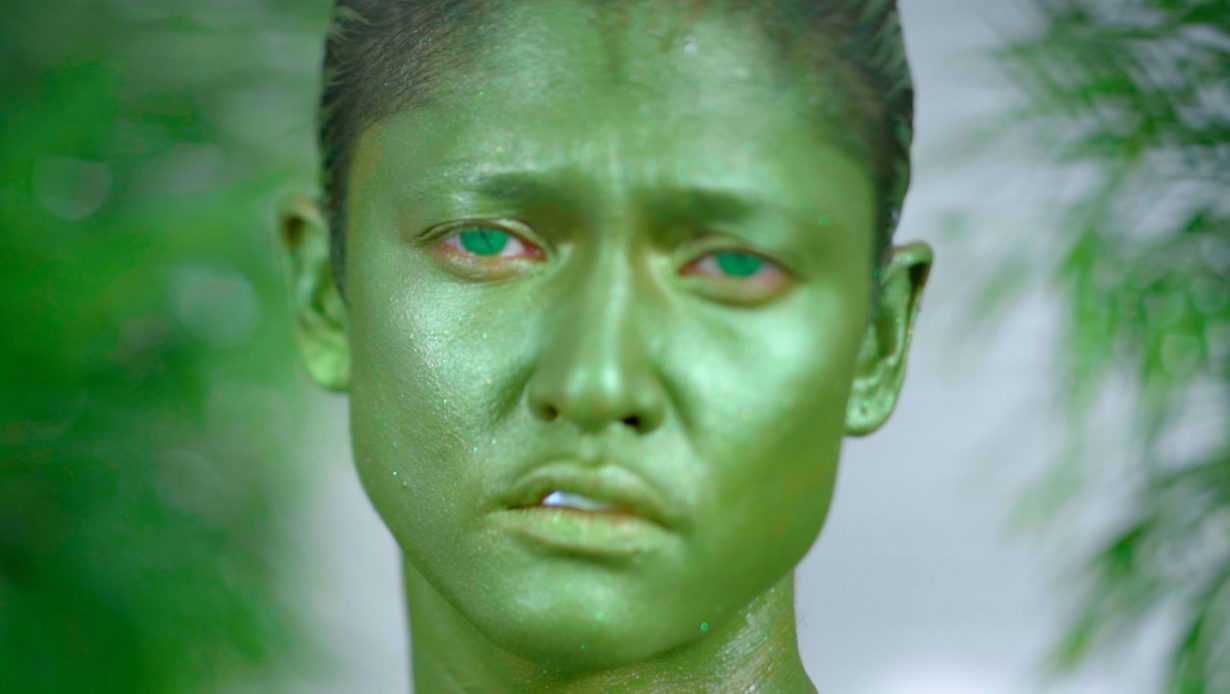 AR: Will you be continuing with the with history… series? Will we see a with history… 10?  
KA: I don't know yet. I feel like I'm committed to it, that I would like to work on it until the end of my life. But not every project I do will be this project. There's a loose way that some of my videos fit into a series, and there are works that don't, and I like that.
My goal in five years is to make a feature film that can be shown at festivals. Currently, my videos, if they are shown in festivals, fit as experimental shorts. I might try to use my next project as a stepladder towards being able to be confident enough to make a feature.
AR: Your work has often been described as a mix of sincerity and irony. Are you getting more sincere with age?
KA: Yes. In the beginning I started with building a character called the Denim Painter, which was essentially myself. As I grow older, my artmaking process is not about going into my own head and my own feelings any more. Now it's about going outside, trying to find things in the past, present or future, and finding connections between people.
I'm interested in ancient human beings, evolution, prehistoric stuff, human beings as a species, because this stuff connects all of us in a wider sphere of existence. I'm an artist, a person, a point in an economic system, and a part of a bigger continuation of life on the planet. My work can go outwards in all these directions. It creates an emotional magnitude that comes from being able to travel through these worlds.
AR: How important do you think marketing and packaging is for an artist?
KA: It's important to understand the reality of how the world communicates and makes meanings of things.
I don't think the exhibition is the only frame of being an artist. There are a lot of other things. In the beginning of my career, in New York, I was making paintings. The works looked like they fit into the framework and discourse of Western painting. But there was an attitude from the audience where the baggage or otherness attached to the work was just this… extra stuff. Being Thai has a bit of novelty value, but they don't care about it. They care about the sacredness of abstract painting, this sacred white space.
But I don't want to have a separation between the life lived and the work. The places that formed these ideas are important.
AR: While we're on the topic, I want to clear something up. Were you really a hiphop artist?
KA: It was something my friend made up. In the beginning of my career, I needed press because I needed an artist visa, so my friend had to pitch my story to Interview magazine in an interesting way.
In the way, the story helped me, because the artworld is very into myth-making. A curator, after I told him, 'This is not true, you can't put it on a wall text', still decided not to take it down. He says, 'It's subjective and I choose to believe that it's true.'
Personally, I feel that my work is more interesting because I wasn't a professional musician before this. I used to be in a high-school band, I rapped and made mix tapes, but I wasn't a famous musician. In fact, the closest I ever got to being in any way a public performer in Thailand is through my art practice. with history… 3 is a deconstructed rap video by someone who has not edited a [conventional] music video before.
Some people believe this story to make sense of the work. They say, 'There's music in the work, therefore he's a rapper.' I am constantly trying to correct this fact, because it makes too much sense.
AR: It's convenient.
KA: I did a talk with my friend Oscar Murillo yesterday, and we were talking about this similar issue. Both of us felt like when we started our careers, there was pressure from many people to simplify and exclude certain parts of our story. At the gate, you're supposed to say who you are, what you're about, and you're not supposed to change that much. But both of us weren't just conceptual artists, filmmakers or painters. These are false categories. An artist is allowed to engage in different worlds of making meaning within art.
AR: How important is spirituality to you personally?
KA: I believe in spirits because many people in Thailand believe in them. I can't deny the reality of the belief. But I'm actually not that spiritual.
My fascination with spirituality, particularly with the idea of spirits and ghosts, is in deconstructing it and allowing it to be a form of knowledge without taking a Western approach which says, 'This is the opposite of science.' Even within Thailand, if you're a city person, you're less likely to have animistic beliefs than a rural person. The mentality of the city people is, 'These people are dumb, they believe in all these things that are not true.' I want to find a way to deconstruct these mentalities to talk about them in a sociohistorical way.
Anyway, there are so many different ways to approach the topic. There are people interested in the history of spirituality, and then there are people in Los Angeles being New Age-y spiritual. Maybe the question is, 'Do you believe in something that is immaterial, bigger than all of us and unites us?' If you deconstruct that, you realise that maybe it's also a story. Some people find spirituality in capitalism, because it's a bigger thing that makes sense to them. For me, it's more important to see spirituality as a product of history and from the perspective of anthropology. 
The 2020 Yokohama Triennale: Afterglow is scheduled to take place 3 July – 11 October