Clean sheets and dirty laundry: Kimsooja, Tuan Andrew Nguyen, censorship in the Philippines, Hong Kong vampires and much more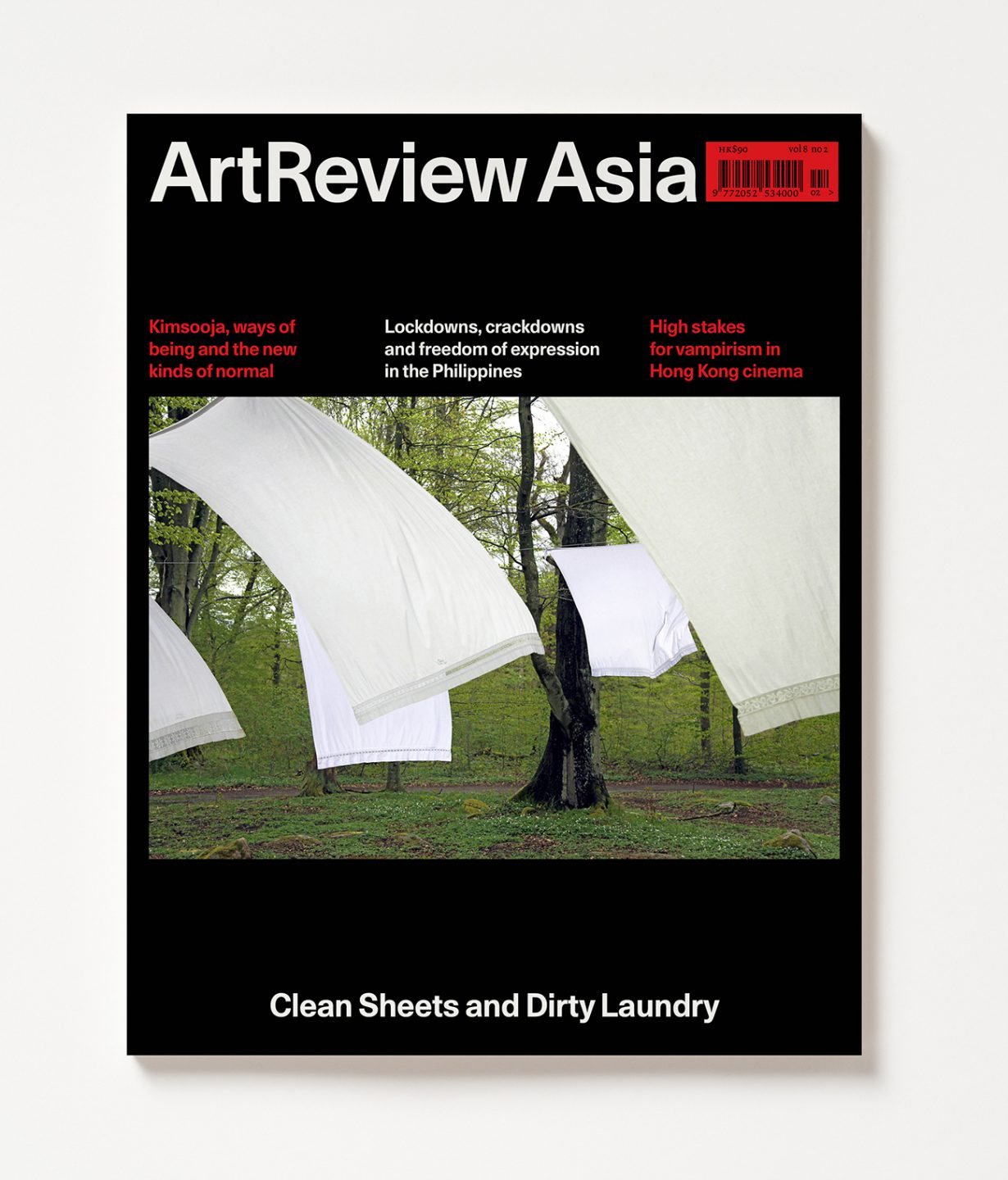 The response to the COVID-19 pandemic has been described as 'the hammer and the dance' – first the 'hammer' of the lockdowns, then the extended 'dance' of unlocking, relocking, unlocking again… ArtReview Asia admits it doesn't know when this dance will end, but it does know that while this (often deadly) duet continues, so too does the business of living, and the business of making art. Its Summer issue navigates our 'new normal', and the art being made and shown, to discover that the virus, though everywhere apparent, is not the only story in town.
Witness, for example, the work of Korean artist Kimsooja, who is constantly reframing aspects of life we think of as 'normal' through her explorations of the poetry of the ordinary and the everyday. The motifs of this work, three decades of which are surveyed at Wanås Konst, Sweden, are often domestic – textiles, weaving, lacemaking ­– but become places for bigger questions to emerge, about migration, tradition and dislocation. And dislocation courses through the work of Tuan Andrew Nguyen, whose recent films address how marginalised and displaced groups and cultures struggle to hold on to or renew the records of their own pasts.
From the Philippines, Marv Recinto reports on how the government-mandated pandemic lockdown has coincided with a wider campaign of censorship, 'triggering national trauma from the violence and oppression of the Marcos era', and on how artist collectives, including Green Papaya, are fighting back. Meanwhile, Fi Churchman revisits the vampires of 1980s Hong Kong cinema. In her close analysis of Ricky Lau's 1985 horror-comedy-Kungfu, Mr. Vampire, rereleased this year, the undead tell us much about political anxieties for the future.
Elsewhere around the world, artists describe how they are managing to make work and show it even when they can't be there themselves: Lee Mingwei speaks of leaving his current show in Berlin unfinished (though in excellent hands) as he raced out of Europe ahead of a travel ban, while Korakrit Arunanondchai talks of ghosts, a cancelled show in New York, living with his parents in Bangkok and the sudden usefulness of knowing how to drive. Also in Bangkok, ArtReview Asia contributing editor Max Crosbie-Jones travels not by car but by motorcycle taxi, his ride into a political history of the city's striving moto-sai – the thousands of rural-to-urban migrants who weave through the city's teeming lanes. A few hundred miles away, poet Zakir Hossain Khokan composes verse to bear witness to the precarious migrant workers of Singapore – of which he is one – and their everyday battle against COVID-19, official neglect and social invisibility.
Although the virus has reduced the flow of art to a trickle at times during the past few months, the Review in ArtReview Asia is nonnegotiable: including Latiff Mohidin at National Gallery Singapore; Meditations in an Emergency at UCCA, Beijing; Tulapop Saenjaroen at 100 Tonson Gallery, Bangkok; Jun Sojung at Atelier Hermès, Seoul, and much more.
***Click here to subscribe***