Featuring Sin Wai Kin and Orawan Arunrak; interviews with Lolo & Sosaku, Kim Bohie, and Stan Burnside and Tavares Strachan; essays on feminist art history and the death of an artist; reviews of Wolfgang Tillmans and Cerith Wyn Evans; and much more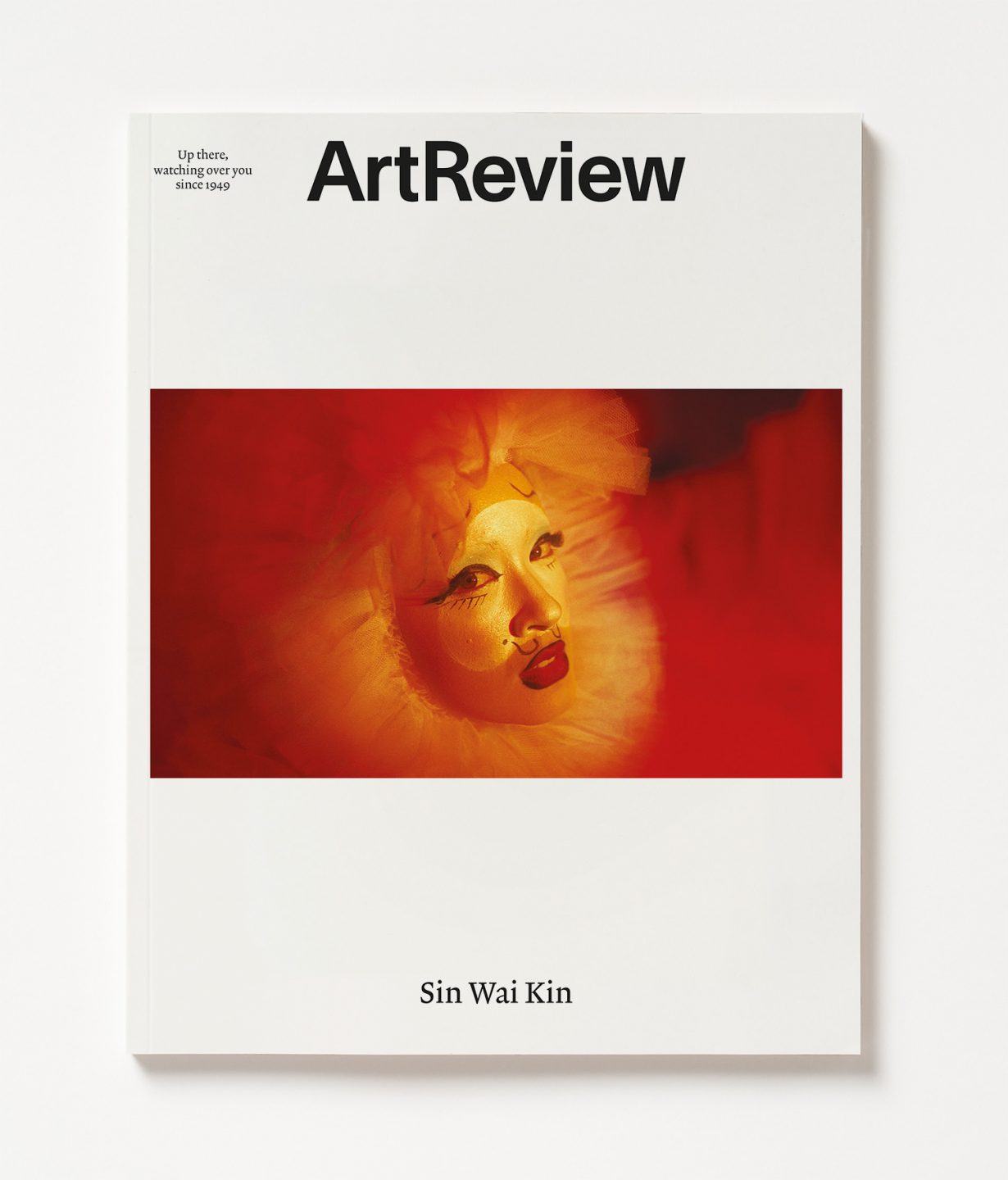 The November issue of ArtReview is all about a question of taste: what makes art good? Or what makes art 'bad'? And can 'bad' art actually be considered… well… quite good? This issue looks at the blurring of absolute values and essential truths, and the potential in between.
This month's cover artist, Sin Wai Kin, has been upending gender essentialism via their drag queen personas since the early 2010s: with cartoonish big prosthetic breasts, blonde wigs, 'Pierrot-white face, exaggerated black-and-red mouth and fake eyelashes to sweep the floor with', writes Skye Sherwin. But more recently Sin developed their first male persona, named 'The Storyteller', joined by other male personas, who together form a 'boyband', and appear in the artist's recent videos It's Always You (2021) and A Dream of Wholeness in Parts (2021). Sherwin describes that latter as 'a "carrier bag" fiction of the kind advocated by [Ursula K. Le Guin], its components left to jostle side by side, free from the prescribed journey and conclusions more linear tales might force us to take.'
American artist Robert Nava defies what is considered 'taste' in the artworld by making 'bad' paintings. His paintings of dragons, castles, sharks and angelic extraterrestrials are made with a view to, as Owen Duffy puts it, 'embracing the brows low and middle', creating works that 'bloom from a more egalitarian place of making'. 'Nava's work participates and advances the history and traditions of bad painting, and might be called, in his words, "superbad"', writes Duffy, inciting the 'encouragement of fellow artists, but the ire of Instagram trolls and uptight collectors'.
Meanwhile: Max Crosbie-Jones embarks on an audio walk of Bangkok's busy Hua Lamphong train station, artist Orawan Arunrak's contribution to Ghost 2565, a video and performance art festival cofounded by Korakrit Arunanondchai. Artists Stan Burnside and Tavares Strachan discuss the responsibility of unlearning a Western art-historical canon via embracing the collaborative ethos of Junkanoo, a carnival-style street parade and sacred cultural rite that takes place across the Caribbean – generally on Boxing Day – and that originates in West African religious practices. Ross Simonini talks to Barcelona-based duo Lolo & Sosaku about their soundworks and the art of relinquishing artistic control to a fleet of little robots.
Plus
With the recent flurry of 'coffee table' books published about women artists, Eliza Goodpasture questions why it's so hard to write a feminist history of art; and Rosanna McLaughlin wonders what a true-crime podcast about Ana Mendieta's 1985 death adds to the discourse. And last but not least, the usual selection of exhibition and book reviews from around the world, including Wolfgang Tillmans at New York's MoMA, the 58th Carnegie International, Bergen Assembly 2022 and group show Afterimage at MAXXI museum's new L'Aquila exhibition space.
***Subscribe to ArtReview today***
Cover image: Sin Wai Kin, The Story Cycle (still), 2022, video, 17 min 7 sec. Commissioned by Somerset House Studios, supported by the DCMS and Arts Council through the Culture Recovery Fund. Courtesy the artist