Nicole Eisenman, Kameelah Janan Rasheed, Somankidi Coura, Artavazd Pelechian, the mythology of Casa Mollino and much more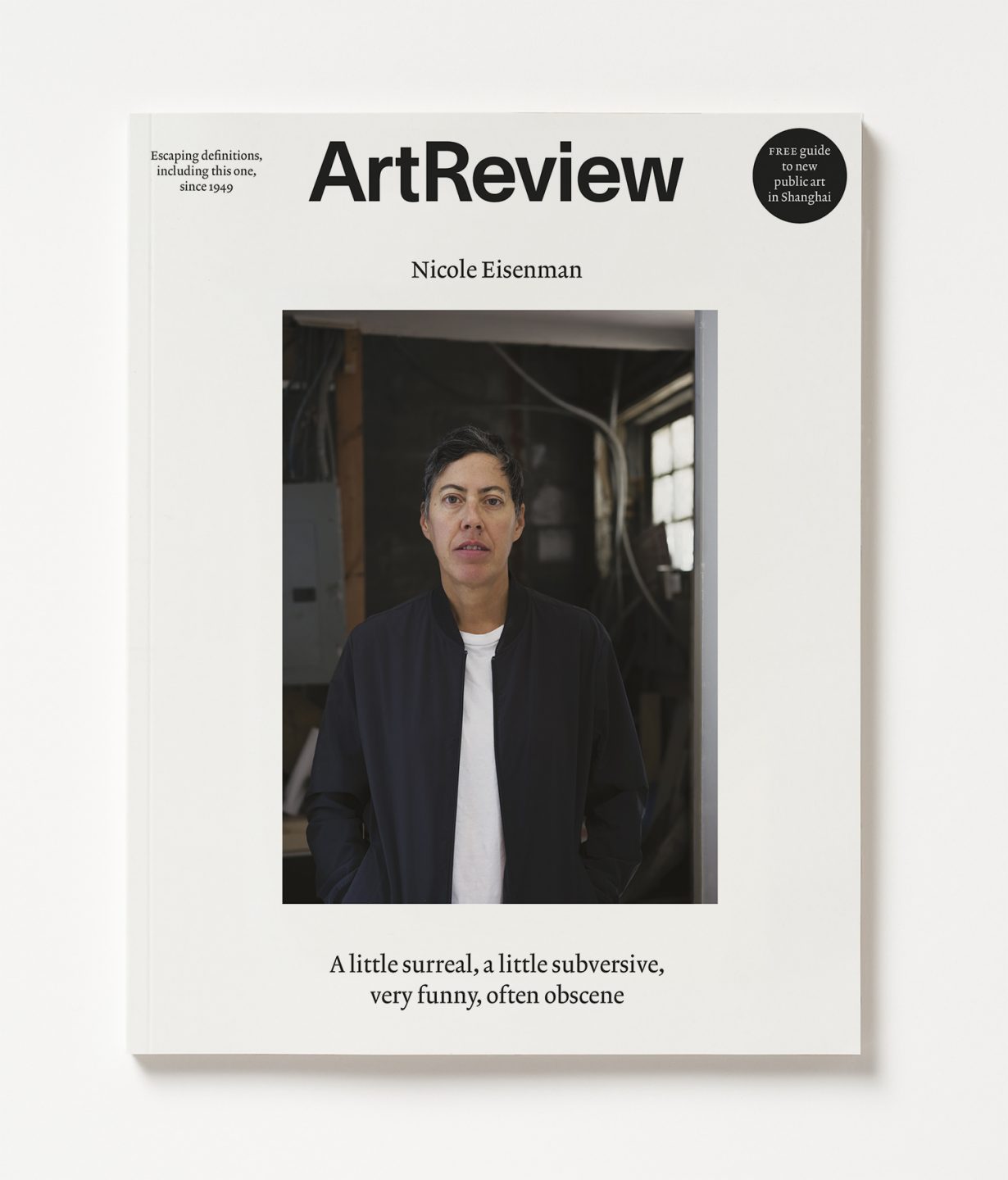 Into lockdown, out of lockdown, semi-lockdown, soft lockdown – the past month has seen much of the world's population (ArtReview's editors and contributors included) living under various forms of extraordinary control and convention. So, what better time to take a look at the rule breakers, the definition stretchers and a variety of challenges to what we perceive normal to be?
In the November issue of ArtReview, Rahel Aima looks at the ways in which American painter and sculptor Nicole Eisenman is reimagining the world through her art and exploring new codes for the representation of gender in the public realm. Meanwhile, in an exclusive, newly commissioned collage, Brooklyn-based Kameelah Janan Rasheed unpicks and restitches language, mathematics and logic in a reflection on past, present and future times.
Also in the issue…
Rosanna Mclaughlin investigates Casa Mollino in Turin. One of cult Italian architect Carlo Mollino's many homes, in which Mollino did not live but placed a collection reflecting his passions (among them sex, aerial acrobatics, skiing and car racing), Casa Mollino, which opened as a shrine to its owner in 1999, has become a centre for curatorial (and occasionally occult) mythmaking that typify ideas of the twentieth-century male genius. Speaking of which, as a reconstruction of art historian and cultural theorist Aby Warburg's Mnemosyne Atlas goes on show in Berlin, Chris Fite-Wassilak examines how the work of German artist Ines Schaber offers suggestions about how we might view sacred historic imagery in the context of our fetish for archives and colonial impulses.
And…
Raphaël Grisey and Bouba Touré trace the history of Somankidi Coura, a self-organised agricultural cooperative in Mali, founded during the late 1970s by former migrant workers and activists then based in France, as a way of thinking about a politics of decolonisation for agriculture and migration, and of rethinking archives. And Carmen Gray takes a look at eighty-two-year-old cult Armenian filmmaker Artavazd Pelechian's first new work in 27 years – he's 11 years older than ArtReview, you know, and still knocking it out of the park.
Don't miss…
A special gift with this month's ArtReview: Contemporary Public Art in Shanghai is an exclusive guide to the artworks commissioned and produced by Art Pioneer Studio and installed along the Yangpu Waterfront as part of the Shanghai Urban Space Art Season 2019. Published in English and Chinese, it features an essay by supercurator Hans Ulrich Obrist and profiles of artworks by Keisuke Takahashi, Zhang Ming, Han Jiaying, José de Guimarães, 目[mé], Felice Varini, Richard Wilson, Shen Lieyi, Yoshiyuki Kawazoe, Xiang Yang, Song Dong, XU ZHEN®, Oscar Oiwa, Pascale Marthine Tayou, Yusuke Asai, Esther Stocker, Liu Jianhua and Philip F. Yuan.