Two new films at Chisenhale Gallery capture a double-sided view of Nigeria, finding something mutable between industrial and internal experiences
Projections of two new films by Ayo Akingbade are separated by a tall aluminium framework that traverses the space, decked in translucent polycarbonate planks with an indent where visitors sit. It's fitting: Akingbade has built a body of work frequently concerned with people's emotional and sociopolitical relation to tangible place, architecture, physical environment – often on her familiar territory of London, such as in Dear Babylon (2019) and Fire in My Belly (2021).
This time we're in Nigeria. The Fist (2022) observes a day in the life of a Guinness brewery in Ikeja. Workers arrive and loiter, pray and natter as they wait to check in; machines rumble into action as their operators unfussily saunter between tasks. Caught on seductive 35mm film, flecks of light shine off brown-glass bottles; in fixed-camera shots, hi-vis jackets pop against the metallic greys and puddled concrete floors of artificially lit spaces. Compositionally, we're reminded of Bernd and Hilla Becher's depictions of labyrinthine industrial complexes or Andreas Gursky's spatial metricality; workers are often framed by a lattice of pipes and conveyor belts, made small by scale and the percussive chugger of machinery. While synecdoche is a common trope in depictions of industrial labour, and increasingly a part of postcolonial analysis, The Fist is no modernist statement, content enough to observe the material facts and habits of work.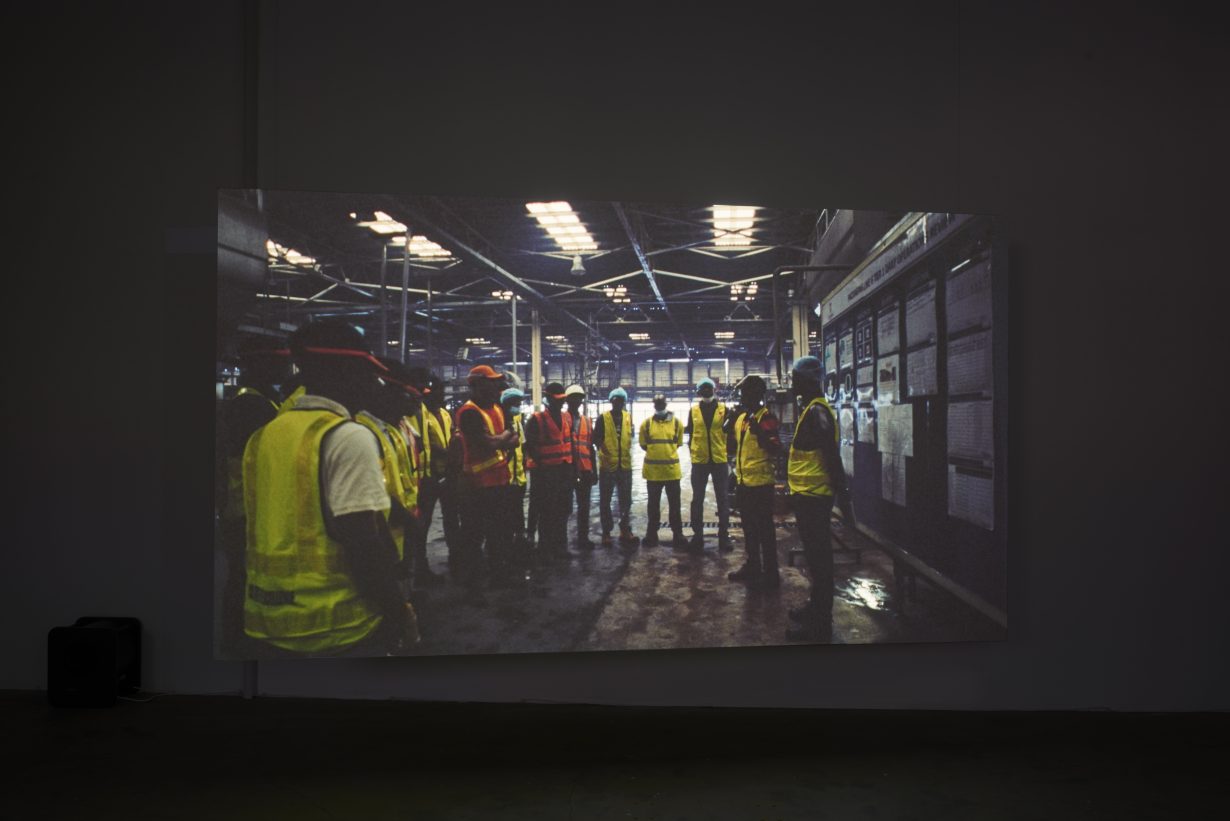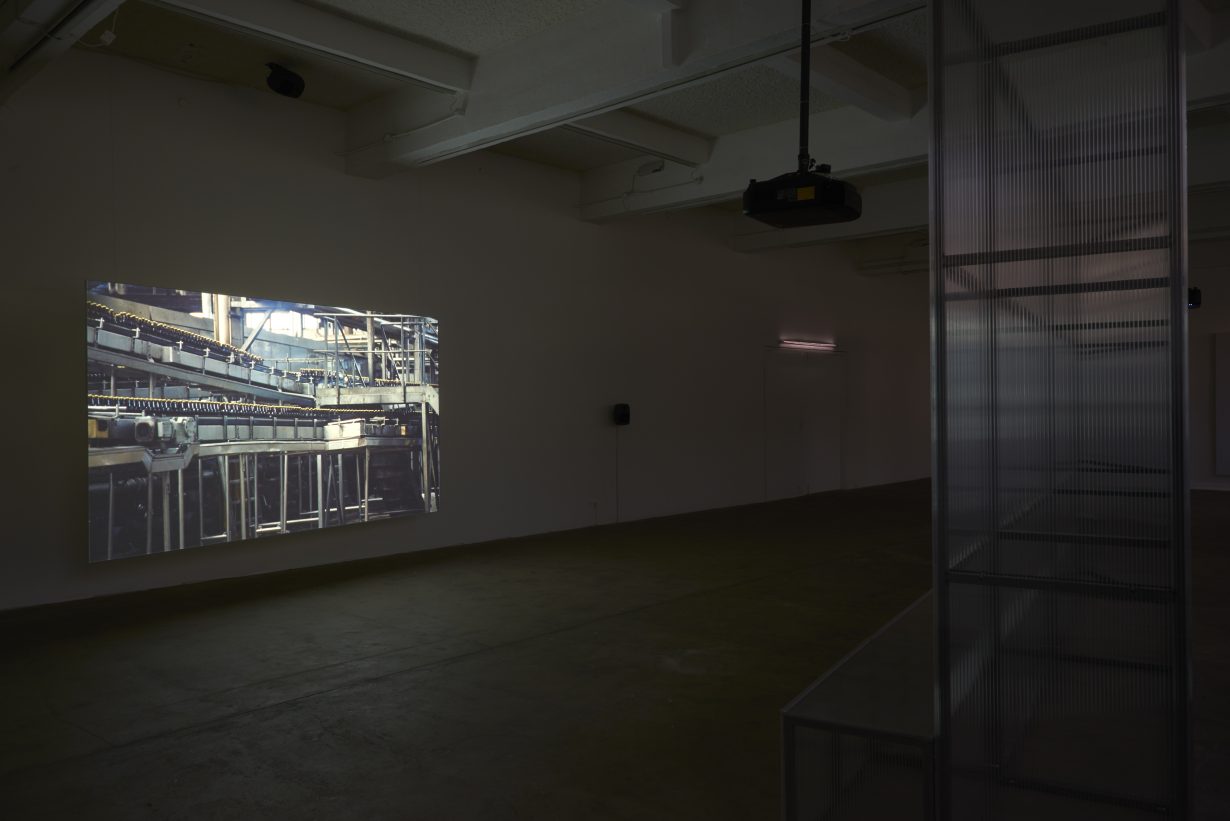 Faluyi (2022) ostensibly shares little with The Fist, rendering Show Me The World Mister a kind of Janus-faced exhibition: 'The World' as two stories on double-sided paper, of steel in the former and, here, of sprawling natural landscapes. A teenage girl goes on a personal and spiritual journey after the passing of her father – exploring the corners of her village in the Idanre Hills, its bouldering mountains and strangers in nearby towns – told in 14 minutes, with frequent moments of sensitive, subjective cinema: the tactility of an interaction with a spiritual guide; the texture and motion of her eating caught in slow motion and soft focus; her eyes squinting at a ray of light while receiving the tragic news – a blinding moment of transformation, or enlightenment. Faluyi later walks past a class of children singing a nursery rhyme of going to London; she pauses, curious, then we move on, reminded (but not so much as haunted) of looming former-colonial powers.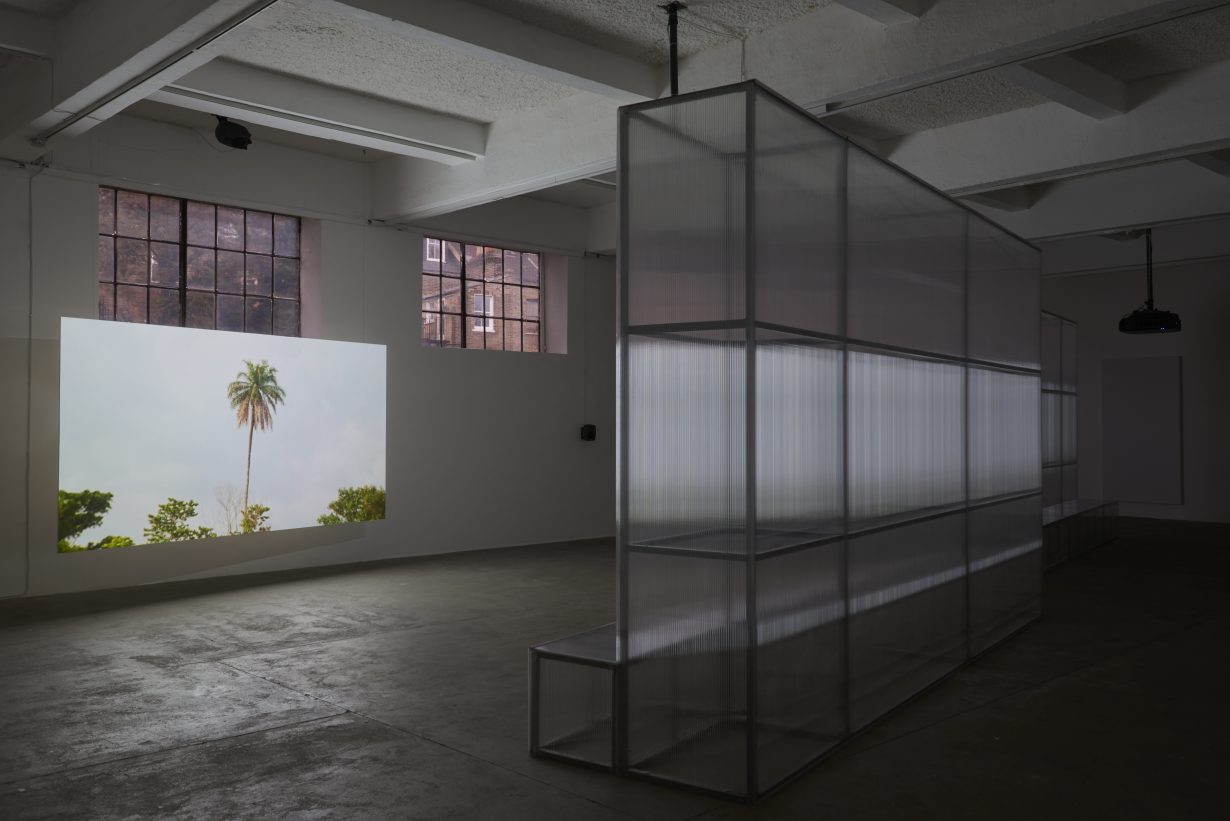 As such, there's a nagging feeling of narrative indeterminacy in these films. Both seem content to observe a knotty subject – say, capitalist labour conditions, or spirituality and tragedy as dialectical relatives – rather than pull at the entangled string. But then sensitivity and inconsequentiality also make Show Me The World Mister something more mutable: an attempt to simultaneously express the hard, industrial world alongside the languor and fluidity of the internal one.
Show Me The World Mister at Chisenhale Gallery, London, through 5 February