Videos and images become reality when watching football
The first time I saw the Estadio Azteca was when my parents bought a handful of VHS tapes for my tenth birthday, in 1991. Like many English people of my generation, I fell in love with football during the 1990 World Cup; its series of iconic images, from Luciano Pavarotti singing the Puccini aria 'Nessun Dorma', which the BBC used as the theme music for its coverage, to Paul Gascoigne crying during England's semi-final against West Germany, will stay with me forever. I wanted to know everything about the tournament's history: its greatest players, teams and matches; where each one was held; how its styles and aesthetics differed across time and place.
My favourite editions were 1970 and 1986: both hosted in Mexico, with the Azteca, in Mexico City, becoming the first stadium to host the final twice. I found the footage from 1970 captivating, with details like the black-and-white 'Telstar' ball, named after a satellite, of the type that helped the tournament to be broadcast worldwide, in colour, for the first time. The kits were sharp and simple, especially Peru's white shirts with a red sash; the stadia were packed and sun-drenched, with the aerial shots of the Azteca capturing its colossal size and fervent energy. I became familiar with these from a tape called Brazil 1970: Team of the Century, which charts their path to World Cup glory that culminated in their 4-1 win over Italy, ending with Carlos Alberto's emphatic finish to an intricate set of passes for the final goal. It's one of the most famous passages of play in football history that I've seen so many times on TV and online, recreated on BBC2's Fantasy Football League and in a stop-motion animation made with Lego on YouTube.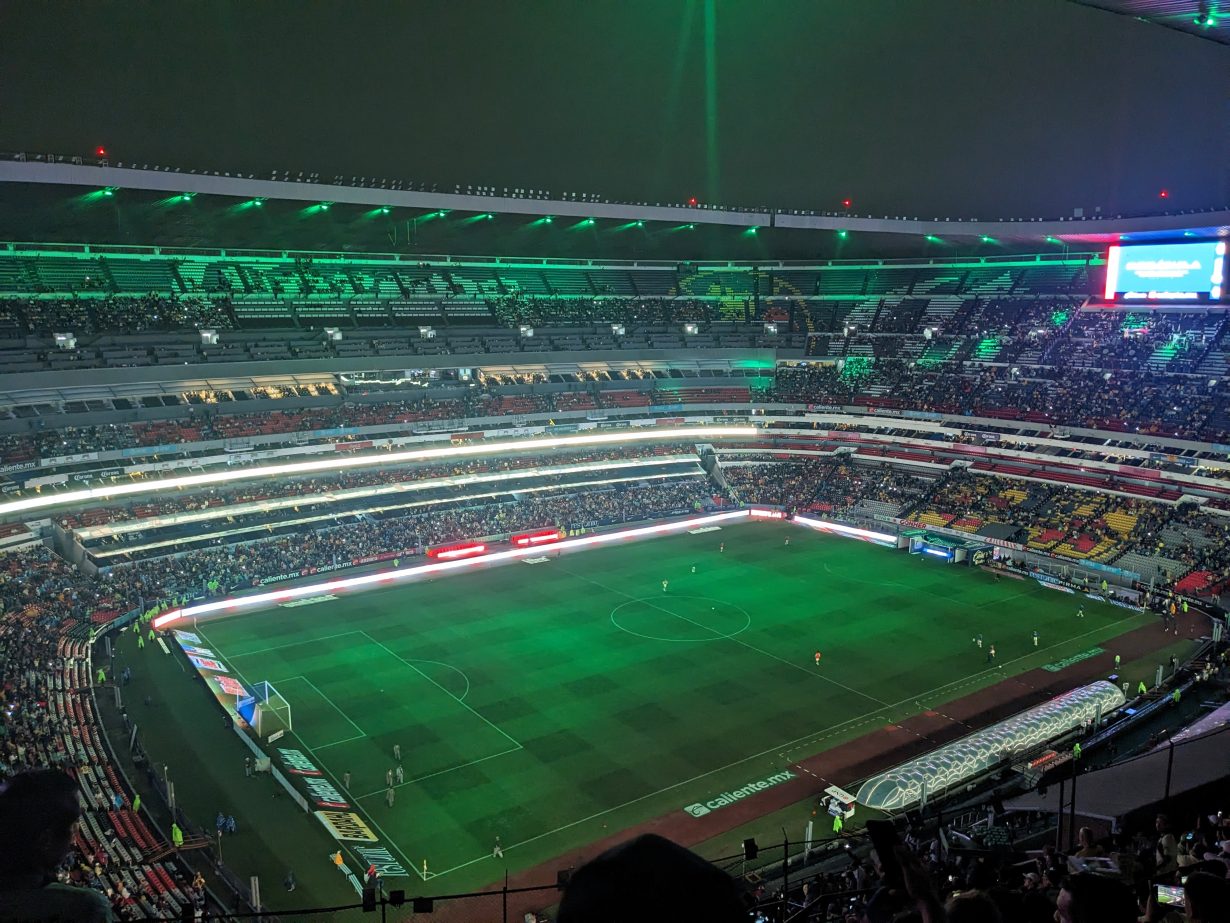 The Azteca featured far more in the video of every goal from 1986, including Manuel Negrete's incredible 20-yard scissor-kick strike for Mexico against Bulgaria and Diego Maradona's 'Hand of God' and 'Goal of the Century' against England in the quarter-final – he went on to score two more against Belgium in the semi-final before Argentina's thrilling 3-2 defeat of West Germany in the final. Both tournaments saw a legend seal his status as his generation's greatest player. The footage of the pitch invasion after the 1970 final looked like pure delirium, with fans practically stripping Pelé bare as the crowd tried to lift him away from the baying hands; the rain of ticker tape and people racing to hold Maradona aloft in 1986 was equally ecstatic. Ever since I first saw those moments, the Azteca has been the stadium I've most wanted to visit.
This summer, I booked a holiday to Mexico City, checking the fixtures (as I do with every trip, business or pleasure) to make sure I could see a match at the Azteca. Despite having seen so much footage of it, I didn't know much about the stadium other than that it was impossibly huge. Walking up to it through the market stalls selling replica kits, food and drink, I got a full sense of it as an entirely modernist stadium: an extraordinary Brutalist maze with numerous concrete struts, designed by architects Pedro Ramírez Vázquez and Rafael Mijares Alcérreca to help it withstand an earthquake, as it did in September 1985, allowing Mexico City to host the 1986 final amid widespread devastation. Mijares and Vázquez worked together on several other buildings in Mexico City, notably the equally impressive National Anthropological Museum. For the Azteca, they went to Europe for inspiration, borrowing ideas from Wembley Stadium in London, Milan's San Siro, the Camp Nou (Barcelona) and the Santiago Bernabéu in Madrid. They broke ground in 1962 ahead of the 1968 Olympic Games in Mexico City. As part of the public sculpture programme for the Olympics, American artist Alexander Calder was commissioned to produce his largest work, El Sol Rojo (1968), which still stands at the Azteca's entrance.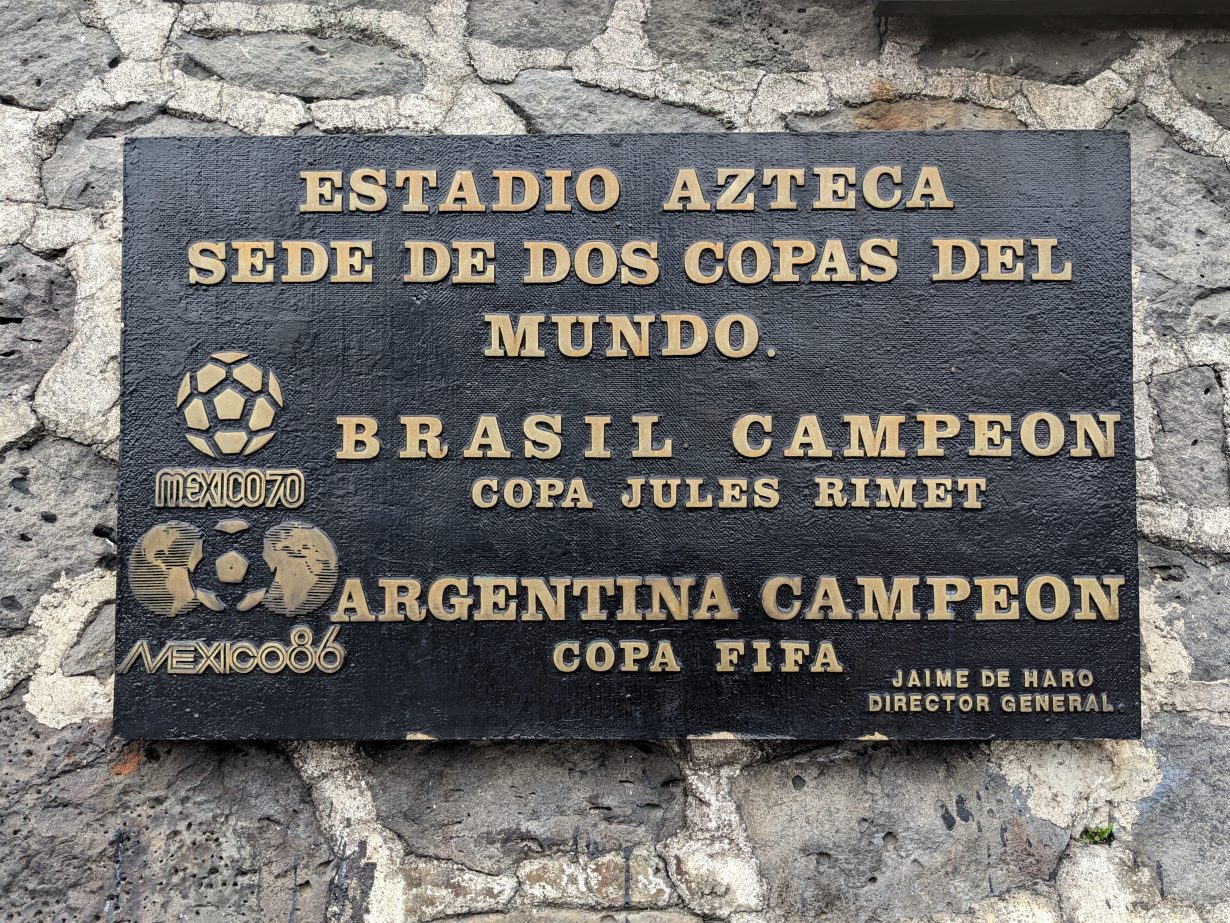 Football grounds are an opportunity to trumpet their clubs' histories. They're full of murals of past players and replicas of league or cup trophies; Sunderland's Stadium of Light has a Davy lamp in a vitrine outside to remind visitors of the mining money that underpinned their prewar success, and a statue of 1973 FA Cup-winning manager Bob Stokoe. The Azteca doesn't need to be so overt: there are relatively discreet plaques to celebrate its opening match, a friendly between Mexico City's Club América and Torino in 1966; the 'Match of the Century', in which Italy beat West Germany 4-3 in the 1970 World Cup semi-final; Brazil and Argentina's world champions; and Negrete and Maradona's goals. Since the latter's death, Mexico-based Argentinian artist Jorge Alderete has added a mural of Maradona in a sombrero, scoring his 'magnificent' second against England and holding the World Cup aloft. The plaques are discreet, as if the Azteca's size and history speak for itself. Notably, there is no mention of hosting Denmark's 3-0 victory over Mexico in the 1971 Women's World Cup final in front of 110,000 spectators, nor of the 1968 Olympics – overshadowed by the Tlatelolco massacre, when the US-backed Institutional Revolutionary Party government's Armed Forces opened fire on civilians protesting against the prioritisation of the Games over other concerns at the Plaza de las Tres Culturas, killing hundreds.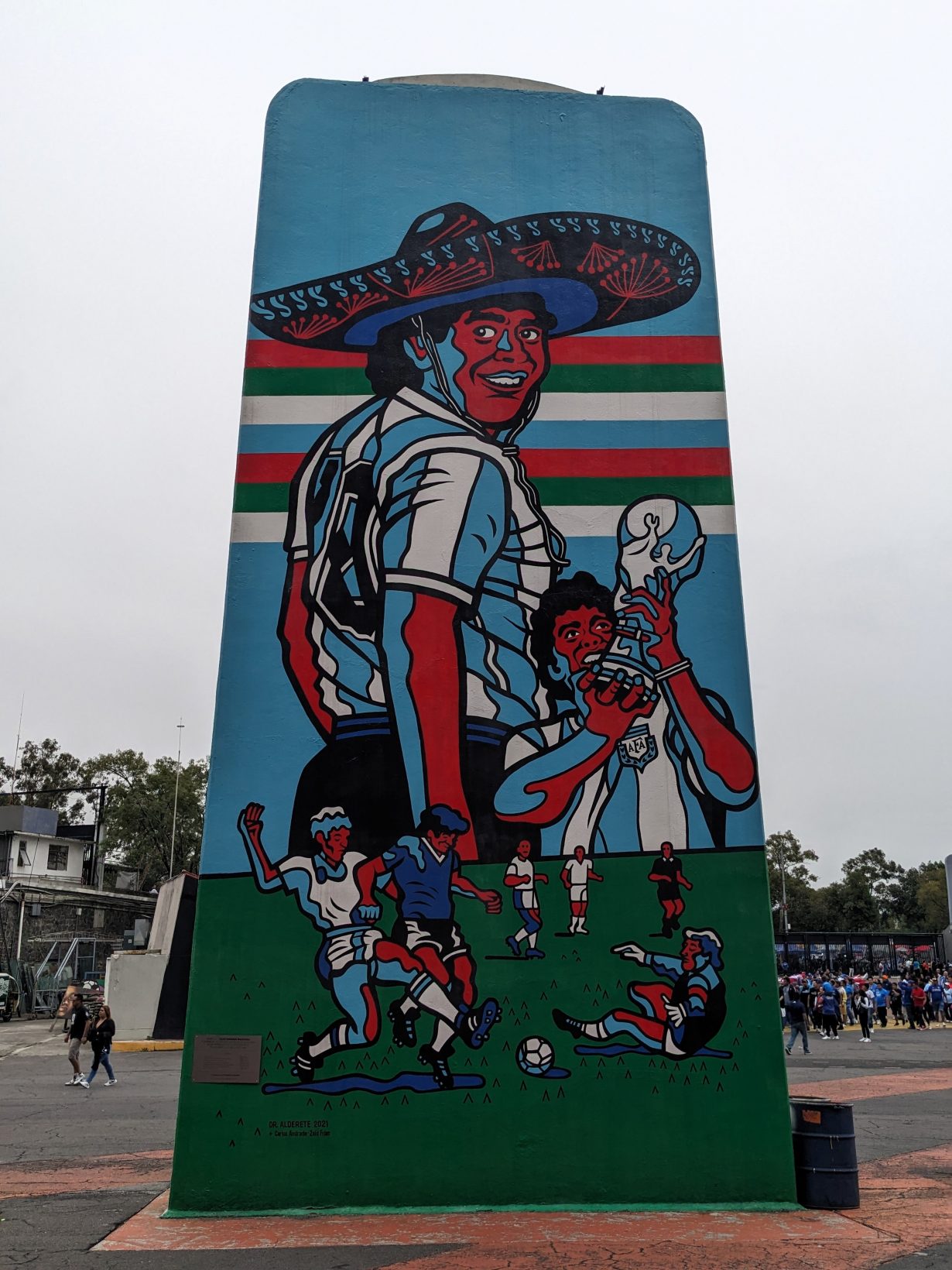 I ended up seeing three matches at the Azteca: Cruz Azul, a local club currently sharing the stadium while they plan a new one, against Santos Laguna; and then Club América against Necaxa and León. I didn't expect these games to live up to the unbridled ecstasy of what I'd seen on screen as a child, but it was thrilling to ascend the ramps to my 100-peso seat, one of the highest in a stadium 2,200 metres above sea level, and to get some sense of how it must have felt to have been there in 1970 or 1986. At one point, a Cruz Azul forward calmly laid the ball off to his right, and I could see Carlos Alberto racing onto Pelé's pass and smashing it into the far corner. That familiar image no longer seemed like something far removed in time and space, but something that once lived in this place, that could be seen from the stands when the players occupied similar positions in a way I've never quite felt anywhere else. Reality kicked back in – the move soon broke down; much of the time, watching football is disappointing and frustrating. But those long, forgettable stretches create those moments that become part of a visual heritage – one that is shared by football players and supporters around the world. Not everyone who visits the Azteca will have their experience enhanced by a passion for modern sculpture and Brutalist architecture in the same way I do, but likely they will all know something of its incredible history, and – if they're lucky – see things they'll want to rewatch and relive, over and over again.
Juliet Jacques is a writer, filmmaker and footballer based in London.