From the Humboldt Forum and the return of the Neue Nationalgalerie to the synergy running through the city's commercial galleries, the cultural and infrastructural landscape enters a new phase
Anyone flying into Berlin recently would have encountered a reshaped cultural and infrastructural landscape, discernible even in a city where renovation never rests. For starters, they'd arrive at the long-delayed, super-sterile Berlin Brandenburg airport, whose recent opening also served to gestate more culture. For when the conveniently central airport Tegel closed in consequence, it did so with sonambiente berlin txl, a mini-festival of sound art that featured eerie audio accompaniments to wandering the deserted hallways of its iconic hexagon – including Susan Philipsz humming Brian Eno's Music for Airports, and Blixa Bargeld's melancholy announcements of non-existent flights – and, on several occasions, enticing Lagos-flavoured DJ sets by Emeka Ogboh out on the tarmac. Art-related farewells have, of late, been a bit of a thing in Berlin: the Bierpinsel, a futuristic tower – shaped like a tree but called the 'Beer Brush' – from 1976 in the southwest of the city, was given a send-off in September via experimental electronica and a 'guided ritual' by artist/musician Ayesha Tan Jones. These, however, were not the splashiest developments.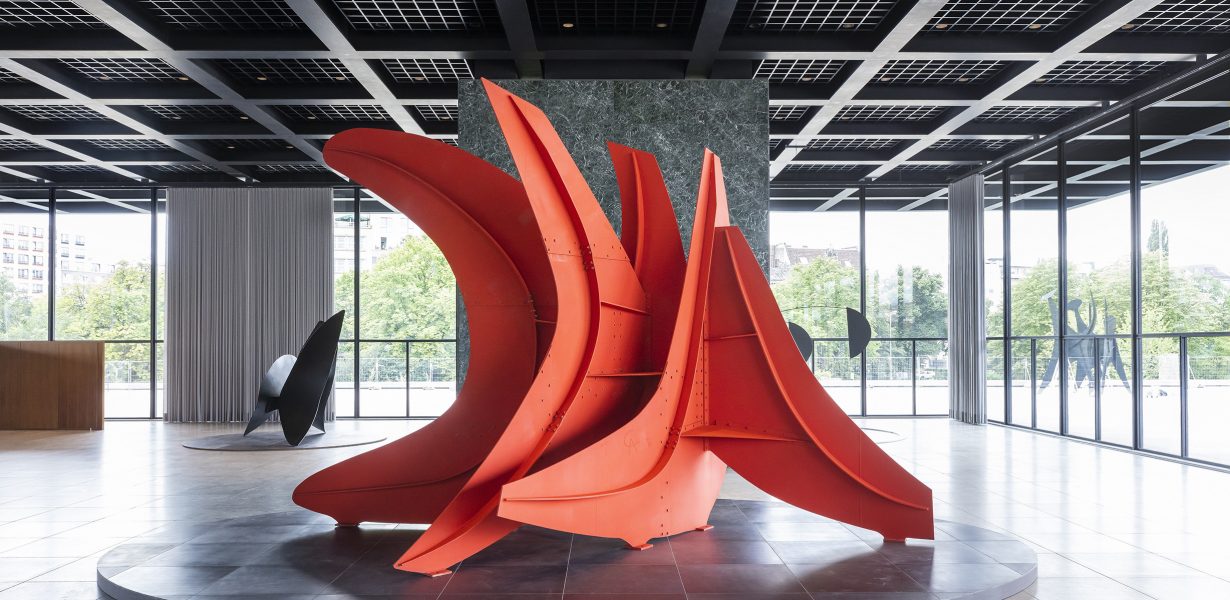 In late summer, the city's Berlin Palace opened, a reconstruction of the seventeenth-century baroque edifice that stood there until 1950. This now houses the Humboldt Forum museum, and is a fabulous place if you like multiple cafes and gift shops, soulless atria, rambling displays of Berlin's history and 'interactive' choose-your-own-adventure signage; restitution controversies over the ethnographic collection are meanwhile evolving in real time. And yet, soothing symmetry: as this white elephant finally laid to rest its (in retrospect, pretty great) modernist GDR predecessor, the Palace of the Republic (1976-90), another sleek twentieth-century box was revived. Mies van der Rohe's Neue Nationalgalerie, shuttered for the last six years, returned with rehung collection displays, a subterranean warren of rumbling projectors and partly abstract films courtesy of Rosa Barba, and, most ostentatiously, a loan-heavy Alexander Calder show mixing his looming public sculptures, graceful mobiles, dinky maquettes and bespoke chess sets. As this display doubled down on the glass-box building's abundant modernist froideur – and sidestepped the main space's famous hitch, no walls – the implicit message from the Calder/Mies combo was that classic modernism is forever. (Unless, as above, it was made by communists.) That's underwritten by the building's David Chipperfield Architects-directed refit, which has involved all kinds of invisible shoring-up, unobtrusive updating, and a cost of €140m. Yet a few weeks after the opening, news broke that there'd be a new boss, too: Klaus Biesenbach, cofounder of Berlin's KW Institute for Contemporary Art, aka Kunst-Werke, but long a sojourner in the US; and so the programme, in turn, is likely to become showier and angled towards the new.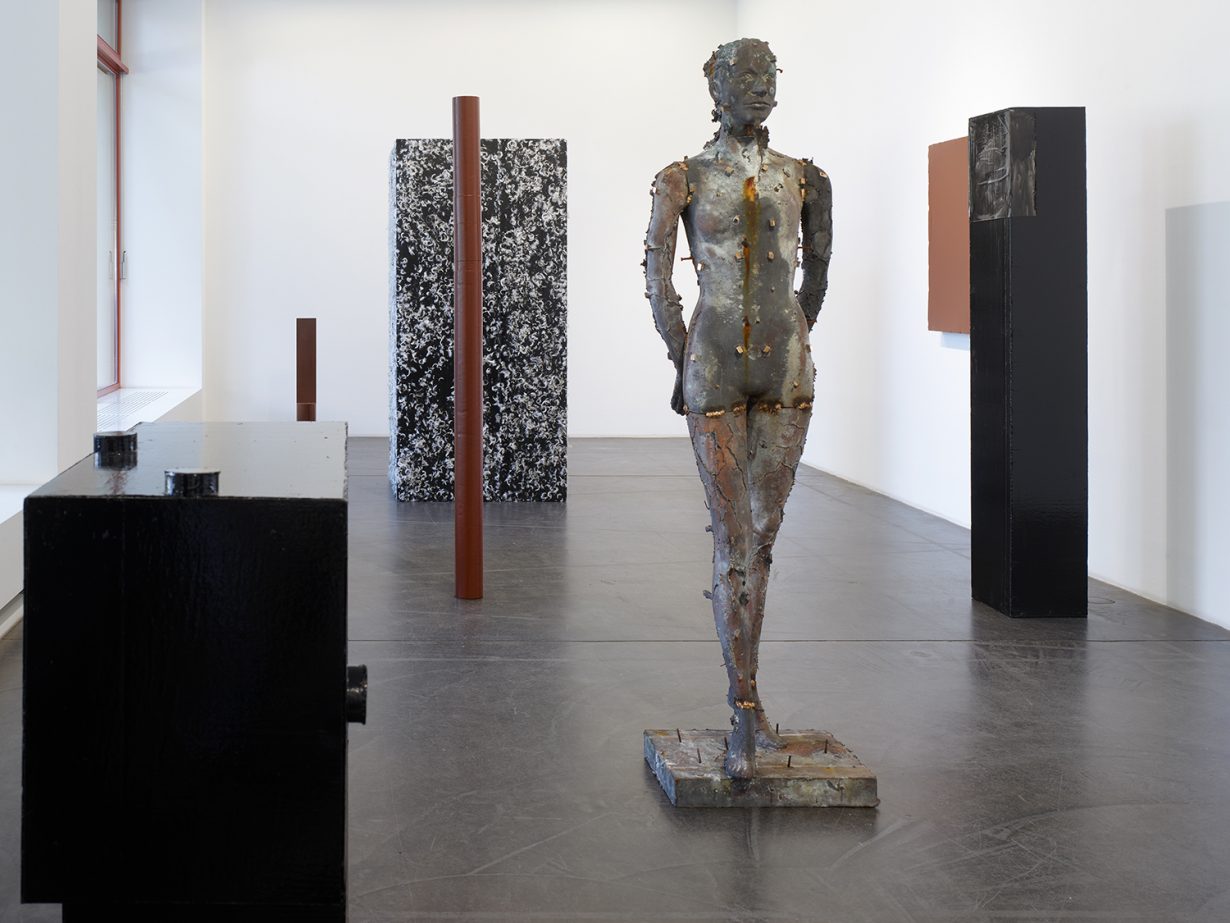 Anyway, the city's commercial galleries, sensing synergy and attention, doffed their caps with 'Mies in Mind', a simultaneous raft of exhibitions relating in varying degree to the architect's work. These ranged from the literal (a group show of responses to the Barcelona Pavilion at Nordenhake; Jorge Pardo's for lily reich at Neugerriemschneider, a suite of undulating semi-abstract paintings dedicated to the eponymous designer and Mies collaborator), to lateral exercises like Galerie Nagel Draxler's Heimo Zobernig mini-retrospective, a forestlike mix of upright figures and geometric forms predicated blandly on the Austrian sculptor and the German architect's shared interest in bodies and abstraction. Spoilsport shows interrogating Mies's futile overtures to the Nazi regime before he decamped to the US were notable by their absence. Not all galleries caved in to the starchitect imperative, either. Esther Schipper, for example, gave a debut show to French artist Etienne Chambaud that served to summon, or suggest, many ghostly presences: the exhibition was a low-lit, atmospheric mix of, among other things, icon paintings whose faces are covered with gold leaf; ceiling-hung lighting panels designed to specifically mimic, say, the light on Mars in the late fifteenth century (don't ask how); a bronze sculpture of conjoined severed birds' necks; and a scent installation that used chemical compounds common to animal markings and 'human environments' to generate some kind of scent that cross-splices the habitats of tigers and cinema multiplexes. Which sounds exciting, until you realise you're in a gallery that's maintaining a mask policy.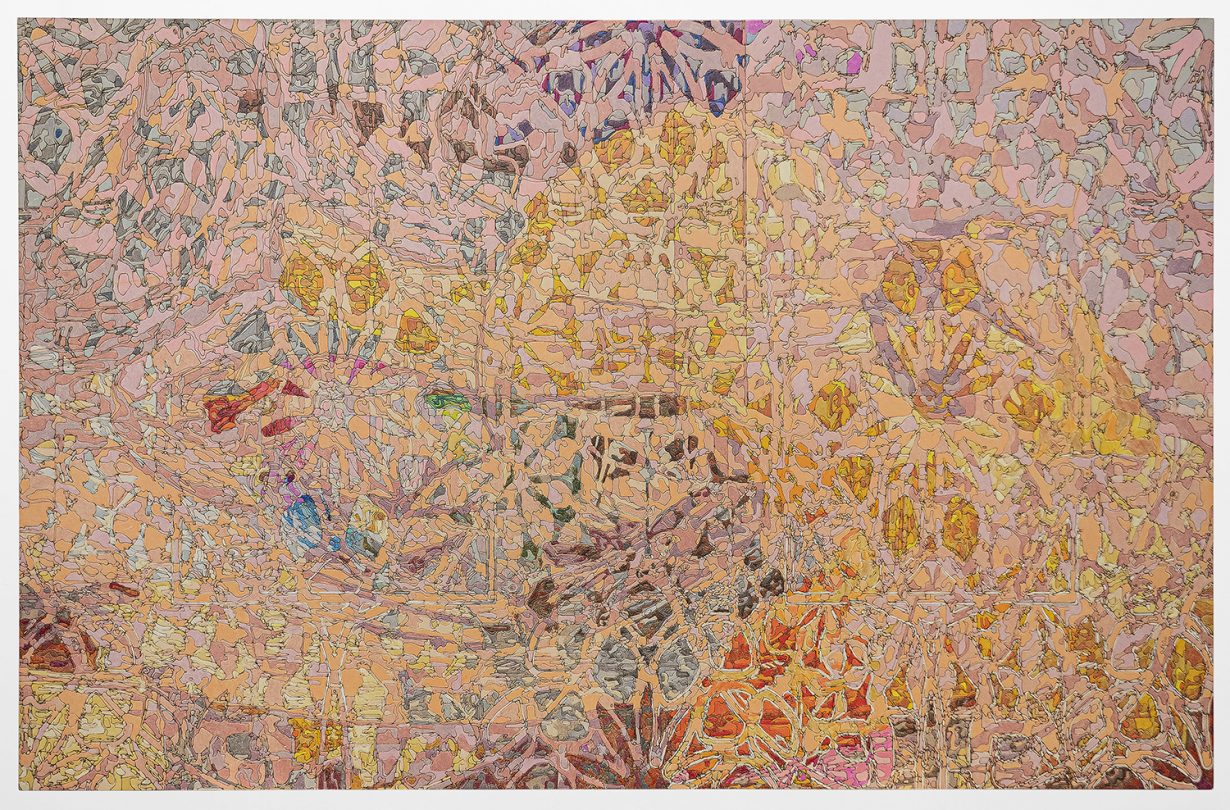 Knottier fare was on offer at Biesenbach's old stomping ground, Kunst-Werke, where the group show Zeroes and Ones treated algorithms as an organising principle for non-digital artworks, focusing on proposals that combine the everyday world and step-by-step unemotional processes as analogies for deeply impersonal systems of social control. In practice, within a show slanted towards women artists, this meant a lot of work that iterates without conclusion and advertises external authority, and which – in part – addressed our current relationship to computers as but the latest stage in a progressive depersonalisation, without including much recent or digital work. (In a show named, seemingly, after Sadie Plant's 1997 book about women and computers, this was a feat of curatorial legerdemain.)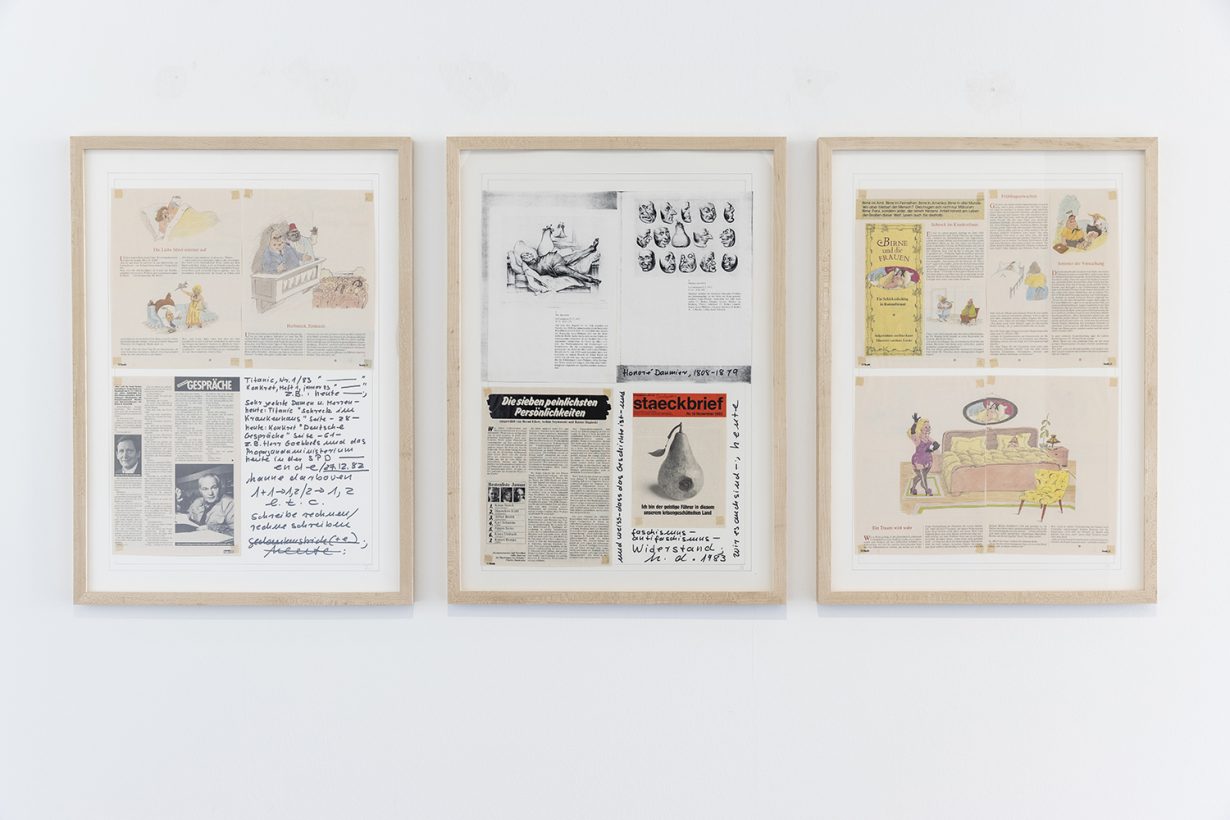 So, for example, the exhibition cued up Lutz Bacher's In Memory of My Feelings (1990), a sequence of T-shirts placed in Donald Judd-like wall mounted metal trays bearing incomplete statements such as 'If I weren't afraid of myself, I might' (…) and 'Mother always was' (…), phrases based on a medical questionnaire Bacher was given prior to having her uterus removed: a process captured on video in the six-hour Huge Uterus (1989). Sturtevant's Study for Yvonne Rainer's "Three Seascapes" (1967), photographs showing her performing the eponymous choreography, meanwhile offered a further twist on the artist's long-running undoing of meaning and artistic selfhood, serving as a culture-jamming microcosm of the refusal to be understood and constrained within a larger structure – society, say. And Tishan Hsu's Bio-Cube (1988), a squarish, low-slung 'utility unit' in flesh-coloured tiles – looking a bit like a miniature pink Neue Nationalgalerie, with various stainless-steel ingresses that suggest places for washing but also, if you squint, screens – here ominously and emphatically reflected the artist's belief that modernity and, increasingly, the digital condition have erased the self. Mies, who once said that 'the individual is losing significance; his destiny is no longer what interests us,' might have been looking down happily, for all the wrong reasons.