The artists's work speaks to the violence of modernity and industrial production – and the figure of masculinity within it
Against the Day at Galerie Isabella Bortolozzi, Berlin, combines prints and sculptures by Chakaia Booker with three mixed-media works by the late Carol Rama, whose estate the gallery manages. It takes place across three rooms. The first houses Booker's Founding Warrior Quest (II 21C) (2010), six photographs tracking the artist – a headscarved African-American woman – as she moves around a scrapyard. Wearing workwear and gloves, she inhabits this role with resolute but undefined purpose; as the sole survivor of a disaster, maybe, or weary hero arrived at a new frontier. Using grainy black-and-white, Booker here creates her own myth, and the scrapyard becomes the surface of the moon.
Across the following two rooms, Booker's works comprise imposing, wall-based sculptures made from scrap automobile tyres. She pushes this loaded medium to its limit, and it yields. In Random Request (2022), black rubber takes a strange, almost vaginal form, its extremities twisted and pulled into feathery calligraphic shards. Elsewhere, the rubber is cut and pinned back much more precisely, in staccato rhythms echoing the repetition of the assembly line (Superstition, 2010). In Booker's fierce sculptures, the automobile – that icon of white America's modernity – meets its own brilliant undoing.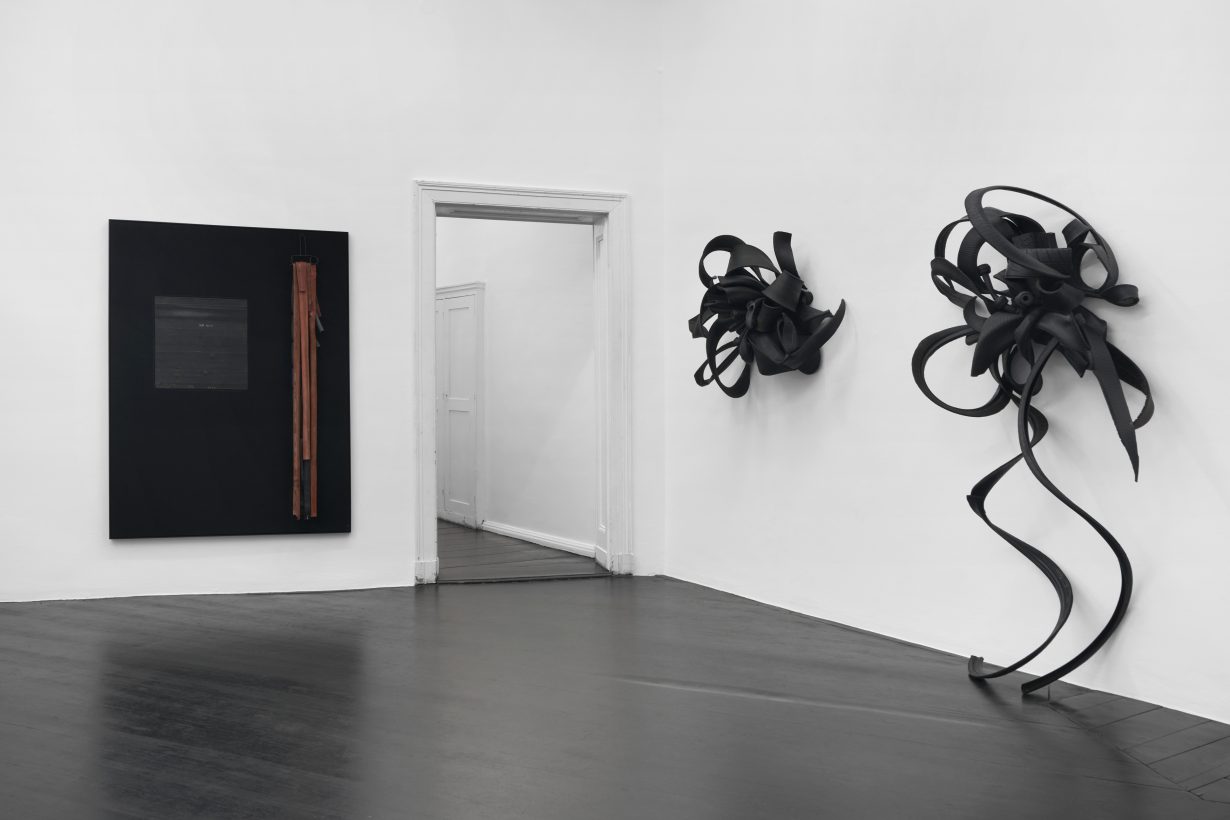 After being declared bankrupt, Carol Rama's father, Amabile, who owned an automobile and bicycle factory, took his own life in 1942. Perhaps inevitably, the dark shadow of this modernity is palpable in the Italian artist's work. In Bricolage (1966) she affixes the canvas with everyday objects like nails and dolls' eyes, to uncanny and disquieting effect. In Definizione d'usura (1977), flaccid inner tubes of bicycle tyres are hung from a wire frame atop a black canvas. Disembodied eyes, according to Freud, always represent castration anxiety; the meaning of deflated tubing hardly needs spelling out. In these works, Rama takes the myth of male productive genius and reveals the abject but comical horror at its heart.
Making a photograph 'against the day' means to shoot into the sunlight, forcing the subject into silhouette; counterintuitive, in effect, because you're working against nature. And both artists share this clarifying but contrary approach. While responding to very different contexts, their work speaks to the violence of modernity and industrial production, and the figure of masculinity within it. With Booker's works, more specifically, we get a clear and sensuous study of American modernity, with the founding racial violence underpinning it.
Against the Day at Galerie Isabella Bortolozzi, Berlin, 14 February – 25 March