At Dia Chelsea, Ready Mix is a mesmerising 45-minute film shot at a concrete plant in central Idaho – though the artist's formalism threatens to reduce the industry to slick abstraction
When the Dia Art Foundation moved into a West Chelsea garage in 1987, it precipitated the neighbourhood's shift from industrial hub to tony arts district, and the global craze for galleries with trussed ceilings and concrete floors. Minimalist art needs a lot of real estate, and so its principal steward became a pioneer in what developers have come to call 'adaptive reuse'. By the time Dia Beacon opened in 2003, in a 28,000sqm former factory upstate, Chelsea had become virtually unrecognisable, and the foundation pulled back slightly from its programming there, ceding turf to dealers like Larry Gagosian. Now, with the conclusion of a two-year expansion project by Architecture Research Office, Dia is tending its roots again. Two new commissions by Lucy Raven inaugurate the space, alluding both to a lost West Chelsea and to landscapes of the American West – where Dia safeguards canonical works of Land art – that are also in danger of disappearing.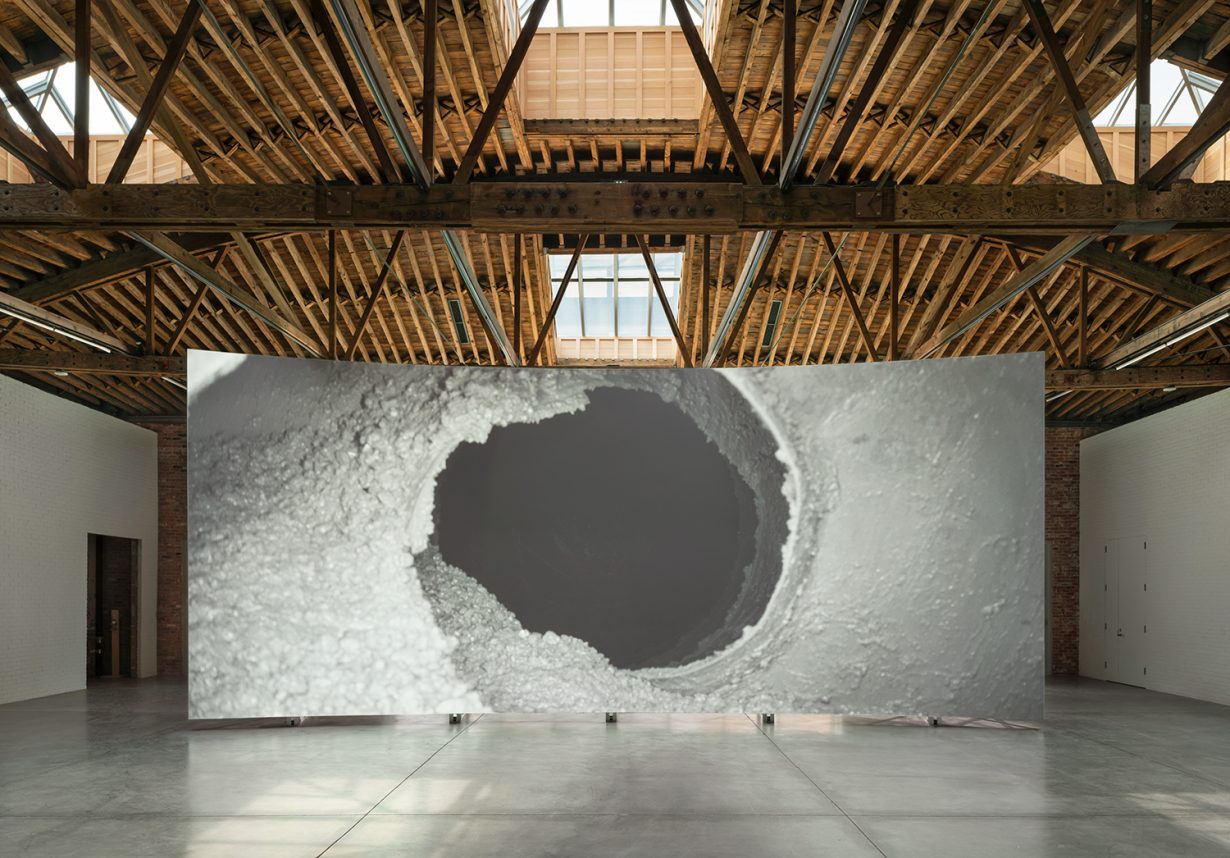 Ready Mix (all works 2021) is a mesmerising 45-minute film shot at a concrete plant in central Idaho. Black-and-white drone footage glides slowly over lorries as they dump slag in spreading heaps. Seen from above, pools of fly ash bleed like Rorschach blots. Raven dives in for long closeups: we watch as millions of pebbles bounce through sprays of water that wash away impurities and then travel down a conveyor belt that wobbles like an oesophagus. The stony aggregate passes through a set of rubber teeth and spins in the sopping maw of a cement mixer. Smooth camerawork and editing make these motions feel oddly natural, like geological peristalsis. Concrete has been called 'the most destructive material on Earth', responsible for approximately 8 percent of worldwide CO2 emissions; despite the apparent metaphor of digestion in Ready Mix, it's unclear how these toxic byproducts will be metabolised.
Such sequences recall Robert Smithson's description of a leaky pipe, in his 1967 essay 'A Tour of the Monuments of Passaic, New Jersey', as 'secretly sodomizing some hidden technological orifice'. Imbuing industrial waste with human pathos, they also set up a scene of violation. The film's title puns on the type of concrete most commonly used in construction with Duchamp's 'readymade' – what could be considered the first instance of adaptive reuse in art – and points to Land artists' treatment of the earth as an object free for their taking. Smithson and his cohort, especially Michael Heizer and Walter De Maria, regarded Western landscapes as blank canvases for works that eschewed the commercialism of the nascent contemporary art market while indulging a colonialist impulse to permanently alter biodiverse habitats and indigenous homelands. Although Raven appears to acknowledge this tension with her choice of subject matter, her formalism tends, like that of her minimalist forbears, to reduce it to a slick abstraction.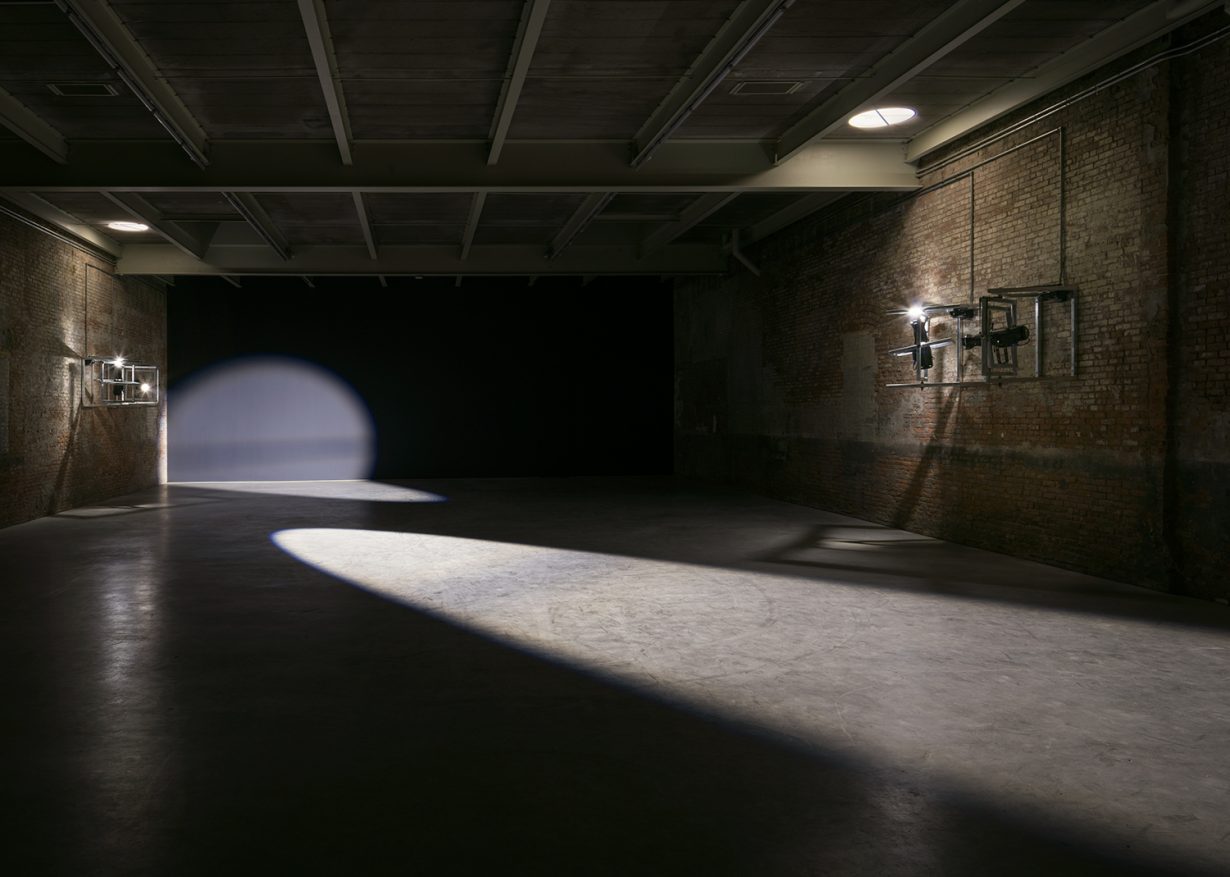 Notably, the only people in Ready Mix appear at the film's end, hoisting cinderblocks onto a wall. The focus, again, is concrete, which ultimately occludes our view of the labourers and debris behind this final product. It's a poignant refusal, almost a statement of artistic intent. Raven's treatment contrasts markedly with a scene from Chloé Zhao's Nomadland (2020) – another western, shot around the same time, in nearby Nebraska – in which one can almost smell the sweat of beet harvesters and the pizza they eat from soiled hands. The human textures of Zhao's film are smoothed out entirely in Raven's, enhancing its sense of alienation.
In a large adjacent gallery, two mechanised, wall-mounted spotlights from Raven's Casters series (Casters X-2 + Casters X-3) swivel in the dark. The works are an almost theatrical counterpoint to Carl Craig's concurrent installation at Dia Beacon. But, whereas the strobes and heavy bass of Craig's Party/After-Party (2020) make me nostalgic for all the dancefloors I've missed during lockdown, Raven's Casters leaves me cold. Who are they looking for? Glancing over the concrete floor – formed by a continuous Chelsea-grade pour – they track smoothly over their subject and, like Raven's camera in Ready Mix, never fully illuminate its fissures. Meanwhile, across the street, excavators dig and cement trucks churn the foundation for another luxury condominium.
Lucy Raven is on view at Dia Chelsea, New York, until January 2022