Two collaborative shows in London – when seen together – provide an education in material
It is storytime at Modern Art in St James's, where the New York-based Russian painter Sanya Kantarovsky's Ukiyo-e woodblock prints, created with Tokyo's Adachi Hanga Institute of Printmaking, depict Halloweeny scenes – moments in imagined folk sagas or gothic children's tales. We are left to guess the narratives. In this collaborative show, the French sculptor Camille Blatrix has made caselike foldout frames from smooth white Corian, a synthetic polymer mainly used for countertops, to house each of Kantarovsky's prints.
The frames' sliding doors unclip with a click and unfold to the right to reveal Kantarovsky's images on the insides of the doors. Two rounded rectangles, cut vertically into the lefthand side of each frame, visible when the frames are open, contain pieces of marquetry, a seventeenth-century furniture-making technique in which pieces of veneer are arranged, like a jigsaw, to form a pattern. Close the frames and they look like hypermodern storage lockers, bringing to mind the ease by which artworks, held inside freeports, can be bought and sold without ever moving or being seen. Their techie minimalism is the aesthetic of the international artworld.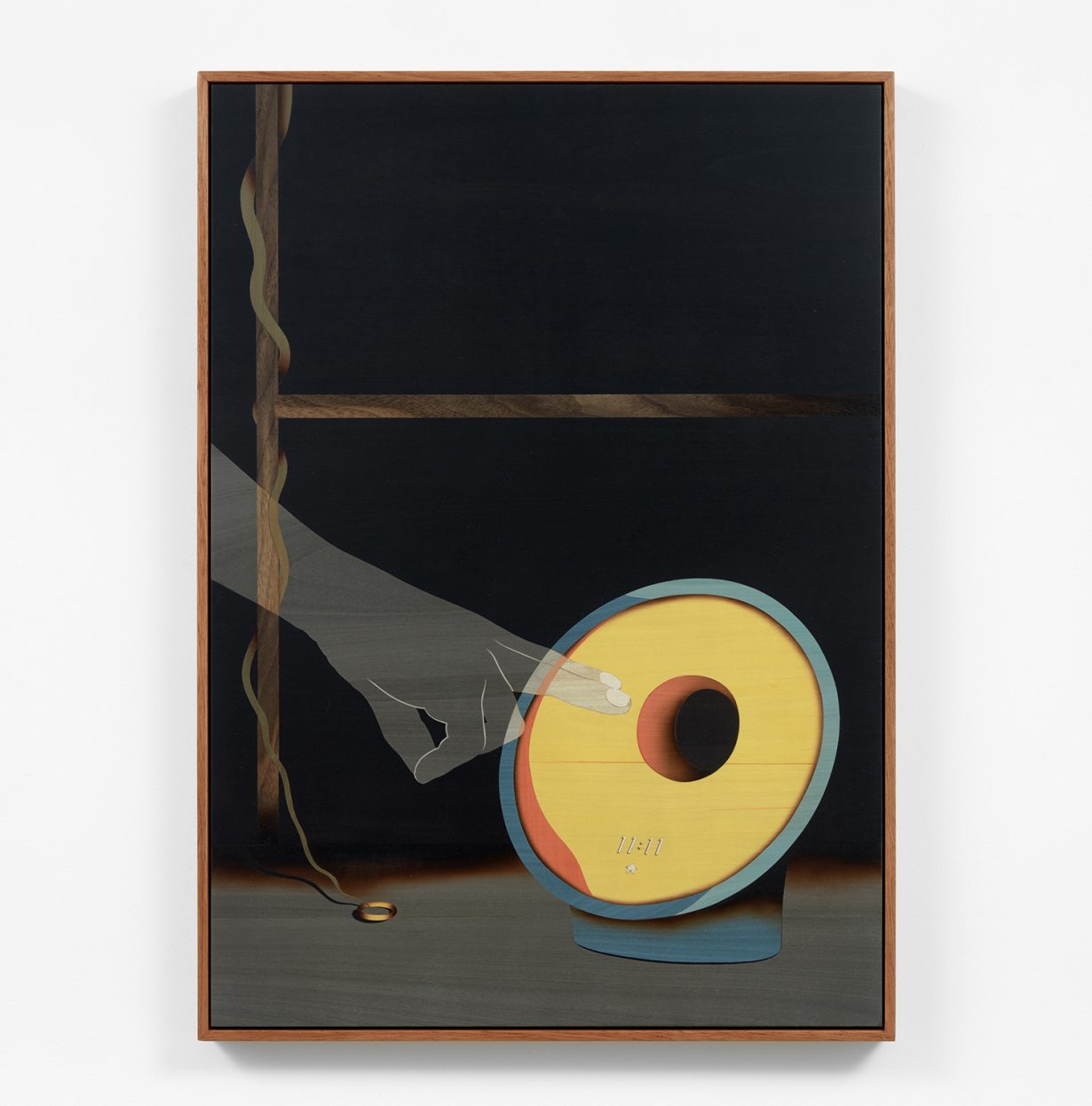 A bony finger beckons a faceless child. A man is bleeding beside the ocean while a seabird walks by. Kantarovsky has worked with writers before, and his images have an illustrative quality, as if they were meant to illuminate or explain something. Except they do not, which is the joke – Blatrix's cartoonish marquetry eyes gaze out from the frames, but the faces of the children in Kantarovsky's prints are eyeless. And the works do, occasionally, appear so smooth that the eye can glide over them without hindrance; they place the viewer somewhere between frictionlessness, hi-tech seamlessness and indecipherability, enigma. And yet, the slickness of Kantarovsky's prints risks undermining their impact. While mysterious, they seem at home in a familiar universe of surrealistic horror.
In the basement there are four more exquisite marquetry works by Blatrix. The marquetry is MacBook smooth, creating an impression of evenness that the strangeness of the images does little to unsettle. A translucent hand touches a futuristic piece of tech, some sort of home speaker. To the left is a gold ring tied to a green string (11:11, all works 2021). In Infinite Water the top of a blue face is inlaid into the grey veneer, as if the surface had been scratched away to reveal it. Below it is a Möbius strip. It all fits together in infinite flatness, without fissures or slits. Far from dematerialisation, it is a direct effect of Blatrix's technical expertise with wood. It goes down easy.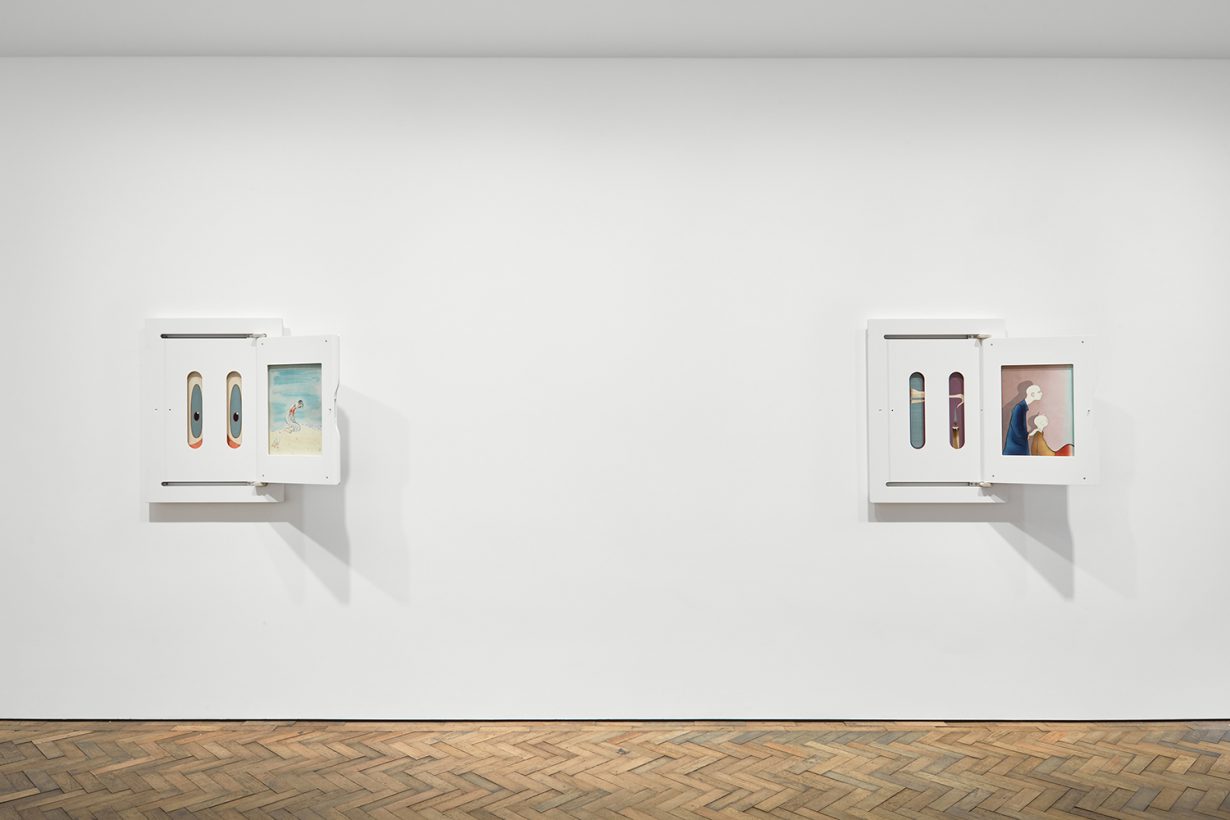 Wood – this time with splinters – is also centre stage at an impressive show at Kupfer in Hackney. The building housing the gallery is under construction, which is appropriate for the work of Alexandre Canonico and of Anderson Borba, two Brazilian artists based in London. Canonico's smallscale works are composed of offcuts from MDF and plywood boards, and employ a nascent sort of marquetry: the artist has cut shapes out of the boards and roughly slotted the shapes back into the holes.
The pieces fit baggily in their spaces, and the surfaces of the works are covered in small holes and spraypaint. Nesting (2020) is two pieces of laminated plywood connected by an appendage descending from the top board that slots, imperfectly, into a hole in the bottom board, leaving voids of space. The top board is spraypainted in fluorescent orange, the lower in purple and dark blue. While – like Blatrix's marquetry – these works are painterly, the wood is key: Canonico's works think through slotting, nesting, fitting and assembling.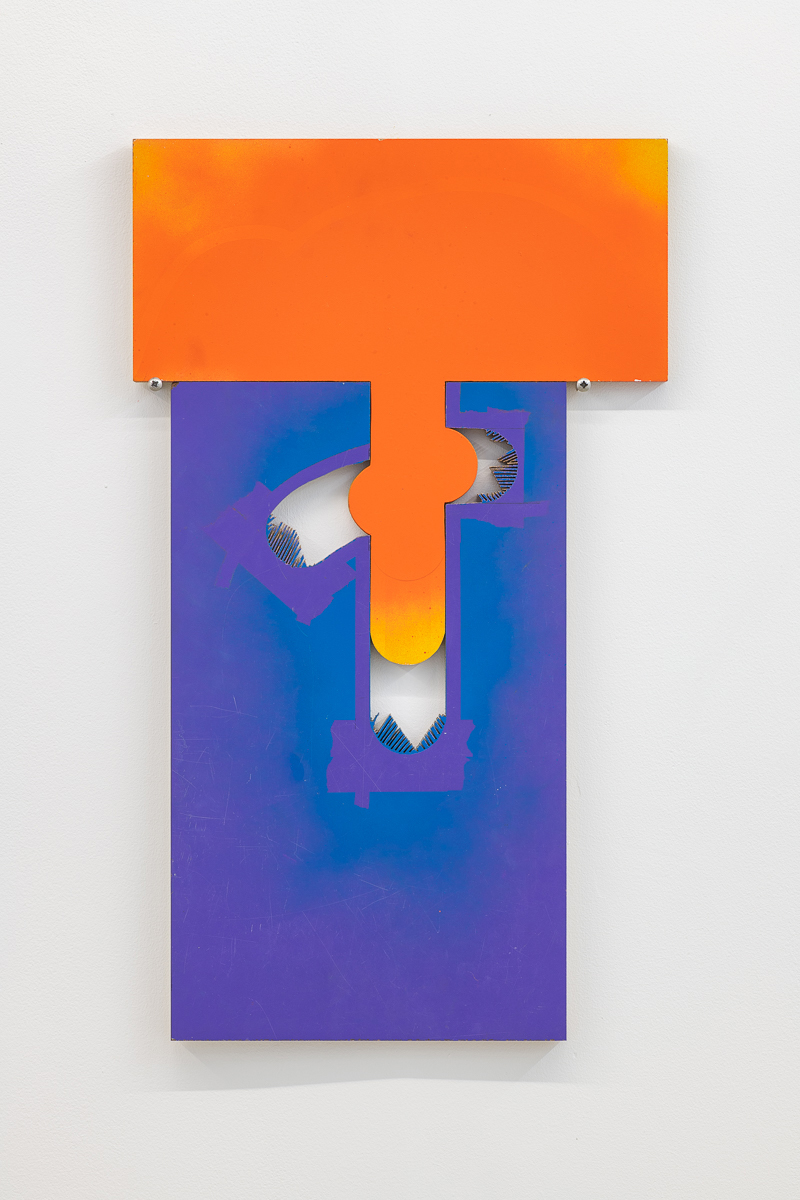 Borba's four totemic sculptures are assembled out of cheap fragments and scraps of discarded industrial wood, slotted together into complex arrangements that move from roughly hewn, splintery blocks to smooth rounded elements. Colour is introduced through varnish and acrylic dribbles. They are imposing and alien sculptures that recall the playfulness of their assembly. In the Modern Art exhibition, traditional materials and techniques like Ukiyo-e and marquetry are employed to engineer a sense of lavish fluidity. The degree of mastery and precision is overwhelming – almost too perfect – and the works feel distant and tightly controlled. Meanwhile, in Borba and Canonico's works, wood is a cheap, democratic technology of DIY combination, improvisation. Both shows – especially seen together – are an education in materials.
Sanya Kantarovsky and Camille Blatrix: Will-o'-the-wisp, Modern Art Bury Street, London, 23 April – 22 May; Anderson Borba and Alexandre Canonico, Kupfer, London, 12 April – 8 May 2021