The destructive human impacts of black gold are laid bare by the artist in a 'disconcertingly elegant' new film and exhibition
Doug Aitken's latest show revolves around a five-channel video, its projection screens mounted on freestanding wooden frames such that it's all-enveloping. It's pumping too. Almost continuously. HOWL (2023) is set in an unnamed American town that, as presented by the artist, features more oil derricks than people. The former are constantly thrusting up and down, like the piston on a superaddict's syringe. Which, presumably, is part of the point. Oil makes the world go round. And like anyone who is constantly pressing the needle into a vein, we're all going to die. Although that last bit is never explicitly said.
The town, however, looks like it's dead already. There are cracks in the streets, the shopfronts are boarded up, the malls are derelict, the road signs shot up, the basketball nets just about hanging on, like Tom Cruise on a cliff-edge. "It's old America", says a paunchy old cowboy, "it's an oil town… it's a working town." He's standing next to the tiled skirting of an anonymous building, large sections of which have fallen off.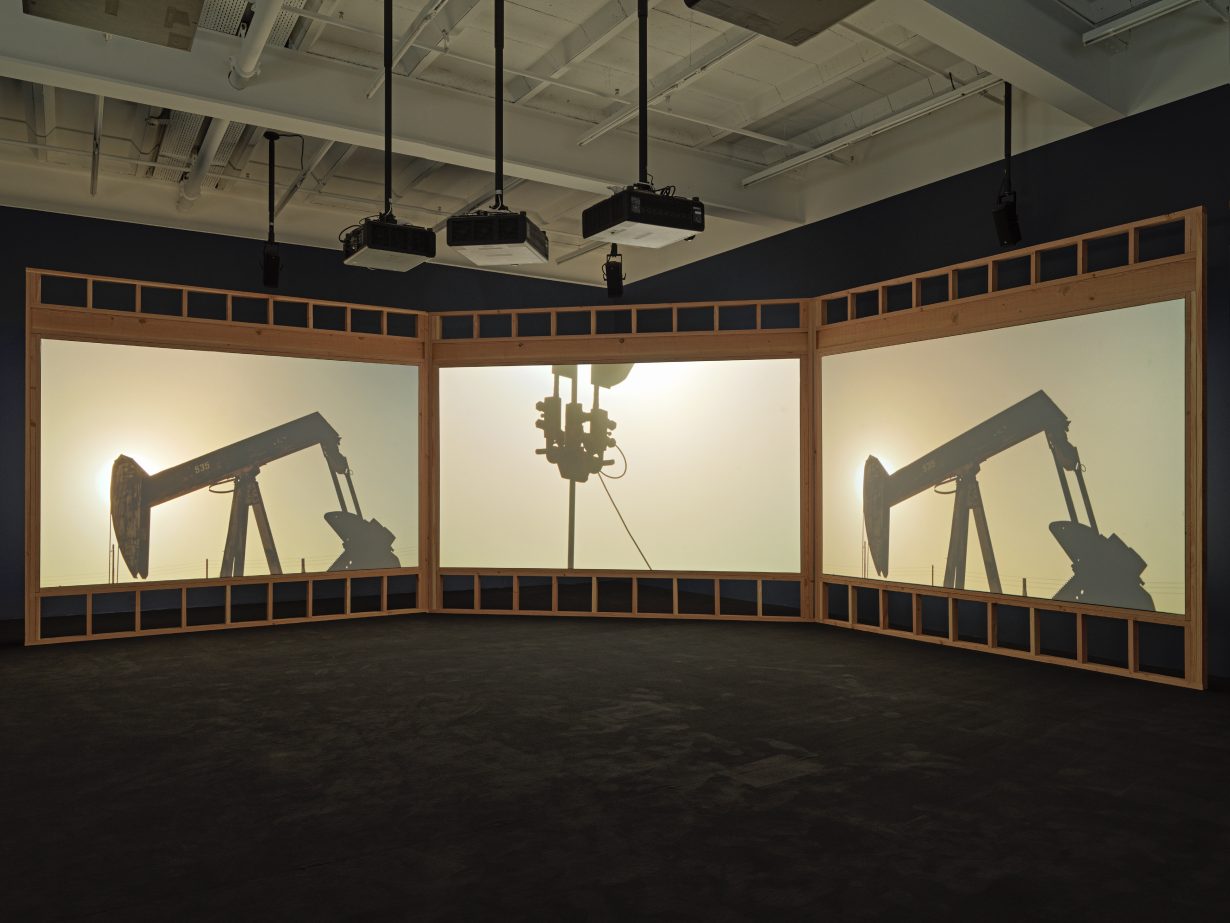 Indeed, anonymity, from the name of the town through to the numerous residents who are interviewed on camera (not that we hear the questions or directions), is a theme throughout the work. For all that this work is about people, they always remain subjects (of the film, of the oil, of the poverty… the list is endless), and there's little or no suggestion that they have any agency at all. "There's not really much to do around here," mumbles one young woman through a facemask, "people just kinda, like, walk around aimlessly, walking through the streets like they don't really care." There's a distinct Dawn of the Dead (1978) vibe to proceedings.
We cut between one youth jumping his dirt bike through the dunes and then on to the Maids of Petroleum contest, where the town's youthful womenfolk are pumping through a synchronised dance routine. Or, in the case of Contestant Number 12, pumping and thrusting a would-be attacker up and down from the floor, during her self-defence demonstration in the talent section of the competition. All of it, and the parade that comes later (with floats, audiences and the people who've been generally absent from the film to that point), subjects of petroleum. Clarinets, trumpets, trombones, exhaust pipes and oil pipes. All connected or in service to the black gold.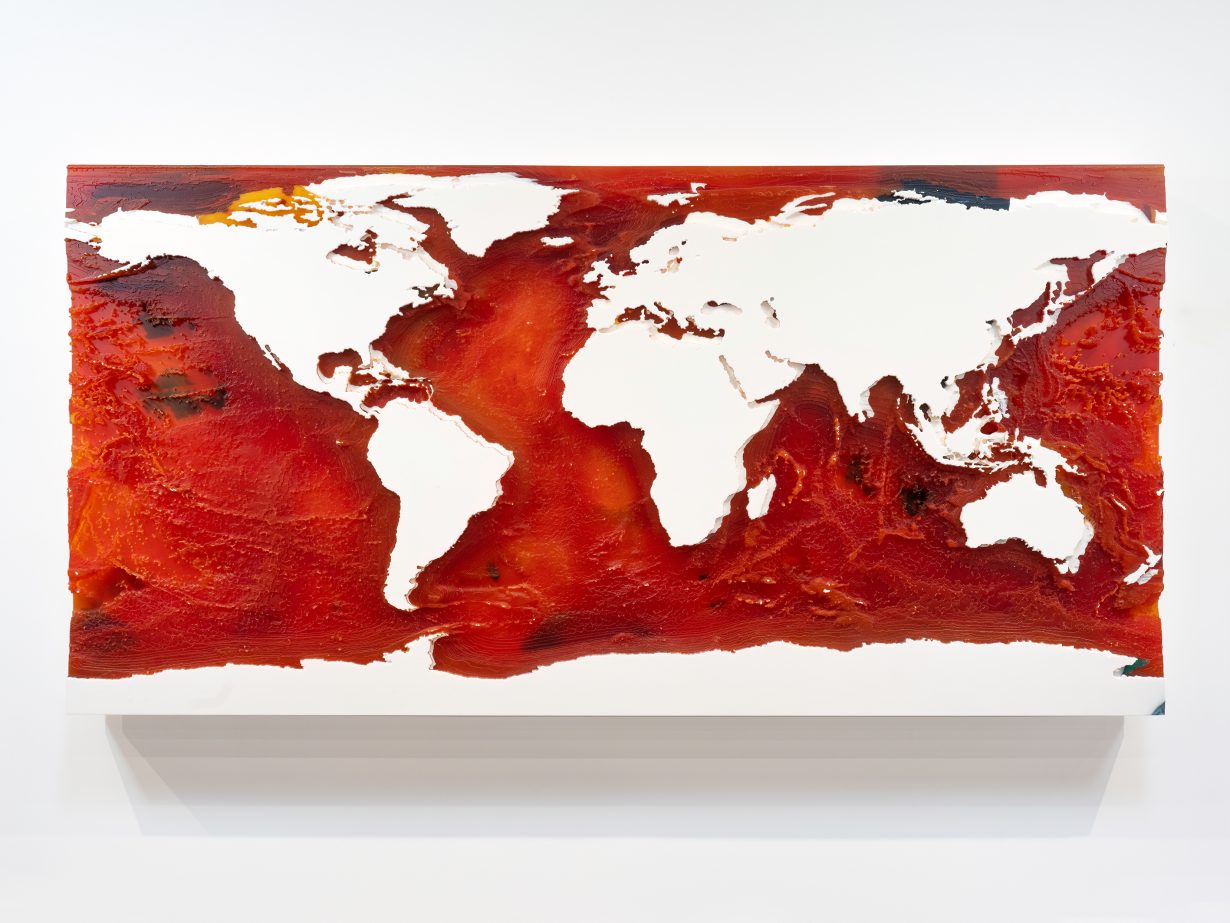 Of course, it's not about oil alone. It's very much a human story too. There are hints at cycles of abuse (one interviewee is sporting a T-shirt for Alpha House, a safe haven for abused women in Kern County, California), frequent mentions of prisons and the general no-future vibe that suffuses the whole. This place, wherever it is, is where deep time, local time and no time merge into one ungodly whole. Or perhaps a whole in which petroleum is God. Everything is connected.
Not that it isn't also frequently beautiful (in this perhaps Aitken, an artist for whom aesthetics always play a role, can't help himself). Even the shiny black muck is viscously alluring as it oozes out of the ground. Even though attacks on oil companies are now de rigueurin art circles (indeed, in that sense, oil companies are a relatively easy target), Aitken is not judgemental. Oil can seduce and look good, he seems to be saying. Its effects are not. Wealth is being sucked out of the ground and spread everywhere except to the pockets of the people who stand on that ground. And that, of course, is an issue that's only magnified when that ground and those people are transported to a commercial art gallery.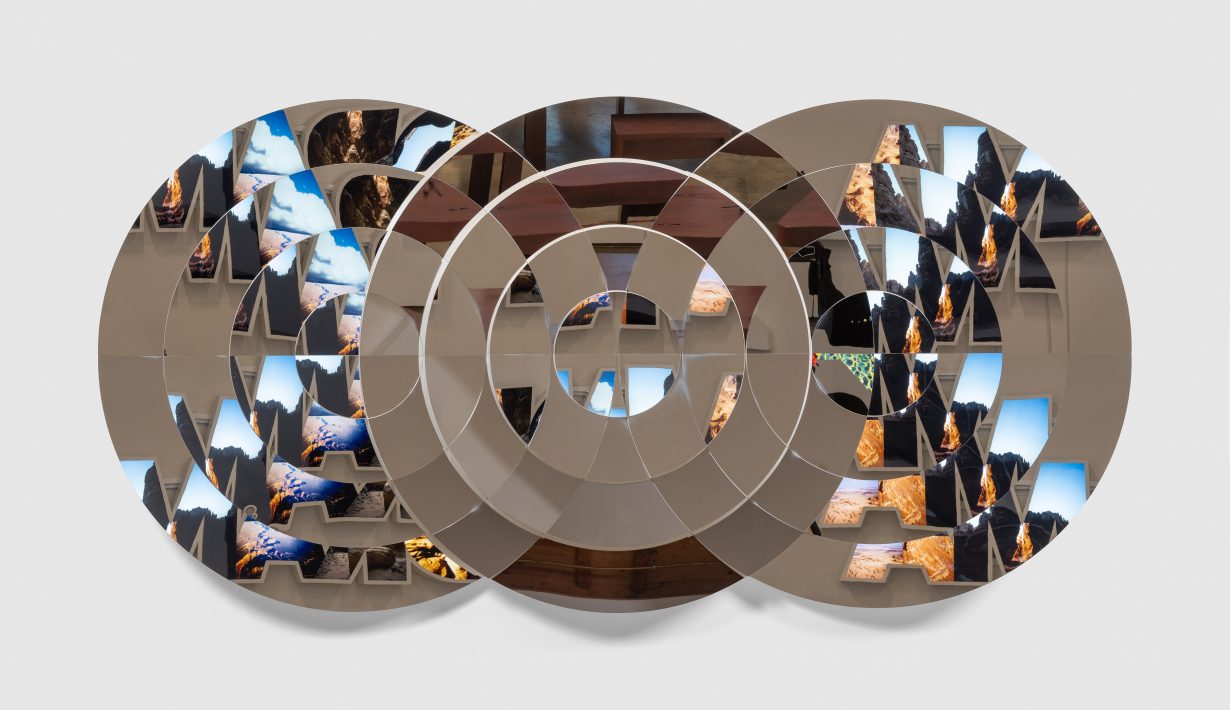 HOWL makes no explicit reference to Allen Ginsberg's celebrated 1956 poem of the same name. Other than a distant echo of lines such as 'Moloch whose love is endless oil and stone!' But that's not to say that Aitken doesn't indulge in a little (concrete) poetry of his own. The galleries leading to his centrepiece are wallpapered with backgrounds of oceans, deserts, forests and crumbling brick walls, each of which is decorated with one of Aitken's signature lightbox texts – DRAMA, HOWL, CONTACT, a jumble of letters, some repeating, that spell out UNREAL, each of which is made up of a collage of photographs of cliffs, caves, canyons, rivers and clouds – and a series of aluminium discs that function at once like shattered mirrors and casts of a cracked and broken earth. With everything here somewhat mediated, the effect is part World of Interiors, part National Geographic. And part, too, a knowing performance of what is being critiqued: the commercialisation and vandalisation of the natural world. We're going in circles, walking around aimlessly, you think as you glimpse yourself in one of Aitken's circular mirrors. As in the film itself, language, the human-made and nature sit together in a calamitous but disconcertingly elegant whole.
HOWL at Galerie Eva Presenhuber, Zürich, through 22 July