Reflections on artists' protests during the Myanmar military's coup d'état in February 2021
Yadanar Win, a multimedia artist from Yangon, Myanmar, has been involved in the country's contemporary art scene for the past nine years. With the help of Goethe-Institut, Win fled from Myanmar to Germany last April following the February coup d'état and is currently in exile in France. In her homeland she organised local artists and community members, and is now working to bring the diaspora together. She (together with Ma Ei and Ko Latt) is part of the performance art collective 3AM, which recently exhibited at the Tephra Institute of Contemporary Art in Reston, Virginia. Her own practice is critical of her homeland's politics, culture, nationalism and patriarchy. She is currently focused on spreading information about the crisis in Myanmar and calling for action.
ArtReview Let's look back to the 1 February coup d'état, in which Myanmar's military, officially known as the Tatmadaw, deposed leaders of the democratically elected National League for Democracy, declared martial law and transferred power to Commander-in-Chief Min Aung Hlaing. You were in the country at the time. Can you share your experience of this event and its aftermath?
Yadanar Win At that time I was in the quarantine centre, having just arrived in Myanmar from France. The centre was in darkness, with the phone and internet dead. We knew something was wrong because it was the exact date that Parliament would have convened to recognise the NLD's election victory. As people in the centre left their rooms to talk, we heard the coup d'état had taken place. It was shocking, and for three days the whole country was silent; then Tayzar San [a physician and pro-democracy activist from Mandalay] organised the first protest, and afterwards everyone was in the streets. We felt betrayed, sad and angry.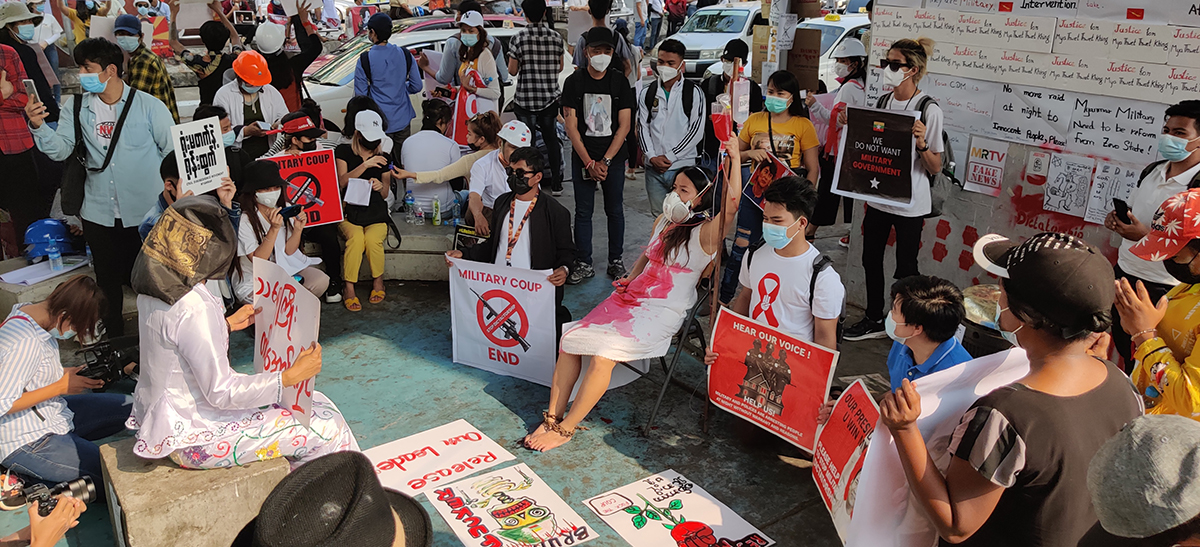 AR And you participated in those protests?
YW I was in the quarantine centre for two weeks and the protest movement was getting bigger day by day. Groups of artists were already there, as we could see on social media. Since last year we had been trying to launch an exhibition called Our Art Collectors on 1 February to fund an association for Myanmar contemporary art. But everything was happening at the same time. Members of the artist-founded association were already at this protest movement, trying to paint on the street in the downtown area of Yangon. They would paint and sell the work to passersby, donating the money to people who quit their government jobs to protest the military. The reason I had come back from France was because our collective group, 3AM, had planned an exhibition. I contacted the other members and they were already on the street protesting. We planned to perform in the centre of Yangon where protesters were gathering and invited other artists to participate.
This was the main performance event for me. I did a three-hour performance on 18 February because, by then, protesters had been executed in Myanmar. Ko Latt and I sat facing one another, holding protest signs against the military while blood dripped from a bag. Other artists were also staging performances. Mai Ei worked with beansprouts and invited participants to be involved by cutting the root off – like cutting the root of the military. It was a memorable day because we freely expressed ourselves through the performance. Later, on 27 February, the military started shooting in Yangon and killed 18 people. After this, people became more hesitant to protest.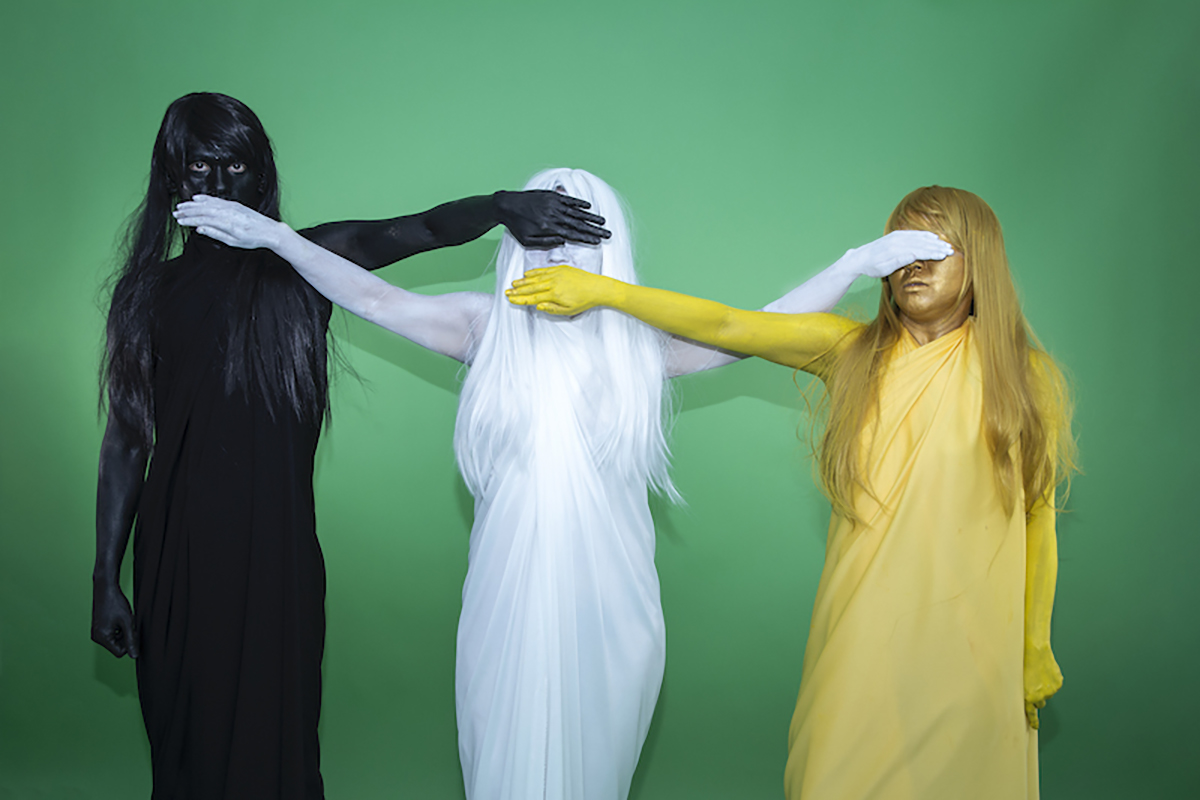 AR You might describe the way in which the Burmese people are coming together against the Tatmadaw as a form of national unity. However, since independence from Britain in 1948, Myanmar – then Burma – has struggled to form any coherent national identity that is equally representative of its ethnic diversity. Indeed, perhaps this fixation on identity is central to issues of citizenship, human rights, politics and armed conflict in the country, resulting in instability. What does Burmese nationalism look like to you?
YW I'm not Burmese: my grandpa came from China as an immigrant. My mom is Shan and Mon, while my father is half-Chinese, Mon and Shan. I'm mostly seen as Chinese: in school they called me 'Chinese girl'. In terms of nationalism, I think my country is very strong on the religion and the nationalism concept. But I'm not a nationalist, I don't like the idea of racism or nationalism that some people follow. This is also related to the growing nationalism in Burma: the military supports this extremism and uses it to gain power, bullying and fighting with other armed ethnic groups, exploiting their resources, and occupying their lands. They use religion [Myanmar is majority Buddhist] and nationalism to discriminate against ethnicity. In fact the Tatmadaw use this phrase in all their propaganda: 'It's your Duty to protect the Race and Religion'.
If you have an identification card, you are required to fill out your ethnicity, and there are classifications according to your race. The military does not give equal rights to people, these are different according to your ethnicity. I am Myanmar or I am part of Myanmar, but in my country this ethnic discrimination is so significant because of how this dictatorship rules the country and exploits these ethnic people. Since the military orchestrated the first coup, in 1962, Myanmar has been very centralised around the majority Bamar [or Burman] people. The military are also Burmese.
AR You've since left Myanmar. Can you explain why and how you left?
YW I left Myanmar on 20 April after I did a public performance in Yangon. Our performance went viral on Facebook, Tik Tok and the military-owned media [Myawaddy TV]. From February until March, the Tatmadaw released a warrant list on TV that includes social-media influencers, writers, artists and even celebrities. We were afraid we might appear on this list: if you do, you have to run and be constantly on the move.
At that point, Goethe-Institut, where I had been an artist-in-resident, contacted me saying they would like to help me. I completed the visa process and left for Germany in April.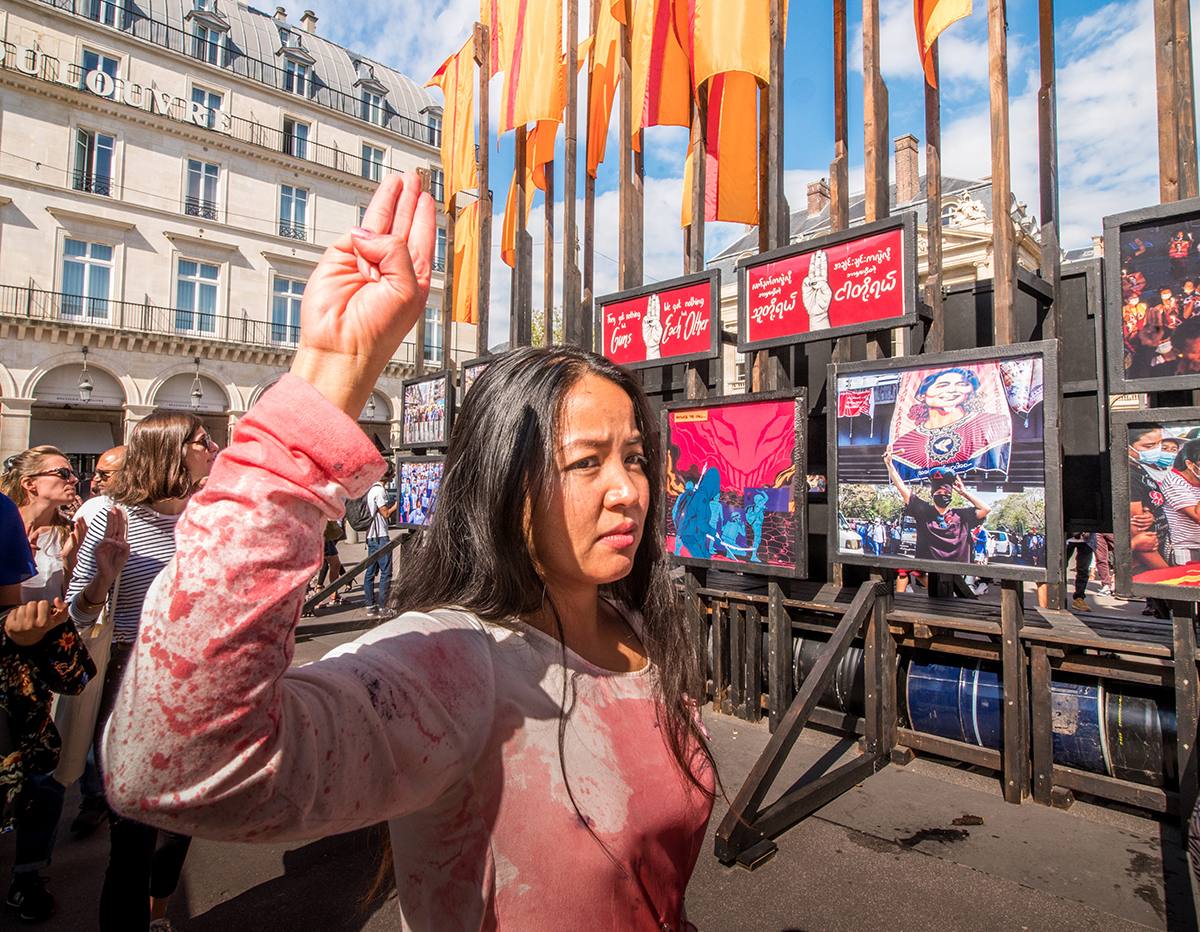 AR That brings me now to your performances in Europe. Can you expand on the works you created during your time here and what you are hoping to accomplish?
YW When I escaped from Myanmar, I had this notion that I left the country and this difficult situation. It was hard at the beginning because this is a totally different environment. Then I also don't know the language. Luckily, I have friends who have been to and know about Myanmar who are helping to support the Civil Disobedience Movement – like friends from the Transnational Coalition for the Arts, Andreas Hoffmann and Anne-Katherin Klatt. They support me and give me a forum to speak about what's happening in Myanmar since international coverage has slowed down.
In July, after having the chance to settle a bit, I organised an exhibition, titled Insight Out/ Myanmar Kunst & Realität, of 30 Myanmar artists and showed footage of the protest movement on the street by Raise Three Fingers to show what has happened. Some people don't even know where Myanmar is because of the…
AR Isolation? That is, has the country's political and cultural isolation – past and present – contributed to the fading attention?
YW Yes, isolation. There have been opportunities for me to show across Europe. I collaborated with the Myanmar diaspora, and I did a public performance in Paris this September. Some Myanmar artists are already in France. Like me, they are artists in exile and we want to work together as a group. One advantage for us is that we can speak freely outside of the country and create networks or resources to engage with the people who are still inside Myanmar, fighting.
From the December 2021 issue of ArtReview