The 4th edition of the annual sculpture symposium, 'Energy of Harmony', unites artists from around the world to investigate the synthesis of opposing forces
The 4th edition of Tuwaiq Sculpture, which runs until February 10, features 30 artists producing large-scale sculptures that will become permanent fixtures of Riyadh's urban landscape as public art. Themed 'Energy of Harmony', this edition of the annual sculpture symposium takes place from 8 January to 10 February and features a live-sculpting event along with a public program of more than 65 activities – including panel discussions and interactive workshops that welcomes the public from 10 January. 
Participating sculptors for Tuwaiq Sculpture 2023 have been selected by a jury panel of experts following an open call that saw 650 applications. Hailing from 20 countries as far as Austria, China, France, Georgia, Germany, Italy, Japan, Spain and Switzerland, as well as strong representation from Saudi Arabia, the artists have exhibited works internationally, with a number working as academics within the field of sculpture. Their proposed works explore nature, harmony and the human experience, rendered in abstract and figurative forms.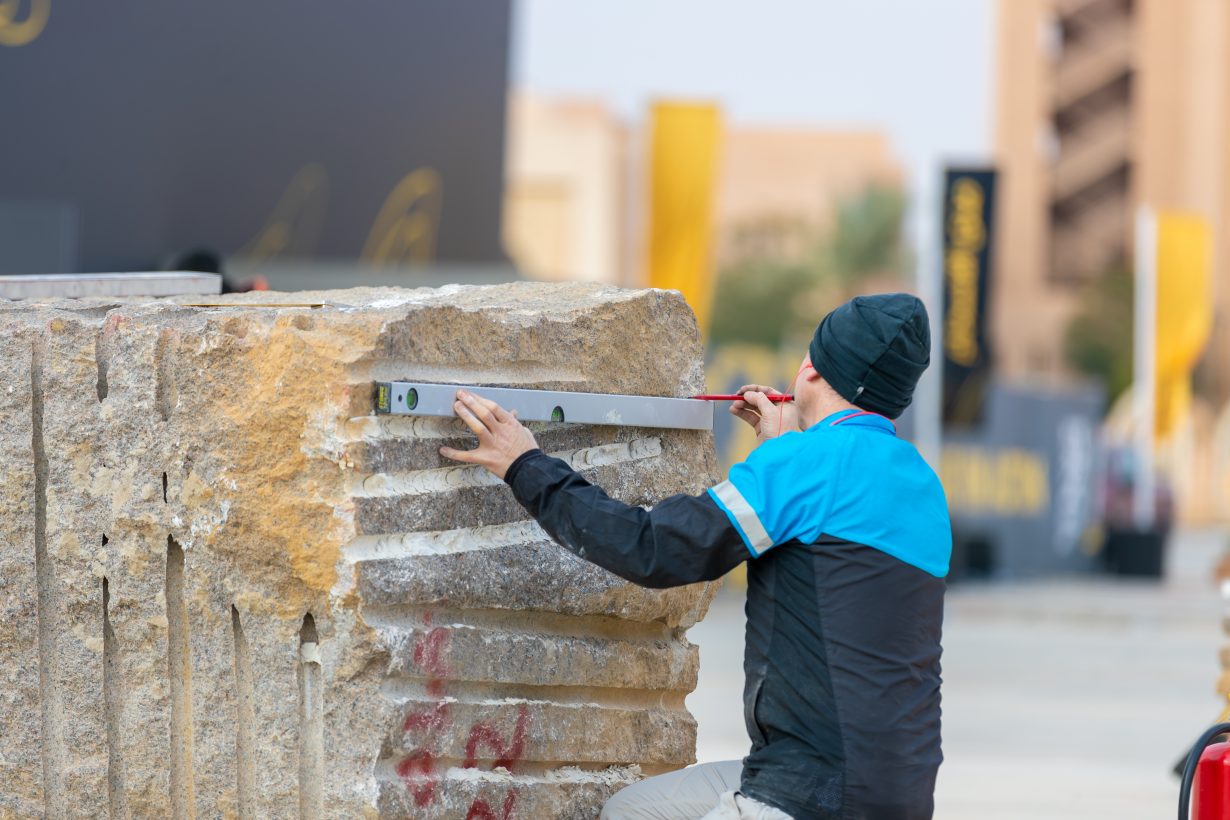 Launched in 2019, Tuwaiq Sculpture is part of the broader Riyadh Art program, one of the largest public art projects undertaken in the world today. Riyadh Art seeks to turn the city into a 'gallery without walls', with more than 1,000 artworks to be displayed across Saudi Arabia's capital. To date, Tuwaiq Sculpture has engaged with 90 renowned local and international artists and thousands of visitors. 
For the first time since its launch, Tuwaiq Sculpture will be using stone sourced from within Saudi Arabia – specifically granite and Riyadh stone, also known as sandstone. Tuwaiq Sculpture Project Manager Sarah AlRuwayti explained: "The decision to use stones from our local quarries poses symbolic significance for Tuwaiq Sculpture, specifically to highlight Saudi Arabia's rich history with the medium, from ancient artefacts to rock carvings and modern-day sculpture. In addition, we wanted local and international artists to connect with material drawn directly from the country's environment. These granite and sandstone, once transformed into beautiful artworks, will fill Riyadh's public spaces, from parks to cultural and commercial areas for residents and visitors to see and appreciate."
The sculptors began working on 8 January, with the public invited to witness the sculpting live on a dedicated site in Durrat Al Riyadh, north of the city. After the works have been completed, Tuwaiq Sculpture will culminate in an exhibition that runs from February 5 to 10, 2023. 
Alongside the creative process, more than 65 community engagement events will take place, including interactive workshops on calligraphy, lino printing, wood sculpting, stone and glass carving. In parallel, a series of panel discussions will explore a range of topics, from the techniques of sculpture and principles of design to urban ecology and the business of art. Tuwaiq Sculpture's community events will take place from January to February in two locations across Riyadh, Durrat and JAX District, with activities for beginner and intermediate levels conducted in English and Arabic. 
'Energy of Harmony', the theme of Tuwaiq Sculpture 2023, was developed by curator Marek Wolynski and reflects on the fundamental characteristic of human existence: the ongoing synthesis of opposing forces. Artists are encouraged to reimagine sculptural possibilities and capture manifestations of ephemeral processes of introducing, witnessing and experiencing change.
Marek is also the chairperson of the jury panel who has selected the Tuwaiq Sculpture artists, consisting of Alaa Tarabzouni, co-founder of Very Public and an architect, artist, and curator whose practice focuses on urbanism and the built environment; Ali Al-Tokhais, a sculptor with a practice spanning 40 years and an expert in stones originating from Saudi Arabia; Dr. Effat Fadag, an acclaimed academic whose work revolves around the arts, culture and heritage of Saudi Arabia; and Johannes von Stumm, a critically acclaimed sculptor, President of the Oxford Art Society and Past President of the Royal Society of Sculptors in the UK.
Participating artists will contribute to Tuwaiq Sculpture's community engagement program, which will host school and university visits, providing students direct exposure to various sculptural practices, as well as sculpting skills, tools, techniques, and materials. 
For more information regarding Riyadh Art and Tuwaiq Sculpture contact Riyadh Art Media Center at info@riyadhart.sa