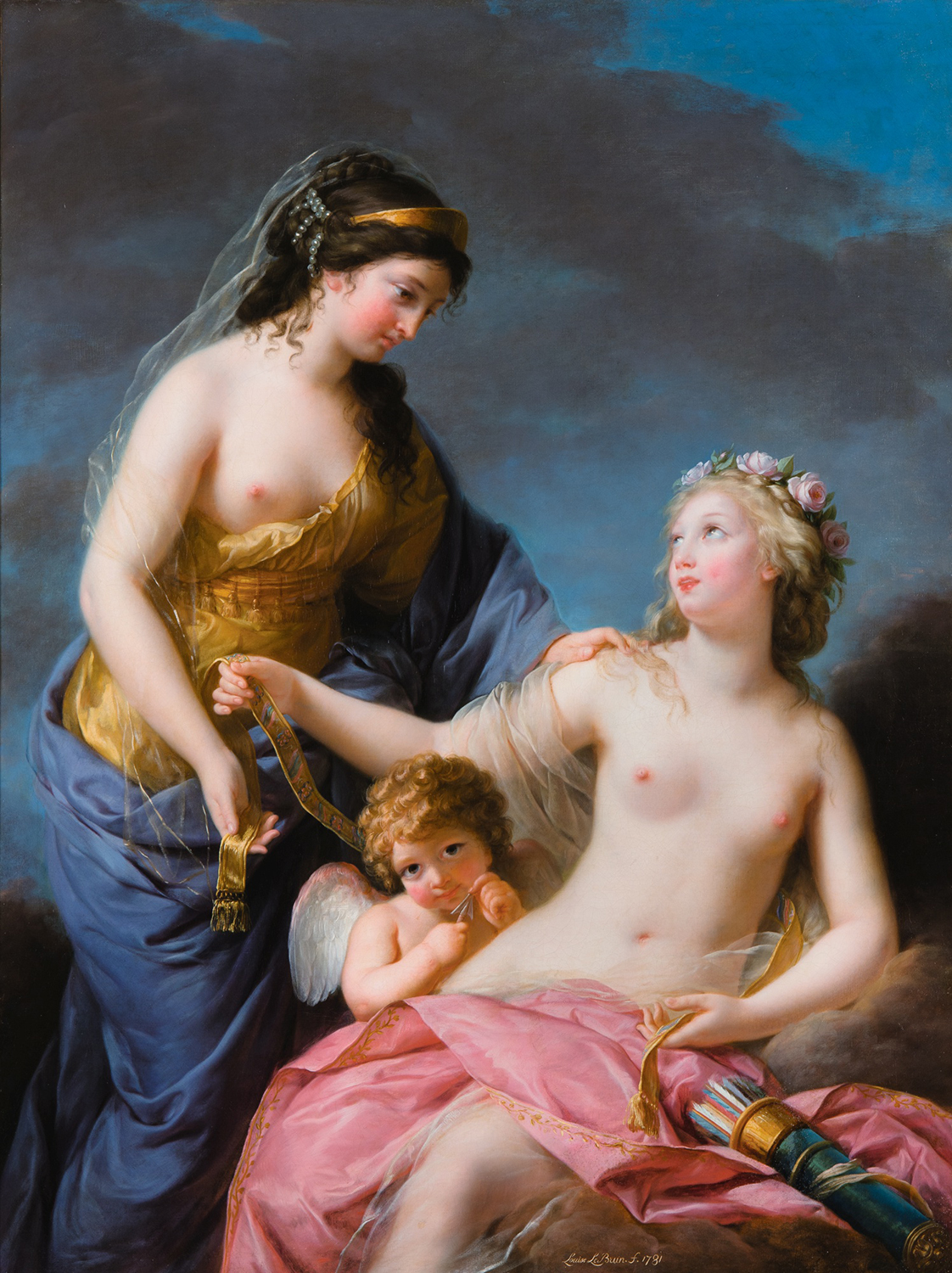 'I can't help it… To me it looks like Juno is harnessing herself with a strap-on.' Hortense Belhôte on the subversive paintings of Élisabeth Louise Vigée Le Brun
The painting features three pale-skinned, rosy-cheeked figures against a blue sky. One of them, a blonde sitting on a cloud and naked but for the pink fabric lightly covering her legs, has slipped off her gold belt to hand it to a brunette standing beside her. The brunette wears a blue coat and a golden dress that serves only to reveal one of her breasts. Sitting between them, a familiar winged childlike figure looks out at us; there's a mischievous glint in his eyes, as his index finger balances on the tip of an arrow. You know him: it's Cupid. And here he's mixing it up with Venus and Juno. It piques my curiosity, causes a blip on my gaydar.
The narrative of Élisabeth Louise Vigée Le Brun's Juno Borrowing the Belt of Venus (1781) – first recounted in Homer's Iliad, later assimilated into Roman mythology, from which source Vigée Le Brun draws her version – relates an incident that took place during the Trojan War. With Troy besieged by the Greeks, Juno (goddess of marriage, wife and sister of Jupiter, and siding with the Greeks in this conflict) borrows a belt, woven with threads of desire and seduction, from Venus (goddess of love) in order to lure her husband, who's backing the Trojans, away from the battle. The war, now in its tenth year, had been set in motion when young Paris, scion of Troy, was asked to select 'the most beautiful goddess' and chose Venus – over Juno and Minerva – who then promised him the love of Helen, the most beautiful mortal woman. Albeit somewhat inconveniently married to the Greek king Menelaus. Given this history, Juno seems surprisingly close to her former rival in Vigée Le Brun's telling. Magnanimity on the part of the winner, or suspect sisterhood from a bitter runner-up?
By choosing to represent this episode, Vigée Le Brun puts a significant spin on the traditional depictions of Juno. The faithful wife of Jupiter and victim of his indiscretions is usually described in literature as jealous and vengeful (unleashing her wrath on her husband's lovers), yet here she appears independent, sensual and caring. Jupiter is absent. As Venus removes her belt and Juno prepares to don it, they pause to look at each other. Cupid blushes, his quiver of arrows resting in perfect alignment with the goddesses' pelvises… I can't help it… To me it looks like Juno is harnessing herself with a strap-on in preparation for sex with Venus.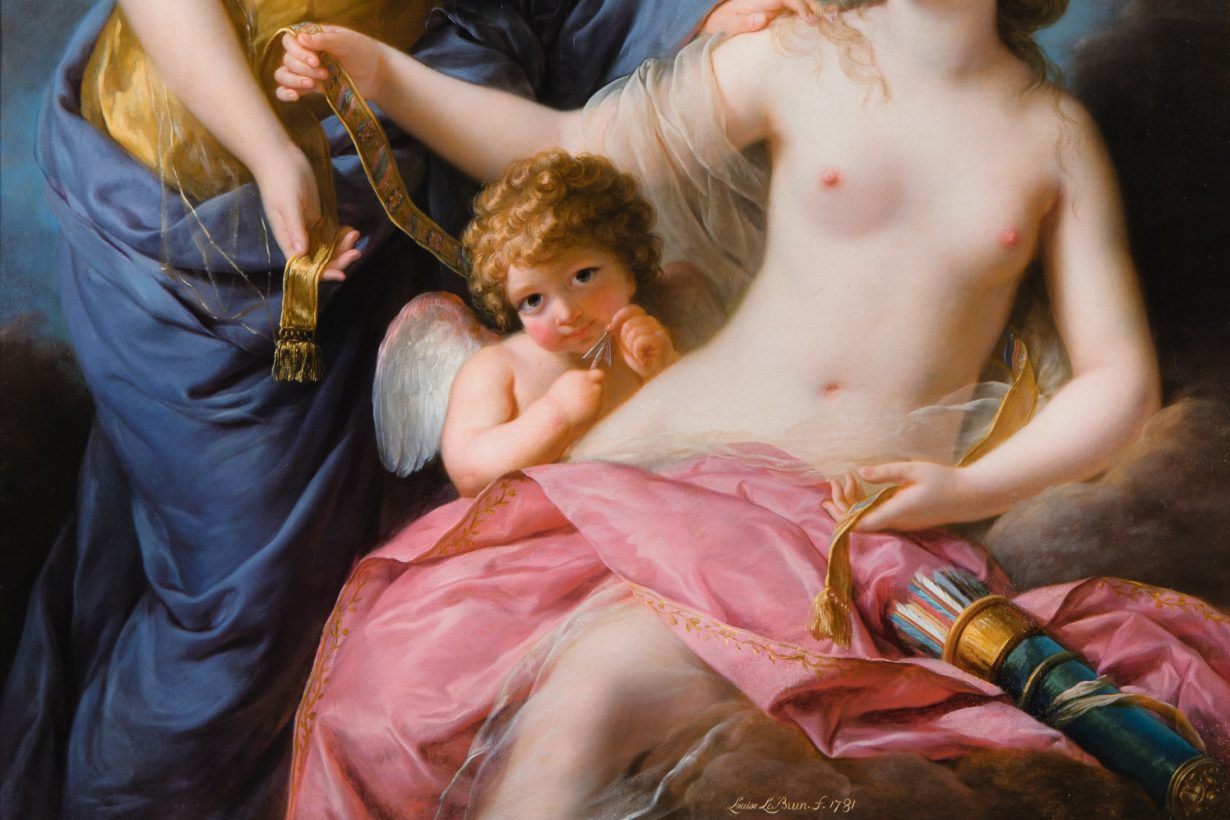 In any case, there is reason to think that my interpretation might not be so farfetched. The painting was commissioned by Charles Philippe, younger brother of the French king Louis XVI (1774–92), who was then aged twenty-four and notorious for his libertine lifestyle and collection of erotic paintings. And such interests were widely shared among the French court and artists at the time. Indeed, they came, in part – with painters like François Boucher and Jean-Honoré Fragonard embodying this taste for nudity and eroticism – to define the art-historical style known as the rococo (the late phase of which Vigée Le Brun is often associated with). In this context, the subject of Venus's magic belt had become something of an artistic obsession: notably the subject of a comic opera by François Hippolyte Barthélémon performed in Bordeaux in 1769 and a serenade performed by Charles Dibdin in London in 1783. In fashion it resonated with the trend for dressing 'à l'antique', where high-waisted, breast-hugging gowns were edging aside the viscera-squashing corset.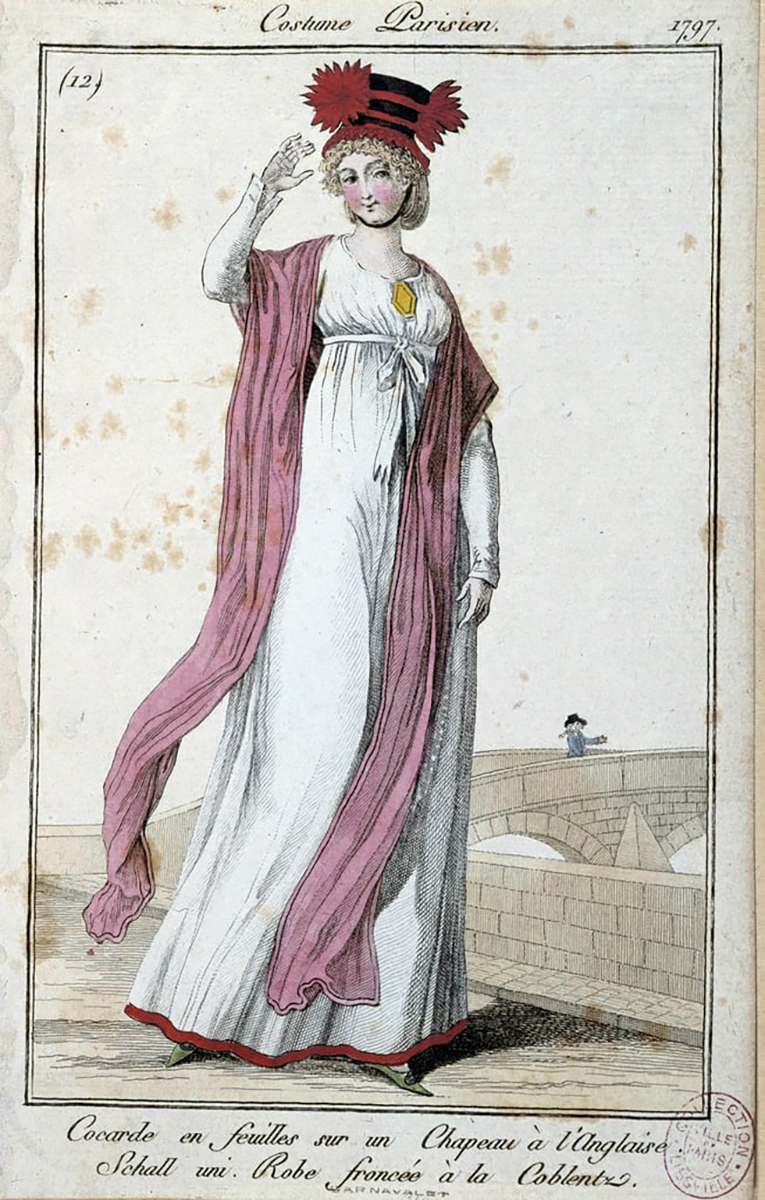 Art historian Philippe Bordes has shown that historical focus on the figure of neoclassical painter Jacques-Louis David (Vigée Le Brun's contemporary) has had the effect of erasing a large part of the art from that period, Vigée Le Brun's included. The narrative of a decadent and feminine eighteenth-century rococo (associated with the prerevolutionary monarchy) supplanted by a virile and revolutionary neoclassicism during the early nineteenth century has skewed our understanding. It's time we took a fresh look and let go of this Napoleonic retelling of art history.
Recent exhibitions such as Peintres Femmes (2021) at the Musée du Luxembourg or the Vigée Le Brun retrospective (2015) at the Grand Palais (both in Paris), along with collaborative research efforts by academics such as Melissa Hyde, Charlotte Guichard and Martine Lacas, have highlighted the economic and artistic challenges faced by female artists at the time, including Adélaïde Labille-Guiard, Marie-Gabrielle Capet, Marie-Guillemine Benoist, Angélique Mongez – to name but a few. Their careers and aesthetic choices are now starting to be analysed in strategic terms, shaped by 'safe transgressions' and other 'deliberate compromises', in the words of Lacas.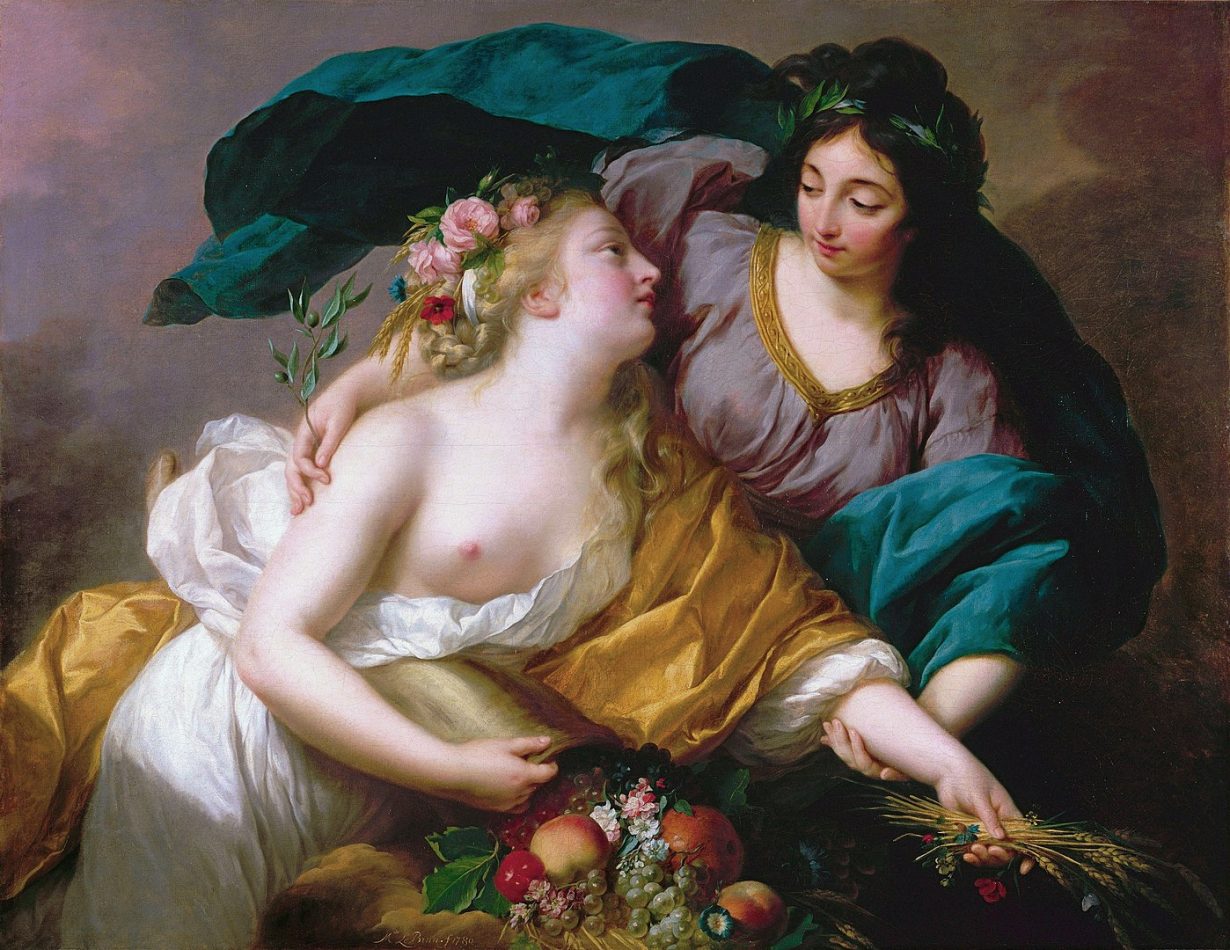 Juno Borrowing the Belt of Venus could be described in those terms. Mythological scenes and allegories qualified as 'history painting', considered the most noble genre, yet forbidden territory for female painters since it implied the representation of male nudity and, by extension, real-life naked models – a violation of decorum. Vigée Le Brun found a way around the rule by depicting female-only allegories, allowing her to stake a claim in the 'grand genre' without compromising herself morally.
This art of bypassing and subverting the dominant norm through the creation of sexy imagery is reminiscent of contemporary strategies of expression in LGBTQIA+ movements. Vigée Le Brun didn't run a drag club or direct sex-positive postporn short films, and she may never have had lesbian relationships. Yet her painting relates to queerness in that it challenges a social and gendered prohibition with an iconography that complicates fixed sexual categories. To see her work in this light can allow for a richer academic analysis, one that broadens its social and anthropological scope. If historians (Abigail Solomon- Godeau, Mechthild Fend, Geneviève Fraisse or Bordes) have since the 1990s demonstrated at length the importance of gender studies in understanding social and aesthetic concerns during the French Revolution period, they have mostly stuck to the representation of male bodies. The historic and academic deconstruction of femininities is yet to be done, so let's continue the journey: time to fasten your belts.
Translated from the French by Louise Darblay
Hortense Belhôte is an art historian, actress and performer based in Paris. Her web series Look but Don't Touch is currently streaming on Arte TV