This Room Moves at the Same Speed as the Clouds at Kunsthaus Zürich reminds us that things burn – and mend
The good people of Zürich are taking selfies in front of a poster at Yoko Ono's retrospective. The message on the iconic piece, though dating back to 1969, has inevitable contemporary, if wishful, resonance: 'War Is Over! If you want it (Love and Peace from John & Yoko)'. Notably it seems to be mostly visitors over fifty indulging in this strange act of vanity and approbation; the young people milling around the opening look on in bafflement. They aren't in attendance to wallow in nostalgia and don't overly associate Ono with Lennon and the Beatles, but rather came to explore some 60 works by a radical artist whose practice spans more than half a century.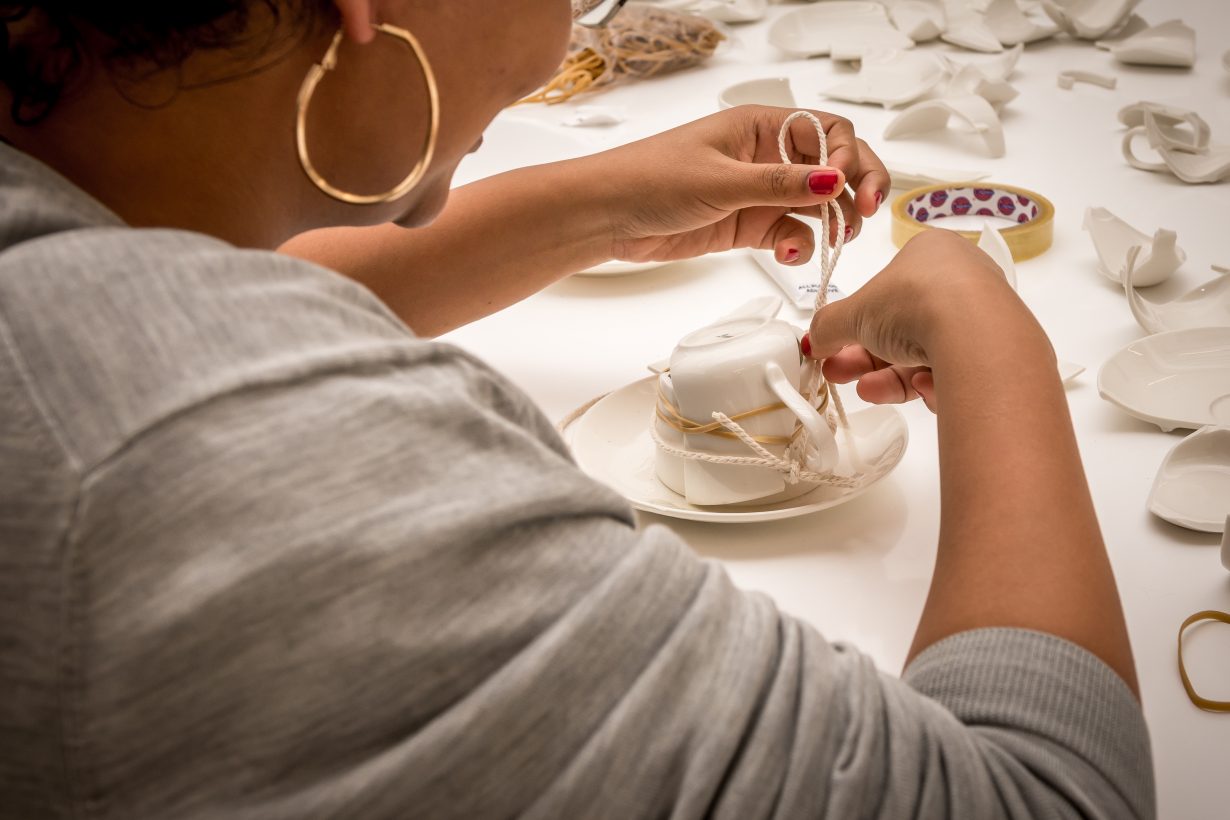 They engage, here, with a multitude of interactive pieces such as Mend Piece (1966/2017), an assemblage of broken pottery, string, tape, chairs, water-soluble glue and needles whose instructions read, 'Mend carefully. Think of mending the world at the same time.' Or they ponder the implications of other instructions, typed on simple stationery: 'Feel the wall. Examine its temperature and moisture. Take notes about many different walls.' (Touch Poem v, 1963), or the short and enigmatic 'Light a match and watch till it goes out.' (Lighting Piece, 1955). We tend to forget that a living artist might have experienced the horrors of the Second World War, which Ono (b. 1933) did as a child: bombs falling from the sky, cities and villages on fire, Hiroshima, Nagasaki. The poetics she applied through her practice can be understood as a way of transforming these memories into art. Newer works like Arising (2013/2022), a film of a burning landscape, charred corpses of mannequins and a pile of discarded clothes in front of the projection draw from these experiences and integrate them into the now. The show builds upon these moments via an extensive programme of recreations of live performances, developed in collaboration with Ono. As one leaves, there's a postscript in the form of a monumental banner in the enormous hall of the new wing of the Kunsthaus Zürich, reminding us of the importance of art as a model of alternative realities in periods of war: 'Imagine Peace (love, yoko 2022)'.
This Room Moves at the Same Speed as the Clouds at Kunsthaus Zürich, through 29 May