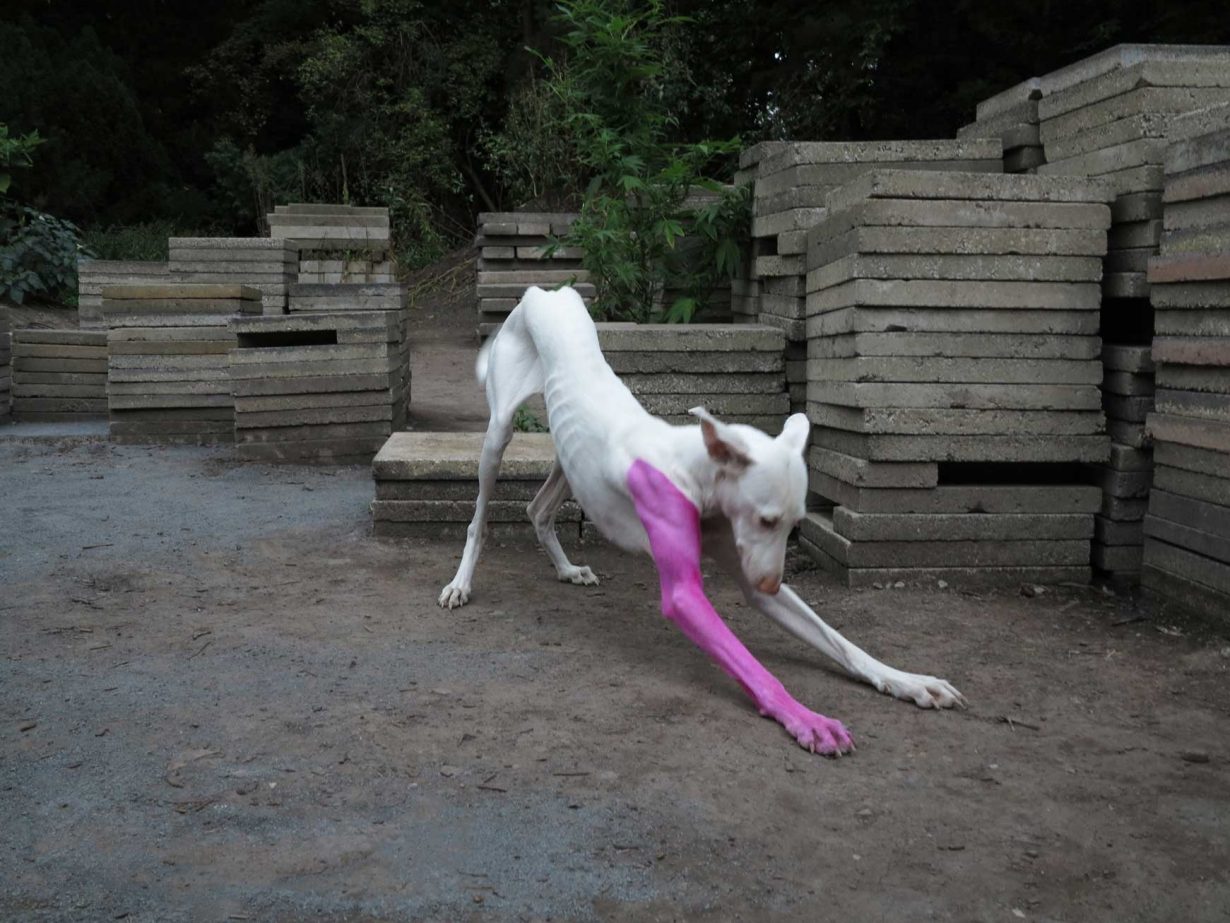 Human, the white Ibizan hound who sported a left front leg of pink makeup to star in Pierre Huyghe's 2012 relational artwork for Documenta, has died.
For one hundred days during the German art festival in Kassel, Human roamed a garden created by the French artist, trotting amidst a planting of aphrodisiac and psychotropic plants and past an uprooted oak tree from Joseph Beuys's 7,000 Oaks (1982) and a reclining nude sculpture with a head swarming with bees, amongst other surreal elements.
She returned to perform with Huyghe on the occasion of his 2014 touring retrospective, exploring and lounging in the galleries of the Pompidou in Paris, the Museum Ludwig in Cologne and the Los Angeles County Museum of Art.
'I don't see things remaining in a frozen state. Things can always re-negotiate, they grow, disappear and reappear in a different state. Their exhibition might be intermittent but their existence keeps evolving. It's a blinking situation, a pulse, like the rhythm of seasons,' Huyghe said on the occasion of the US exhibition. 'A plant appears at a certain moment, the next year it might reappear further away and has changed its colors or shape slightly. For the protagonists or animals that cross my work it's the same. They are here, they go away for few years and then reappear connecting with something else. I don't believe in a sense of an end of something, they aren't monuments. In that regard I see the works as a garden.'
Human, who was estimated to be aged 13 at the time of her death, was bought by Huyghe a year before the Documenta exhibition from a rescue shelter. Her slim physique was characteristic of the Ibizan Hound, which were originally bred on the Spanish island as rabbit hunters.
After retiring from the public eye, Human more commonly answered to the name Uma and lived with Marlon Middeke, the Kassel-based environmental engineering student Huyghe had originally collaborated with to build his garden. Middeke is now an artist is his own right.