In her collection of essays Touching Feeling (2002), Eve Kosofsky Sedgwick embraces the preposition 'beside' as a salient mode of critical theory addressing its subjects (instead of the exposure that 'behind' or 'beyond' implies). Berlin-based artist Aykan Safoğlu's practice is perhaps one that corresponds to this approach: built on and through proximities and intimacies, his works simultaneously exude a certain rawness and auteurist refinement as they touch upon queer bodies, migration and, most recently, death.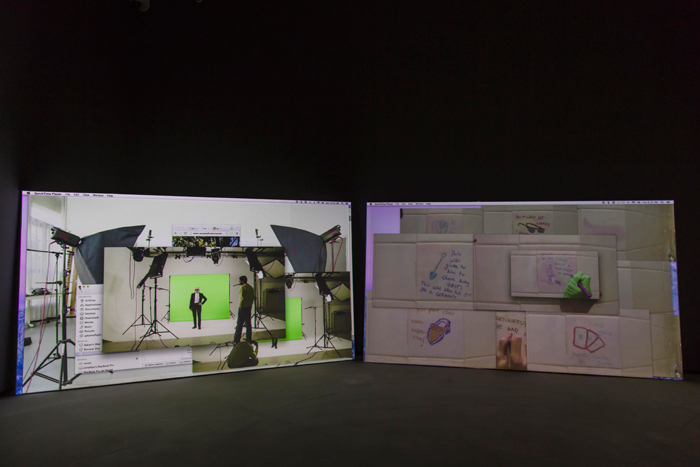 The video essay Off-White Tulips (2013), for instance, a tender letter to James Baldwin about his exile in Istanbul during the 1960s, serves as a platform to consider the transformation of the city and Safoğlu's own coming-of-age via a collection of vintage photographs and images. In another work, the two-channel installation Untitled (Gülşen & Hüseyin) (2015), the artist reaches for the story of his uncle Hüseyin, who went to Germany as a Gastarbeiter and committed suicide in 1978, by asking his friend Gülşen – a Kurdish activist who came to Germany as a student a year earlier and did not know Hüseyin – to take on his uncle's pose and character based on an old photograph. Their unrehearsed interactions on camera, especially Gülşen's embodiment of Hüseyin in her replies to the artist's questions, constitute a delicately negotiated recollection of the troubling conditions of migrants in Germany. The vanishing of their memory is further accentuated when she poses next as the figure in the recently destroyed monument to migrant workers in Tophane, Istanbul – broken, just like Safoğlu's uncle. And so, for the duration of the Festival of Future Nows in 2017, the artist added a 'ğ' (replacing an 'h') to the name of the festival's venue, Berlin's Hamburger 'Bağnhof' – a contemporary art museum and, as a former train station, a place with resonance for all those who arrived in Berlin in search of a better life. Like the 'h' in German, this queer letter does not have a sound of its own, but amplifies that of adjacent letters, gesturing at some boundedness in fate.
Aykan Safoğlu is a filmmaker based in Berlin. He was awarded the Grand Prize of the City of Oberhausen in the 59th International Short Film Festival Oberhausen for his short film Kırık Beyaz Laleler (Off-White Tulips) in 2013, and received a residency at the Rijksakademie van Beeldende Kunsten, Amsterdam, in 2014. His exhibitions include a solo show, Off-White Tulips at Ystads Konstmuseum, Ystad (2016), and group exhibitions The Bill: For Collective Unconscious at Artspace, Auckland (2016); Father Figures are Hard to Find at nGbK, Berlin (2016); Home Works 7 at Ashkal Alwan, Beirut (2015) and Sight and Sounds: Turkey at the Jewish Museum, New York (2014).
Gökcan Demirkazik is a curator and writer based between Lebanon and Turkey.
From the January and February issue of ArtReview, in association with K11 Art Foundation