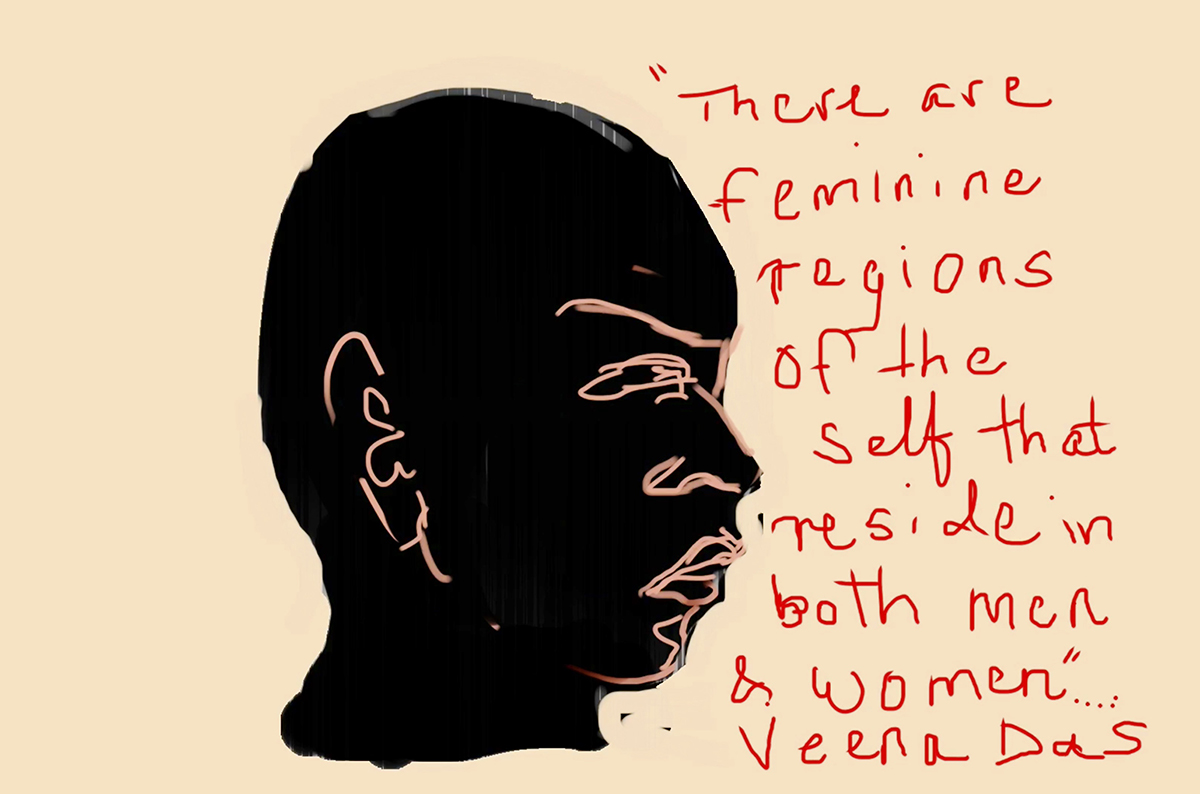 The Indian artist creates a dizzying immersive experience with her latest commission at London's Whitechapel Gallery
"Feel better," commands a female voice accompanying an animation of a black-and-white scraggily-drawn person. Blue and red lines loop around and eventually obscure the figure, who collapses face-first under the words 'I am exhausted!'
"No matter," says the voice. "Try it again."
The figure gets up.
Indian multimedia artist Nalini Malani's latest animated drawings (shown in one room, a nine-channel installation projected across all four brick walls to create what the artist calls an 'animation chamber') consist of multiple scratchy figures, faces and scenarios collaged together with quotes from writers, educators and historic figures including Milan Kundera, Veena Das, Martin Luther King, Jr, Marcel Proust, Samuel Beckett and more. The 88 animations overlap, tumble over and encroach on one another in a cacophony of images and accompanying soundtracks. Each brief sequence loops a handful of times, and words appear and disappear so fast it's easy to miss a beat.
There are grim faces, angry eyes and anguished gestures; two figures reach out towards nothing while the words 'Waiting for Godot' flicker beside them; a woman's disembodied head lies on its side, eyes closed; a man gouges at another figure's eye sockets; in a fraction of a second a silhouette of a person raises a club and blood splatters (except you can't quite tell if what you saw is really what you saw); as another person drags themselves along their stomach, a sheet of sign-language instructions appears in the background asking the titular question 'Can you hear me?'; and while words like 'Endgame', 'Watch Out!' and 'I miss you' are spelled out, other words are spoken aloud:
Have you not had enough?
Of what?
Of this stink.
Malani began creating these diarylike animations (in what she calls a series of notebooks, though they are all drawn using an iPad) in 2017, and combined here they speak to themes that have long motivated her, such as violence and power surrounding sociopolitical issues in India including gender, class and race, as well the current threat of COVID-19 ('Stay Safe' in red cursive script accompanies an animation of a girl jumping a rope) and the ongoing environmental crisis. The space crackles with emotion and energy. It's what I imagine standing inside a mind to be like: watching synapses blossom into thoughts, images and meanings. And the harder you try to grasp at them, the faster they flicker out of focus.
Nalini Malani: Can You Hear Me? at Whitechapel Gallery, London 23 September – 6 June