A group of Chinese museums and cultural organisations is to stage a series of charitable auctions collectively titled Standing Together Through Thick and Thin to help fund preventative-hygiene supplies to over a hundred schools in China affected by the coronavirus pandemic. Initiated by the HOW Art Museum, Yitiao, Modern Media Group (of which ArtReview and ArtReview Asia are a part) and ART021, alongside over 80 major art institutions and galleries in China and abroad (including Hauser & Wirth, Edouard Malingue, BANK, Perrotin and Lisson), proceeds from the sale of donated artworks, prints and rare collectables will be used by the charitable Shanghai Soong Ching Ling Foundation to buy children's masks, digital thermometers, disinfectants and other protective substances that, given the scale of the outbreak, are running low.
The auctions, which take place via the Yitiao online platform, will begin on 2 March (editions, prints, collectables), 3 March (contemporary art I) and 4 March (contemporary art II), each lasting two days. The first features limited-edition toys and prints, including items by Takashi Murakami, Jeff Koons and Francis Bacon, while the subsequent sales are dedicated to unique contemporary art. Art by Liu Jianhua, He Xun, aaajiao, Yin Xiuzhen, Lorna Simpson, Gregor Hildebrandt and Esther Mahlangu are among the hundreds of lots already donated. Individual artists and patrons, as well as companies, are invited to consign further works. 
In a statement announcing the fundraiser, the organisers said, 'Behind each of the growing number of confirmed cases in the epidemic are the fragile lives of individuals. In the face of this epidemic, we salute those engaging in the medical battles that continue to be waged on the front lines. These courageous efforts to combat the virus put the rest of us in a safer position. We hope to contribute our obligations through art so that we might show that in times of trouble art has the power to inspire courage and yearning for a better life following this period of great apprehension.'
Luxury brand Louis Vuitton is also pledging its solidarity in the face of this crisis, through a collaborative project with Modern Weekly (China's bestselling weekly magazine) and celebrated contemporary artist Xu Bing. The work, titled Heaven Protect China, draws from Xu Bing's Square Word Calligraphy (1994–), which transforms the English alphabet into radicals that mimic those used for Chinese characters to create a new writing form similar to Chinese, which transcends cultural boundaries, transforms Eastern and Western cultures, and expresses empathy for human beings wherever they come from. Louis Vuitton previously collaborated with the artist in 2015 to design the 'Xu Bing x Louis Vuitton English Square calligraphy four treasures hard box'.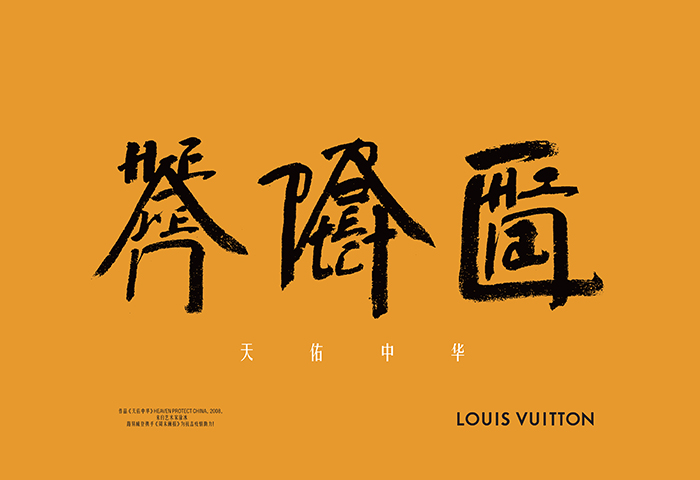 27 February 2020