Artists and activists Shirin S. & Şahane B. watch Iran's scenes of defiance in hope and horror
Why should I stop, why?
Birds have gone to seek their blue way
– Only Voice Remains (1966), Forough Farrokhzad (translation Sholeh Wolpé)
"Once again I'm on the street with friends and all of a sudden there are no familiar faces. It all fades and I am just running towards whatever I think might save me. I scream and then I hide. There are fires and gunshots. I get shot with a paintball, which means the regime has a target on me, and the many layers of clothes that I have on are covered in paint. I try to take them off but there is no way I can do that. Then I wake up in bed, thousands of miles away from Iran, still shocked and I can't breathe and I remember that I am not in danger. I am not on the streets in Iran chanting, and to know I am not there doesn't make me feel any better. I call my friends, I go to work and I even go shopping, but I am not here, I am miles away." Shirin S.
"I always do a morning meditation, and I try to be good and not check Instagram before I enter into this calm space. But the other day I couldn't help myself – I checked and the first post I see is that Mohsen Shekari, an innocent twenty-three-year-old protester in Iran, thousands of miles away, was hanged to death by the Islamic Republic. The image of a body dangling, fighting for life, squirming in the air and then slowly going limp cuts through my mind. I put my phone down and enter into a meditative space, but the shadow of death hangs with me, haunting me all day. I finish my meditation and return to Instagram, and immediately a video of his mother wailing pain from the depths of her soul stops my scrolling. I sit in this space, not sure what to do. I move on with my day, confused and with a sadness that weighs me down." Şahane B.
---
As artists and activists in diaspora, we understand the consequences of what happens to artists and activists in Iran if they are caught. Visual art can break through the language barriers, broadcasting messages to a broader audience. In a world in which the individual artist is encouraged to sign their name and claim their work, some of the most powerful art coming out of today's revolution in Iran is unsigned and anonymous.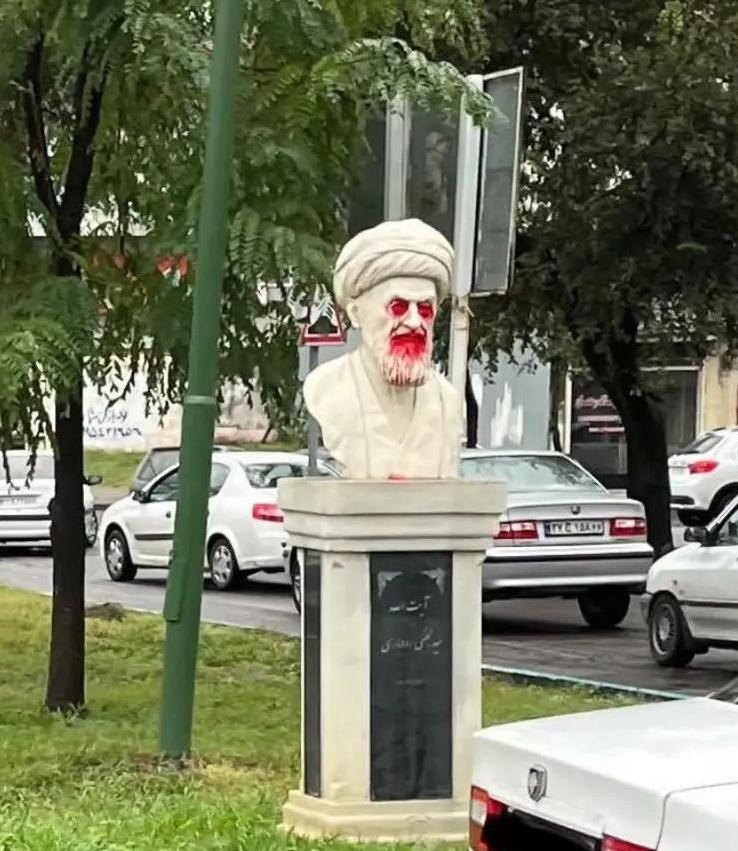 Since the Second Iranian Revolution started on 16 September, following the killing of Kurdish Iranian woman Mahsa (Jina) Amini by the so-called morality police, artists in Iran have created protest art and shown it in public. These gestures support resistance to the brutal Islamic Regime. In solidarity with the artists, we, the writers of this article, choose to remain anonymous as well. Sharing our experience with others involved, we know we are not the only ones. Instead, we hope to become part of the broader collective consciousness. As we learned recently, rappers Saman Yasin and Toomaj Salehi are both on death row for their involvement in the protests. Anonymity is a way to protect all of us.
The most recent memorable act of dissent, known as the Green Movement, took place in 2009. It was centred on the desire for a recount, following that year's presidential election; three million people turned out on the streets of Tehran hoping to reform the existing system. By 2010 the Islamic Republic had shut it down.
What makes the current revolution different from that of 13 years ago is that there's no wish for reform within the system. According to anonymous sources in Iran who we contacted for this story, protesters believe that the only option now is to overthrow the regime.
People who are protesting today remember how they felt during the days of the Green Movement. As part of the ongoing 'Diary of a Revolution' posts on the account @from____iran, a person named Amir from Karaj wrote the following on 3 November 2022:
'These days I experience a mix of emotions: hope, despair, fear, courage… but the strongest emotion I experience is rage. After witnessing the devastating let-down of the 2009 [Green Movement], I was consumed with despair for years. But this time, it is rage that drives me forward. A rage that has slowly dissolved within me to become fuel for taking action, whether virtually or out on the streets or in other ways. I'm invigorated to see that the fire that was dying under the cold ashes is burning brightly again and has become a force for change regardless of the outcome. All this to say, now is not the time for grief but a time for rage.'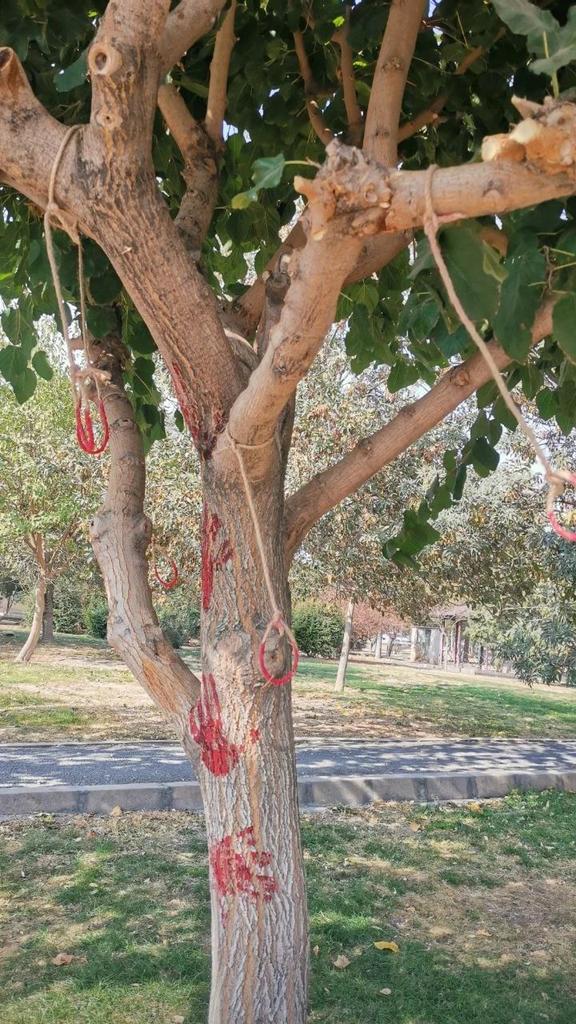 We diasporic Iranians find ourselves glued to social media and the news, following intensely what is happening thousands of miles away. Despite the distance, the emotional impact feels unbearable.
Shortly after the regime murdered Mahsa Amini, it attempted to shut down the internet. This is a technique it uses regularly as a way to suppress information and silence voices of dissent. This time it did not work. Gen Z found a way to bypass it – no one really knows how – and not only in terms of information but also in terms of live streams of protests, faces of the murdered and documentation of anonymous protest-art. All spread through social media. The people would not be silenced. The voices of dissent rose to the top.
Bright-red blood is the first symbolic gesture that we noticed bleeding out through the internet. On 7 October, around three weeks after the regime murdered Masha Amini, the symbolic blood of protesters flooded Tehran's fountains. In an act of resistance and public art, the water of fountains in Tehran was dyed red to symbolise the bloodshed of innocent people who continue to stand up to the unlawful regime in Iran. According to BBC Persian, the fountains were drained, likely by the unlawful regime, but the blood-red residue remained. Similar actions happened in Mashhad and Isfahan.
Blood took on another symbolic gesture as students painted their hands red and covered the halls of the University of Tehran in handprints. Similarly, on a bridge over a highway in Isfahan, women hung a banner with red handprints and a map of Iran outlined with a woman's hair. As they unfurled the banner, they chanted, "The next one is one of us". Elsewhere, red handprints and bloodied nooses appeared on trees, and storefronts were covered in red paint.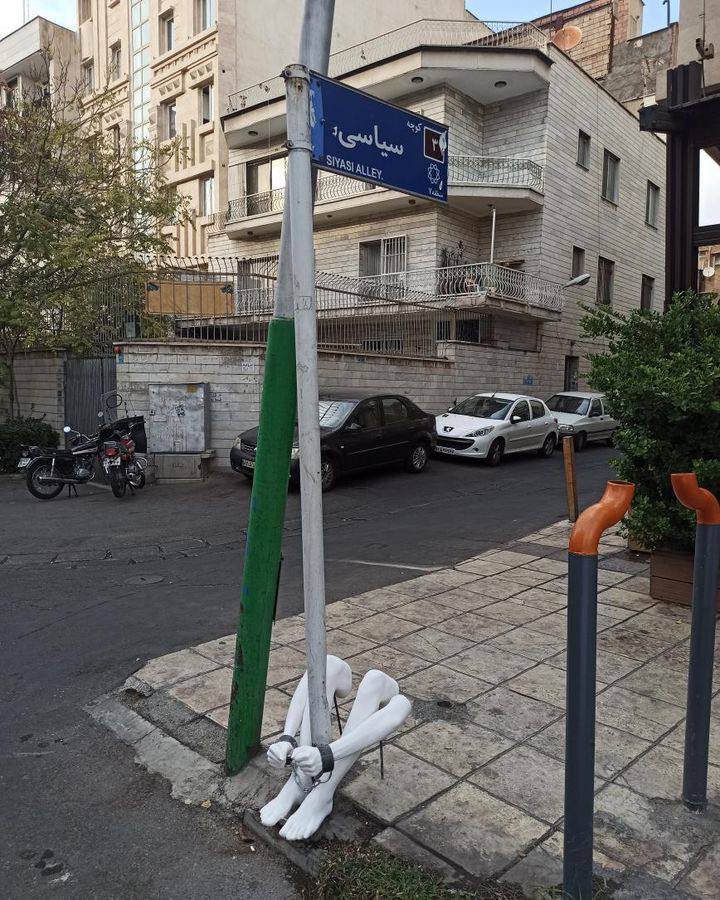 In Tehran, a sculpture of only arms and legs was tied around a street pole with the name 'Siyasi Alley'. (In Farsi, siyasi means politics.) A photo of the artwork was posted on Twitter on 1 November, but this is not just the idea of being shackled to politics. The sculpture references a man named Khodanoor Lajaei, who is part of the Baloch minority, one of the most oppressed communities in Iran.
Lajaei was from the southeastern city of Zahedan, an area that the Islamic Republic targets intensely following years of unrest. In an attempt to humiliate Lajaei after he got into a fight with a Basij paramilitary force, the Islamic Republic tortured and wounded him. When he was thirsty, they positioned a cup of water in front of him such that it was beyond his reach. They tied him to a public flagpole and published this photo of him. Instead of inciting fear, the photo inspired more protests and outrage against the regime. His photo became one of the symbols of the current revolution in Iran, uniting different minorities such as Kurds, Arabs, Baloch, Bahai, Jews, Christians, Lurs, Turks and many others. After his death in the 'Bloody Friday' protests in Zahedan, the picture went viral.
After the symbolic sculpture was removed a few days later, someone came and covered the bottom of the street pole and the ground in red, which appeared in a new photo posted on 6 November. The red is not just the blood of the protesters – it also represents the desire to end the bloody regime for women, a desire for life and freedom.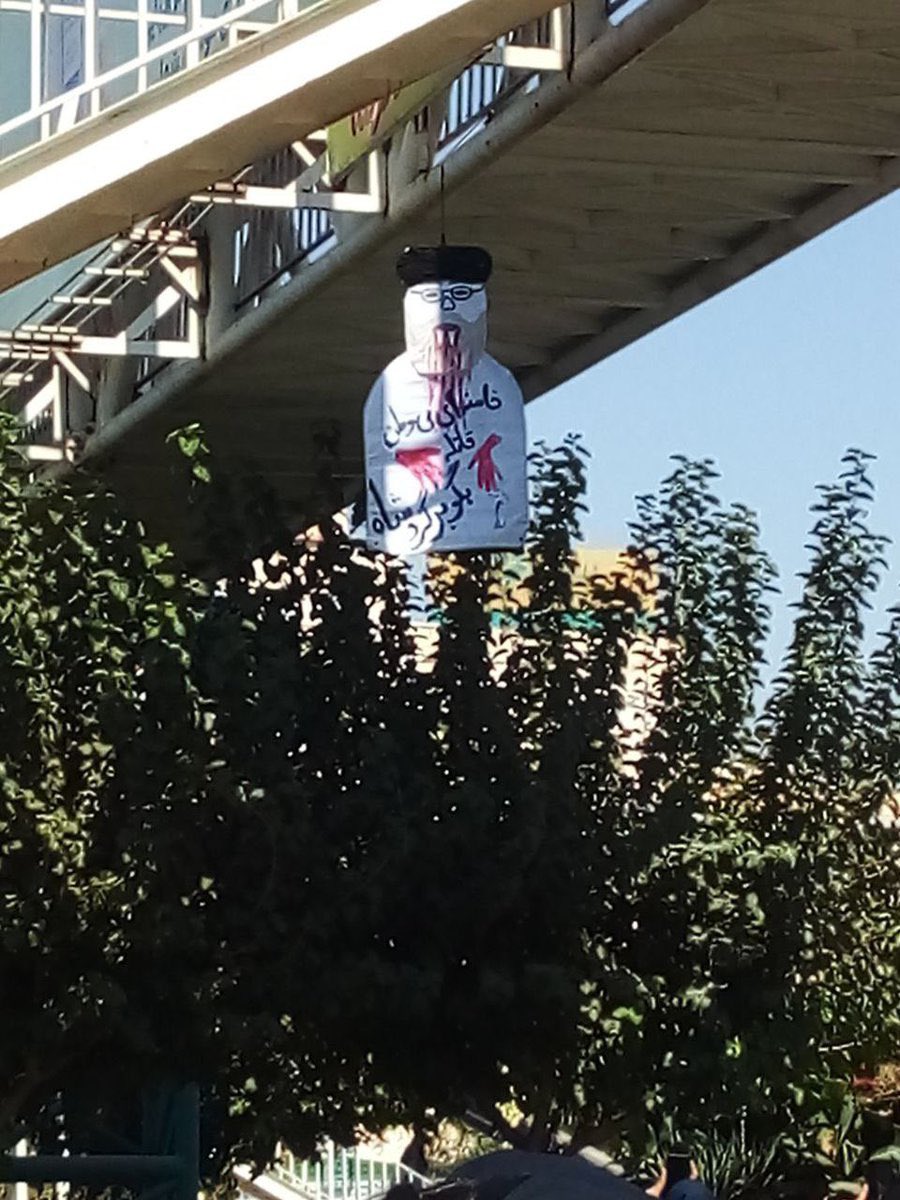 On the streets of Iran, handmade stencils of the faces of the girls, women, kids and men that the regime has murdered keep appearing. They are Nika Shahkarami, Sarina Esmailzadeh and Hadis Najafi. They are Ghazaleh Chelavi, who was shot by revolutionary guards while filming the protests; her last words were, "Don't fear, don't fear, we are together!" They are Minoo Majidi, sixty-two, and a mother of two, killed in Kermanshah by Revolutionary Guards. They are Nima Nouri, seventeen, killed at the memorial for Hadis Najafi. They are Mehrshad Shahidi, nineteen, a celebrity chef who was beaten to death a day before his twentieth birthday. There are many more. The list keeps growing; the stencils keep appearing.
As hardline Iranian lawmakers urge the death penalty for many protesters, artists create figures of mullahs being hanged in response to the Islamic Republic's brutal execution policies. Since news of some of the arrested protesters' execution sentences has surfaced, the hanging mullah figures multiply. They hang from trees, and they hang from bridges, limp and dead and blowing in the wind. These public artworks portray the cruelty of what the Islamic Republic does to those who engage in antigovernment activities. Through this art, the Islamic Republic is now confronted with the image of it hanging itself. 
Shirin S. & Şahane B. are diasporic Iranian artists
For the Farsi translation of this piece, read below: