It was partly my fault the press trip left me in Mississauga, a town about 45 minutes away from downtown Toronto, where I had come to see the city's inaugural biennial. In the Lyft I took to catch up with the tour group, I reflected on a facetious remark I made before departing to Canada: my official position as a critic is that I won't review coastal or international biennials anymore, only those based in one of North America's "Belts" will receive my attention. I thought back to 2017, when I visited the Bible Belt to review Prospect New Orleans – how fun it was when some misguided do-gooders falsely accused me of stealing and reported me to the store owners – and remembered my trips, during Summer 2018, to SITE Sante Fe in the Sun Belt – uneventful – and the Front Triennial in the Rust Belt, the latter recollection causing me to shudder, as I had dined out almost exclusively on hot dogs during my four-day visit to Cleveland. My biennial escapades had been motivated by a desire to see what these large-scale, international contemporary art exhibitions meant to cities that lacked the same exotic allure as Venice, Kassel or Gwangju. These cities have been financially out of reach for most of my professional life, and I had grown tired of a prevailing opinion among my colleagues that biennials were, in short, over. How jaded, privileged, and simply ungenerous – besides, any art critic who is honest with themselves knows that cynicism does not get anyone off the hook for their complicity in the artwashing of power and real estate, which facilitated the press trip in the first place – as if art could soften the impact of a city's total upheaval.
Well, for most of the long weekend, I thought Toronto would cap my streak, because, after a morning press conference filled with all the typical pageantry, and visits to both of the exhibition's main venues – a gutted, former Volvo dealership on the rapidly developing lakefront, and the Small Arms Inspection Building, a former munitions plant in the aforementioned suburb – I found myself standing out back, in the late-summer sunlight, with a cup of red wine in hand, sharing a bottle one of the exhibiting artists had smuggled on the tour (to be clear, he had his own ride, which he didn't offer when I lost mine). Sometimes these sprawling exhibitions, particularly during opening weekend, can feel like a fool's errand. The Shoreline Dilemma, curated by Candice Hopkins and Tairone Bastien, was no different. It centres on the complex questions surrounding land rights and indigeneity, but when the exhibition's main venue will surely be replaced with condominiums, adding to a glut of towers along the city's lakefront when the biennial's '72 days of free art' conclude, it is quite a challenge to see the art and ideas presented here as making a lasting impact. The surrounding neighbourhood, which lacks any evidence of planning or aspirations to foster a healthy community, conjure images of an empty, postapocalyptic city. Yet, this terrible premonition would not be an unfamiliar vision to anyone with tribal affiliation: for them, the apocalypse already happened with the arrival of European colonists, and the genocide that ensued. Perhaps this is why the works that resonated with me did not traffic in symbolism or lost histories – most of the work could be described this way, and it was hard not to see it decorating, or in some way being recuperated as a selling point for the surrounding real estate, fortifying the speculative value of these properties with authenticity. Hence, I say it was only partly my fault.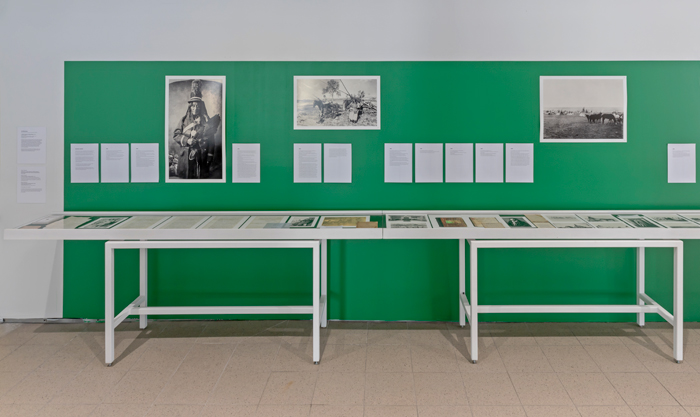 Refusal to these fraught conditions is in short supply in the show, but it can be found elsewhere, in a pair of works that make spectacles of humility, and, in very different ways, get white people to apologise. The first is AA Bronson's A Public Apology to Siksika Nation (2019), a research and publishing project done in collaboration with research assistant Ben Miller, and artist Adrian Stimson, who is affiliated with the tribe. The project centres on the revelation that Bronson's great-grandfather, Reverend John William Tims, was the first Anglican missionary to the Siksika during the late nineteenth century. He established the first residential schools, a widespread practice among missionaries and settlers which removed native youth from their families and forced them into reeducation programmes – the schools were notorious for abuse. As a founding member of General Idea, an art collective that came to prominence for their AIDS activism, Bronson understands the value of breaking public silences; he has since added shamanism and, hilariously, butt massage, to his list of vocations. He published a book-length version of his apology, including archival materials that link his family tree to the violence leading up to the Siksika Rebellion, which is available for free at the Biennial's main venue, though the text's rhetorical arc is a little confusing – there's a long passage that just lists his CV; elsewhere, he thanks his commercial galleries, and claims he no longer cares about openings. Yet, delivered in person, what came through is twofold: first, even if the life of a professional artist feels comparatively frivolous in light of the historical violence he seeks to address, the language is still drawn from his everyday life. It makes the following recitation of names that much more poignant, reflecting the persistence of this intergenerational shame and historic trauma, and acknowledging its place in contemporary life. The geographical context still left me a little dumbstruck – noise from a neighbouring highway could be heard above the silence – but the hallowed atmosphere reminded me when, as a child, I heard holocaust survivors speak at my synagogue, and made me think about how most of them were probably dead now. The memory lent heft to Bronson's text, and his promise to remember.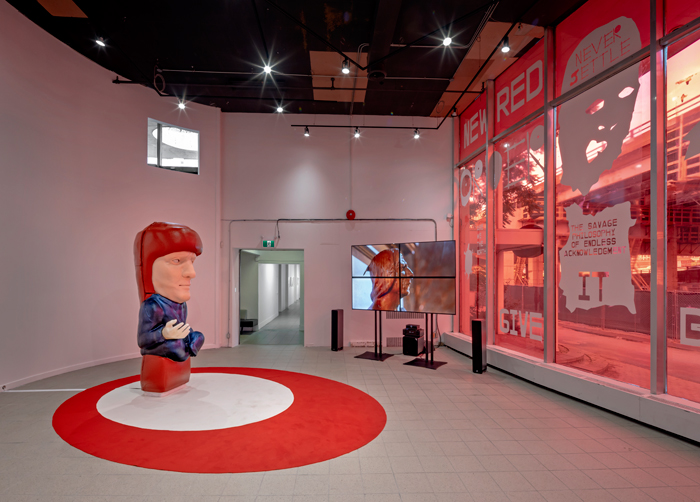 If Bronson's project is about the value of an apology, then Never Settle (2019) from collective The New Red Order (comprised of brothers Adam and Zack Khalil, and Jackson Polys) looks at ways to make amends. Overall, the group's installation is decolonisation's answer to Goop, Gwyneth Paltrow's self-help empire. They present an immersive pop-up environment, complete with artful display cases full of mysterious, colourful props; HD promotional videos featuring tons of confessionals; a large, IG-worthy, interactive animatronic figure; a quirky zine with games and comics; and, most importantly, a selfie-wall full of slogans such as 'The Urge to Merge', 'What are savages for?', and 'Commit crimes against reality'. The group (or movement) parodies the rhetoric of self-actualisation and corporate activism, selling us on decolonisation, reparations and the unlearning of settler colonial tactics, using the countdown clock of sustainability, and the dogma of wellness and self-care. The videos most clearly articulate the product The New Red Order offers: in testimonial after testimonial, white actors playing white collar workers, artists and other left-leaning white people praise the mask these postcolonial practices offer to their deep-seeded shame, without requiring them to sacrifice anything, or give up any actual property. Yes, Never Settle is funny, because it's true, but the more subtle and insidious point is how viewers are implicated in the scenario, and that laughter is just another way to mask shameful effects of whiteness, too.
The dual nature of apology – or, the dual nature of shame – grounded the exhibition in the personal, but it failed to assuage an overall sense of what-am-I-doing-here absurdity, which returned to me again and again. Maria Thereza Alves's offsite project in Riverdale Park West was advertised as an intervention meant to draw attention to the original route of the nearby Don River, before it was straightened to promote the steady flow of waste water into the lake in the late nineteenth century. Construction is currently underway to reinforce the longstanding man-made interventions, which dwarfed Alves's modest, unmarked intervention into a big lawn that doubled as a dog park. I only noticed the modest, snaking arrangement of polished steel plates when a thirsty pup mistook their reflective surfaces for a puddle. A film programme, The Drowned World, guest-organised by Charles Stankievech, at first appeared to add some welcome guile to this biennial. The weekly screening programme takes place at the Cinesphere, an IMAX theatre housed inside a geodesic dome. I caught a beguiling film about small-scale mining operations by Revital Cohen and Tuur van Balen. Music from Afrofuturist, Detroit-house pioneers Drexciya was an inspired inclusion, and a composition from Pauline Oliveros re-staged the theatre as a dripping, pitch-dark cave.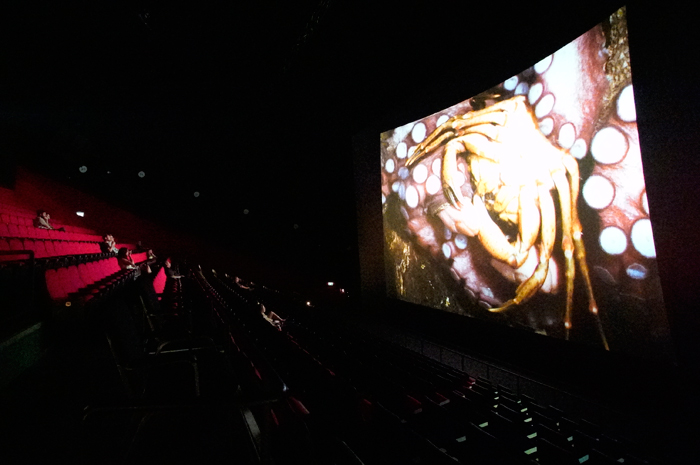 The Cinesphere is one of the few remaining attractions at Ontario Place, a 1970s-era Canadian version of Disney's Epcot Center, which I remember visiting as a kid. Back at the time it opened, IMAX technology had recently been introduced, and it favoured ethnographic and nature docs to show the dramatic effects of new technology, and their ability to expose viewers to new worlds. This utopian potential can still be seen in Jean Painlevé's contribution to the biennial's film programme, a confoundingly beautiful portrait of an octopus. Yet, the apparatus, like the corporate modernist grounds of Ontario Place, have not aged well, and today, the attraction feels like the biennial's momento mori – it resembles the type of broke-down laboratory where patient zero escapes from in some sci-fi disaster movie. The melding of art and life took a step further when Cyprien Gaillard and Stankievech's films came onscreen, each revealing the underwater reefs that now populate oceanic dumping grounds. Caught between my childhood memory of the place, and the toxic seascapes in front of me, the films presented there seemed to have aged in time with the outside world. I came to think the actual images of deep-sea landscapes that had instilled a dizzying sense of wonder in me as a child, were just as polluted as seabeds were in real life. I wouldn't say the transporting experience rescued the biennial but I suddenly realised that if even these images – even these unreal illusions – were impacted by climate change and pollution, then what the hell has happened to me and my body over the same period of time. Just the thought of it makes me want to repent. 
Toronto Biennial of Art: The Shoreline Dilemma, various venues, Toronto, 21 September – 1 December 2019
Online exclusive published 4 October 2019