RECLAMATION at Sean Kelly, New York underscores that the titular act can operate in a multiplicity of modes and on many scales
In 2018, painter Titus Kaphar cofounded NXTHVN, an arts incubator devoted to fostering professional development among emerging artists and curators of colour. The forward-looking nonprofit – the acronym denotes 'Next Haven' – is located in the historically Black neighbourhood of Dixwell in New Haven, in close proximity to Yale University's MFA programme, through which a number of notable artists, many of whom are artists of colour, have passed in recent years (among them are Wangechi Mutu, Mickalene Thomas and Kaphar himself). RECLAMATION spotlights NXTHVN's fourth fellowship cohort. Organised by curatorial fellows Cornelia Stokes and Kiara Cristina Ventura, the heterogeneous presentation assembles painting, mixed media work, sculpture, installation and video by the group's six studio fellows. The show's thematic webbing, while loose, repeatedly returns to the question of how prevailing icons – be they cultural, art historical or religious – might be remade and reclaimed by contemporary artists whose backgrounds or lived experiences are often not reflected by such imagery.
Capt. James Stovall V, a self-taught painter and muralist, engages with biblical narratives while reimagining their habitual iconography. In his painting Let the world spin without me tonight / Mark 8:36 (2023), a figure wears a black balaclava- cum-executioner's hood marked with a Nike swoosh; a religious habit, a portion of which is left unpainted; a gold chain; and a nametag scrawled with 'HIM'. Embodying the dream logic of some spiritual experiences, the figure materialises among two fish, a snake, the word 'cheese' and disembodied facial features. A set of low stairs positioned in front of the painting invites viewers to enter the scene – and, more broadly, to see themselves inside of religion through the artist's fervidly unorthodox interpretations. Ashanté Kindle also hits divine registers, though her work's sublimity is relatively secular. The artist's lush abstractions – a series of tondos, one of which takes its title from a gospel song, as well as large canvases and a single-channel video – are inspired by Black hair, which she celebrates as a site of bodily autonomy. Her painting Total Adoration (2022) has impastoed sections so thick they cast their own shadows; its sumptuous surface incorporates hair beads and barrettes alongside obsidian and glass stones. Whorls of plum, maroon, midnight blue and gold loosely allude to hair textures and styles as they simulate cosmic space, suggesting that the freedom conferred by appreciation for Black hair has the potential to radically expand to the largest of territories.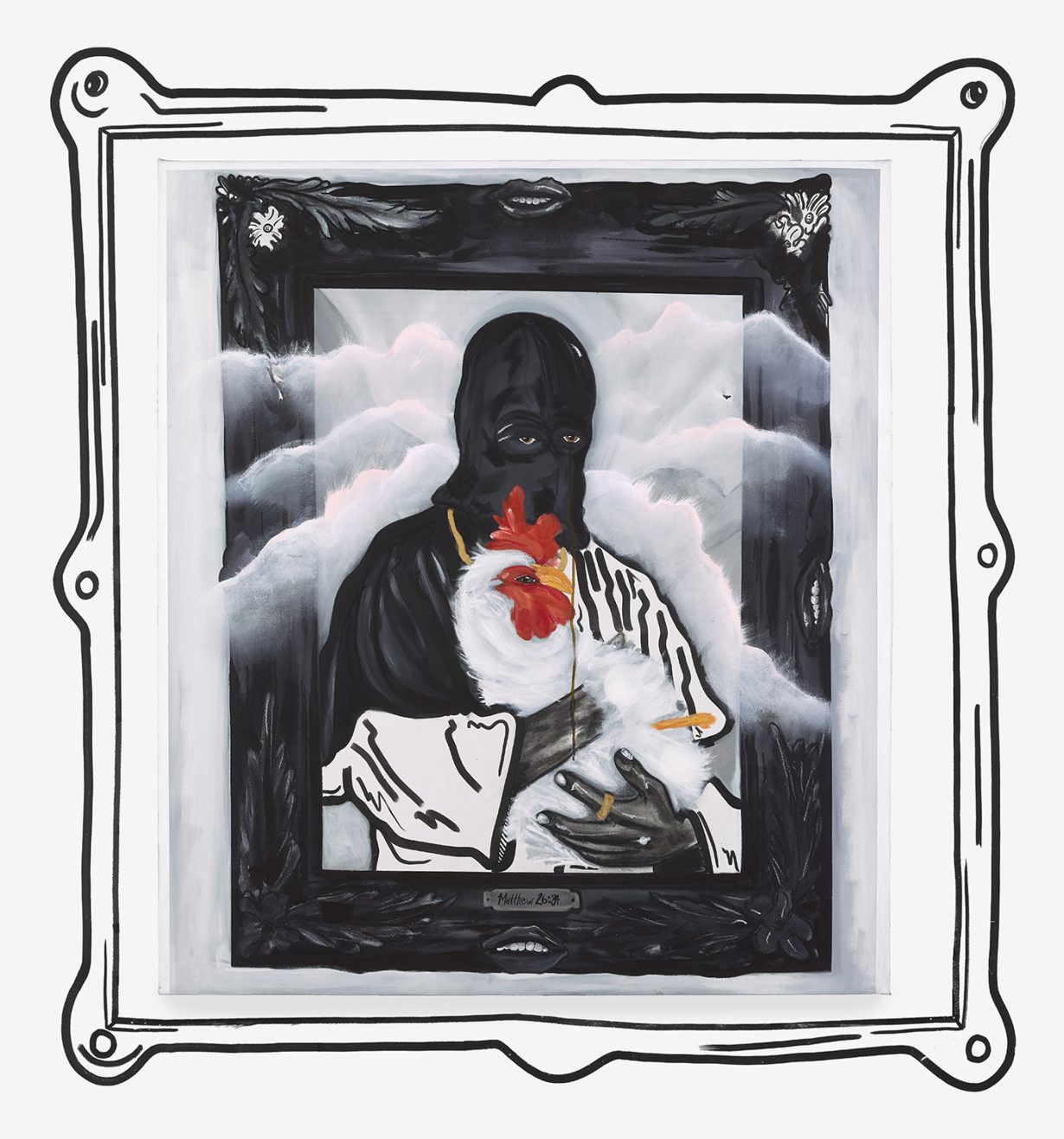 Chicano painter Edgar Serrano proffers critiques of that purported paragon of European Modernism, Pablo Picasso, who along with his Cubist peers callously appropriated African and Oceanic artistic forms. (Picasso's misogyny is also the subject of a widely panned exhibition at the Brooklyn Museum; on the 50th anniversary of his death, the modernist's presence looms unusually large in New York City.) In his détourned canvas Demons Never Die (2023), Serrano approximates Picasso's portrait of his second wife, Jacqueline Roque, with their Afghan hound, but replaces Roque's face – normally fractured by Cubism, which drew inspiration from West African masks – with a shrunken head that has been intricately painted as to appear embroidered, its mouth woven shut. Nearby, Donald Guevara doesn't so much challenge historic iconography as ask how our increasingly digital, dispersed lives might fold cultural icons into new shapes. His explosive collages layer printed or painted cutouts of disparate imagery, as seen in New American Quetzalcoatl (Ebony Alabaster) (2023), which pays homage to the Mesoamerican serpent deity with a ringed gallimaufry of human limbs, a bird's beak and wings, parts of the Statue of Liberty and athletic gear; the juddering multicoloured pattern that borders New American Quetzalcoatl nods to the liberatory potential of the 'glitch', or social ruptures in digital space, as theorised in Legacy Russell's book Glitch Feminism (2020). Anindita Dutta's evocative sculptural assemblages combine shoes, furniture, clothing, fabrics, animal hides and horns, positioning such consumer objects – often found in domestic spaces – as witnesses to sexual violence or trauma in countries across the globe. In Sex, Sexuality, and Society – SWEDEN (2023), two cuissardes mounted to the wall are opened as if flayed, revealing plush golden insides that have been skilfully sewn so they resemble thorned plants. The boots are heeled with elegantly curved animal horns, alluding to violence that might be defensive or offensive.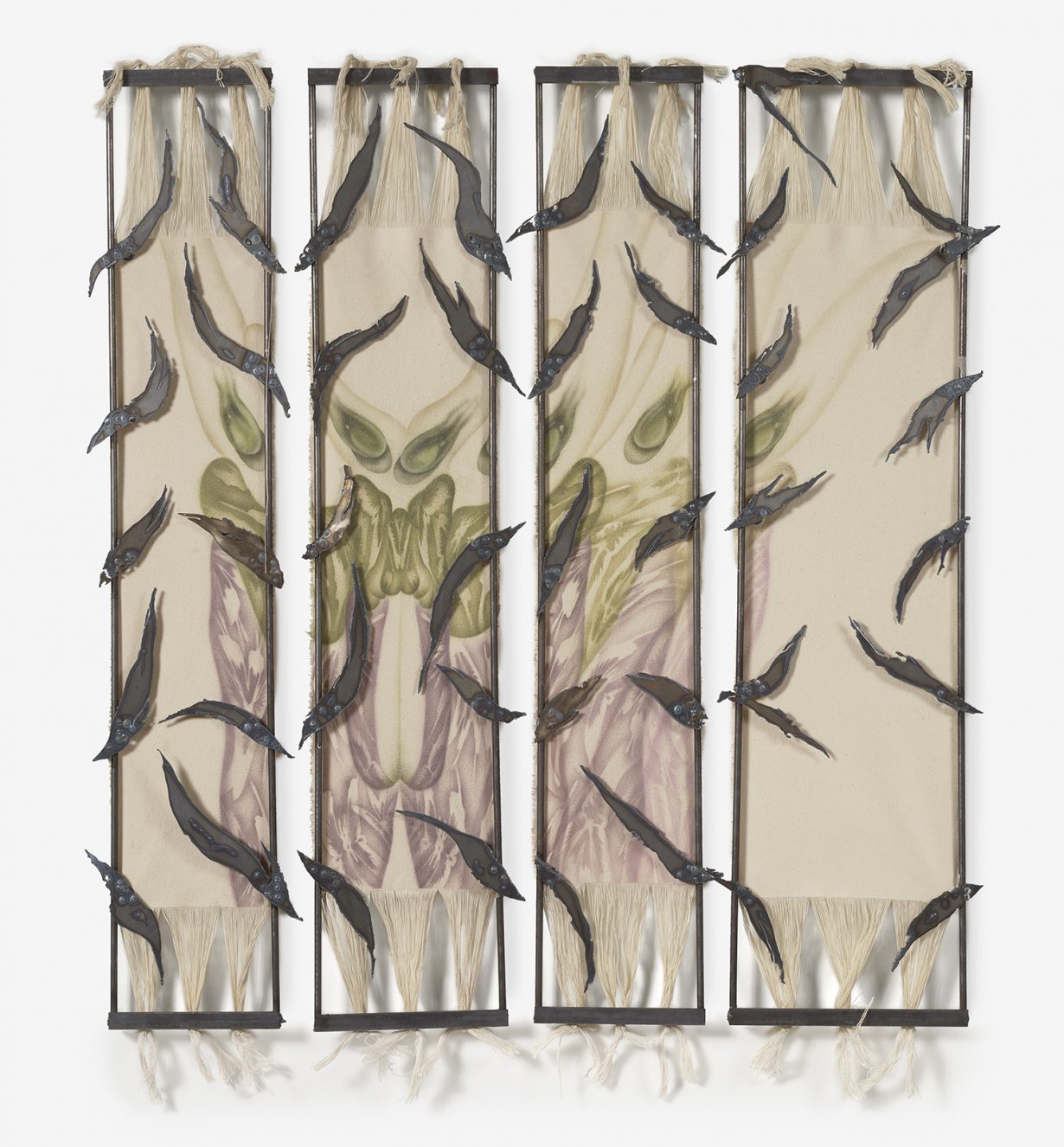 Through its varied offerings, the exhibition underscores that reclamation can operate in a multiplicity of modes and on many scales. While Stovall V opts to refashion predominantly white, Western religious iconography, Dutta's reclamation consists of the assertion of creative resilience in the face of sexual trauma; as Guevara remixes North American and Central American imagery for a digital diaspora, Kindle builds cosmoses that revolve around the beauty of Black hair. For Peruvian-American artist Athena Quispe, reclamation is tied up with efforts to decolonise the discourse around painting, a medium that has long flourished among Indigenous creators. Rooted in her own cultural inheritance, Quispe's disarmingly beautiful installations are less invested in an overt critique of the violences of Eurocentric painting – as seen in Serrano's counter-appropriations – than in taking up the rich history of Moche-civilisation weavings, as well as South American artists' ongoing use of organic materials like cochineal (an insect often harvested for its crimson pigment). In her Blood Memory (2023), its title a nod to ancestral knowledge that resides in the body, two long swathes of canvas extend to the ceiling, terminating in woven threads delicately dyed with cochineal and chlorophyll. Along with a stouter central canvas, these are set in steel armatures that resemble looms or stretcher bars, and are peppered with sharp steel shapes that suggest how a leaf might be synonymous with a knife.
RECLAMATION (NXTHVN) at Sean Kelly, New York, 30 June – 11 August