In a new series, the German photographer captures the streets of Hong Kong left deserted by the pandemic and government crackdowns on pro-democracy marches to potent effect
In February 2020 Elisabeth Neudörfl travelled to Hong Kong and began photographing the city's streets; in around 100 photographs, of which 35 are extracted here, they appear as if in the aftermath of a disaster, eerily deserted in white-skied daylight. As they were: not only had swathes of the population deserted the thoroughfares as the pandemic began to grip, but sequential crackdowns on the pro-democracy movement meant that protest marches weren't happening either. The artist, a significant figure in the very German format of artistic documentary photography, followed the 2019 march routes and visited geographical flashpoints, such as the Hong Kong Polytechnic, of conflict with the police; if the people aren't around to make a political comment, Neudörfl suggests, the streets might do it on their own (with a little help from an artist).
In Out in the Streets (No 35) (all photographs 2020) – an elevated view of an overpass running above a couple of ground-level streets, with one solitary car heading towards us at far left – the eye fills in missing campaigners. Out in the Streets (No 68) offers a high tiled wall scrawled with palimpsests of (one must assume) pissed-off graffiti, a synecdoche for sustained frustration. (No 86) shows a similar scene, except the authorities have already painted out the sprayed marks, leaving abstract grey blocks. In (No 38) and (No 29), huddles of water-filled police barriers almost become malevolent characters in themselves; in (No 41) a long line of them hugs the base of a glossy tower block. Elsewhere Neudörfl points her lens at fenced-off and guarded university campuses, and a pair of banners by a subway entrance read, bathetically, 'In Joy Enjoy' above, yes, another compound burst of graffiti.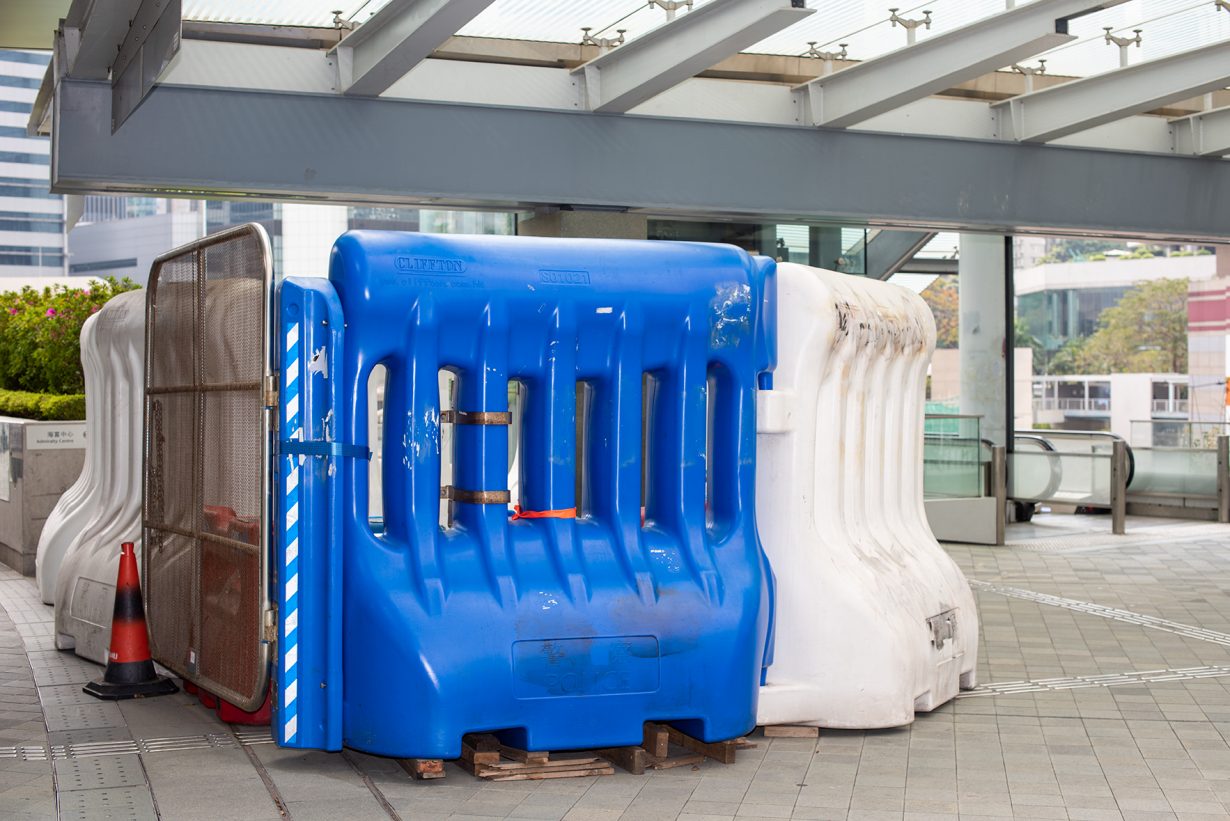 For the six-minute video shown on a tilted monitor on the floor, Calligraphy Lesson (2021), Neudörfl attached an action camera to a paintbrush, then proceeded to write both the Chinese characters for 'Hong Kong' and an example of the city's graffiti (several of which she'd had translated for her) with deliberate slowness. The gesture is slightly ambiguous, but it imbues graffiti – usually speedily written – with the gravitas of tradition, ironically Chinese tradition, so that spraying-and-running is elevated as a mode of communication, perhaps given its rightful due. In the photographs it's virtually all the protesters appear to have left. Interviewed recently, Neudörfl pointed to analogies between the Hong Kong protests and all manner of postcolonial conflicts in Europe, and certainly Out in the Streets speaks more widely to authoritarian moves against the right to protest. But it's also a specific narrative, one that Neudörfl addresses with taut pictorial logic: even if something's been made invisible, you can still point a camera at it.
Elisabeth Neudörfl: Out in the Streets, Barbara Wien, Berlin, 28 April – 22 August 2021