A new collection of the late theorist's lectures offers a toolbox for breaking through the veil of 'capitalist realism'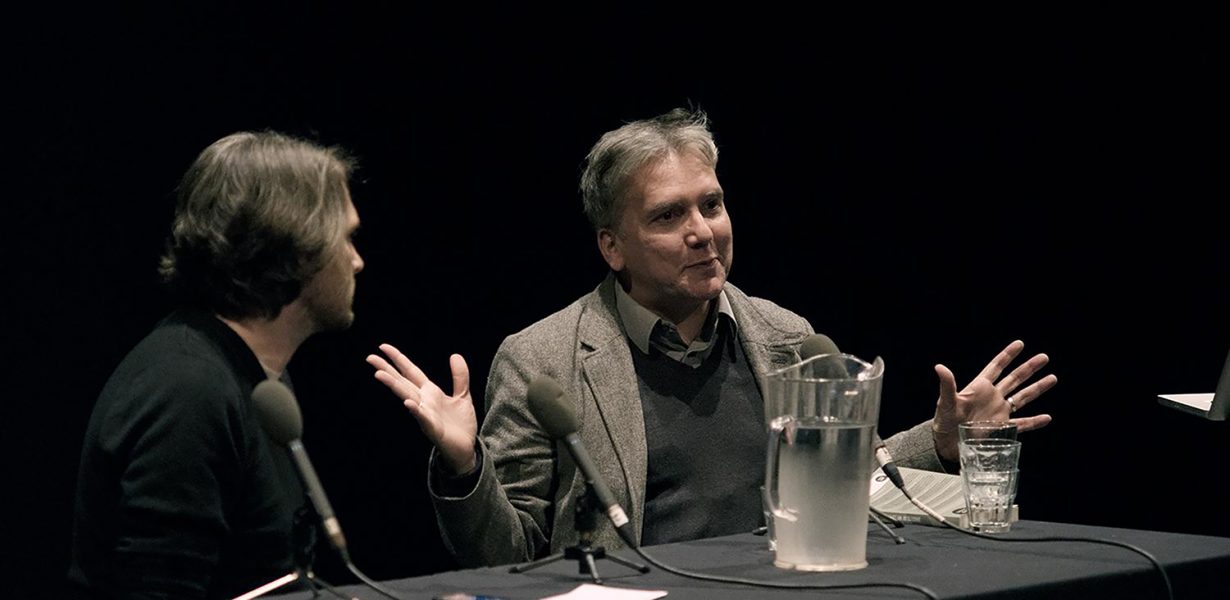 Any response to the political and material tumult with which the citizens of planet Earth have catapulted themselves into the 2020s would have to begin and end with this: there is a desire for something other than *gestures broadly at everything* this. But how is it that we can transition to a better system, when capitalism can claim to have given us so much of what we want? Sure, capitalism might be a bit depressing, but it's the only game in town, and it gave you that iPhone and that Starbucks coffee, didn't it? Both of which you'll be needing today if you're going to help your employer generate the necessary profit, incidentally.
Mark Fisher's Capitalist Realism: Is There No Alternative? (2009) named and gave a timely account of this ideology, and why it tells us that we can't hope for anything better than unfettered late capitalism. Capitalist Realism gave a new generation of leftists a landmark text that conceptualised the hitherto vague, dispiriting malaise of the twenty-first century. Before his death in January 2017, Fisher was working on ways to break through the veil of capitalist realism, or at least learn from earlier moments in history, prior to the successes of the right in the 1970s and 1980s, such as post-punk, weird science fiction on the BBC, and the uncanny literature of the early twentieth century. His unfinished project Acid Communism was to be a reappraisal of the counterculture and psychedelia of the 1960s and 1970s. Postcapitalist Desire: The Final Lectures (2020), edited by Fisher's former student Matt Colquhoun, offers another glimpse into where his thinking was headed, and in turn, a toolbox for thinking beyond capitalist realism.
The 'final lectures' of the title are taken from 'Postcapitalist Desire', a course that Fisher taught for the Master's degree in Contemporary Art Theory at Goldsmiths, University of London, taking places on Monday mornings in the autumn of 2016. Fisher wanted to pose challenging questions about the possibilities of moving beyond capitalism such as: 'is there really a desire for something beyond capitalism?' To what extent 'is our desire for postcapitalism always-already captured and neutralised by capitalism itself'? And, rejecting the idea that a critique of capitalism necessitates a complete rejection of modern life and everything in it, 'is it possible to retain some of the libidinal, technological infrastructure of capital and move beyond capital?'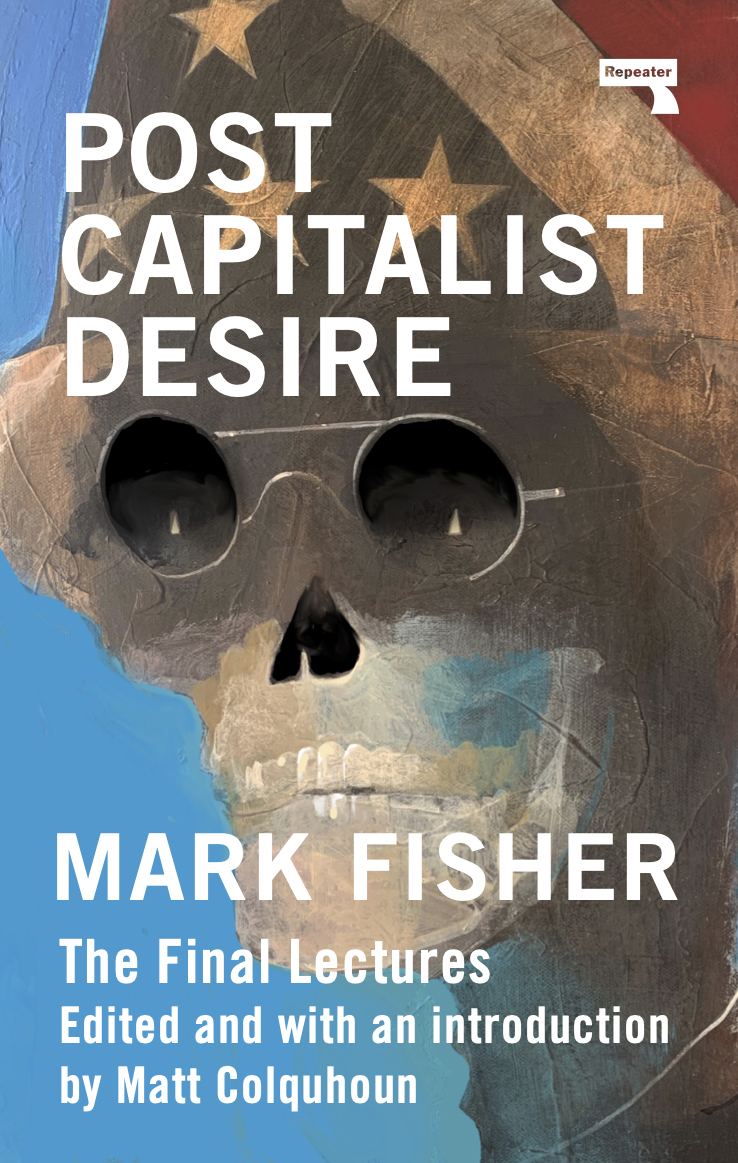 Fisher senses that it might be, and so for him, postcapitalism is 'a victory that will come through capitalism… something that developed out of capitalism. It develops from capitalism and moves beyond capitalism.' As both Fisher and Colquhoun observe, this hotly debated position has come to be known as accelerationism, and for Colquhoun, Fisher was 'attempting to describe to his students, from the ground up, a new praxis for a left-accelerationism.' The question of what can be salvaged from the enemy in the fight against it has been one of the most urgent and controversial in left-wing thought for well over a century.
Transcribed from recordings and incorporating dialogue with students in the room, Postcapitalist Desire reveals a different Fisher than that of his writings – as Colquhoun puts it, 'an experimental Fisher […] Fisher uncut; Fisher in his element'; the lectures 'would be Mark's sounding board for Acid Communism'. While Colquhoun tentatively frames the final lectures as the embryo or fragment of a lost Acid Communism opus, comparing it with philosopher Gilles Deleuze's unfinished book on Marx, it is Fisher's role as a teacher that is perhaps most unique and valuable about Postcapitalist Desire.
With each lecture based on students having read one or two chapter-length texts by earlier theorists, philosophers, scholars and journalists, the sessions are less easily read as a series of notes towards an original contribution to critical theory than a seminar on a collection of some of the most pressing and provocative texts in the left theoretical tradition, many of which have been unjustly neglected. The readings for the whole module are given in the Appendix, and they make a fascinating list, one notable, among other things, for its extensive inclusion of texts by women both well-known (Naomi Klein, Shulamith Firestone, Jodi Dean) and deserving of more attention (J.K. Gibson-Graham, Silvia Federici, Eden Medina).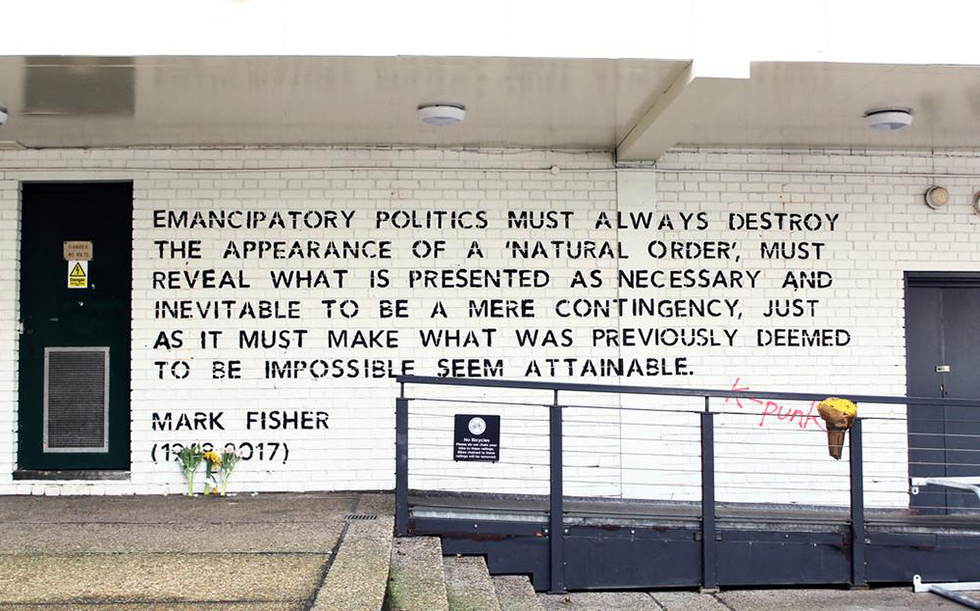 Postcapitalist Desire is thus very much the course it was originally intended to be: a primer on the topic, with Fisher's curation and guidance as strident and insightful as ever, but by no means sidelining the exploratory, improvisatory and indeed democratic dimension of the teaching process – as Fisher puts it towards the end of the first lecture, 'far too much of me talking today'. It was not just his writing that was celebrated after Fisher's death but his teaching, too, by the lucky few who got to experience it. And with this book, the growing number of readers Fisher has accrued since his death, many of them beyond academia and the theoretical left, have an incisive yet personable (and frequently humourous) introduction to writers as canonical and formidable as Herbert Marcuse, György Lukács, and Jean-François Lyotard as well as lesser known names such as Ellen Willis, Nancy Hartsock and Jefferson Cowie, and key but complex concepts such as the death drive, ressentiment, standpoint epistemology, reification, and even capital and capitalism themselves.
In one of the book's most densely informative lectures, 'From Class Consciousness to Group Consciousness,' Fisher discusses the political strategy of consciousness-raising, its history, and how it gives groups of the oppressed a clearer view of their common struggles. As he talks so relatably through the frustration and absurdity of life under contemporary capitalism with his students, this is precisely what Fisher was doing in the classroom of postcapitalist desire.
Mark Fisher, ed. Matt Colquhoun, Postcapitalist Desire: The Final Lectures, is published by Repeater Books