A new partnership between Lancôme and the Louvre shows something less than beautiful
Four famous late-Gen Z and millennial women, the most visited museum in the world and make-up. The recent collaboration between cosmetic brand Lancôme and the Louvre Museum saturates us with visual cues about beauty: beauty ambassadors Zendaya, Amanda Seyfried, Aya Nakamura and He Cong are paired with beautiful artworks to promote beauty-enhancing products.
We get it. We're in the higher spheres of good looks. Zendaya, in a Little Black Dress, flaps the side of a diaphanous black cape in the air. Her movement emulates the dynamism of The Winged Victory of Samothrace, which towers over the Louvre's main staircase. The sculpture stands behind her and though Zendaya's body seemingly completes the marble fragment, her position also obscures the Hellenistic monument from sight.
Other images show the models and their associated Louvre sculptures side by side. A split photograph of Zendaya's profile converging with a Roman sculpture, the Venus of Arles, excavated in France in the seventeenth century. Another photograph juxtaposes the profiles of Aya Nakamura with Edme-François-Étienne Gois's nineteenth-century marble bust of Greek poetess Corine (also Corinna), in a nod to Nakamura's own song-writing. Amanda Seyfried is matched with a Tiberian-era sculpture representing Diane, the fierce and independent goddess of the moon and hunters, excavated near Rome in 1792. The model He Cong poses to the camera in a three-quarter turn which seemingly ignores the Venus of Milo just to her right.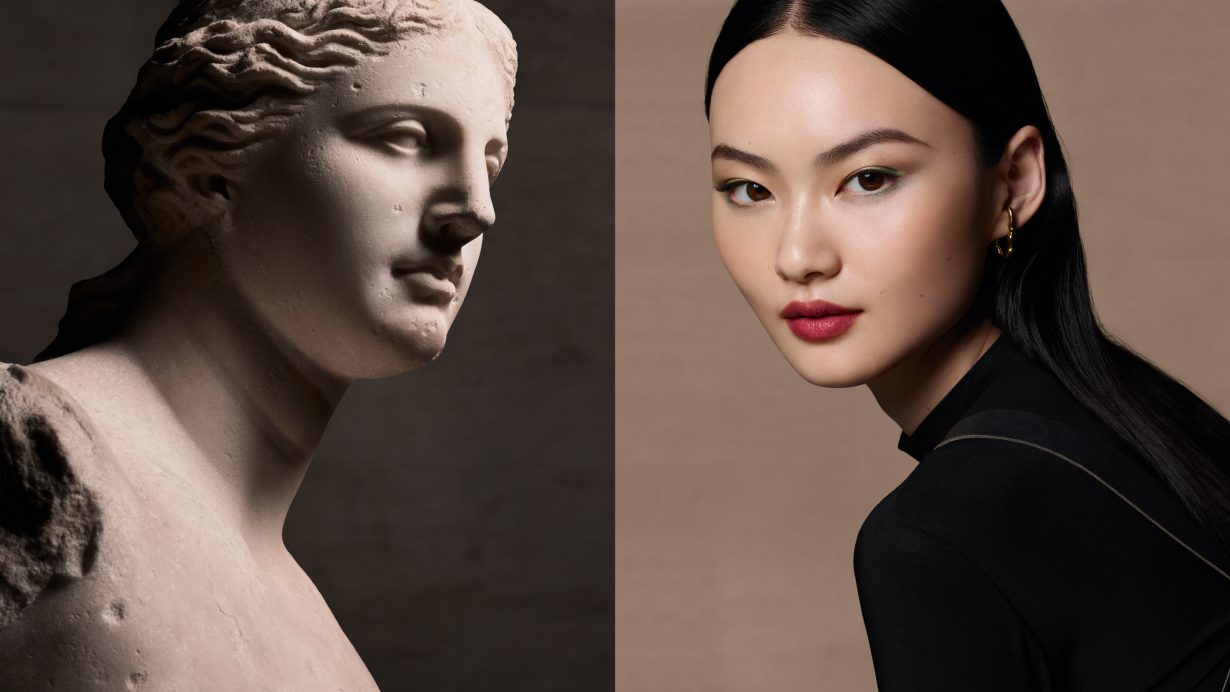 The campaign claims to celebrate a pluralistic take on an evolving canon of beauty, a breezy genealogy which take us from the imposing grace of antique marbles to the ethnically diverse women at the forefront of culture in film, fashion and music today. Old icons, new icons, and the Louvre as a commercial stage. In the campaign's press release, Laurence des Cars, the first woman president-director of the Louvre, who took the job in 2021, hails the collaboration as an illustration of 'diversity of forms of beauty found in the Louvre collections, where cultures and civilisations dialogue beyond time and geography'. Yet for all its women-empowerment-coded visuals and messages, the campaign merely superimposes conventional portrayals of aesthetically pleasing beauty that ignore power as well as more complex forms of representation. These four women are four avatars of stereotypical female attractiveness – polished, professionally accomplished, photoshopped, uniformly styled. Their inclusion is hardly disruptive, considering the beauty industry's shift towards a greater representation of men, gender nonconforming models, textured hair and skin, senior and neurodiverse models and models of different sizes in the recent years. In this industry wave, beauty is a human constellation of indiscriminate qualities, not an ideal.
The composition of the Louvre campaign images, in its compare-and-contrast collages that evoke diptychs, signals an equation. Corresponding characters and alter egos are presented to us in flesh and stone. Yet the sameness of the images stiffens the models' individualities, especially incongruous for women who constantly reinvent themselves and their limits as action heroes, comedians, drama leads, storytellers and more. The models are mostly reduced to immobile face shots of their faraway gazes. Their black dresses contrast with the pale marble, a simplistic creative choice that ignores the boundless possibilities of colour. Ancient Mediterranean cultures used pigments, and not engaging with a more diverse chromatic palette reinforces whiteness – and does little to dethrone an iconography that often inserted subjects of colour to compliment the status of white subjects. The campaign praises beauty as a 'living art' yet the models feel like shadows of the wit and lively personalities they are known and loved for. Their association with inanimate objects makes them as ornamental as the artworks themselves: catalogued objects of acquisition, more frozen than inspired.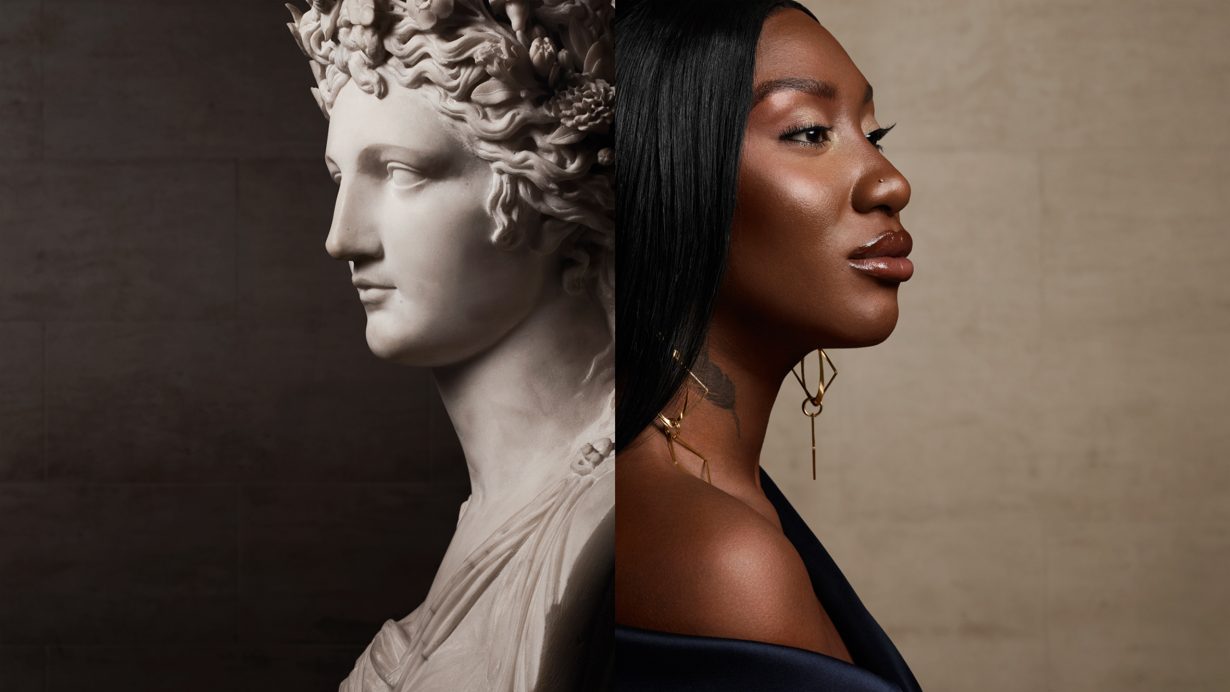 The artworks selected for the campaign contradict any ambition for multiculturalism the Louvre or Lancôme may claim to have. The sculptures all relate to female figures of ancient Greek and Roman history and mythology, a narrow scope comforting a classicist and somewhat prejudicial outlook on aesthetic hierarchies. Greek and Roman art continue to signify a falsely exclusive notion of timeless beauty and sophistication at the expense of other traditions and civilizations. There's something to be said about curatorial preferences and a lack of bold vision, but also about cultural supremacy. The Louvre holds stunning encaustic mummy portraits from Fayum. All the way from Roman Egypt, they depict coquette women in precise strokes that vividly communicate with us their desire to charm. Is their seductive appeal not universal or beautiful enough? Is the fantasised white skin of faded Greek or Roman statues more alluring? In this campaign, diversity is missing in both form and subject, a regrettable bore given that the museum's collection gathers nearly half a million artworks. Why are womanhood and beauty reduced to Western goddesses and nymphs?
If all this suggests that diversity is only a problem of the current moment, then the Louvre falls short of its mission to critically engage with its historical collection. For this collaboration, Lancôme released a face and eye-shadow palette named after the Louvre's Richelieu Wing. In the actual Richelieu Wing is a Mesopotamian alabaster statuette of the attendant Ebih-Il, which dates from more than 25 centuries ago. Ebih-Il's piercing blue eyes break the wall of time: enhanced with lapis lazuli and kohl-like outlines, this gaze could have invited Lancôme x Louvre to lean in closer and provoke a relevant art-historical discussion on gender fluidity and the function of cosmetics. Similarly, Marie-Guillemine Benoist's Portrait of Madeleine (1800) represents a freed slave in a bourgeois environment. The portrait engages with Black portraiture, race, slavery and gender. Whether it is a pro-abolitionist painting is unclear: We lack insight into Benoist's motivation; when she painted this portrait, slavery had just been formally abolished yet economic interests remained strong (it would be reinstated two years later). How did her contemporaries see Madeleine within the early days of shifting norms and in this composition? These overlapping considerations also question the expanse of selfhood and externally imposed representations, especially for Black women. Themes that may resonate with the life and work of several Lancôme models and clients.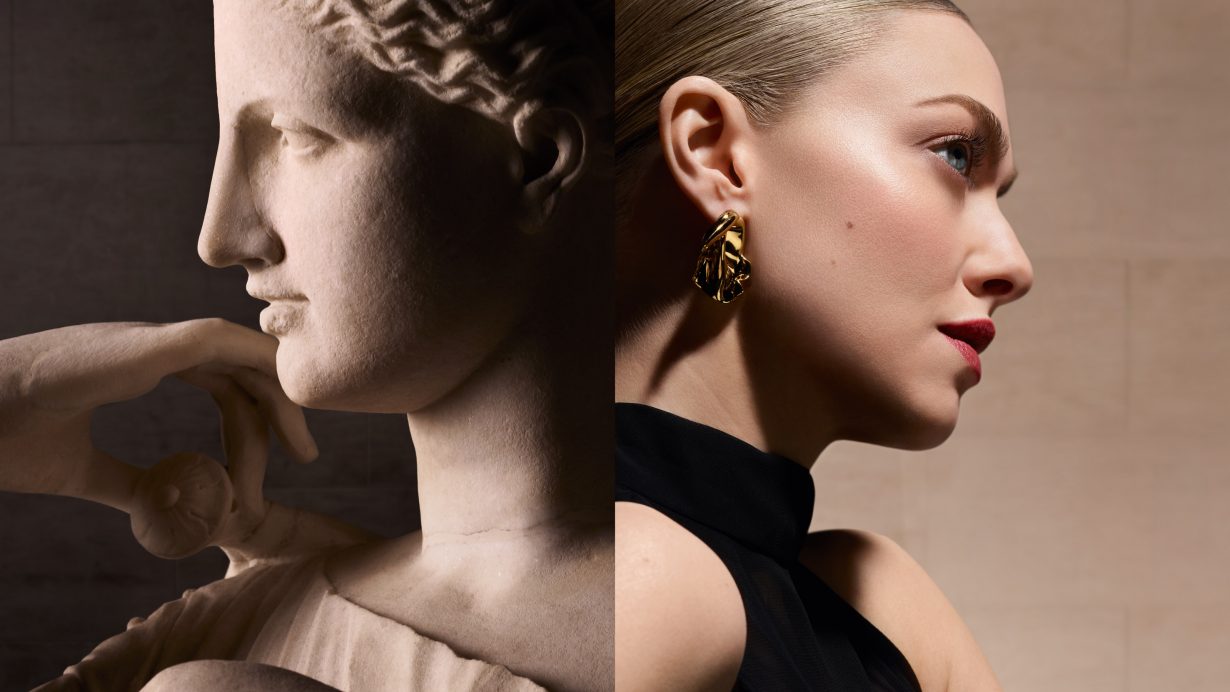 The Lancôme campaign helps the Louvre to capitalise on pop culture markers to advance the commodification of its collection. When Beyonce and Jay-Z released their Apeshit music video in 2018, which was filmed in the museum, its effect was immediate. Younger crowds rushed to visit the ever-congested galleries. Soon after, the Louvre partnered with luxury boutique Officine Universelle Buly to create limited edition perfumes for selected artworks, which included Orientalist art and several statues featured in Lancôme x Louvre.
In pursuing such collaborations, the Louvre confirms its aesthetical leanings. And while busy in the business of beauty, where does it stand on the business of its core mission, since even its promotion of beauty is subject to questions. In the context of a planned law on the restitution of artworks to former African colonies in 2024 (which assesses state-based restitution requests against nine criteria, including that no other state has made a claim for the same cultural object and that the state requesting the object commit to its conservation, while evading formal acknowledgments of colonial wrongdoings and reparations) and greater scrutiny on acquisition malpractice, the Louvre's sustained efforts and contributions to these conversations will be crucial to (finally) propelling the museum into the twenty-first century. Working through these issues and more is how the Louvre will truly remain relevant ­– and beautiful.
Farah Abdessamad is a French Tunisian writer based in New York City.