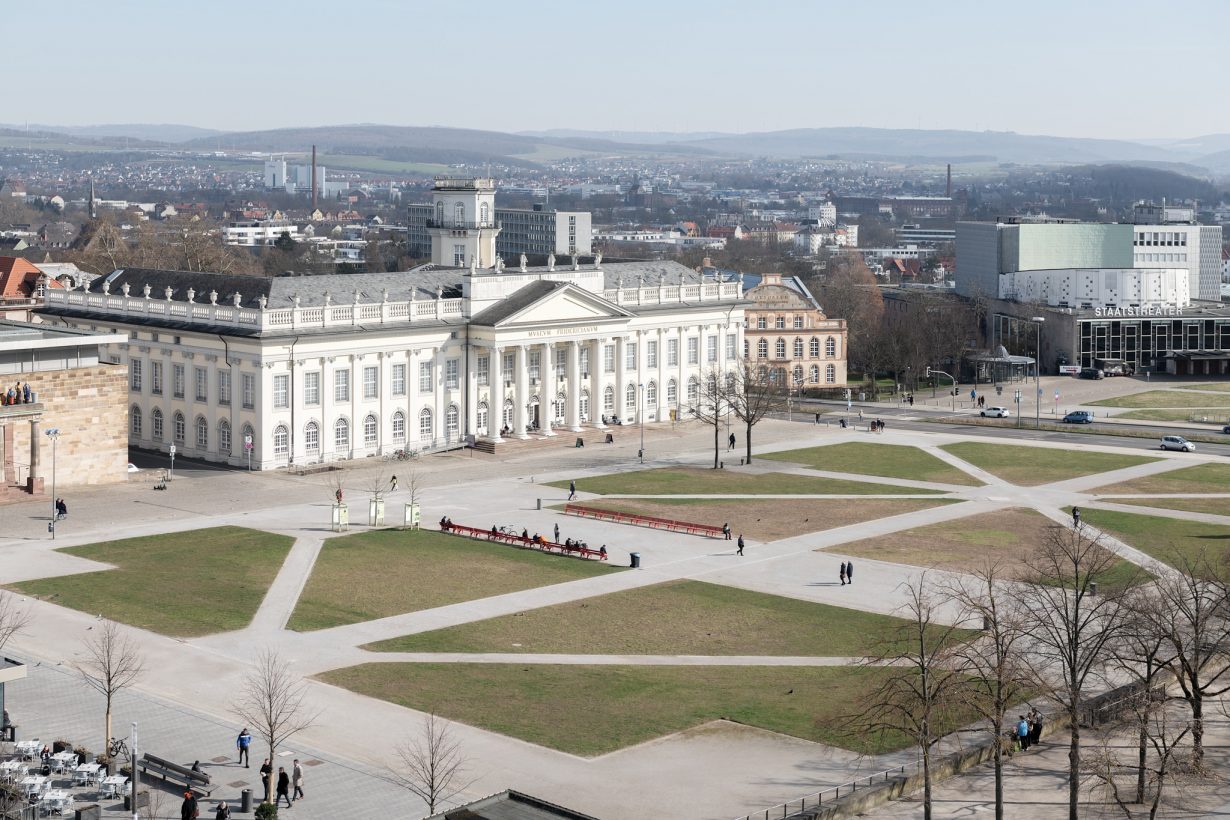 Two members of the selection committee for Documenta 16 have resigned. Israeli artist, psychoanalyst and theorist Bracha Lichtenberg Ettinger gave notice in light of the escalating conflict in Israel and Palestine; while Indian poet, critic and curator Ranjit Hoskoté resigned following public criticism for his signing of a 2019 open letter in Indian Cultural Forum relating to the Boycott, Divestment, Sanctions movement.
On Friday 10 November, Ettinger submitted a letter of resignation to the Documenta Institute. In her letter to the finding committee Ettinger wrote of the circumstances of the committee's last meeting, on 12-13 October, days after the Hamas attacks of 7 October. Ettinger cites her requests over email to slow down the selection process: 'The situation in the Middle East is tragic from all perspectives. Innocent civilians suffered and died, and my heart weeps for every death on all sides. We have time – I wrote – we can adapt the procedure, change the schedule, let the suffering and torment unfold… Time to pause, reflect and refocus on new visions… on whether we can address the dimension of art.'
Ettinger claims that her suggestion to delay or postpone proceedings was rejected by Andreas Hoffmann, managing director of the Documenta and Museum Fridericianum gGmbH, 'for various procedural reasons, which of course I fully understand'.
In a statement published today, Hoffmann acknowledges that Ettinger 'had previously asked for an interruption of the search process [for the upcoming edition's curator], which – after discussion with all members of the search committee and the other parties involved – was not implemented at the time in view of the very advanced search process'. The statement continues, 'After receiving the letter from Bracha Lichtenberg Ettinger, the documenta and Museum Fridericianum gGmbH tried to get in touch to explore the possibility of the artist returning to the search committee. A few hours later, however, her decision became public. We fully understand your decisive actions and arguments and we want to express our condolences. We thank Bracha Lichtenberg Ettinger for her willingness to support us in these difficult times and respect her decision to withdraw from the process in view of the reality of terror in Israel and the resulting hurdles and questions.'
At the same time, Documenta announced earlier today that Ranjit Hoskoté has also resigned from the six-member committee. On 9 November, an article in Süddeutsche Zeitung reported that, in 2019, Hoskoté signed an open letter protesting an event in Mumbai – hosted by Consulate General of Israel in Mumbai – on the subjects of 'Hindutva and Zionism'. The article's subheading labels Hoskoté 'a BDS sympathizer'. Today, in his resignation letter, Hoskoté addresses the 'outrageous accusation of anti-Semitism has been levelled against my name in Germany, a country that I regard with love and admiration and to whose cultural institutions and intellectual life I have contributed for several decades.'
He continues: 'It is clear to me that in this toxic atmosphere there is no room for a nuanced discussion of the issues at hand. And now – in what seems to me like a futile attempt to salvage a situation that is no longer salvageable – I am being asked to accept a blanket and untenable definition of anti-Semitism that lumps the Jewish people in with the Israeli state and accordingly passes off any expression of sympathy for the Palestinian people as support for Hamas… I find myself unable to fulfil my duties towards documenta, an institution for which I have great affection and which I have known for over twenty years.'
At the time of writing, Hoskoté's full letter has been shared through an email press release but, unlike that of Ettinger, not shared on the Documenta website. As such, it is reproduced below in the original German.
Hoffmann has issued a further statement in response: 'I would like to thank Ranjit Hoskoté for his willingness to stand by us in these difficult times and I consider his logical and consequently respectable decision to resign to be the right one. The current developments surrounding the documenta 16 search committee show once again how long the road to a consistent processing of documenta 15 still is. There is a need for consistent distancing from any form of anti-Semitism. The events of summer 2022 must not be repeated. This is the only way a real new beginning can be achieved after the events of documenta fifteen.'
While Documenta's official statements emphasise that these events are mutually exclusive, together they continue a story of ongoing controversy surrounding the German quinquennial.
The six-member commission for the 2027 edition was announced in March this year. The remaining four members are Gong Yan, Director of Shanghai's Power Station of Art; Simon Njami, independent curator and critic; Kathrin Rhomberg, independent curator and former director of Vienna's Secession; and María Inés Rodríguez, curator-at-large at the Museu de Arte de São Paulo.
---
Ranjit Hoskotés Rücktrittschreiben (Sonntag, 12. November 2023)
Lieber Andreas,
die letzten Tage gehörten zu den zutiefst erschütterndsten Tagen in meinem Leben. Der ungeheuerliche Vorwurf des Antisemitismus wurde gegen meinen Namen erhoben, und zwar in Deutschland, einem Land, das ich mit Liebe und Bewunderung betrachte und zu dessen kulturellen Einrichtungen und intellektuellem Leben ich seit mehreren Jahrzehnten als Schriftsteller, Kurator und Kulturtheoretiker beigetragen habe.. Deutsche Berichterstatter*innen, die mein Leben und meine Arbeit nicht kennen, haben mich aufgrund einer einzigen Unterschrift auf einer Petition, die aus dem Zusammenhang gerissen und nicht im Geiste der Vernunft angegangen wurde, verurteilt, denunziert und stigmatisiert. Über mich wurde mit Härte und Herablassung geschrieben, und keiner meiner Verleumder*innen hat es für wichtig gehalten, mich nach meinem Standpunkt zu fragen. Ich habe das starke Gefühl, dass ich einem Scheingericht unterworfen worden bin.
Es ist mir klar, dass in dieser vergifteten Atmosphäre kein Platz für eine differenzierte Diskussion der anstehenden Fragen ist. Und jetzt – was mir wie ein vergeblicher Versuch erscheint, eine Situation zu retten, die nicht mehr zu retten ist – wird von mir verlangt, eine pauschale und unhaltbare Definition von Antisemitismus zu akzeptieren, die das jüdische Volk mit dem israelischen Staat in einen Topf wirft und dementsprechend jede Sympathiebekundung für das palästinensische Volk als Unterstützung für die Hamas ausgibt.
Mein Gewissen erlaubt es mir nicht, diese pauschale Definition und diese Einschränkung der menschlichen Empathie zu akzeptieren. Einer solchen Definition und solchen Einschränkungen haben sich prominente jüdische Denker*innen wie der Philosoph Omri Boehm, der Historiker Moshe Zimmermann, der Kolumnist Gideon Levy, der Philosoph Michael Marder und viele, viele andere widersetzt, die die Gleichsetzung von Antizionismus mit Antisemitismus ablehnen. Ein System, das auf einer derartigen Definition und derartigen Einschränkungen besteht – und das sich entscheidet, sowohl Kritik als auch Mitgefühl zu ignorieren – ist ein System, das seinen moralischen Kompass verloren hat. Ich sage dies mit größter Traurigkeit.
Es schmerzt mich zu sagen, dass solche Hintergründe der historischen Offenheit der documenta für eine Vielfalt von Positionen und ihre Fähigkeit, das Leben der Fantasie in einer unterstützenden Umgebung zu erhalten, zuwiderlaufen. Ich befürchte sehr, dass diese Umstände die Großzügigkeit des Geistes und die Bereitschaft zum Dialog beeinträchtigen werden, die seit langem zu den herausragenden Merkmalen des deutschen Beitrags zur globalen Kulturpolitik gehören.
Daher sehe ich mich nicht in der Lage, meine Pflichten gegenüber der documenta zu erfüllen, einer Institution, für die ich eine große Zuneigung empfinde und die ich seit mehr als zwanzig Jahren gut kenne, seit Okwui Enwezor mich eingeladen hat, auf der Plattform der documenta 11 in Delhi im Mai 2001 ein Panel zu leiten. Es war mir eine Ehre, dem Findungskomitee für die documenta 16 anzugehören, und es war mir ein Vergnügen, Sie kennen zu lernen und mit Ihnen zusammenzuarbeiten. Mit großem Bedauern muss ich Ihnen meinen Rücktritt anbieten und aus der Findungskommission ausscheiden.
*
Sie werden mir zustimmen, dass es nur fair ist, dass ich meine Sicht der Dinge zu Protokoll geben darf, wenn ich gehe. Ich möchte dies wie folgt tun:
1. Ich möchte noch einmal betonen, dass ich das jüdische Volk in höchstem Maße schätze und immer tiefstes Mitgefühl für seine historischen Leiden und Bewunderung für seine glorreichen kulturellen Errungenschaften empfunden habe. Dies zeigt sich in meinen Aufsätzen, meinen Vorträgen und meinen Büchern. Ich bin entsetzt über den Vorwurf, ich sei antisemitisch, und über die Unterstellung, ich müsse über dieses sensible Thema belehrt werden. Einfache biografische Faktoren führen diesen Vorwurf ad absurdum. Ich bin in einer pluralistischen Familie aufgewachsen, die stolz auf die Vielfalt Indiens war, einschließlich der jahrhundertelangen Anwesenheit von drei verschiedenen jüdischen Gemeinschaften unter uns – den Bene Israel, den Cochini-Juden und den Baghdadi-Juden. Mein erster Mentor und lieber Freund, der große indische Dichter und Kunstkritiker Nissim Ezekiel, war Mitglied der Bene Israel Gemeinde. Eine meiner Großtanten, Kitty Shiva Rao, wurde als Kitty Verständig in einer jüdischen Familie in Wien geboren; sie lebte im gerade unabhängig gewordenen Indien und setzte ihr Wissen über den Holocaust ein, um ein junges Land zu heilen, das inmitten der Schrecken der Teilung geboren worden war. Die Shoah ist für mich kein Fremdwort; sie ist einer der Stränge meiner eigenen Familiengeschichte.
2. Abgesehen von biografischen Faktoren möchte ich auch zu Protokoll geben, dass ich mich öffentlich gegen den intellektuellen und kulturellen Boykott Israels ausgesprochen habe ­– mit der Begründung, dass dies unsere liberalen, progressiven, kritischen und integrativen Kolleg*innen in Israel weiter schwächen und isolieren wird. Ich teile die BDS-Position nicht und unterstütze die Bewegung nicht. Mein Mitgefühl gilt sowohl dem jüdischen als auch dem palästinensischen Volk, das in Westasien seit mehr als sieben Jahrzehnten ununterbrochene Kämpfe erdulden muss.
Ich verurteile unmissverständlich den Terror, den die Hamas am 7. Oktober 2023 gegen Israel entfesselt hat, und das schreckliche Massaker, das Hamas-Kämpfer*innen an israelischen Männern, Frauen und Kindern sowie an Palästinenser*innen, Thailänder*innen, Filipinos und Filipinas, Nepales*innen und anderen Personen verübt haben. Ich trauere um den Tod dieser unschuldigen Menschen. Gleichzeitig kann ich das brutale Vernichtungsprogramm, das die israelische Regierung als Vergeltung gegen die palästinensische Zivilbevölkerung eingeleitet hat, nicht ignorieren. Ich kann nicht wegsehen von dieser humanitären Katastrophe, die das Leben unschuldiger Männer, Frauen und Kinder kostet. Jetzt ist es mehr denn je notwendig, die Gemeinschaften Israels und Palästinas zusammenzubringen, auf den Exzeptionalismus des Leidens auf beiden Seiten zu verzichten und eine Solidarität der Trauer, eine Gemeinschaft der gemeinsamen Verwundbarkeit und einen Prozess der Heilung und Erneuerung zu schaffen.
3. Betrachten wir nun die sogenannten Beweise, die gegen mich vorgelegt wurden: meine Unterschrift unter eine Petition des Indischen Kulturforums vom 26. August 2019, mit der gegen eine vom israelischen Generalkonsulat in Mumbai veranstaltete Diskussion zum Thema Leaders' Idea of Nations: Zionismus und Hindutva. Auf der Einladung zu dieser Veranstaltung war ein Porträt von Theodor Herzl, der Gründerfigur des Zionismus, neben einem Porträt von V. D. Savarkar, einer Gründerfigur der Hindutva, abgebildet.
Ich habe diese Petition unterschrieben, weil die Veranstaltung eindeutig eine Gleichsetzung von Herzl und Savarkar vorsah und eine Allianz zwischen Zionismus und Hindutva intellektuell salonfähig machen sollte. Ich fand dies höchst ironisch, da Savarkar als Bewunderer Hitlers bekannt war und offen seine Bewunderung für die Nazi-Ideologie und -Methoden zum Ausdruck brachte, die er als Modell für ein Hindu-majoritäres Indien vorschlug, dem es folgen sollte, insbesondere im Hinblick auf die Behandlung der religiösen Minderheiten. Keiner der deutschen Kommentator*innen, die mich anprangerten, hat sich gefragt, warum das israelische Generalkonsulat es überhaupt für angebracht hielt, Zionismus mit Hindutva gleichzusetzen.
Ich habe mein Leben dem Widerstand gegen autoritäre Kräfte und diskriminierende Ideologien gewidmet, und meine Unterschrift war getragen von meinem Engagement für Dialog, Einbeziehung, Gegenseitigkeit und die unaufhörliche Suche nach einer gemeinsamen Basis. Diese Verpflichtung bleibt für mich der Eckpfeiler meines Lebens.
Mit herzlichen guten Wünschen
Ranjit