Who is this Paris museum – designed by Tadao Ando to house the luxury goods magnate's art collection – actually for?
Much has changed in the French capital since French billionaire and luxury goods magnate Francois Pinault first made plans to open a museum to house his expansive contemporary art collection back in 2000. Then, the collector was planning to build a bespoke structure designed by the Japanese architect Tadao Ando on an island in the Seine, on the outskirts of Paris. But his ambition was thwarted by what he described in an op-ed for Le Monde as endless administrative hurdles. At the time, Pinault's supporters viewed the project's failure as sabotage, engineered by French officials who were reluctant to open the then largely state-controlled field of culture to a private citizen. Ultimately, Pinault gave up, bought two Venice landmarks – the Palazzo Grassi (opened in 2006) and Punta della Dogana (opened in 2009) – and showed off his collection in Italy. Where private patronage has a long and glorious history, and private foundations are plentiful.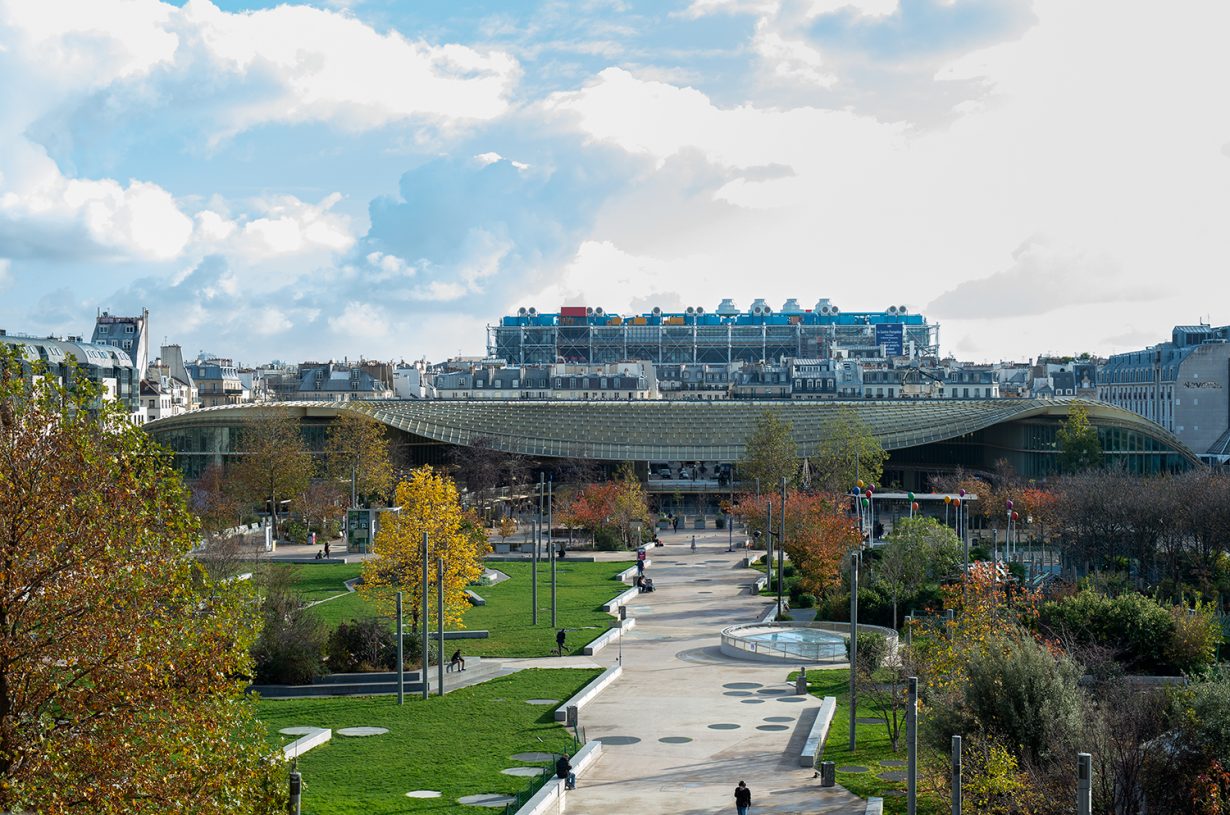 But things have changed in Paris in the years since then: private art institutions started populating the city (think Bernard Arnault's extravagant Frank Gehry-designed Louis Vuitton Foundation, opened in 2014, or Lafayette Anticipations, a contemporary art foundation founded by French department stores Galeries Lafayette, set up in 2018) along with previously frowned-upon public-private cultural partnerships (the cultural complex Komunuma, a joint venture between the region and a real-estate developer, opened in 2019; meanwhile, plans for an 'island of the arts' where Pinault's museum was once set to open are led by a business and government group). So, when Pinault announced in 2016 that he had struck a deal with Mayor of Paris, Anne Hidalgo, to instal his collection at the Bourse de Commerce, an architectural landmark located between the Centre Pompidou and the Louvre, it was welcomed with reasonably little suspicion by the public.
It's worth noting though that Pinault chose not to declare his institution as a foundation, a legal status adopted by Arnault and most of the other aforementioned art venues that offers significant tax breaks to organisations able to demonstrate their structure is non-profit, disinterested and serving the general public interest. One is left to guess as to whether he's not into this last, or if there's a level of accountability and transparency he'd rather bypass, or perhaps he simply wishes to avoid having to justify the obvious potential conflicts of interest that come with his ownership of Christie's auction house. Instead, the transaction with Paris for the Bourse is purely financial: Pinault gets a 50-year lease on the building from the city in exchange for covering the costs of its full renovation and refurbishment by Ando in collaboration with conservator Pierre-Antoine Gatier and NeM studio (all of which comes at a cost of an estimated €160m), as well as a lump sum of €15m and annual fees close to €60,000. Almost five years later (and 20 years since his first plans), Pinault finally has his Parisian museum, which opened its doors in May to fresh-out-of-lockdown city-dwellers.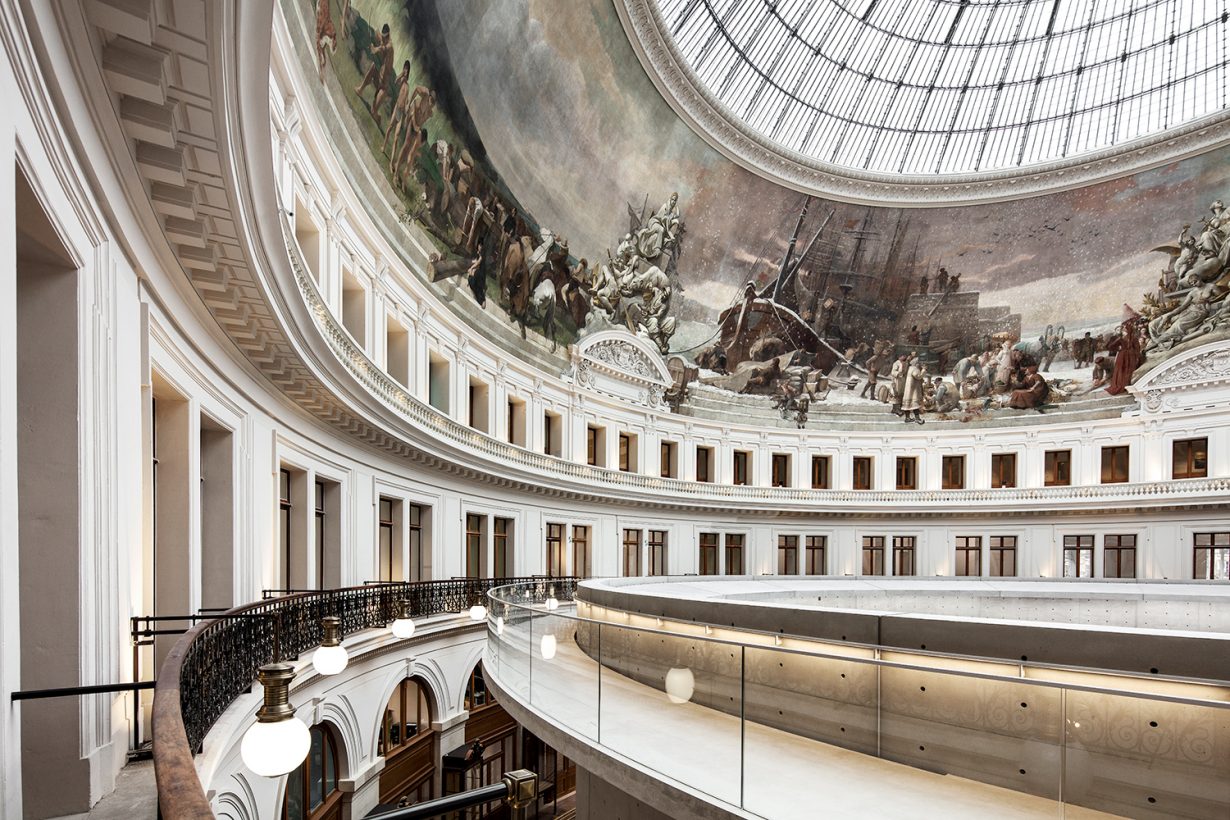 By museum I mean palace, for there are few buildings more grandiose and spectacular than the Bourse de Commerce, a prime example of neoclassical architecture which had been closed to the public for decades. Formerly the grain exchange, the building was redesigned for the 1889 Universal Exhibition to house the Bourse de Commerce (Stock Exchange) and stands out for its circular architecture – concentric galleries gravitating around a vast empty rotunda – and its early-nineteenth-century glass and copper dome. The palace also comes with a large painted frieze sitting under the dome, which, its mediocre academic style aside, is essentially an ode to colonialism, depicting trade in the four 'corners' of the world, with all the exoticisation and hierarchies one might expect of its late-nineteenth century vision (an awkwardness which we're told that Pinault's art will help 'contextualise'). Left with little room for manoeuvre, Ando dressed up the former trading floor with a monumental concrete cylinder to vertiginous yet questionable effect; if it creates additional room for exhibition displays (though one wonders how anything will ever be hung on its curved walls), it also seems to hide most features of the building's internal architecture in favour of the aforementioned frieze, which can be observed more closely from the cursive balcony topping the structure. Looping around this concrete rotunda, four floors of more traditional galleries were turned into white cube-ish spaces while maintaining the multiple windows opening up on the outside and the inside of the building.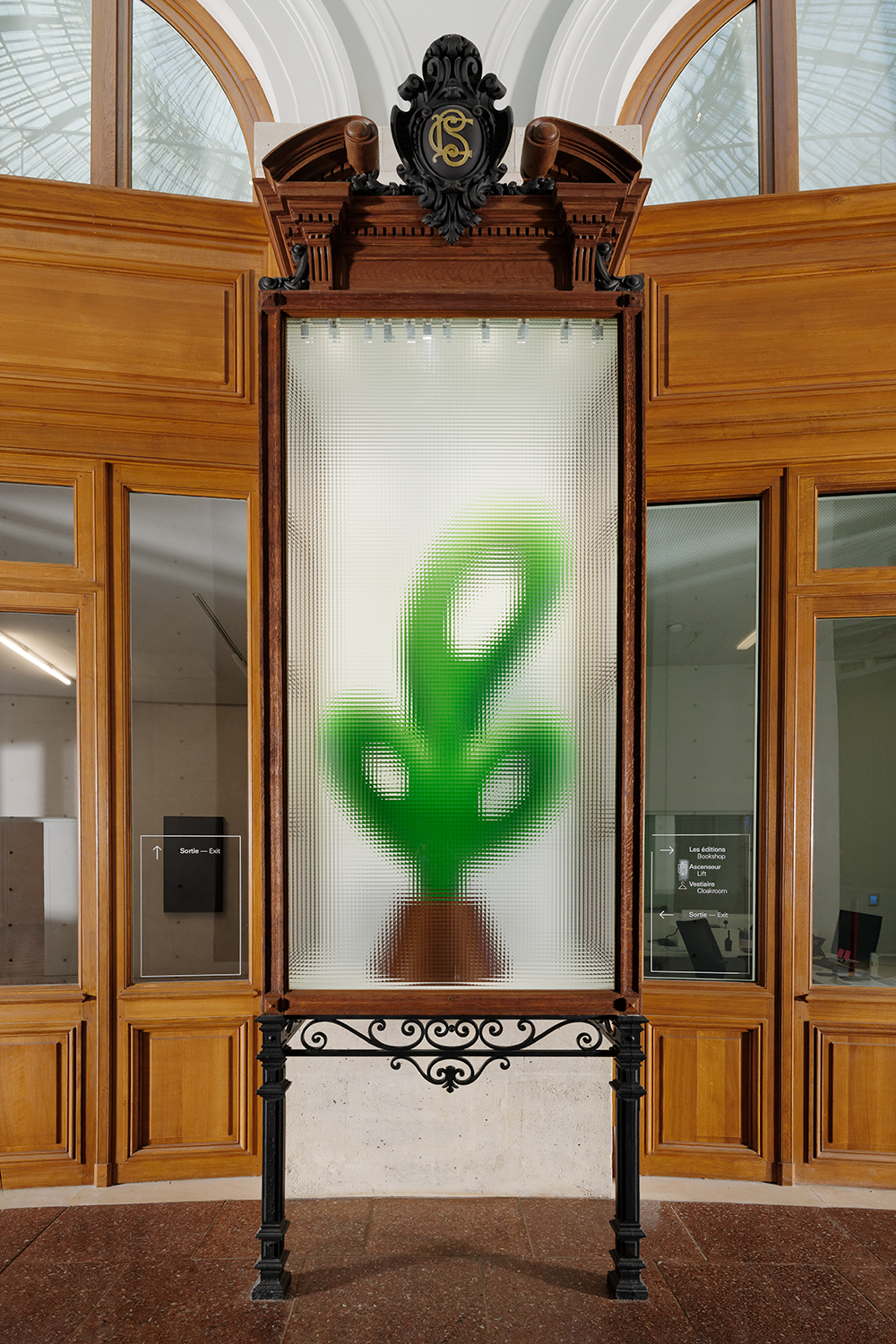 And the art in all that? As the title of the opening display, Ouverture, might suggest, this inaugural showing is rather non-committal. There are no actual exhibitions per se – rather, vaguely thematic or monographic displays with an emphasis on sociopolitical commentary, offset by some generally more ironic and playful in-situ works bouncing off the architecture. Urs Fischer's slowly melting faux-marble wax sculptures – consumed by lit candle wicks – occupy (with tongue-in-cheek confidence) the centre of Ando's concrete ring: ruminations on waiting and the passing of time. They include a wax figure of fellow artist Rudolf Stingel and various types of chairs distributed around the space, all of which orbit around a lifesize replica of Giambologna's The Rape of the Sabine Women (1574–82), a mannerist masterpiece whose ascensional movement collapses a little more daily. Bertrand Lavier populates the wood and glass vitrines that, in the former life of the building, showcased new technological and commercial innovations with his trademark hybrid readymades (shiny car parts, a teddy bear, cartoonish sculptures) that read as joyful critiques of consumerism or, in the case of one example that pairs a fancy Dyson-type vacuum cleaner with vintage armour, delightfully absurd visual puns. Less surprising, Maurizio Cattelan's ubiquitous taxidermied pigeons are found hanging out under the cupola, while few visitors take notice of Ryan Gander's stuttering mouse-in-the-wall, placed awkwardly by the elevators.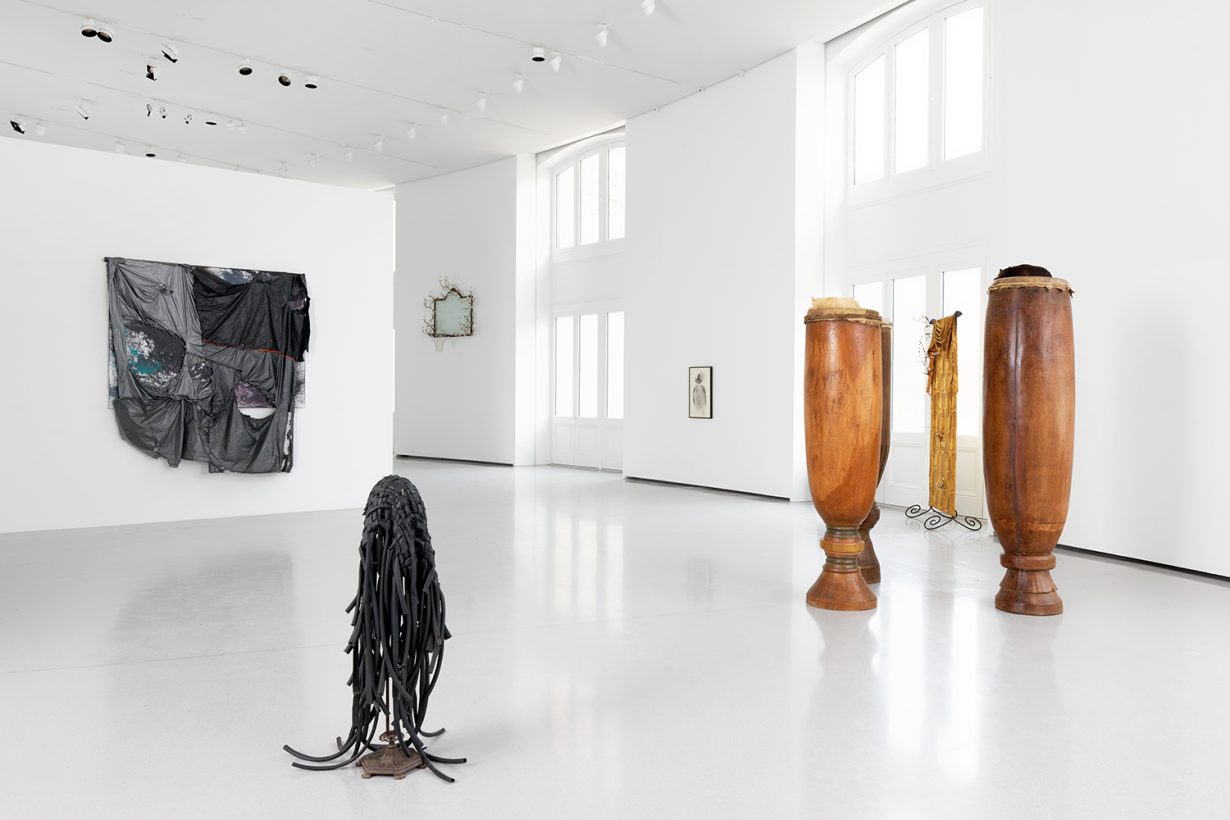 The majority of the works shown across the three floors of galleries are by big-name – or at least well established – artists, yet ones that have been little shown in French institutions (with the exception perhaps of Pierre Huyghe, whose immersive sensory experience Offspring is on view in the basement). A small but impressive retrospective devoted to David Hammons, for instance, occupies the groundfloor galleries, offering a rare insight into the work of a cult figure who spent much of his life avoiding the artworld (which, of course, has turned him into one of the highest-priced living artists at auction). Since the 1970s, Hammons's equally political and elusive sculptures have challenged preconceptions of Blackness while reflecting on the violence exerted on Black bodies in urban space, and their subtle relevance has only gained more resonance in the wake of the Black Lives Matter protests. Thankfully, the irony of presenting his work in a building with a heavy colonial aura was not lost on Hammons who asked to position Minimum Security (2007–20), a chilling installation referencing the bleak cells of death-row prisoners, against another mural of two giant antique maps tracing the post-slavery maritime trade routes that made Europe's wealth.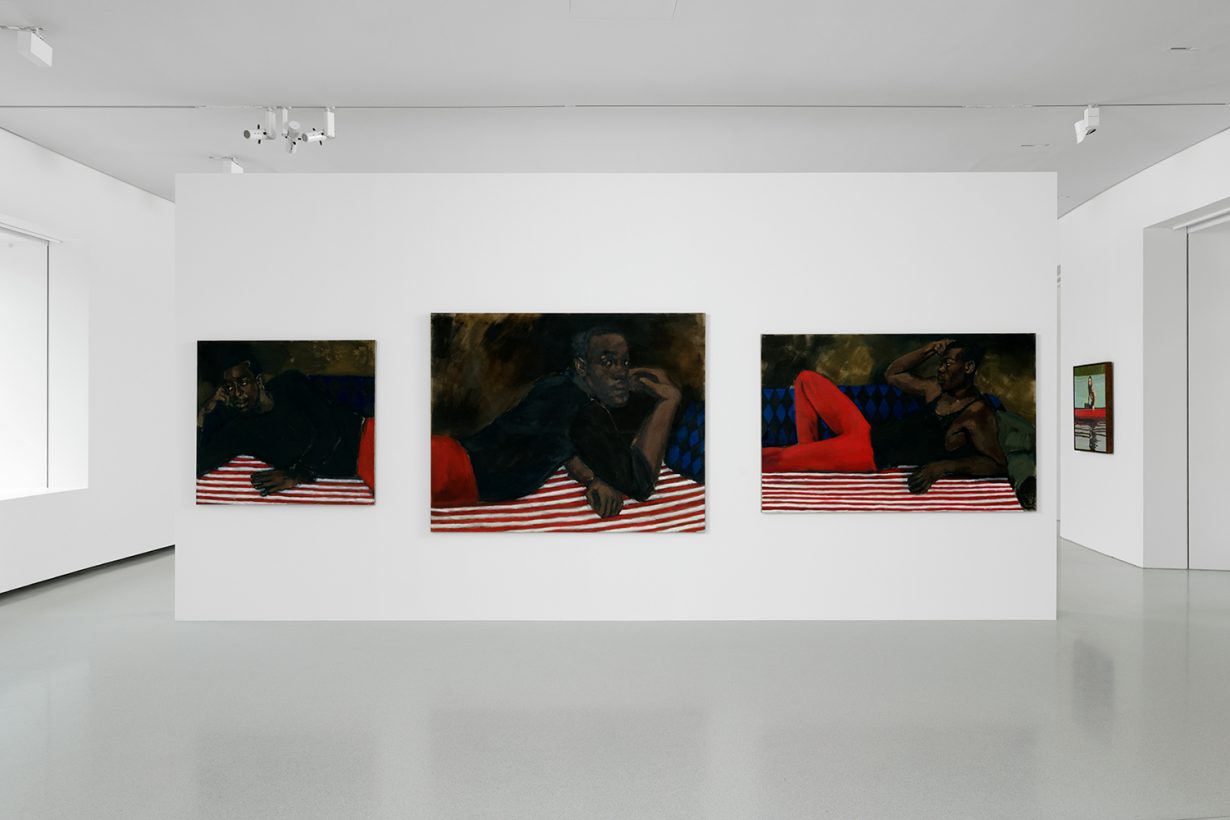 Elsewhere, a painting display across three galleries brings together works by the likes of Miriam Cahn, Peter Doig, Kerry James Marshall and Martin Kippenberger, broadly 'themed' around the representation of the human figure. Though containing some stunning works (notably Lynette Yiadom-Boakye's Vigil for a Horseman, 2017, a triptych featuring Black models lying down in various poses that quote art historical paintings, and the dreamlike, uncanny compositions of Antonio Oba), the whole lacks coherence, offering neither context to the works nor reflection as to what might connect them beyond the occasional aesthetic resonance, and, of course, the taste of an individual collector. It's a shortcoming not helped by the general lack of labelling of the works in the space – the information rather impractically presented in the corner of the room. One floor up is a room dedicated to photography, where some more obvious threads around the representations of gender unravel in the humoristic mise-en-scènes of Michel Journiac and Martha Wilson, or in the acts of appropriation by Sherrie Levine and Cindy Sherman. Standing out – though unrelated – is Louise Lawler's Helms Amendment (1989), a conceptually subversive installation protesting the 1987 amendment that saw 94 senators vote against funding AIDS education and prevention: each vote represented by a cold, soulless image of a plastic cup, captioned with the names of the politicians (among them Joe Biden) in question.
After traipsing up and down through those bitty displays, one comes out with the head full of pictures but with little by way of narratives or reflections to bind them together. While not wishing to look a gift horse in the mouth, the experience makes one wonder who this museum is actually serving: with tickets going at €14 for over 18s, one would have expected there to be a more committed curatorial and discursive approach, instead of what feels like an opulent celebration of Pinault's taste and wealth. There's no denying that Pinault's collection covers artistic territory that is largely unexplored by the city's public institutions; but if private interests are going to play a greater role in Paris's art scene then there needs to be a more robust discussion of how they might be deployed for a public good.