From a retrospective of the late performance artist Chiara Fumai to the exuberant fragility of Lynda Benglis's sculpture, a guide to the best exhibitions around town
As art scenes push to get back to normal, now that COVID-19 seems to be a little more under control, ArtReview heads to Brussels Gallery Weekend (9-12 September). Brussels is a city with a substantial commercial art scene and a more modest scattering of often quirkily independent public spaces and nonprofits. Over 40 galleries and spaces open their September shows this weekend. ArtReview picks out five to see.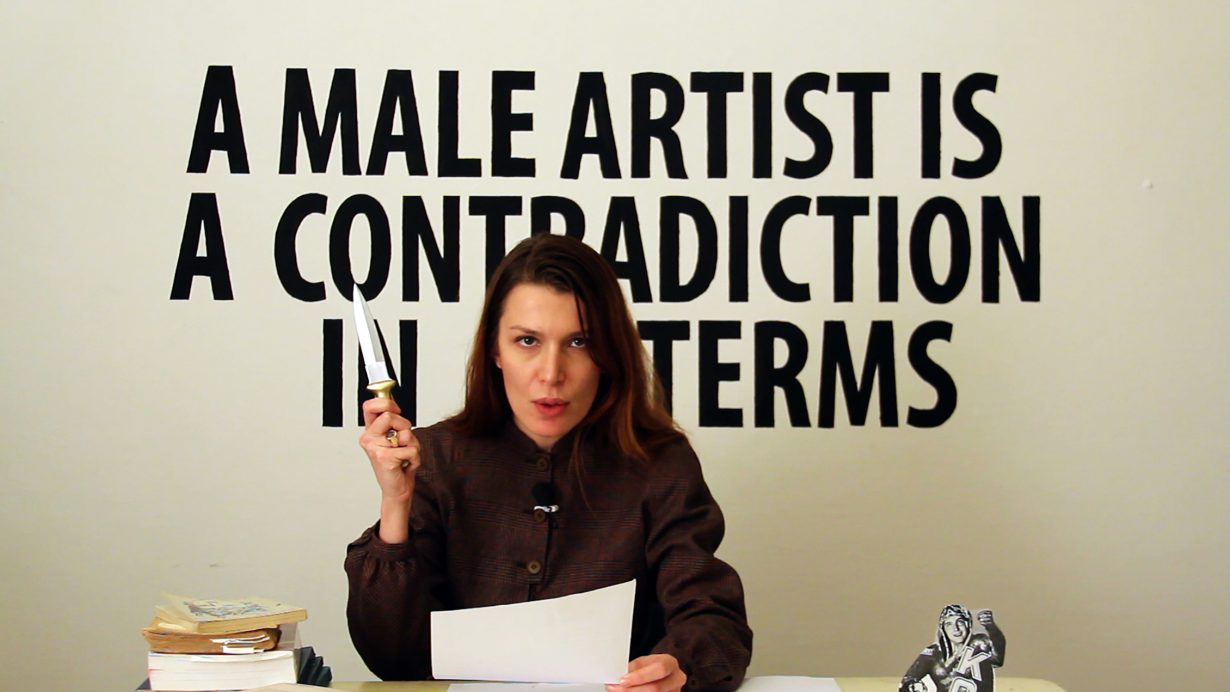 Chiara Fumai, Poems I Will Never Release, La Loge (until 13 November)
Non-profit La Loge's unusual building – a former Masonic temple built in the 1930s in pared-back Art Deco style – is a fitting space for this retrospective of the Italian performance artist, who died in 2017 at the age of 39. Fumai's short career – she started showing in galleries only a decade earlier – saw her establish an often confrontational feminist interrogation of art and the artworld. Here, Fumai's interest in the occult and the figure of the medium – the woman 'possessed' by otherwordly voices – appears in videos, installations and works on paper, allowing Fumai to 'channel' the words and writings of earlier radical feminists and revolutionaries such as Carla Lonzi and Rosa Luxemburg. Elsewhere, we find Fumai reading from Valerie Solanas's 1967 SCUM Manifesto (Solanas famously shot Andy Warhol), one among a number of works that play out the conflicts between men and women in art, subjecting artists such as Vito Acconci and Jack Smith to scathing, often viciously funny critique.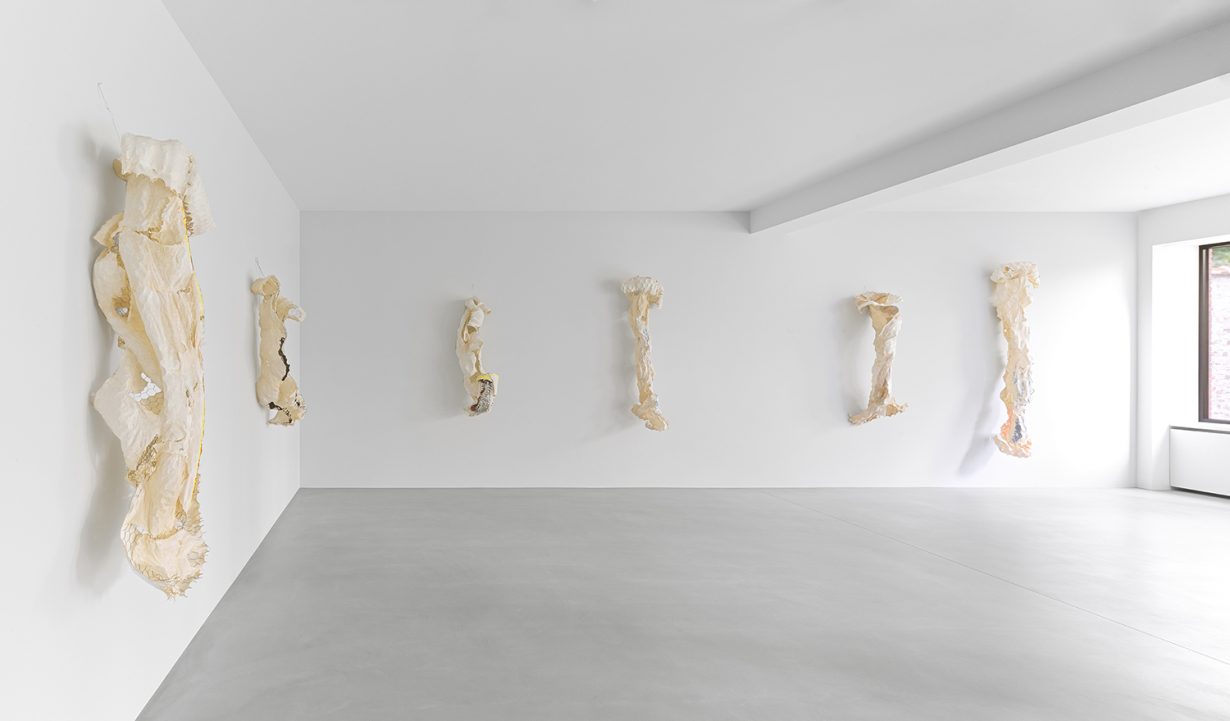 Lynda Benglis, Nœuds et nus, Xavier Hufkens (until 16 October)
The American artist, who turns 80 this year, once scandalised the American artworld's male-dominated complacency – while also grating with other feminists – with the infamous Artforum ad in which she posed triumphantly naked with a double-dildo. Benglis's sculpture, however, remains generously affirmative of embodied experience and sensuality, and in her recent chicken-wire and paper sculptures, a sort of exuberant fragility dominates, in delicate, hollow hanging forms that sometimes resemble limbs, sometimes giant, empty chrysalis casings. Benglis's sculptural work has long reflected on 'anti-form', allowing soft or pourable or pliable materials to find their own shape, in part as a comment against the over-cerebral and under-sensual work of her onetime male peers. Here the intimacy of the hand-worked materials of wire and wet paper, the shells of absent interiors, deftly balance the identity of base materials with evocations of the vulnerable yet vital human body.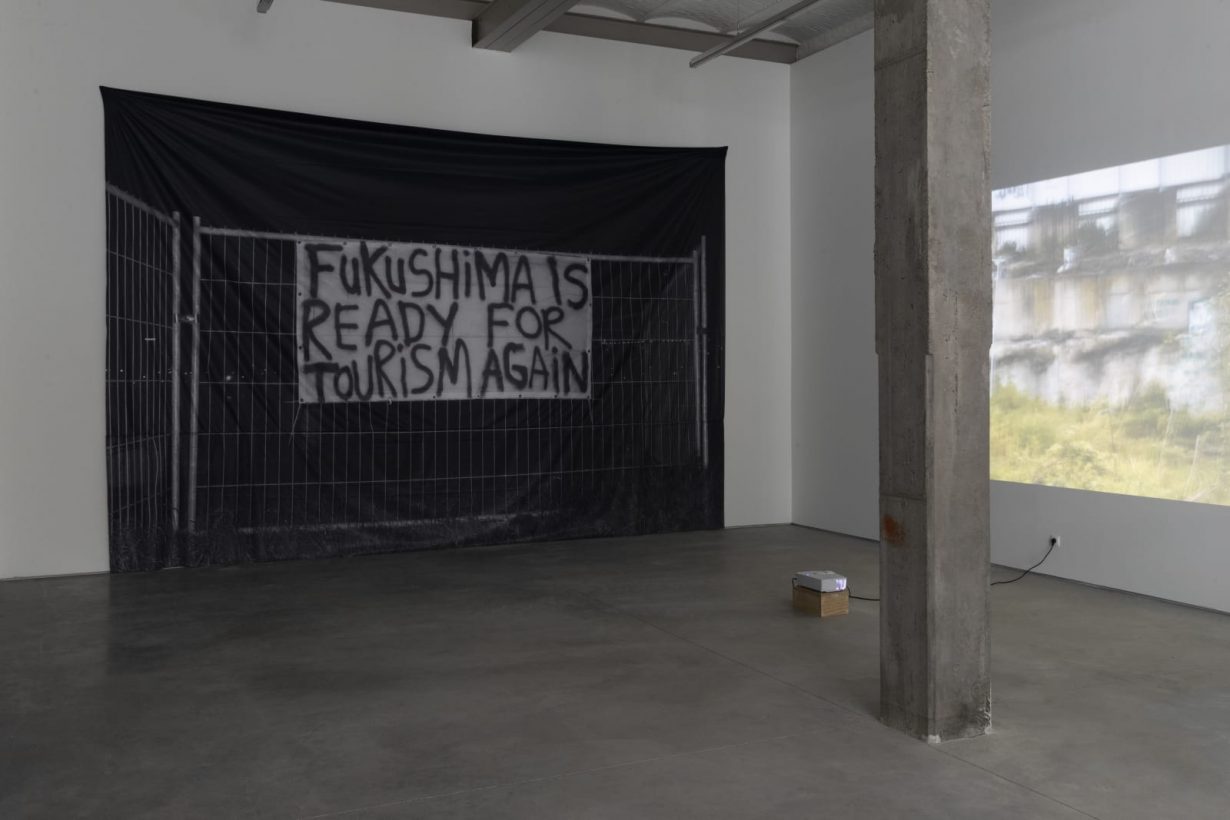 Jeroen Jongeleen, Running in Circles III / Movement and Politics in the Streets of My City, Harlan Levey Projects (until 23 October)
Being inside or outside the artworld is always a question for those who rub up against consensus opinion. Dutch Jeroen Jongeleen has since the late 1990s been active in the street art scene in his home city of Rotterdam and elsewhere. Straddling the line – or the wall – between the art gallery and the street, Jongeleen's impersonal interventions occupy the inbetween spaces and hinterlands of capitalist urban space and commercial culture. Here, across Harlan Levey Projects's two spaces, we get a recap of Jongeleen's interventions; from the stacks of peeling advertising posters, removed from their street hoardings and carefully resprayed an anonymous silver or black, to the Running in Circles videoworks, in which Jongeleen runs in perfect circles, in various wasteland settings, his endless endurance running recorded from an aerial drone directly above. The politics of street art's visibility to an artworld public is always an open question (did someone say Banksy?), but Jongeleen's work arrives here as evidence, with the sense that he's still out there, and that we'll run into it on the street sooner or later.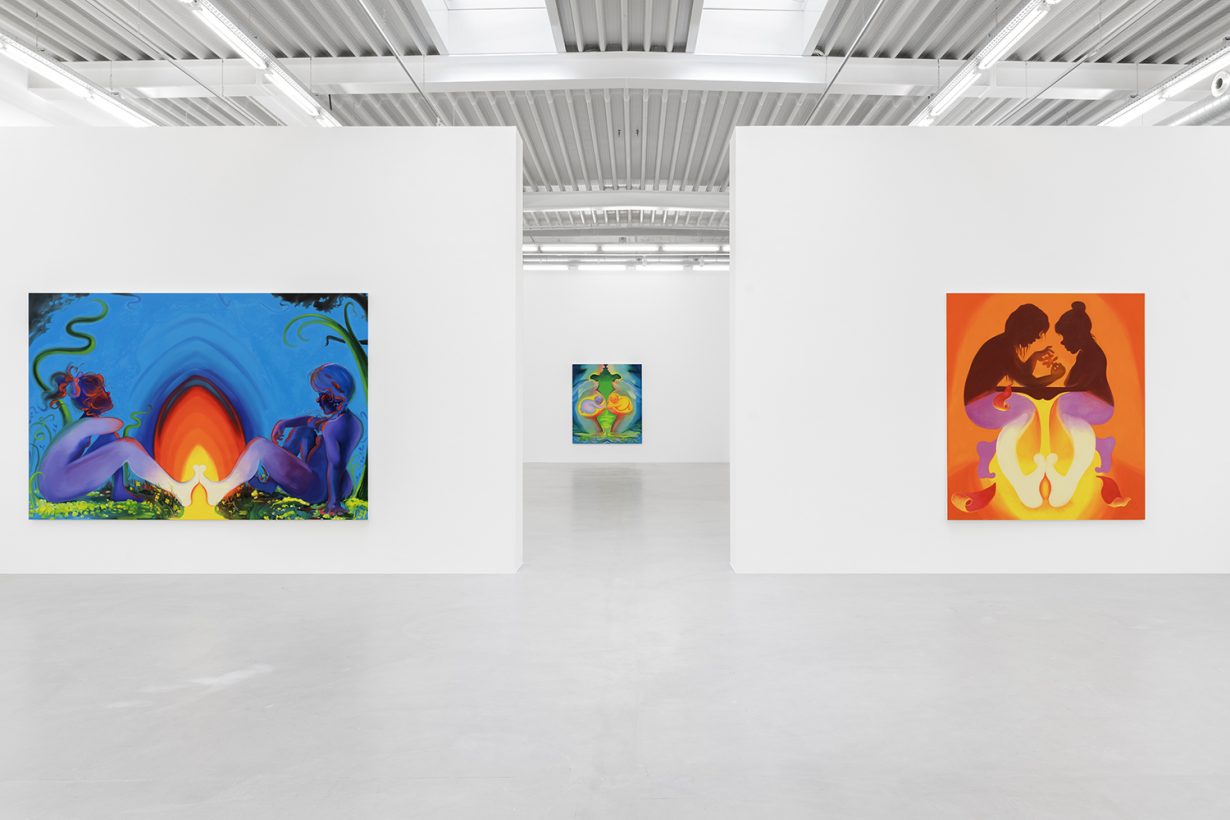 Haley Josephs, PSYCHOPOMP, Almine Rech (until 9 October)
The politics of identity may be culturally ubiquitous today, with all experience seen first from the perspective of 'as a' – as whichever gender, sexual orientation, ethnicity, race or cultural background inflects both the work of artists and our expectations. American painter Haley Josephs's first solo show in Europe presents us with a series of exuberant, borderline psychedelic visions that play with the emotional landscape of what might be called girlhood. These are paintings of infant girls and adolescent girls, alone or in gemini-like twin symmetries, who generate incandescent glows between them, or else are engaged Pygmalion-like, in painting themselves and each other into existence. Unlike Pygmalion, there are no males around in this self-creating auto-feminine world, and sense and sexuality aren't particularly distinct in this pre-adult vision of intimacy. But it's Josephs's painterly humour and love of 1960s rainbow innocence which wins us over to this conversation about selfhood, adulthood and gender –  whatever 'as' you see it from.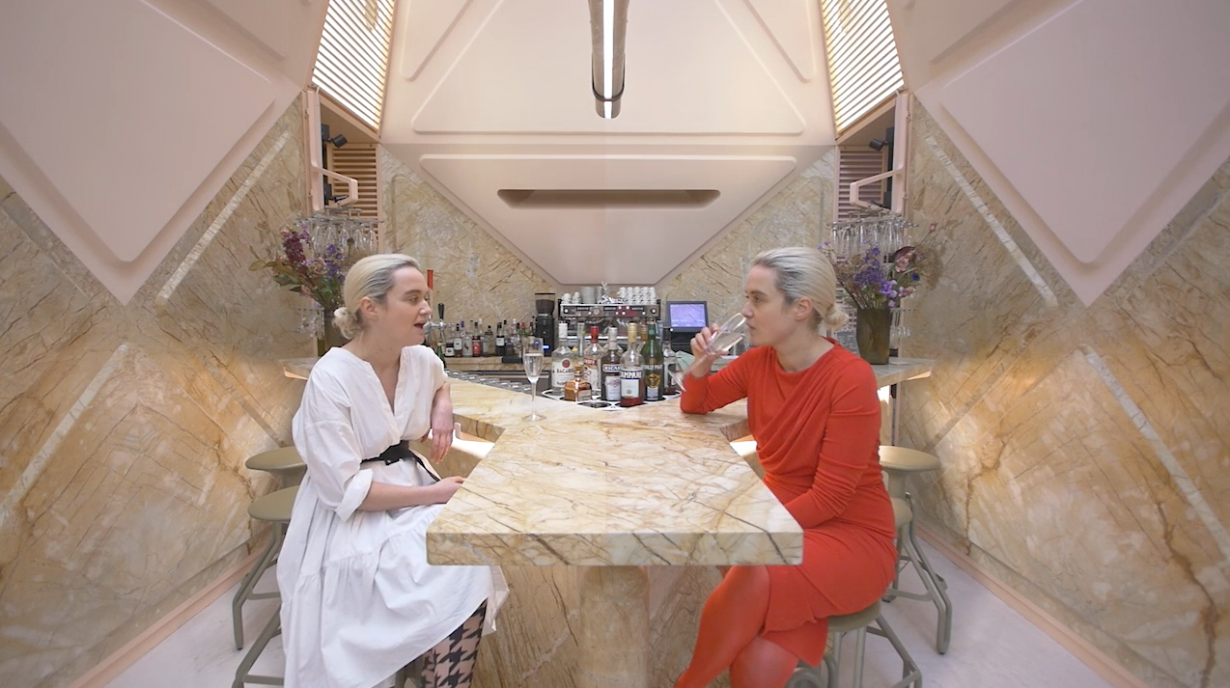 Marijke De Roover, I WOKE UP AND CHECKED 9 DIFFERENT HOROSCOPES UNTIL I FOUND ONE THAT HURT, ARCADE (until 16 October)
What of the adult experience of emotion and intimacy though? Belgian artist Marijke De Roover takes on the vices of 'heteronormative' culture, in a queered, comedic take on love, relationships and intimacy that nevertheless manages to take a hard look at the insecurities of millennial culture. In her video Live, Laugh, Limerence (2020) De Roover hacks together campy cabaret and self-obsessed monologue-cum-queer theorising on love and relationships, to send up the failures of rom-coms, Disney and golden-age Hollywood's stereotyping of male and female desire. Critically sharp but never boorish or hectoring, De Roover's film manages also to touch on the fragilities and frustrations of Generation Y, for which the risk of intimate relationships – of losing oneself to someone else – becomes another point of conflict in the commodified 'swipe right' world of no-commitment culture, regardless of its queer or hetero veneer.