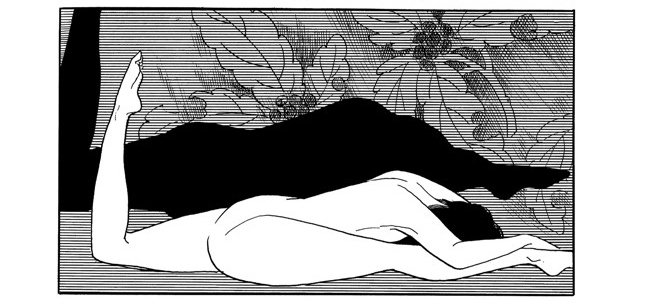 For women, navigating the publishing scene of the counterculture during the 1960s was notoriously difficult. Rife with sexism and macho attitudes – despite the liberal and progressive ideas male editors and publishers professed to have – the publications produced by the underground often only made space for women in administrative capacities.
In Japan, underground manga publications ran much the same way – at least so it seems in the essay that accompanies The Sky is Blue with a Single Cloud, a long-awaited celebration of popular alternative manga magazine Garo's (1964–2002) lone regular female comic artist, Kuniko Tsurita. Kuniko's contributions – she was the first woman (at the age of eighteen) to publish comics in the magazine, in 1965 – have been an underrecognised part of the canon of Japan's comic artists more widely, something that comics historian Ryan Holmberg and editor and manga researcher Mitsuhiro Asakawa endeavour to rectify in their afterword on her life and work.
Eighteen of Kuniko's comics are collected here, published between 1966 and 1980, with themes largely reflecting on Japan's youth in existential crisis via bleak but humorous stories in black-and-white drawings that shift in style (from simple straightforward lines to more detailed images), while retaining a visual language through severe use of high contrast. Read from right to left in the traditional Japanese style, the words spoken in the comics are translated here officially for the first time by Holmberg.
Despite the wide range of topics related to Japan's youth culture, sexuality, society and politics that appear in this collection, it is the stories that tell of the societal challenges facing women that bind it together: in 'Woman' (1966) the prehistoric female protagonist is beaten and rejected by an ex-lover, becomes a single mother and is ostracised by her community; 'The Tragedy of Princess Rokunomiya' (1967) reflects on arbitrary beauty standards; a female figure in 'My Wife Is an Acrobat' (1974) literally performs nakedly – apart from high heels – in front of a man. Offering far more than a glimpse into Kuniko's professional career, The Sky is Blue… reflects on her satirical subversion of social and cultural ideals of femininity in an industry dominated by men.
The Sky is Blue with a Single Cloud, by Kuniko Tsurita, translated by Ryan Holmberg, published by Drawn & Quarterly