It's odd to see such a deliberatively queer biography played and written, for the most part, so 'straight'
A commission from Portugal's zealously interdisciplinary Biennial of Contemporary Arts (BoCA) to produce his first piece of theatre led filmmaker Gus Van Sant to conceive, write and direct a musical biography of Andy Warhol (originally titled Andy, now touring as Trouble, at the Warhol Foundation's request). The play strings together a series of vignettes from Warhol's breakthrough period – beginning in 1959 with a wide-eyed, Tiffany shopping bag-touting Warhol visiting the opening of a Leo Castelli group show and ending just after the artist's shooting by Valerie Solanas in 1968. Acting in accented English, a cast of nine Portuguese actors, aged seventeen to twenty-eight, resurrect characters including Clement Greenberg, Walter Hopps, Truman Capote, Gerard Malanga and Edie Sedgwick. Staging is slick, graphic and crisp – twenty-first-century pop – but the play sets a tall order for its small young Portuguese cast. There's an inevitable surreality to a musical on the Pope of Pop being produced in saudade-synonymous Portugal – whose dictatorship, and the leftist government that followed it, saw Coca-Cola banned until 1977.
In 2007, film critic Amy Taubin described Van Sant as 'the most Warhol-like film-maker around', to which a mildly bemused Van Sant – who was once contracted to adapt Victor Bockris's Warhol biography for Universal – countered that if so, this was maybe more personal than artistic: 'One of the comparisons you could make between Warhol and me is that we had a similar manner… some of his close friends call us alter egos.' Or as actress Heather Graham would more frankly put it in a 1991 New York Times Van Sant profile, 'You never know what he's thinking, or what he thinks of anything you're doing'.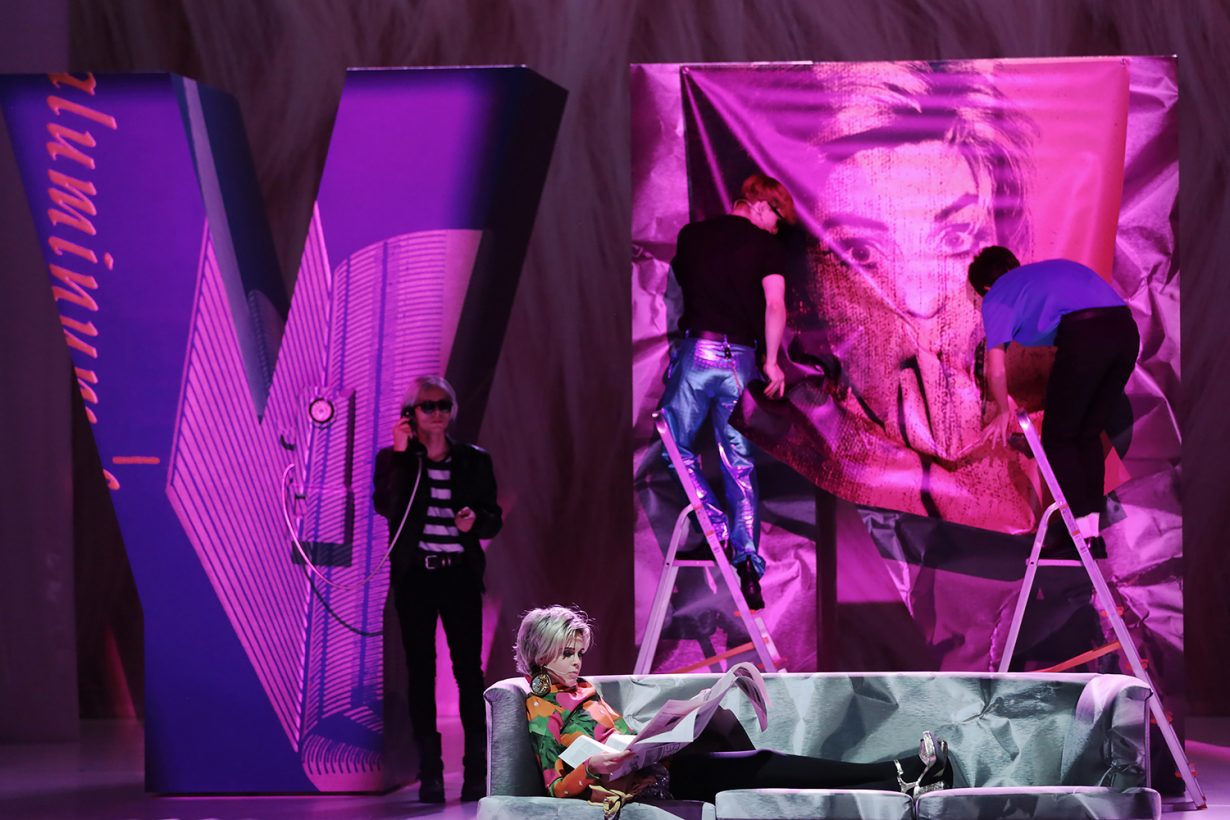 In Van Sant's take on his 'alter ego', it soon becomes apparent that the reason you might, in turn, never know what Warhol is thinking is because Warhol, drawn here as an eager cipher, is simply waiting for others to do the thinking for him. One scene credits the creation of the 'Warhol' brand to his mother forgetting the 'a' in her lettering of his signature, Warhola; in another it's a hip Malanga who directs Andy's adoption of silkscreen and his Breton-striped passport-to-the-NYC-underground-makeover. Meanwhile, it's implied that Warhol's infatuation with the coolest queer on the 1950s block, Truman Capote, partly motivated his desperate desire for critical kudos.
It's when conversations move into song in intermittent musical numbers that the play begins to assume a more vocal personality. Truman Capote proclaims, ad alta voce: "I'm like Ernest Hemingway/But I'm out/And I'm gay". Warhol sings to Jasper Johns: "You paint Americana/I'll paint queer arcana". Greenberg and Irving Blum enter into duet-combat on the merits of Ab-Ex, Pop and artistic genius. An exasperated Edie Sedgwick sing-scolds Warhol: "I can't get a single answer out of you/Only yes or no", while a disinterested Andy orders a Coke over the Factory's landline, before announcing that he's "bought a band" that he'll have Nico front instead.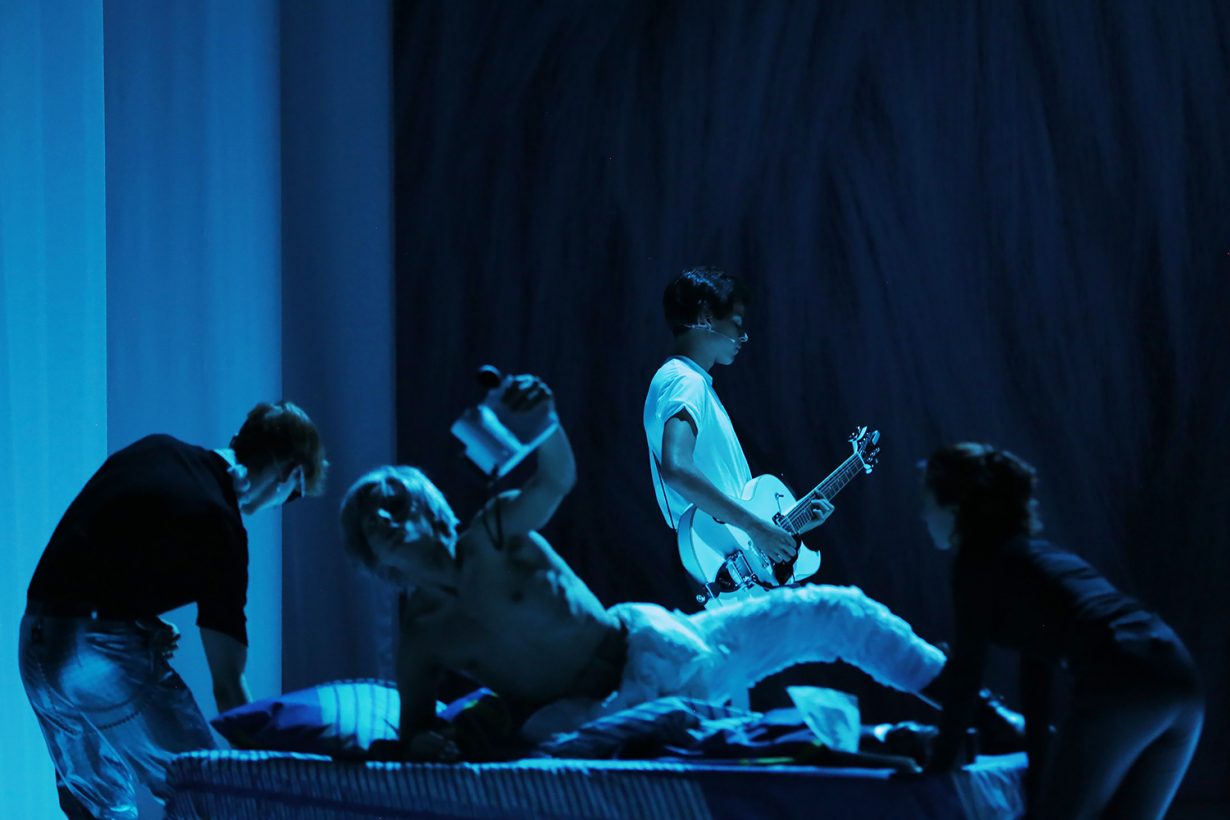 The play holds promise, which may better develop over its forthcoming European tour, but it's odd to see such a deliberatively queer biography played and written, for the most part, so 'straight'. In the musical's second scene we see the Virgin Mary descend from the heavens to dialogue with Warhol, as he prays for her help to become a painter. She is sassily aware of the controversy between the Abstract Expressionists and the Pop Artists, and grants Warhol her assurance that following his mother's advice to paint soup cans would be acceptable to the church. It's a standout scene of high camp, suggesting another path this project could have taken; one in greater proximity to Van Sant's stated reading, in a recent interview, of both Warhol's story and the musical format as 'impossible and ridiculous'. There's a question of how 'Broadway' this play wants to be, which, perhaps fittingly, could equally be asked of Warhol and Van Sant's enigmatic personas and oeuvres.
After an exasperated, bedridden Andy ("Why did another Kennedy have to be shot the same week as me?!") is coerced into making portraits of a coterie of aristocrats by his manager Fred 'le Dauphin' Hughes (a turn the play appears to posit as Warhol's real 'death'), the play wraps itself up by jump-cutting to the future, with Warhol and Capote reunited in heaven, as a posthumous auction for Warhol's work plays out on Earth. Arm in arm, atop a carpet of dry ice, Capote takes Warhol off in search of a celestial gay bar. In an earlier scene Capote advises Warhol to "keep sashaying". If this musical had taken Capote's advice to heart, it might have fulfilled its own surreal promise with more panache. 
Trouble, Teatro Nacional D. Maria II, Lisbon, 23 September – 3 October (now touring)