The rhetoric of environmental emergency can be adopted not only by artists or activists calling for systemic change but also by the politicians and multinational conglomerates intent on preventing it. In declaring 'ecology as the new politics', then, exactly what kind of politics are Garage MCA curators Snejana Krasteva and Ekaterina Lazareva advocating? And what kind of ecology?
The Coming World is a wide-ranging exhibition, maybe too wide. It takes over the entire museum, its galleries and atrium, and even sprawls outside, into Gorky Park. Hoardings have been emblazoned with stirring quotations by artists and thinkers. Allora & Calzadilla have scattered yellow artificial flowers across the concrete outside Garage. Yet in offering such a multiplicity of responses, words like 'politics' and 'ecology' begin to lose their specificity.
Upstairs, the exhibition is divided into discrete sections. Behind a closed door, an introductory gallery gives a haphazard tour of nature and aesthetics. This is least interesting when it treads familiar art-historical terrain (not another Dutch landscape!) and strongest when favouring the idiosyncratic. A black-and-white documentary photograph of three men holding their noses is powerful in its silliness. It shows an action by Gnezdo, a short-lived satirical art collective of the Soviet era. The title is a neat summary: A Minute of Not Breathing to Protect the Environment (1977).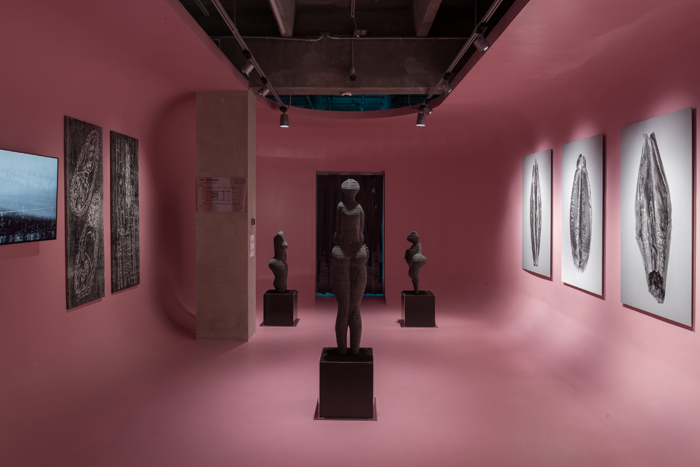 Across Garage's main gallery, water is a central concern in the works of Hans Haacke, Tita Salina, Allan Sekula and others. Like Gnezdo, Critical Art Ensemble's Environmental Triage (2018–19) stands out for the complex ramifications of its simple idea and for probing the limits of individual agency. The work presents samples from four water sources, each facing different problems: Moscow tap water; Moskva River; the Volga; and Lake Baikal, an icon of Russian natural beauty threatened by industry and development. There is a short text on each, and in a nod to Haacke, visitors are encouraged to vote for the one most important to them. But what does participating actually achieve? To me, visiting oligarchic Russia from Brexit Britain, this impotent performance of democratic choice is quietly devastating.
The exhibition's boldest curatorial gambit is its least successful. Housed within an architectural structure whose curves nod to 1960s space aesthetics, 'Profiles of the Future' is a series of capsules each given over to a single artist. The result is a procession of works by Patricia Piccinini, Pamela Rosenkranz, Tomás Saraceno and more. Where most rooms contain a single piece, Sergei Kishchenko presents a small solo show that includes blown-up photographs of seeds, sculptures made from tufa limestone reminiscent of Palaeolithic Venus figurines – their toes sunk into plinths of earth – and video. The works have developed out of the artist's long engagement with agriculture and the politics of reproduction: here, seeds, crops and fertility cults. Kishchenko's is the richest, most intriguing contribution to this section of the exhibition. 
The curators aimed, according to the exhibition guide, to present 'various scenarios for possible action', but in creating a linear walkway in which no work speaks to any other, there is an inexorable sense – Kishchenko aside – that we are simply trudging onwards, with barely time to pause. Such a sense of inevitability is no basis for a politics of action.
The Coming World: Ecology as the New Politics 2030–2100, Garage Museum of Contemporary Art, Moscow, 28 June – 1 December 2019
From the December 2019 issue of ArtReview