The sky is blue, dotted with fluffy clouds. A girl walks barefoot beside the sea. In the distance is a thatched hut and a pier jutting out into the water. Waves undulate under the too-casual eye of a lifeguard. The girl, incidentally, is wearing a matching bouclé tweed jacket and skirt. The beach is not in Hawaii or California or the Caribbean, but in the middle of Paris. Housed under the glass dome of the Grand Palais.
Chanel's Spring-Summer 2019 shoreline is just one of the house's many grandeur nature sets from recent seasons: snowy ski villages, luxury ocean liners, rocket ships, even a rather big copy of the Eiffel Tower have all served as backdrops for the fashion house's merchandise. Miniaturisations writ large in the snow globe of the Grand Palais, these replicas, though small and contained in the scheme of things, are vast compared to what most fashion houses stage for their runways.
In fashion-show terms, the gesture is relatively big; in terms of what it is replicating, it's relatively small. It is a novelty and a contradiction: the two essential ingredients of fashion's best-conceived spectacles. In its staging and styling, fashion matches opposites. The point is to electrify the proceedings through those counterpoints.
In framing the great outdoors under roofs and within walls, fashion may be meditating on the great gaseous bubble we are all trapped in
These days, the oddest couple is fashion and nature. At the very highest end of fashion are products like the GG Marmont bag from Gucci, artificial constructs of hipness, status, cultivation, income, street cred – social rather than natural. What is the intangible asset of nature to fashion? "Fashion is the fastest of all the creative worlds," says fashion production company Bureau Betak's Alexandre de Betak. "But the periodicity is very short, and therefore it's very based on what is trending, in the sense of what is important in the world. And the environment matters."
For Dior's Spring/Summer 2020 show, Bureau Betak commandeered over 160 trees, each hashtagged and QR-coded for traceability and replanting after the show, and arranged them in a nocturnal garden. Dior has previously carpeted its runway in cushiony moss and made its clients perch on shrubbery. Chanel has moved heaven and earth for its shows: whole oaks have been felled for its woodland runway, icebergs transported from Sweden, massive cliffs with cascading waterfalls constructed.
From a bird's-eye view, or at a satellite distance, the landscapes and denizens arranged by Chanel in the Grand Palais recall a Pierre Huyghe biotope – just substitute the French artist's mingling hermit crabs and sea snails for buyers and celebrities, and watch them go about their ways. The fleeting life-world of the fashion show hums along like the bubble world, or umwelt, of Estonian-German biologist Jakob von Uexküll, whose writings inform Huyghe's vivaria. Subjectively and naturally delimited microcosms of ticks and spittlebugs and butterflies, Uexküll's umwelten are filled with signposts for food and fight. The biosemiotic bug's life is not so different from that of the fashion show, which flashes instead with desire and dream.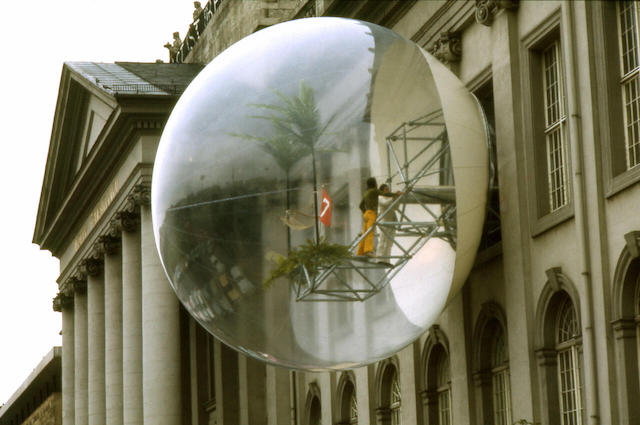 If nature is fashion's object of desire, it has been signalled in different ways. Spatially confined in the Grand Palais, Chanel's landscapes are nonetheless seamless recreations, much like Maria Grazia Chiuri's secret gardens at Dior. It is only the framing that says otherwise. Not so with Raf Simons. When the Belgian designer was at Dior, he mixed flower and foliage with the manmade, subverting both. Betak says, "When we did the mountain of flowers [in the Louvre's Cour Carrée in 2015], the outside was a beautiful purple mountain of delphiniums and the inside was this very high-tech kind of environment where you could see the mountain of flowers turn into a very white technoid environment. And we had huge cranes in blue where we placed all the lights so that they looked like they were flowers." In Simons's ecosphere the artificial invades the natural, and the other way around.
Is Simons's cybernature just fashionable cross-signalling? Or is it pessimistic about our ecological odds? If the latter, it may explain why we want to put flora and fauna in a jar, in the manner of Vienna collective Haus-Rucker-Co's Stück Natur (Piece of Nature, 1971–73). A bit of preserved, miniaturised pasture, with a miniature hut and miniature trees, it is a tender expression of nostalgia and an ecological wakeup call, like the group's Oase no 7 (1972), a tuft of tropics in a Plexiglas bulb stuck on the side of a building, or Berg in der stadt (Mountain in the City, 1973–74), a fake mountain mounted on a metallic facade in the middle of the city, a project that never got off the ground.
Nature as shut-in reminds us of Biosphere 2, a late-twentieth-century experiment named after Biosphere 1, otherwise known as Earth. Resembling Chanel's enclosed forest and seashore, Biosphere 2 contained that and more: a rainforest, desert, grasslands, swamp, farm, 3.8-million-litre ocean and a human population of eight under glass in Oracle, Arizona. The sealed 1.3 hectare ecosystem failed after two years, in 1993, because of runaway carbon dioxide. With the Arctic melting and the Amazon in flames, it looks increasingly to be the destiny of Biosphere 1 as well.
Walter Benjamin wrote that fashion has an 'incomparable nose… for what lies waiting in the future'. In framing the great outdoors under roofs and within walls, fashion may be meditating on the great gaseous bubble we are all trapped in. Or, in true fashion, is the bubble rather a bauble? A snow globe souvenir of pristine Nature, a rare commodity becoming rarer, ephemeral in its hothouse, and the most exclusive of luxuries?  
Clara Young is a writer based in Paris
From the January & February 2020 issue of ArtReview