We're living through a period of radical change in our relationship to the rural. For the first time since the Industrial Revolution, more people in the UK are moving to the countryside than are leaving it. And this is echoed by all sorts of ongoing cultural trends, from the growth in organic eating to the publishing boom in nature writing. So it's with a certain sense of inevitability that Hauser & Wirth Somerset should mount an exhibition exploring our connection to the land, and its shifting meanings over time – after all, the venue itself is a former farm, with an attached restaurant serving locally sourced produce, and seems to extol many of the present-day pleasures of country living.
The potential scope of the subject, of course, is vast – and that's even with landscape as a genre being only briefly touched upon by the show. Rather than aiming to cover the whole territory, then, the exhibition takes the form of a curatorial essay (as put together by Adam Sutherland of Grizedale Arts, another rural-based organisation), one that ranges across all sorts of curious highways and byways, both contemporary and historical – taking in not only works of art, but also rustic artefacts, and ephemera from LP covers to postcards. And for the most part, it's a rich harvest. With hundreds of items on display, it seems invidious to name just a few, but any list of highlights would surely include the exquisite, bucolic etchings of Samuel Palmer and William Blake; Giuseppe Arcimboldo's iconic quartet of portraits depicting seasonal figures formed from plants and vegetables; a lovely little botanical drawing by Beatrix Potter that verges on abstraction; and an early Paul McCarthy photowork of dirt being thrown (arguably a metaphor for how the rest of his career would develop).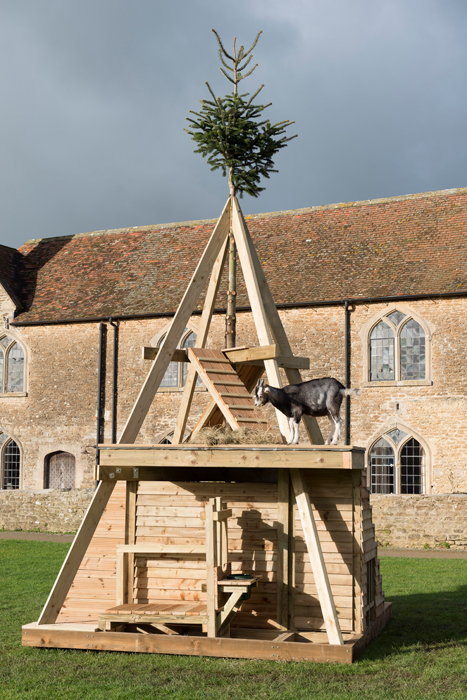 Still, this roving, transhistorical approach also presents certain problems. The show is organised into thematic sections – but corralling so many pieces together can sometimes feel slightly indiscriminate or cursory. The second section, in particular, ostensibly explores social movements and back-to-the-land ideologies; and much of the material, from 'Arts and Crafts' publications to ornate Women's Institute tea towels, is engaging. But scattered throughout are old-fashioned farming tools and items of dress, which feel rather out of place, and need a fuller explanation to seem more than tokenistic, while other pieces appear merely to invoke concepts rather than addressing them: John Ruskin, for instance, may have been a crucial figure in reviving rural handicraft traditions, but his own self-portrait doesn't tell us anything relevant. And besides, such historical works tend to sit rather awkwardly alongside the contemporary ones, a large number of which convey a less earnest, more ironic take on nature – led by Marcus Coates's whimsical animal-roleplay projects.
Other thematic strands, however, are far stronger. The real meat of the show is its engagement with ideas of production and social systems – whether that's the food-generating installations at the exhibition's start, such as Hayatsu Architects' Community Bread Oven (2017), or Fernando García-Dory's cheesemaking hub, Mobile Dairy School (both 2016), or the examples of countrified advertising adorning the walls in the final room. The point, ultimately, is about manufacturing – whether manufacturing meals or manufacturing meaning – and how we, as human beings, for good and for ill, have always necessarily lived in an inherently processed world. In that sense, perhaps the most powerful piece, certainly the most visceral and distressing, is Nikolaus Geyrhalter's feature-length film, Our Daily Bread (2005), which depicts mechanised techniques of industrialised farming: the crops being automatically harvested and sorted; the conveyor belts of battery animals being grotesquely butchered; and the human workers being also reduced, through their mindless repetitions, to merely another sort of machine.
20 January – 7 May 2018
From the March 2018 issue of ArtReview