My first morning in the Malian capital, I parted my hotel-room curtains and saw the River Niger. Broad and blue-brown, framed in deep green foliage, flowing through a chaotic urban landscape on its long path to the Atlantic – it took my breath away. And clearly it also had an effect on Bonaventure Ndikung, in his guise as director of this 12th edition of the Bamako Encounters Photography Biennial: the Niger is the most literal among the Streams of Consciousness that flow through his exhibition.
The river sometimes appears as a backdrop or character, as in Djoliba, Fleuve Niger (2019), a video by Malian multimedia artist Dickonet about a spirit possessing a woman and ultimately purifying the river, and Halima Haruna's Other Side of the Creek (2018–19), a five-minute video exploring ancestral spirituality as an antidote to the devastation wreaked by the oil industry in the Niger Delta. But Ndikung (a Berlin-based Cameroonian) runs just as far with the psychological, literary and musical interpretations of the biennial's titular phrase. Indeed, South African pianist Abdullah Ibrahim and African-American drummer Max Roach's 1977 improvised jazz piece of the same name was clearly an inspiration to Ndikung. The piece's legacy of African/African-diaspora collaboration (the biennial features over 85 artists and collectives from Africa and beyond) and mashed-up genres resonates throughout the event's many venues: as in editions past, the Malian National Museum, the Palace of Culture, the District Museum, the Conservatory of the Arts and Multimedia and the Modibo Keita Memorial; and this time, a girls school, a defunct cinema and other smaller venues join in.
The multiple topics addressed within the show's four 'chapters' (their pithy titles, like 'We Came from Left, We Came from Right', culled from poems by Ghanaian author and politician Ama Ata Aidoo) emerge slowly: displacement, the politics and poetics of ecosystems, future hopes, solidity and invisibility. Videoworks are deployed to pack in historical references (The Otolith Group's The Nucleus of the Great Union, 2017, dives into African-American Richard Wright's photographic archive of his first trip to Africa in 1953). And just as often to offer poetic pause: in Bouchra Khalili's The Typographer (2019), poet Jean Genet's final sentence – 'Put all the images in language in a place of safety and make use of them, for they are in the desert, and it is in the desert we must go and look for them' –.is seen being slowly typeset and printed. In Buhlebezwe Siwani's twochannel AmaHubo (2018) a group of white-clad women in an arid landscape – presumably Siwani's native South Africa – perform rituals as the artist's steady voice recites lines of resistance in English and isiZulu against violence and spiritual colonisation. The work additionally speaks to the biennial's subtle focus on female perspectives.
Documentary photography in all its subgenres is plentiful. The Invisible Borders Trans-African Photography Organisation, for example, is an ongoing rotating collective (one of several collectives in this biennial) of photographers, filmmakers and writers who road-trip through the continent, documenting landscapes and people along their journeys with an almost photojournalistic methodology presented here as a slideshow. Other series trace the urban lives of African diasporas in Toronto (where Yannick Anton shoots dancefloor images of queer nightlife); China (where Mansour Ciss Kanakassy follows African traders in Guangzhou, home to one of China's largest African populations); South London (where Adama Jalloh captures her local community's bustling street life in stark black-and-white images); and elsewhere.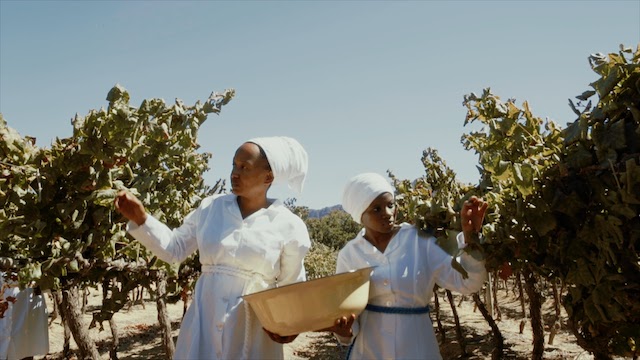 Then there's continent-spanning portraiture. Felicia Abban's portraits of Ghanaians during the 1960s and 70s reveal raw postindependence optimism and, incidentally, some fabulous 1960s fashion. While Fanta Diarra's contemporary images of Malian women modelling castoff fast-fashion from the West show intercontinental cause and effect. (The latter are part of Fatima Bocoum's show-within-a-show Musow Ka Touma Sera –'This is Women's Era' – featuring work by six female Malian photographers, collectively challenging patriarchal cultural norms.) Khalil Nemmaoui's staged 'portraits' of the boxy Renault 12 sedan in filmic Moroccan settings depict the cars that locals customise so they can run on (much cheaper) propane and become fetish and livelihood alike.
Few artists visibly manipulate photographs to play with the medium, and those who do often question identity: Egypt-based Ibrahim Ahmed's elegant mixed-media collages Burn What Needs to be Burned (2018) grapple with how normative masculinity clashes with or connects to individuality; his muscular self-portraits are rife with exaggerations, erasures and superimpositions. And in Fixing Shadows, Julius and I (2018–19), Ghanaian photographer Eric Gyamfi digitally melds his own self-portrait with a much older image of musician Julius Eastman to create hundreds of hybrid portraits, densely installed over both sides of a vast freestanding wall; here, time and space palpably compress and expand.
Like a river, Encounters flows and meanders. But throughout is an undertone of strength and hope: it is former rapper Fototala King Massassy's Tenir (2019) – a series of black- and-white portraits of the same clenched fist sporting oversize rings inscribed with sacred symbols or secret formulas – that best captures this biennial's combination of clear messages and mysterious layers, its shouts and soft whispers, sometimes in the same piece.
Streams of Consciousness, Bamako Encounters, 30 November – 31 January
From the March 2020 issue of ArtReview