From the Biennale of Sydney to a human-artwork, the best exhibitions to see across Australia
"Exhibition previews? In this uncertain climate? It's all just speculation!" ArtReview Asia hears you shout. Now that numerous art events and exhibitions around the word have been cancelled or postponed as a result of Coronavirus-related issues (and ArtReview Asia's thoughts go out to those many people who are truly suffering from it), there are a number of online exhibitions cropping up – some of which are listed in Adeline Chia's recent 'Art at Home' roundup. And while ArtReview Asia has never been one for hugs-and-kisses, it's certainly true that the bit of the artworld that involves socialising is taking a bashing. It's a reminder of how much culture, in general, is based on interacting with one another. But it's just as true that not all the artworld's a (cancelled) fair: people are still making art; people are still showing art; and hey, magazines are still writing about it – life hasn't come to an end. And indeed, the Biennale of Sydney, curated by Brook Andrew, is opening this weekend, so ArtReview Asia takes this opportunity to zoom in on some of the most interesting exhibitions in Australia at the moment…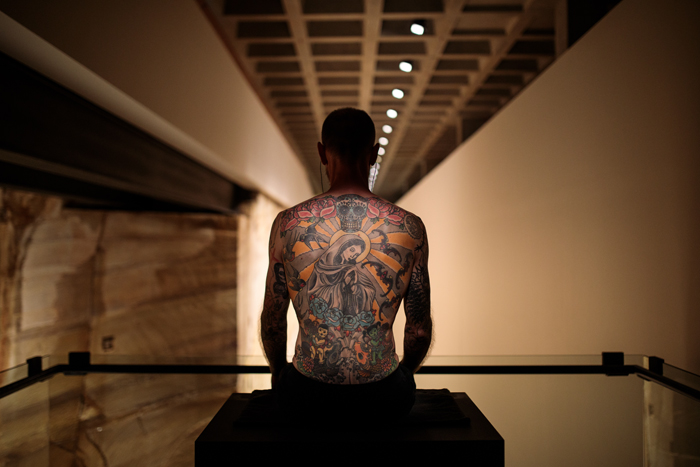 "I'm not an artist," says Tim Steiner. "This not performance art. I'm a regular dude from Zürich who sits on a box. Because of Wim Delvoye." Steiner is a former tattoo-parlour manager from Zürich. And, since 2011, this dude has spent a total of 3,500 hours sitting on a box in MONA, Tasmania, as one of the private museum's exhibits. Although it should be stated that this work is on loan, rather than part of MONA-owner David Walsh's extensive contemporary collection, and that those 3,500 hours were accumulated in various stints, rather than on a continuous basis. Between 2006 and 2008, Tim famously had his back inked to a design by Delvoye, a Belgian artist among who's previous 'bodies' of work was a line in live, tattooed pigs. Upon Steiner's death, his rear skin belongs to German art collector Rik Reinking, who bought it for €150,000 back in 2008. Reinking gets the skin (minus anything it is currently attached to) framed, Steiner got one third of the selling price and agreed to 'show' the work (Tim, 2006–08) by sitting in a gallery three times per year. Presumably until the moment when ownership of his skin is transferred. But ArtReview Asia's not a lawyer. The point is that his current Tasmanian stretch comes to an end on 30 April. So you've got a little under two months to cross the Bass Strait (and, most likely, various other stretches of water) to see Tim in the flesh. And you can spend hours wondering what the whole thing has to say in relation to who owns our bodies, to what extent we own ourselves, whether or not there should be limits to art, why, given that medical professor and Irezumi fetishist Fukushi Masaichi famously collected approximately 2,000 tattooed human hides between 1926 and the onset of World War Two, anyone would see this whole adventure as something novel, and whether or not that line of blue roses is slightly wonky. "This only works with me," Tim says in case there was any doubt about who the living skin belonged to, "but I have nothing to do with this… it's ridiculous." Quite.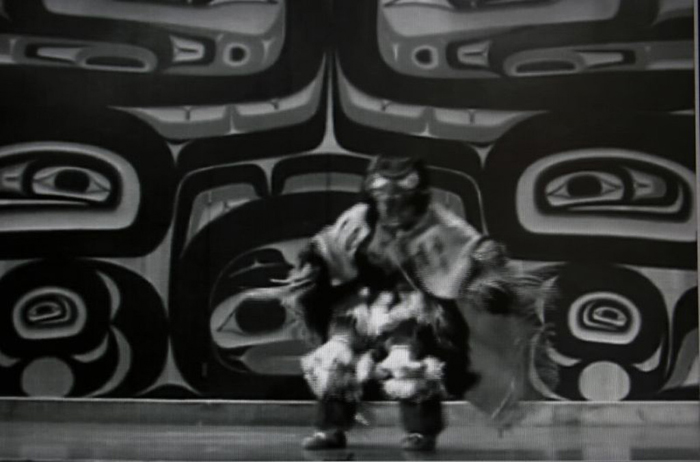 From Tasmania, right on the edge of the real world (unless you live there, in which case it's likely the centre), it's masks on and a short hop to Sydney. There, having caught the end of Tim (although not the end that Reinking is waiting for), you can catch the beginning of this year's Biennale of Sydney. The name of the event may be borrowed from Italian, but the name of the show, NIRIN, is lifted from the language of the Wiradjuri people of western New South Wales, the Nation to which the biennial's artistic director, (actual) artist Brook Andrew's mother belongs. 'NIRIN,' the biennial's initial press statement declares, 'is a world of endless interconnected centres; a space to gather and to share, to rejoice, disrupt, and re-imagine.' And don't we know about interconnected centres right now. Still, in linguistic terms nirin means 'edge'. And perhaps it's really the fact that much of the work on show deals with the marginalised peripheries of both mainstream geography and normative societies that links the output of the 100 or so local and international artists on show. Among them are current biennial mainstays, such as Anna Boghiguian, Arthur Jafa, Lawrence Abu Hamdan, Ibrahim Mahama and Zanele Muholi. ArtReview Asia is particularly looking forward to the contribution of Tlingit/Unangax̂ artist Nicholas Galanin, who will present a new work involving the excavation of the shadow cast by a statue of Captain Cook in Sydney's Hyde Park as well as his existing videowork 'Tsu Héidei Shugaxtutaan (We Will Again Open This Container of Wisdom That Has Been Left in Our Care), Part I and II (2006). And, once he's released from Tasmania, Tim will (possibly) be charging over to see Ainu artist and musician Mayunkiki's ongoing project that researches sinuye, which translates as 'to carve oneself' and is the name given to traditional Ainu tattooing practices, which were made illegal in 1872, when Westerners started arriving and Japan wanted to appear more civilised. That and the fact that Japan's rulers didn't care for the Ainu people's claim to indigeneity (a claim only fully acknowledged in law last year after centuries of repression and various attempts to obliterate their culture). The artists on show, Andrew states, 'will reflect on the world today, challenging dominant narratives and proposing exciting new futurisms and paths to healing'. And carving.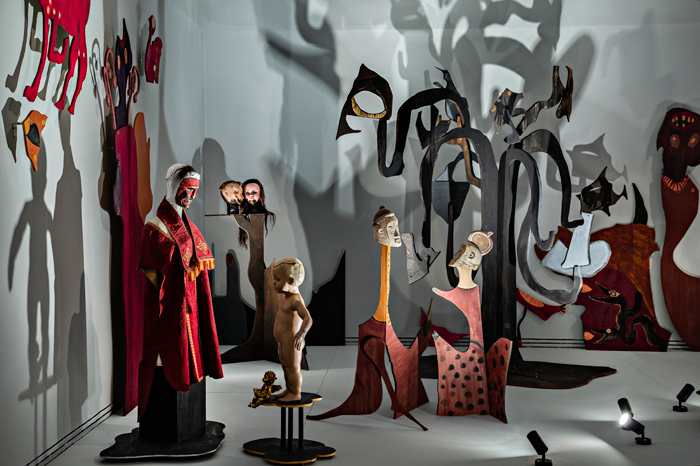 For those of you who've got biennial fever, the Adelaide Biennial of Contemporary Art is also up and running (make sure to check out the Art Gallery of South Australia's permanent collections while you're there). This one's titled Monster Theatres. Pointing out the roots of the first of those two words in the Latin words monere (to warn) and monstrare (to make visible), curator Leigh Robb states (firmly grasping the current fad for wilfully confusing curating with etymological studies), rather cryptically, that 'Monsters are especially revealing in contemporary Australian art practice because they are the embodiment of a cultural moment'. Horrible (from L. horribilis, from horrere). Artists ranging from Abdul Abdullah to Judith Wright will be putting that to the test. 'Their urgent works of art are warnings made manifest,' Robb adds, reliving a childhood experience of Hammer horror trailers no doubt.
These days it's generally accepted that art history as we have inherited it is something of a fantasy too. (Although given that history in general is always contingent – the production of the present rather than the past – you should be aware of that by now.) Whether that's because it's written by the conquerors of various cultures or more simply by men, it's always hiding something and pushing someone's agenda. That the agenda is that of a male someone is something that the National Gallery of Australia in Canberra is going to address in an exhibition titled Know My Name: Australian Women Artists 1900 to Now, which features 150 works by the artists in question. Embarrassingly, their names are too many to list here, but they include photographer and videomaker Tracey Moffatt, video artist Angelica Mesiti, performance artists Bonita Ely and Jill Orr, alongside Margaret Preston, Emily Kame Kngwarreye, Destiny Deacon and Julie Rrap. The project is part of an 'ongoing initiative' at the museum to 'increase the representation of artists who identify as women in its artistic program'. Embarrassingly, as the museum acknowledges, only 25 percent of its holdings of Australian art are made by women. Although perhaps the biggest problem with attempts to address such gender (and other) imbalances, is the way in which institutions around the world ultimately use them to talk about, to market or to rebrand themselves.
This is an excerpt from the Spring 2020 issue of ArtReview Asia