A sprawling archival show, 'Art-Thai-Time' at Bangkok Art & Culture Centre unpacks Italian sculptor Silpa Bhirasri's influence on Thai modern art
The grainy footage, playing on a small screen near the entrance, draws me in: Silpa Bhirasri – the Italian sculptor-for-hire almost universally credited as being the father of Thai modern art – is putting the finishing touches to one of the 18 propagandist monuments he made at the behest of the state. Still punctuating the Thai capital today, they range from relief sculptures venerating the Thai armed forces to a towering freestanding Buddha. But the one being worked on here was his bread and butter: a larger-than-life king. In the short video he inspects a statue that still dominates Bangkok's Wongwian Yai roundabout today: a sword-wielding, battle-ready King Taksin atop a muscular horse. In real time, we glimpse the work ethic – not only his grasp of classical artistry (Corrado Feroci, as he was named before he adopted Thai nationality in 1944, studied and taught in Florence) but also his eagerness to create something that ennobles and endures – that elevated Bhirasri to figurehead status in a foreign land.
Something of that dutiful attention to municipal detail also informs 'Bhirasri's vision for cultural infrastructure', dryly listed as bullet points on a text-heavy wall nearby. 'Create the art school'? Job done: Silpakorn University, founded by him in 1943, is still going. 'Create the National Exhibition of Art'? Job also done: since 1949, honourable jurors have handpicked winners across four stultifying categories (painting, sculpture, prints, mixed media). So far, so good, yet the main impetus for this sprawling archival show commemorating the centenary of Bhirasri's 1923 arrival in Siam is not the unalloyed successes of his multi-faceted vision, but rather the teething issues surrounding a still thorny aspect of it: 'Push for the first Public Art Gallery'.
Appearing near the bullet points is an illustrative quote from 1961, the year before his death, in which Bhirasri reprises his response to foreigners asking where Thailand's public art gallery is: '"Sorry, very sorry, but we have no gallery of modern art." The answer is so painful to anyone who understands the value of the query,' he lamented. Grounded by a whistlestop survey of Bhirasri's life and early-twentieth-century-Thailand's strategic cozying-up to the West, Art-Thai-Time traces how a clique of prominent patrons (nobility such as Princess Chumbhot and bankers such as Puey Ungphakorn) eventually quelled the pain by opening Bangkok's Bhirasri Institute of Modern Art (BIMA) – a sleek modern edifice designed by architect M.L. Tridhosyuth Devakul – in 1974.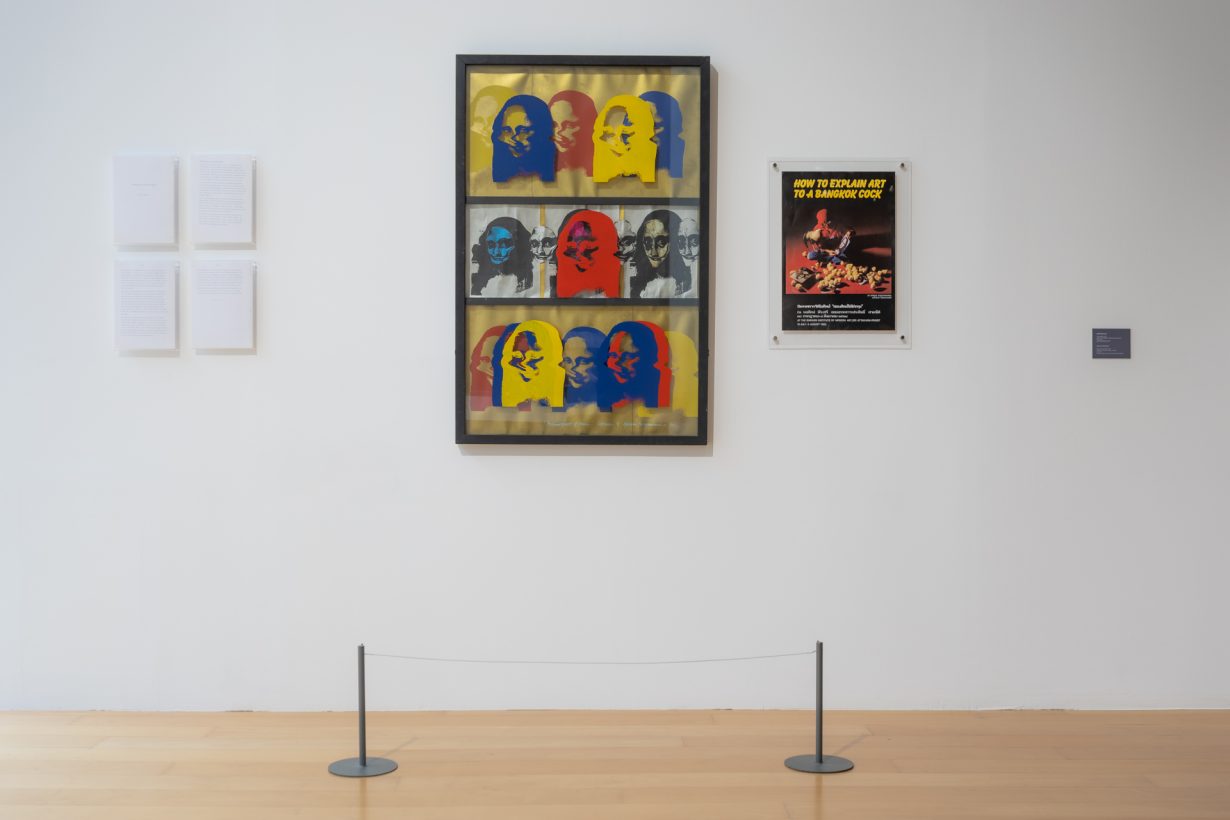 Funded through an unexplored web of public and private financing, BIMA's salad days were, if the art on display near a timeline of key events and archival displays is to be believed, disorienting. Two large abstract paintings flank a busy room in which lambent paintings of moonlit temple architecture, such as Viboon Purissutiron's Banyakard khong karm mued (Dark Atmosphere) (1978), vie for attention with semiabstractions such as Parinya Tantisuk's Pink (Self) (1981) – wherein a cheeky centipede emerges from the bottom of a graph paper-like grid – as well as agitprop woodcuts and cutouts populated with Soviet-style images of sickles, flags and clenched fists, courtesy of proto art-activist group the Artists' Front of Thailand.
A valiant attempt is made here to telegraph the advent of new modes of expression that represented a challenge or affront to old values (most glaringly, Bhirasri's own belief that modern art should exalt the Thai nation and its past), and to cement BIMA's legacy as a facilitator and catalyst in these turning points. This attempt plays out even more emphatically in the adjacent room: a mini-exhibition restaging works by Wethi-Samai, a folk-art collective spurred by sociopolitical activism and new media that used BIMA as a staging post during its short history. Exhibition copies of Vasan Sitthiket's fucking wood stick men and women (Making Love in the Crowd, 1985), among other works, join videos and a text explaining how Folk-Thai-Time (1986) was 'the first official conceptual art exhibit' in Thailand.
The spectre of selective revisionism looms, however. Surveying the rest of the show – peering at catalogues for recitals and watercolour com-petitions, surreal oil fantasias by princesses, photos of packed orchestra performances – I am led to conclude that BIMA's ambassador-friendly programming was only sporadically disrupted or challenged by the postmodern or collectivist likes of Wethi-Samai. A convincing case for BIMA's own progressive credentials is not convincingly made here: it appears to have been more wedded to the polite and decorous end of the art scene – as per Bhirasri's somewhat neutered idea of art – than its fringe.
These thoughts resonate with the current state of the host venue – the budget constrained civic battlefield where Bhirasri's 'Push for the first Public Art Gallery' continues. Modelled, according to the exhibition text, on BIMA's inter-disciplinary approach, the Bangkok Art & Culture Centre also came about after years of campaigning, and also appears most comfortable when staging modern art (retrospectives of national artists are what it's inhouse team arguably does best). While these and other parallels are not articulated, the natural question to infer is: where did BIMA go wrong and what can the BACC learn from its mistakes? The answers likely lie in the interplay of patrons, artists' networks and public, and building of a sense of ownership and community among them. Or, more accurately, BIMA's apparent failure in this regard: the timeline ends by stating that when its former CEO, Misiem Yipintsoi, died in 1988, it closed without an outcry.
Art-Thai-Time mimics this unceremonious train of events by ending about as abruptly and politely as BIMA did: with a wall of works of which Bhirasri would have approved, namely more tepid paintings of temple scenes and Fua Haripitak's 1962 oil portrait of the man himself. Arm cocked, hand on hip, the father of Thai modern art stares back at us expectantly, as if to say 'My vision is now in your hands' – yet also seemingly unaware that his dogmatic, pro-establishment teachings about art's role in Thai society may, somewhat ironically, have held that vision back.
'Art-Thai-Time': Bhirasri Institute of Modern Art Revisited at Bangkok Art & Culture Centre, through 20 August