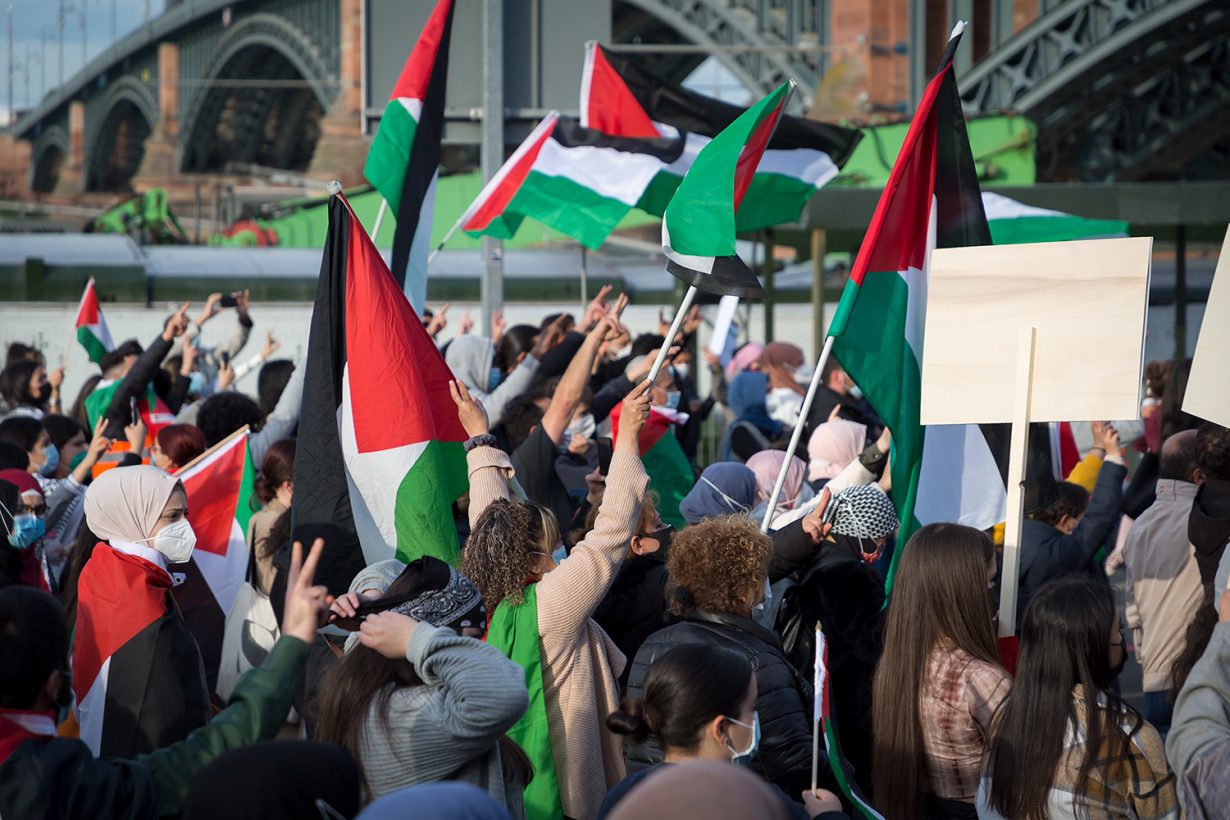 Dozens of Palestinian artists have published 'a letter against apartheid' protesting Israeli aggression against the territory and its citizens.
'Palestinians are being attacked and killed with impunity by Israeli soldiers and armed Israeli civilians who have been roaming the streets of Jerusalem, Lydda, Haifa, Jaffa and other cities chanting, "Death to Arabs." Several lynchings of unarmed and unprotected Palestinians have already taken place in the last two weeks. Families in the Jerusalem neighborhood of Sheikh Jarrah continue to face ethnic cleansing and displacement from their homes. These acts of murder, intimidation, and violent dispossession are protected, if not actively encouraged, by the Israeli government and police.'
The letter, which was signed by artists and writers including Rosalind Nashashibi, Ruanne Abou-Rahme, Shadi Habiballah and Selma Dabbagh also requested the international art world to join them in their protest. 'We call on activists, and especially our peers in the arts, to exercise their agency within their institutions and localities to support the Palestinian struggle for decolonization to the best of their ability. Israeli apartheid is sustained by international complicity, it is our collective responsibility to redress this harm.'
Alongside the Palestinian names, the likes of artists Cecilia Vicuna, Jimmie Durham, Amalia Ulman, Coco Fusco and Emory Douglas, and curator Adam Szymczyk, offered their support.
The letter was released as a group of British artists called on peers to boycott Israeli institutions. The #VisualArtsforPalestine campaign drew the support of joint Turner Prize winners Lawrence Abu Hamdan, Helen Cammock, Oscar Murillo and Tai Shani, as well as James Bridle, Oreet Ashery, John Smith and Jesse Darling among others. 'We support the principled call from Palestinian artists to refuse to exhibit with or sell to Israeli and international arts institutions that are complicit in Israel's human rights abuses.'
Shani, an Israeli citizen, added, 'The Palestinian people have the absolute right to our solidarity. In our world we use words like decolonise, and divestment, this needs to be put in urgent action. The BDS [Boycott, Divestment and Sanctions] movement is peaceful resistance to a never ending, unethical, oppression, one of the only strategies available to Palestinians is to apply the pressure of cultural boycott that can bring about change, in the way that it brought about the end of Apartheid in South Africa, I believe this is the least we can do as art workers.'
The website of the campaign takes particular issue with the Tel Aviv Museum of Art, which, its critics say, 'has never denounced apartheid nor endorsed Palestinan human rights under international law, including the rights of Palestinian refugees. The museum has also repeatedly partnered with multiple agencies of Israel's far-right government.'
Other private and public galleries which the artists have pledged to boycott include the Holon Design Museum, MOBY – Bat Yam Museum of Art, Haifa Museum, Beer Sheva Museum, Museum on the Seam, Ein Harod Art Museum, Ein Hod – Marcel Janco Museum, Herzilya Museum, Petah Tikva Museum, CCA Tel-Aviv, Artport Tel Aviv, Arad Contemporary Art Center, The Israeli Center for Digital Art, Pyramid – Artists Workshops Haifa, Artist House Jerusalem, Artists Residence Herzliya, Muslala, Barbur, Ha-Mifal, Artists Workshops Jerusalem, Dvir Gallery, Braverman Gallery, Gordon Gallery, Givon Gallery, Hezi Coehn Gallery, Kav 16 Gallery, Midrasha Art Gallery, Fresh Paint Art Fair and the Print Screen Festival.