Featuring Torkwase Dyson, Deana Lawson, Jaider Esbell, Anicka Yi, Anthea Hamilton, and London's alternative art spaces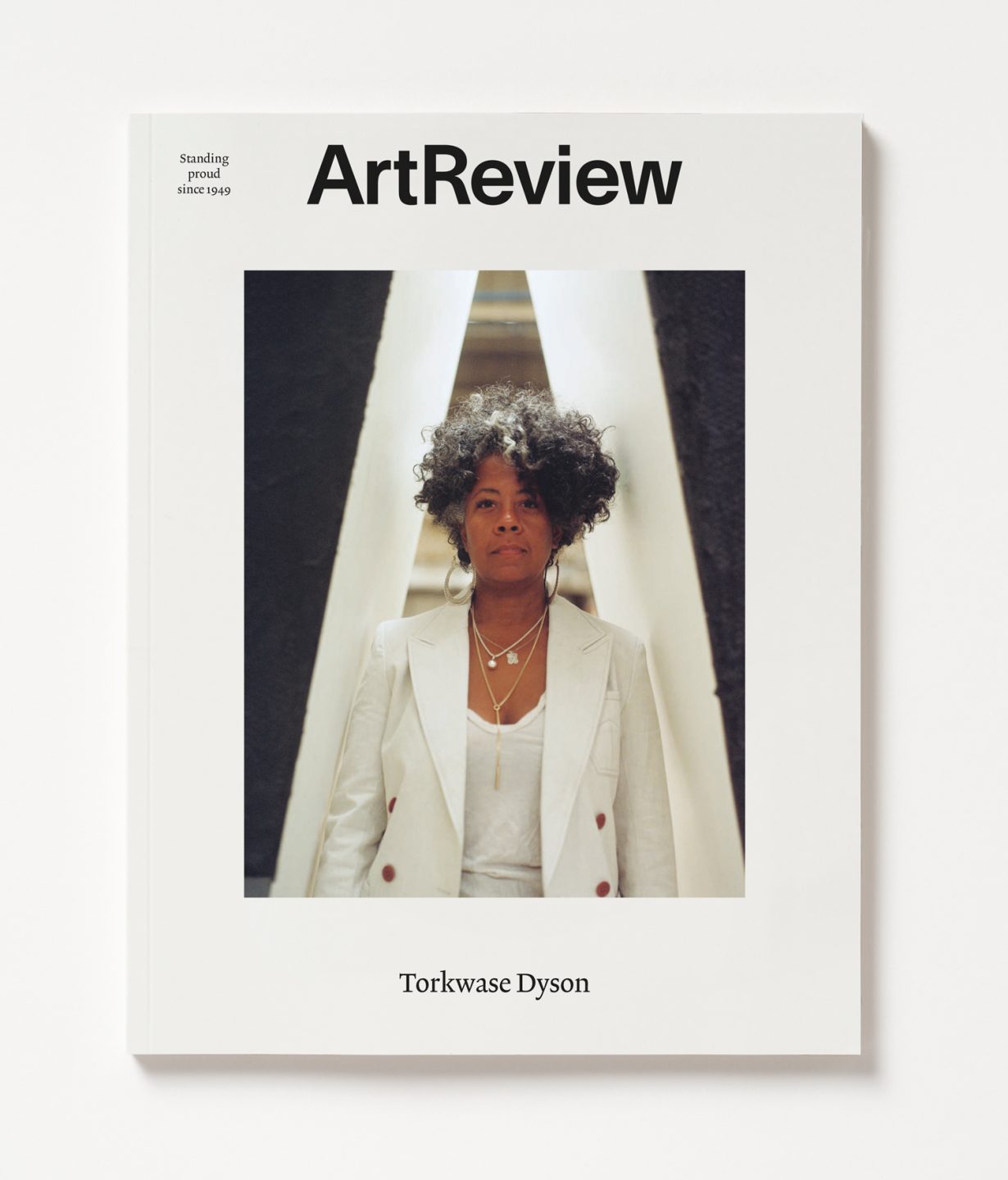 ArtReview's October issue is out now, with a focus on networks, collaborations, cosmologies and kinship: lessons in how to interact with the outside world.
Chris Fite-Wassilak considers the gradual disappearance of London's project spaces as a mode of exhibiting art, and the corresponding rise of dispersed, communal pop-up projects. 'London's "underground" is getting more diffuse, and more private', he writes, moving away from 'the postindustrial, squatting legacy-model of taking up physical space with group shows in massive crumbling warehouses or old shopfront locations.' If change is inevitable in a fast-paced environment increasingly shaped by private developments, it is important to acknowledge what's at stake for the city's art landscape. Indeed, Fite-Wassilak suggests, 'the point of project spaces is to challenge what gets shown, to widen the homogeneity and repetition that commercial galleries tend to lean towards, to rattle the assumptions that there is just one way to "artworld"'.
Collaboration as artistic practice features heavily in the work of Torkwase Dyson, profiled here by Mark Rappolt. For her exhibition in London in October, the New York-based artist has created a series of new largescale geometric sculptures that act as a sites of collaboration with dancers, poets, artists, curators, performers, musicians and academics (including Chicago-based DJ and producer Ron Trent, and musicians Gaika and Ase Manual, who are contributing to a limited-edition dubplate that accompanies the show). The show, Liquid a Place, forms part of her ongoing work of making connections between the Black diaspora, imagining a fluid common space for both sharing and resistance. 'And at a time when, post virus-enforced seclusion, we are both longing for physical encounters with artworks as discrete objects and refiguring our expectations of art as something that does something,' Rappolt writes, 'Dyson's work seems perfectly to fit the moment.'
Also in this issue…
Fi Churchman dives into the photographic work of Deana Lawson, which builds on the collective experiences of Black communities, be it in the US, Ghana, Ethiopia, the Democratic Republic of Congo, Jamaica or Haiti. 'Drawing from photographic genres such as studio photography, documentary, family photographs and the tableaux,' Churchman writes, 'Lawson's large-format colour work typically portrays members of her local community in Brooklyn, as well as strangers, in scenes that reflect on family, love, selfhood, beauty, pride and the Black aesthetic'.
Meanwhile, the Makuxi artist Jaider Esbell's intricate, colourful paintings are inspired by Makunaimî – both a god and an ancestor – as well as by conversations and collaborations with shamans who represent different peoples, confronting the environmental and social abuse of Makuxi land in the Roraima region of Brazil. Speaking to Oliver Basciano, Esbell describes his work as a form of pedagogical activism, or 'artivism', 'aimed at giving voice to his own indigenous group and others'.
That preoccupation of human relationships with nature, and how we might create a more symbiotic, rather than exploitative way of understanding the natural world around us is also addressed in the work of Anicka Yi, who is about to present this year's Tate Modern Hyundai Commission. Our presence here on Earth is pretty tenuous, as she asserts in her discussion with artist Gary Zhexi Zhang. 'I'm trying to be much more open to an absolute reality, versus the relative reality we concern ourselves with through culture,' she explains. 'And that is the value of science for me, in that it can tell me about something beyond my own relative reality.'
Plus
Artist, filmmaker and writer Stewart Home calls on the City of London to address its many racist and colonial memorials; Ben Eastham considers our individual entanglement with the environmental catastrophe we are facing when visiting a restaging of the 2019 Golden Lion-winning opera-performance Sun & Sea; while Stuart Munro attends a conference in Tokyo that explores the state of technology in relation to a sustainable future. And Ross Simonini talks to Anthea Hamilton as she prepares for a new exhibition in New York. 'I don't think in a sequential way, I want everything to happen at once,' she says.
And… reviews of major art events including the Bienal de São Paulo and Manchester International Festival, as well as city roundups taking you around Berlin's and Copenhagen's most interesting spaces.
***Click here to subscribe***