The annual ranking of the most influential people in the artworld; interviews with key figures including Ai Weiwei, Anna L. Tsing and Byung-Chul Han; a project by Bani Abidi; and more
The December 2021 issue of ArtReview features the 20th edition of the Power 100, its annual ranking of the most influential players in the artworld. As the world continues to roll with and occasionally stagger under the punches being thrown by the pandemic, this issue looks at the contingencies and continuities of an artworld that, along with everyone else, is working hard to pull itself back together without losing focus on issues raised by the traumas of the past two years.
Reflecting a year in which the NFTs have upended the art market, ERC-721, the specification for the 'non-fungible token' on the Ethereum blockchain, is number one on the list. It is followed by anthropologist and thinker Anna L. Tsing at number 2, and ruangrupa, the Indonesian collective organising the five-yearly Documenta exhibition in Kassel, at number 3. The full list is available online here.
While men are in the minority on this year's list, they permeate the issue and provide its cover image, as part of a version of Berlin-based Pakistani artist Bani Abidi's artwork The Reassuring Hand Gestures of Big Men, Small Men, All Men (2021), commissioned for this issue.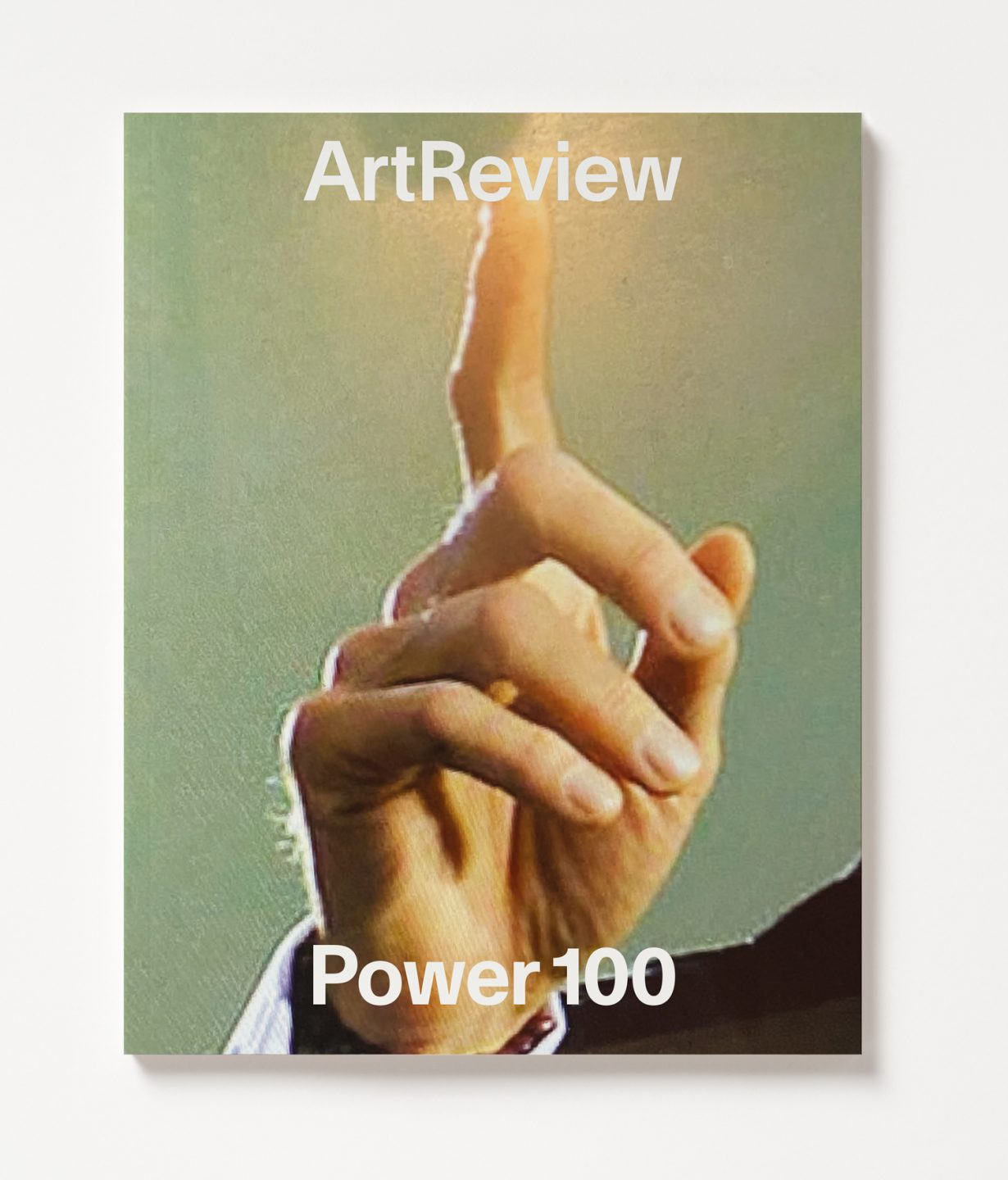 Also in this issue
Supplementing the list is a series of interviews with artists, thinkers and figures that look in depth at some of the key issues and ideas that have defined this past year: Anna L. Tsing, the anthropologist and cofounder of the collaborative curatorial platform Feral Atlas, offers new ways of imagining – and representing – our relationship to nature in the Anthropocene; philosopher Byung-Chul Han talks about how we might respond to a world of digital alienation; Ai Weiwei discusses his first memoir, which tells the story of China's political and social history over the last century through his own experiences and that of his father; Eyal Weizman looks back on a controversial year for Forensic Architecture, the collective of architects, artists, academics, lawyers and journalists investigating human-rights violations, and explain why aesthetics have everything to do with forensics; while Tokini Peterside, founder of Art X Lagos, talks about challenging traditional art fair models and the evolution of Lagos's art scene.
Plus
While the artworld's traditional geographies are being redefined, ArtReview asked critics and writers based in less well-trodden art centres to reflect on the past year. Written as diaries of sorts, they offer insights that are at once personal and political into the scenes of Beirut, New Dehli, Chicago, Minsk and Bangkok.
***Click here to subscribe***