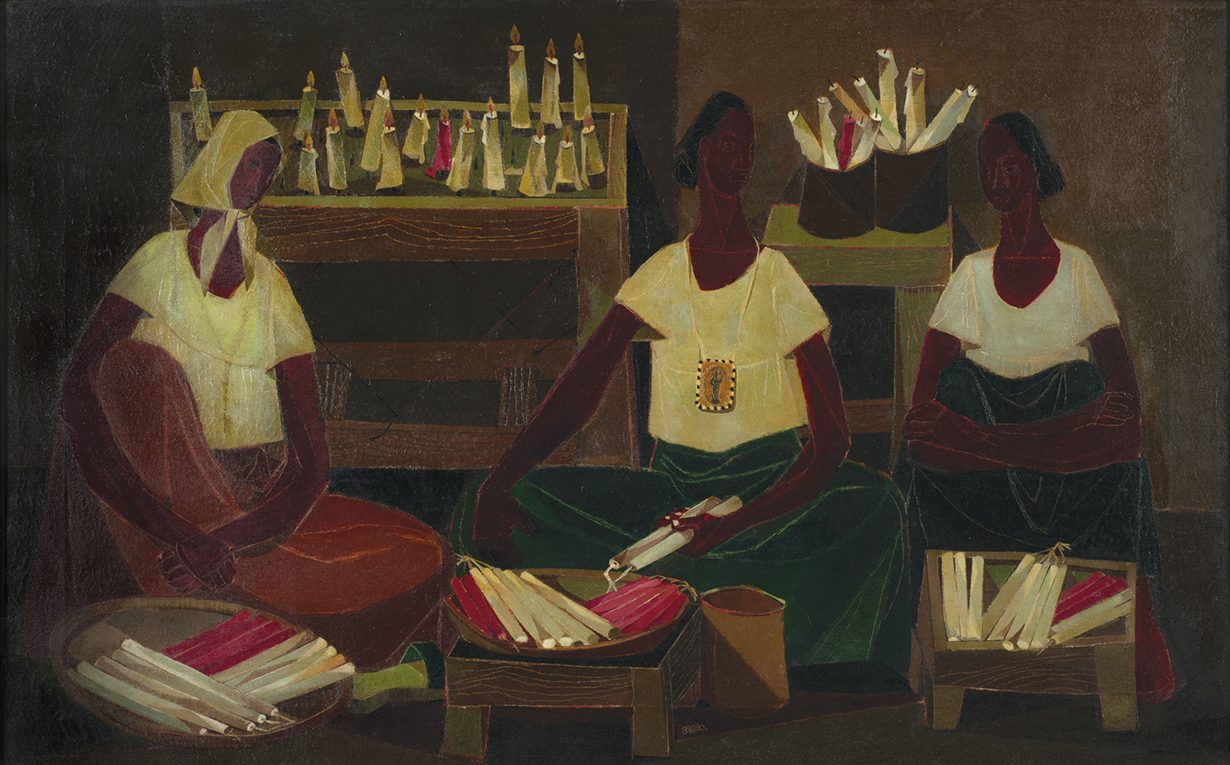 Working alongside a group of likeminded forward thinkers, Arturo Luz revolutionised art in the Philippines. A founder of the Neo-realist school, his work included painting, printmaking, sculpture and design. Luz, who died last week, went on to be a key figure in professionalising the country's art scene, including founding the Metropolitan Museum of Manila, where he was director for ten years from 1976.
The Neo-realists, who also included Vicente Manansala, Romeo Tabuena, HR Ocampo and Cesar Legaspi, came together in the early 1950s, just as Luz was embarking on his art career. Influenced by Fauvism, Cubism and other western modern movements they took the theory and fused it with a local sensibility, painting market and street scenes, and using local at materials. Jeepneys, the colourful local buses, were a favourite subject, as were the barong-barong, the makeshift dwellings of the country's poor.
Candle Vendors, an oil on canvas work completed in 1954, shows a man and two women sat crosslegged with their wares. Their bodies are angular, depicted in blocks of mooted colour. The figures in Bagong Taon (1952) are even more abstracted, the oil on lawanit work showing three sticklike characters all riding a single bicycle.
His work got progressively more abstract over time. Cyclist and Trumpeters (c. 1960s) is more geometric abstraction than figurative; his Desert series of paper collages from the 1990s are sparse colour plains.
Having studied at the School of Fine Arts at the University of Santo Tomas in Manila, as well as the Brooklyn Museum Art School in New York, and the Académie de la Grande Chaumiere in Paris, Luz's work was shown internationally, including at the 1962 International Art Salon in Saigon, the 1971 Bienal de São Paulo, the 1974 Tokyo International Print Biennial and the 1984 British International Print Biennale.
For many years he collaborated with architect Leandro Locsin, known for his brand of tropical Brutalism, on both buildings and public sculpture. A concrete totem by Luz stands as the centrepiece to the courtyard of Locsin's Philippine International Convention Center in Manila, built in 1976. The monumental work takes the form of dozens of further smaller sculptures the artist made in metal and wood.
As well as founding the Met, done so with the financial backing of Imelda Marcos, the disgraced First Lady of the Philippines, he also set up the Design Center of the Philippines, and the now-closed Museum of Philippine Art. In 1997, the Philippine government designated him a National Artist, the country's most prestigious cultural accolade.