When it comes to depicting India's underclass, politics is more important than aesthetics
A timely, well-made photograph has the potential to change society, and perhaps, in turn, the world. Or so M Palani Kumar used to think. Speaking over the phone from Chennai, Tamil Nadu, where he is based, the young photographer tells me that such illusions left him soon after Kakkoos – the critically acclaimed 2017 Tamil documentary (directed by Divya Bharathi) for which he was the cinematographer – was released. Denied certification by India's Central Board of Film Censors, Kakkoos (which means toilet in Tamil) was eventually released on YouTube and exposed the continuing existence of India's caste trap and societal apathy towards communities forced to do manual scavenging.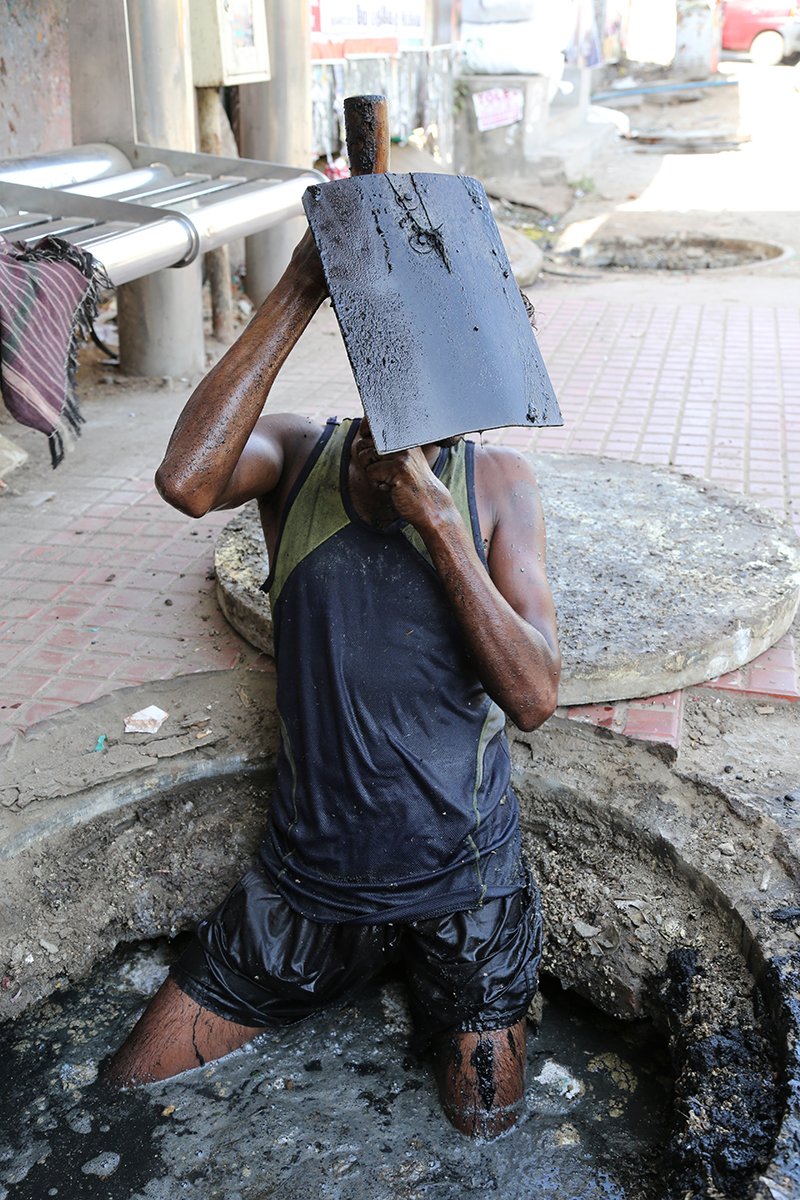 Manual scavengers are sanitation workers, and in the Indian context, 'manual scavenging' specifically refers to the practice of manually cleaning and disposing of human excreta from dry toilets. This inhuman job, allotted for decades to some of the most disadvantaged castes in the Indian society, has been illegal since 1993. But it continues unabated – supported by patriarchal practices and the oppressive caste system. While new technology has been developed to mechanically clean clogged sewers and drains, its prohibitive costs encourage civic contractors to instead hire manual labour that is extremely cheap in comparison. The workers that go in – nearly always without any protective gear – are exposed to sewer gas, a combination of hydrogen sulphide, carbon dioxide and methane, leading to severe health problems in the long term, or a quick death by asphyxiation on the job. More often than not, they are men in their twenties and thirties, and leave behind very young families. More often than not, the job passes on to wives, who, for lack of choice, are forced into the profession. Thanks to the stigma attached to families in such sanitation sectors, children rarely get higher education, and the vicious cycle continues, with them finding themselves as manual scavengers in adulthood.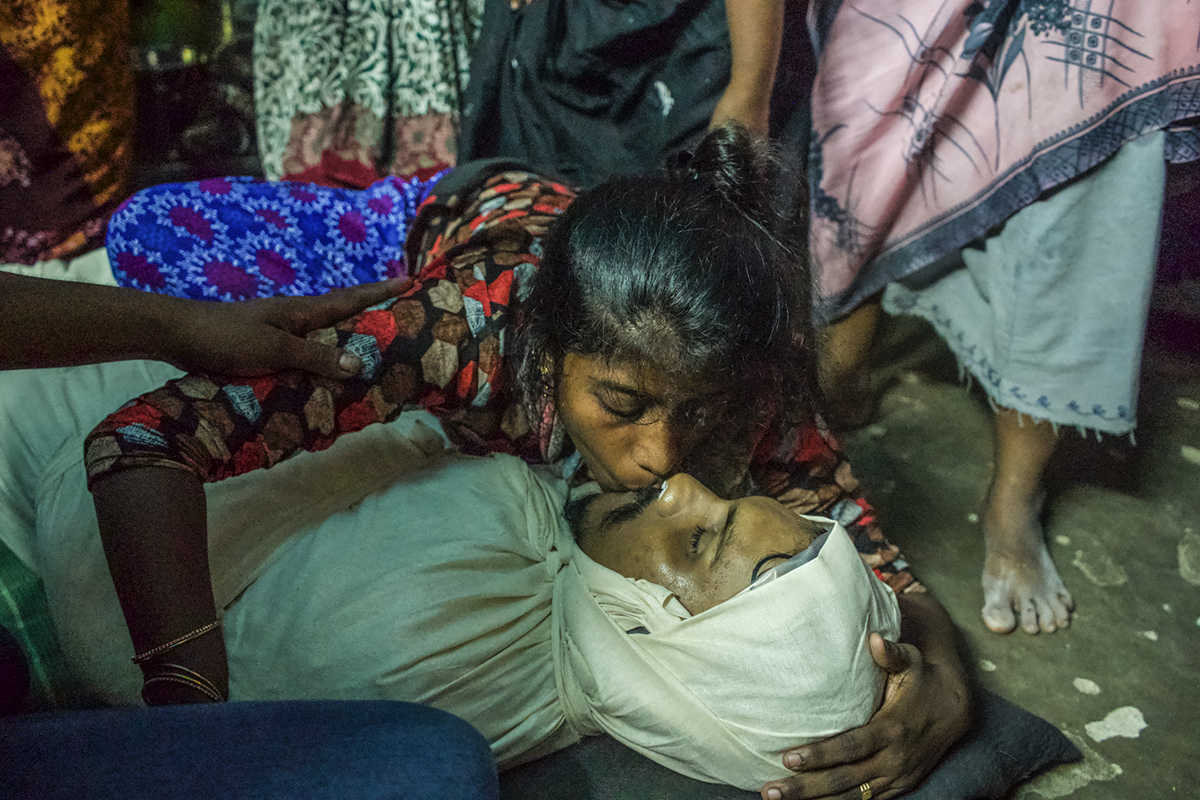 The film made big news in Kumar's South Indian home state, which, in turn, led to renewed calls to end this abuse of human rights. And yet, by the end of the week of the movie's launch, three more workers had died on the job (the film itself documents 27 fatalities), while its director reported receiving several death threats.
Even after the film's release, Kumar, however, could not let the subject matter go and continued to meet and photograph the families of manual scavengers, in order to maintain awareness of the ongoing abuse. The noxious combination of being from oppressed castes, the stigma attached to their work, the poverty and the invisibility accorded to their lives, ensures that this whole class of workers is erased from view, expunged from wider society. As if that might be in any doubt, one of Kumar's photographs shows a worker just out of the sewer taking a break, the black outpourings of the drains around him; passersby look away, and a girl holds a handkerchief to her nose to mask the stench. To be part of the sanitation world is to be avoided and erased by the eyes and histories of those who, ultimately, reap its benefits in their own clean living.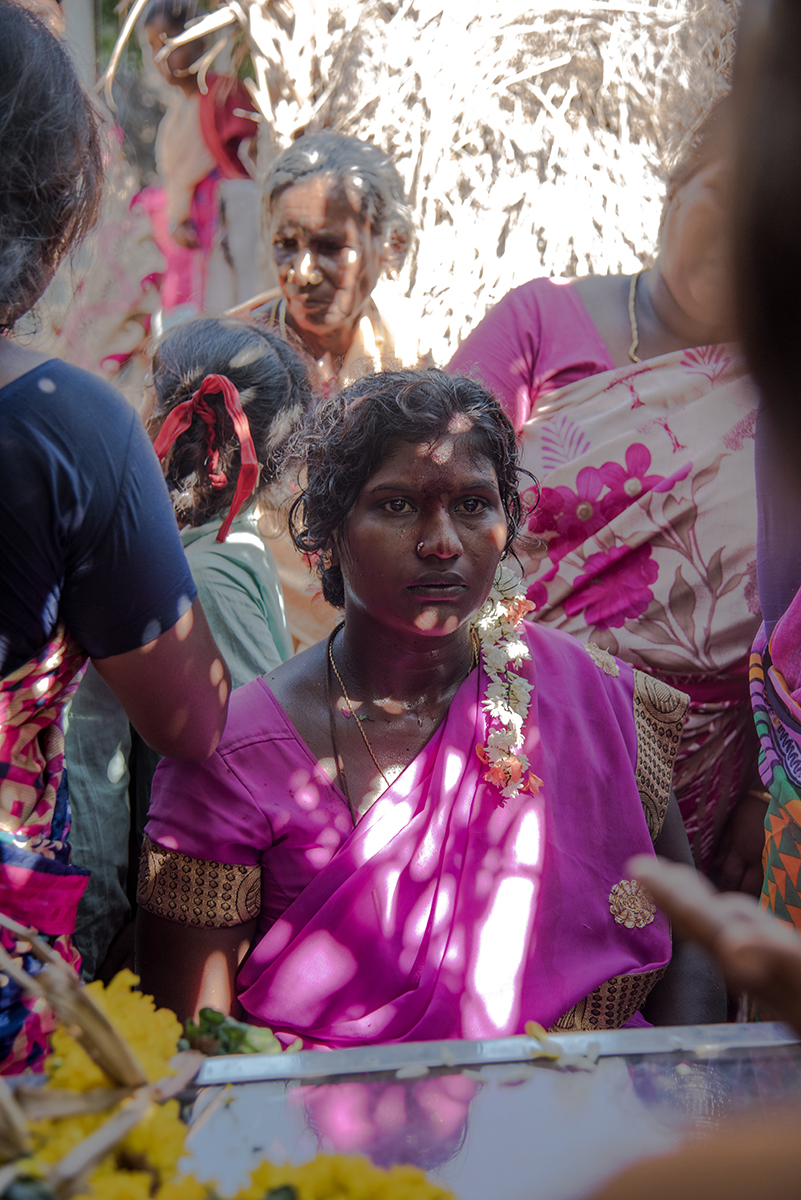 It is only in death that the presence of manual scavengers is registered, their numbers added to and buried in a national statistic. Kumar's photos, in showing them as members of families – as siblings, parents, children and friends of fellow human beings – restore them the dignity, the respect and a participation in public consciousness that has always been denied to them.
Questions of who sees what, how and why are urgent, especially in the context of the hyperconsumption of images to which we are now accustomed. There is a thin line between dignity and voyeurism in photography, between documentation and unnecessary intrusion, between the demand for privacy and the active need for social journalism. These politics of choice and the ethics of seeing are constantly present in Kumar's work.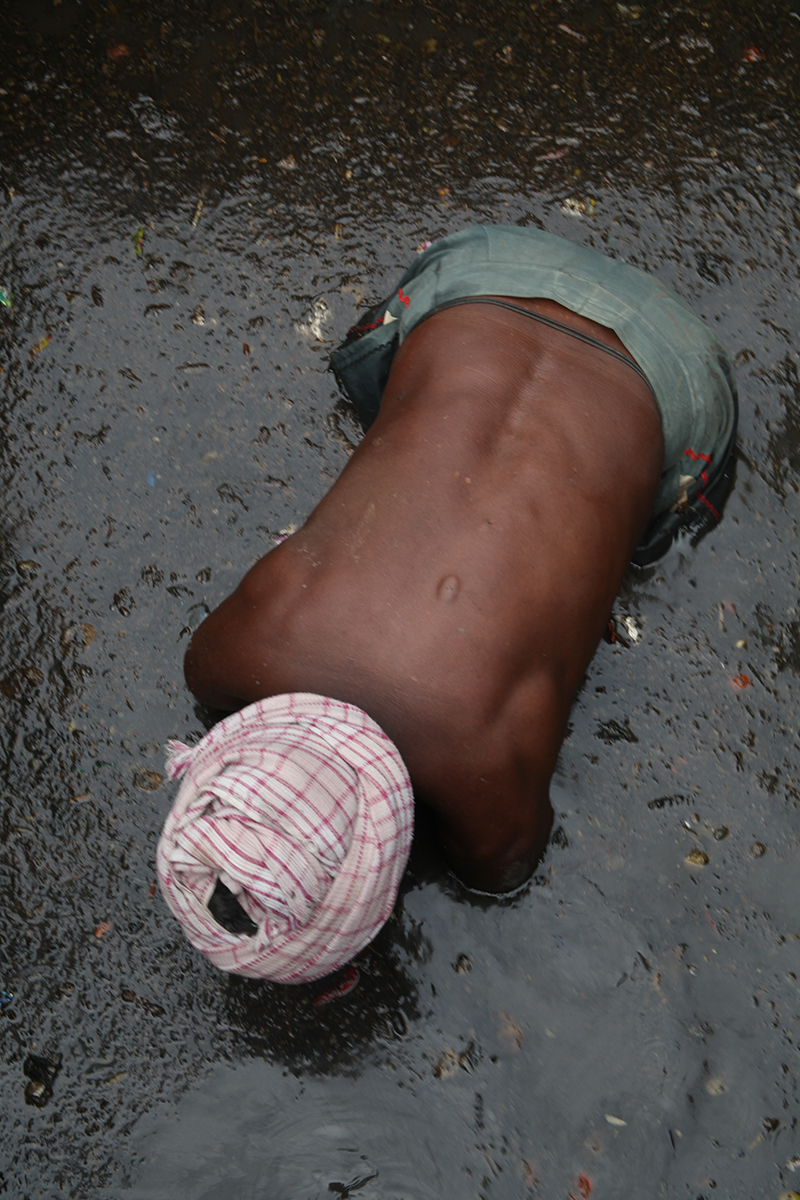 Death is a daily routine in the lives of manual scavengers, Kumar told me. The children left behind by those who die from inhaling poison inside sewers are what bother him the most, a preoccupation that led to a series on the children of manual scavengers. The photos are haunting; the children's eyes ask questions that require deep reflections by a society that refuses to see them. "How to look at these children is a constant problem for me. I've seen a lot of deaths – a small child looking into the coffin carrying her father's body, a child unable to explain how the father died when schoolmates come to pay condolences. A lot of people keep the nature of their jobs secret from even their own families because of the shame involved," Kumar says. This secrecy makes it necessary for him to focus his lens on feet, on hands covered in plastic covers (the only protective gear available), on turned backs.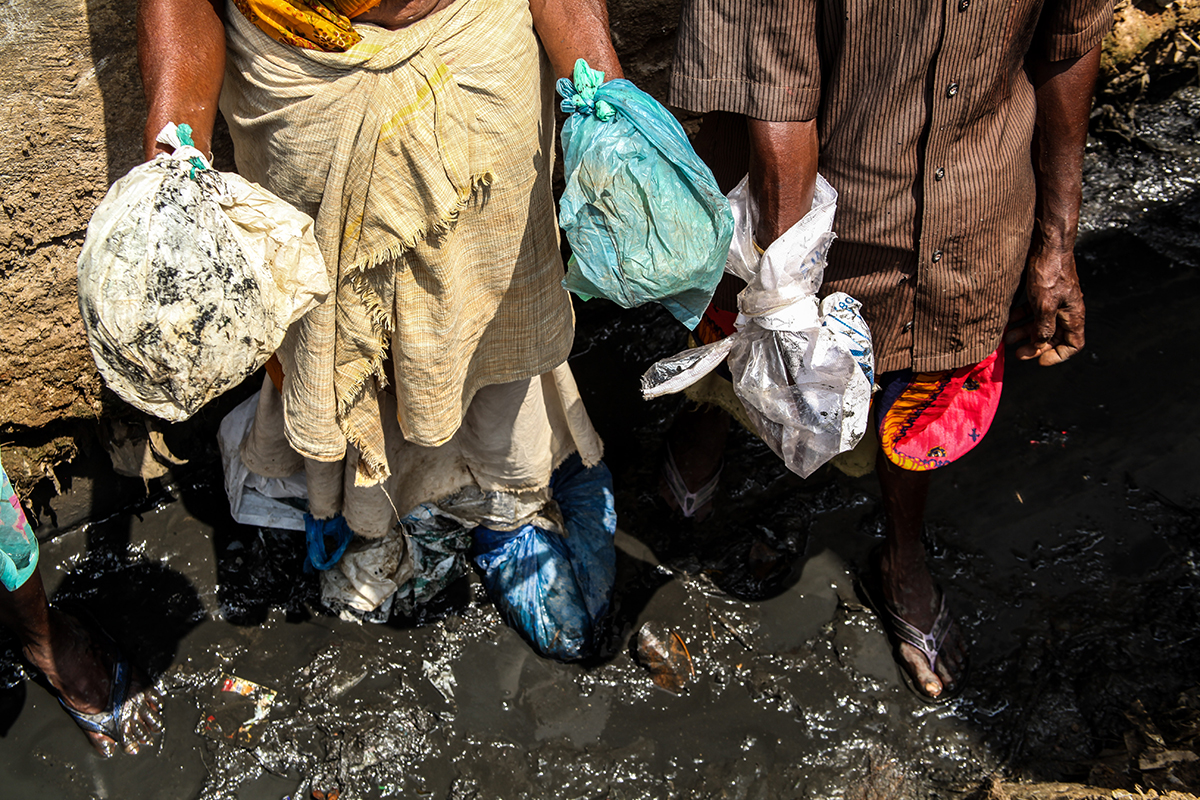 There are also images of naked grief. The most moving picture in the series is that of a young woman named Suganya cradling the body of her husband, Arunkumar, and placing a tender kiss on his lips, one last time. His body is swaddled; a hand comes into the frame, perhaps pulling Suganya away, perhaps consoling her. Several sets of feet stand in the crowded background. Arunkumar died late last year aged twenty-four while trying to bring his unconscious brother out of a manhole that the latter had gone into to clean. He and Suganya had been together since he was sixteen and she fourteen. They had a daughter, seven months old when he died.
The death of a manual scavenger follows a protocol: the body is pulled out and displayed for hungry media cameras, then taken to a local hospital for postmortem; the death is registered and the body is handed over to families. Burials are often in sequestered nooks, for the names of the dead are not allowed to be seen in most graveyards, such is the stigma attached to the role they performed when alive. Compensation is sometimes promised to families, but more often than not, it never materialises. The community, an integral part of Kumar's work, takes over, folding the bereaved families into itself. His sensitivity in capturing this solidarity, the feeling of a community mourning every death and nurturing its own society, is poignant; death is never a number for them, it is a husband, a father, a relationship lost. The dead are not just bodies, they are not manual scavengers, but citizens of social structures, contributors to what makes a country, its people.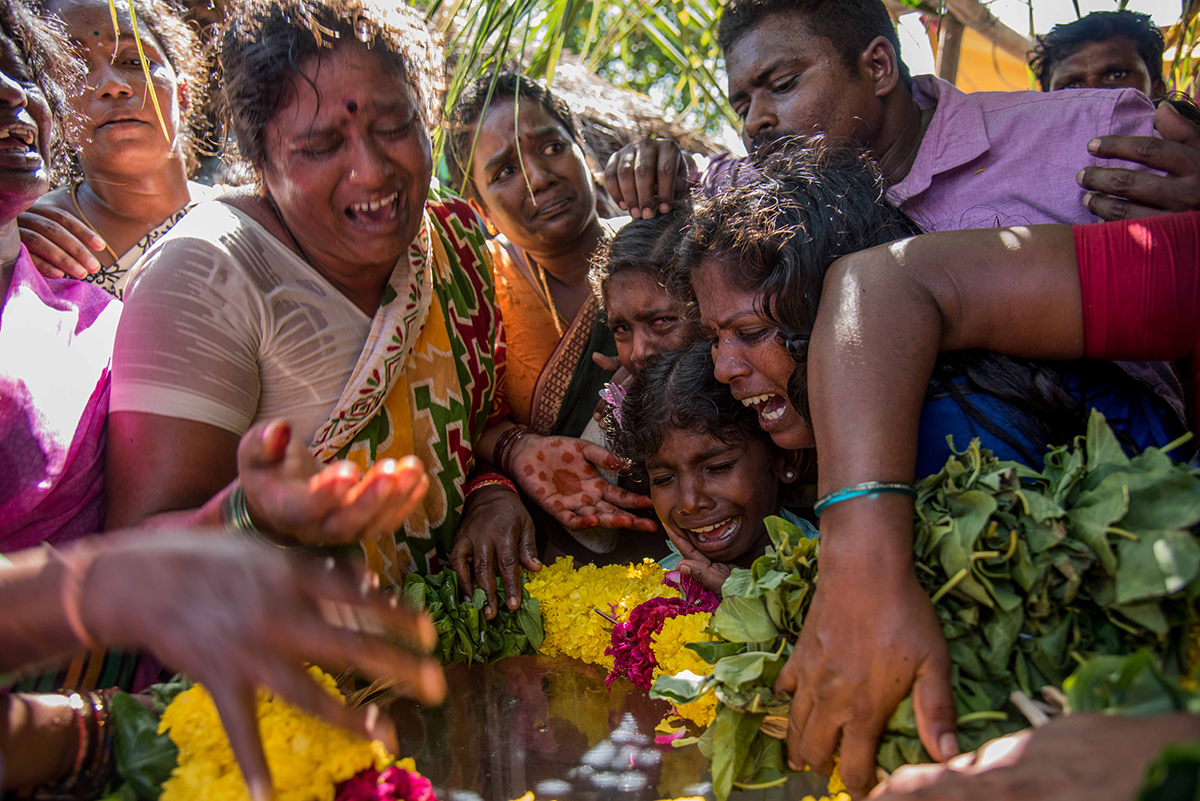 This humanising of essential workers who have always been relegated to back doors and dark hours is what makes Kumar's photographs stand out. The son of fishmongers, he studied to be an engineer because that was his mother's one great wish. Politics, not aesthetics, took him to art. He is an insider in the grief of the families he photographs because they are not just a subject. "Talking to them, sitting next to them, sharing a cup of tea with them, these are very important to them," he tells me. To do so is transgressive, because not sharing physical space, not considering them deserving of touch, of camaraderie, are among the first rules of the caste system.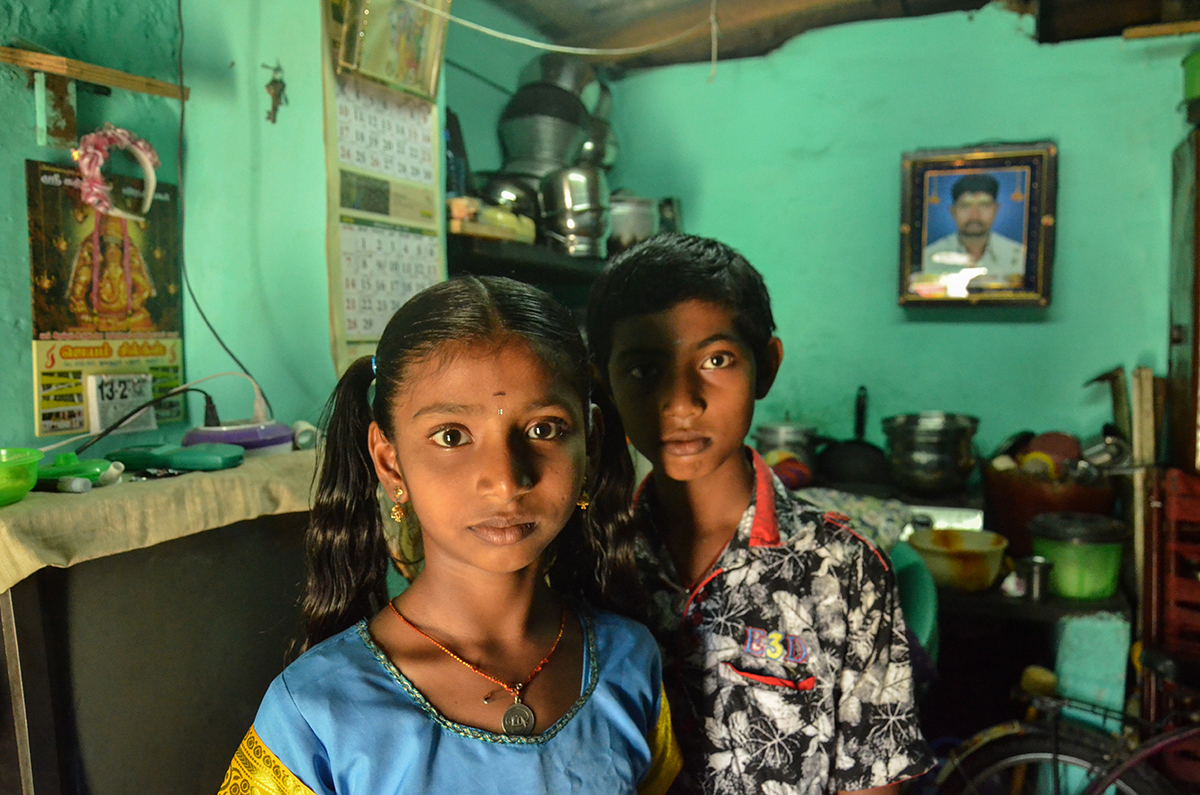 He has been using the photos he has taken as pedagogical tools to raise awareness in schools. He plans to stay with the community, but in the future to document life away from their work and its often tragic consequences, instead showing how communities engaged in manual scavenging celebrate festivals, the food they eat, how they live when not grieving the dead. Teaching the children of these workers to take pictures – "How would they see their parents beyond their jobs?" – is another work in progress.
There is no 'final photograph', Susan Sontag wrote in 'Photography: A Little Summa' (2003). Similarly, the caste system that actively enables a human rights abuse like manual scavenging is not about to suddenly undo itself on the basis of a moving photograph, no matter how moving it is. Such change can only be the result of constant work, not a single definitive image. But by giving manual scavengers and their families faces, by telling their very human stories with respect and ensuring their dignity remains intact, Kumar's work at least brings them into the social fold.
All images courtesy and © M. Palani Kumar