In Livin' Loud by Chuck D, drawn and painted works reveals the rapper's tender and nostalgic world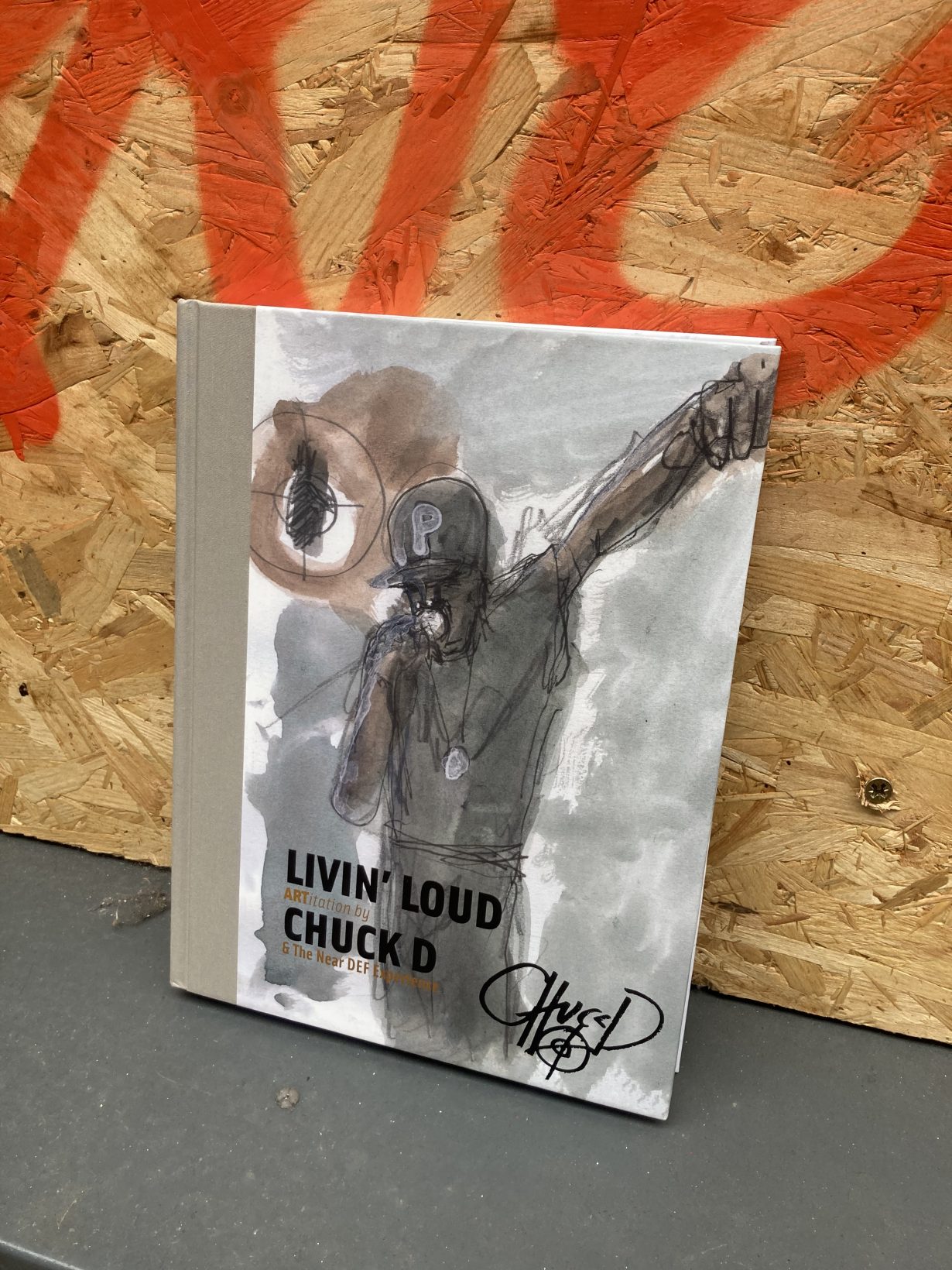 Thirty-six years on from Public Enemy's debut album, the rap pioneers' frontman Chuck D might appear increasingly to be in legacy mode; winding-down mode, almost. His band is in the Rock & Roll Hall of Fame; he recently presented a history of hip-hop on the BBC. Now he's inviting us to see his sketches. Livin' Loud: ARTitation, a coffeetable book whose punning, brow-furrowing subtitle clearly flowed from the same pen as album titles like Muse Sick-n-Hour Mess Age (1994), showcases approximately 250 examples of his predominantly greyscale pen-and-wash art, accompanied by enough annotation and reminiscing to constitute a compact autobiography, though also enough polemic to situate it in the present. This is the sort of enterprise that accumulates through downtime on the road, in sketchpads and notepads; in his introduction, Rage Against the Machine's guitarist Tom Morello, who performed with D in the rap-rock 'supergroup' Prophets of Rage, notes that he saw his bandmate drawing every day on tour. Morello's not-entirely-unbiased assertion that Chuck D is 'as gifted a visual artist as he is a microphone master' turns out to be pushing it somewhat, but he's fluent and Livin' Loud is additionally a multidirectional surprise, riding not only on political consciousness and Black pride but also qualities one might not immediately expect from this famously stentorian rapper, not least intimacy, tenderness and nostalgia.
Before forming Public Enemy in 1985 at twenty-five, the erstwhile Carlton Ridenhour studied to be a commercial artist. (He'd later design the band's iconic gunsight logo, of which he notes that 'my influence was what Iron Maiden were doing, what the Rolling Stones were doing with their tongue'.) Before that, he grew up on Long Island, obsessed with the New York Knicks and Motown – though to judge from this book's opening salvo of musician portraits painted in a confident, appealingly scribbly hand, he had his ears wide open: to Nina Simone, free-jazzer Archie Shepp, blues meister Taj Mahal and hobo folkie Woody Guthrie. (The man who famously rapped that "Elvis was a hero to most/but he never meant shit to me" allows that Presley, who doesn't get a portrait, was 'a gamechanger'.) The approximately chronological Livin' Loud hits its stride, naturally, when it reaches the goldenage hip-hop era, with quick-draw portraits – from photographs, most likely – of artists ranging from turntablist pioneer DJ Kool Herc to a brattish and slumped Beastie Boys and, of course, Public Enemy themselves: Chuck's longtime compatriot/foil Flavor Flav, who's been somewhat off. the rails lately, is painted small. Writing alongside his sketches, D laments the decline of collectives in hip-hop, recounts recording sessions with Ice Cube et al and reminisces about Prince holding garage sales and, in the studio, 'tossing tape around like a chef'.
As the book progresses, its author weighs in increasingly on latter-day societal ills. He paints a frazzled-looking Trump, a rifle sight hovering by his jawline, and compares him to a haunted house, terrifying but tempting to voters. He draws digital shut-ins ringed by screens and, ready with the wordplay as usual, calls social media 'when "the masses" get transformed into "them asses". He drags 'Citizen Kanye'. Livin' Loud is a sufficiently loose and inclusive project that, not far away from this, D is ruminating on – and sketching – a nice bit of cityscape he found in Oslo. But all of this seems in the service of giving a rounded portrait of its author: working musician, political orator, visibly grateful to those who inspired him and people he's worked with, in some ways mellower than the firebrand listeners first encountered during the late 1980s, in other ways remarkably unchanged. As such, this book is differentiated somewhat from the hobbyist daubs of so many ageing, bored musicians: one suspects that Chuck D views everything from rapping to writing and drawing along the axis of communication, and Livin' Loud arguably communicates more than any Public Enemy album has in recent years.
Livin' Loud: ARTitation by Chuck D. Genesis Publications, £35 (hardcover).