At National Gallery Singapore, artists probe sensitive subjects under a state-managed image of a harmonious, multi-ethnic society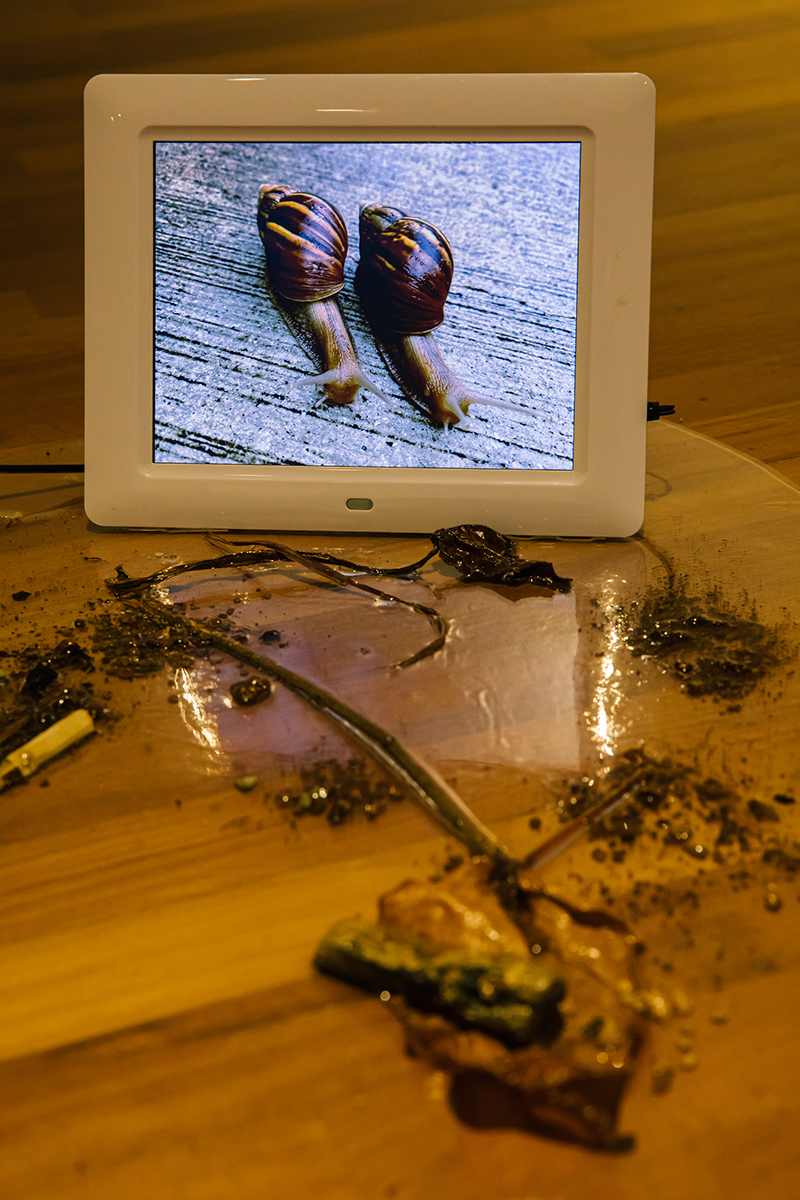 Five brown women have taken over National Gallery Singapore (NGS). In front of a Raden Saleh painting of animals escaping from a forest fire, they recite excerpts from Frank Swettenham's The Real Malay (1899), one of the foundational colonial British texts responsible for the myth of the 'lazy Malay'. (Typical excerpt: 'The leading characteristics of the Malay of every class is a disinclination to work'.) The women perform a slow exorcism of this racial malevolence. They pray, sing, ride barefoot on the escalators. They perform in front of paintings of Malay people. The performance ends with the actors speaking about declaiming the land, unfencing the beaches and freeing the seas – an allusion to the stateless seafaring people who were native to this land.
This videowork, Sekali Lagi! ('Once Again!'), by transgender Malay artist nor, is part of the group show An Exercise of Meaning in a Glitch Season. Its earnest explorations of racial identity form one of the exhibition's thrusts: the questioning of structures of power and privilege. As exhibitions in NGS go, this is edgy stuff. The institution showcases modern Southeast Asian art, but is less keen on cultural activism, shyly acknowledging the presence of empire in art history but never actually passing judgment. No such restraint in Sekali Lagi! Scolding, at times smacking of an amateur drama troupe's efforts, it's not the most nuanced work. But it at least attempts to start a timely conversation about decolonising the museum, as well as the issue of race, which remains sensitive under Singapore's state-managed image of harmonious, multi-ethnic society.
An Exercise…, curated by Syaheedah Iskandar, is one of two guest shows hosted by NGS during the COVID-19 pandemic to show solidarity with the local art scene (and fill the programming gap from the cancelled Matisse/Picasso and Nam June Paik blockbusters). The other, which we'll come to shortly, is Time Passes, curated by Samantha Yap for Singapore Art Museum, which is currently under renovation. Both exhibitions reflect on the public health crisis – how to get through it, and what must change for the better – and feature young artists in their twenties and thirties. An Exercise is more stridently issue-led, inviting us, according to exhibition materials, to imagine new ways of building 'a more humane future'. Racial justice, of course, plays a 'corrective' role in this project – eight out of the ten artists included are from ethnic minorities in majority-Chinese Singapore – as do our relationships to nonhuman species, technology and capitalism. There are 3D-modelled bodies rendered with data-moshing techniques to reimagine brownness (Priyageetha Dia, Long Live the New Flesh; all works but one, 2020), music made with plants by translating their biodata into sound (Tini Aliman, Pokoknya: Organic Cancellation) and a critique of unbridled consumerism via a collage of 1990s advertisements (Clara Lim, 3 GHz).
Because this is a 'woke' exhibition held in a relatively conservative space, the curatorial intention is commendable. Unfortunately, the artworks do not work as hard as their captions, which namecheck a host of trendy artworld concepts like techno-animism and interspecies communication in conscientious self-narration and -justification. The art just sort of shows up, engaging dutifully with the urgencies described, but thinly, as exposition. Syaheedah says in the curatorial statement that many of the works are 'local articulations that mirror the many undercurrents the world is grappling with in light of this pandemic'. The flipside is that they also feel like diluted or undercooked versions of art seen elsewhere. This could be due to the quick production timeline: an exhibition put together relatively quickly, showcasing new art, might not be the place for artists to deliver their best work.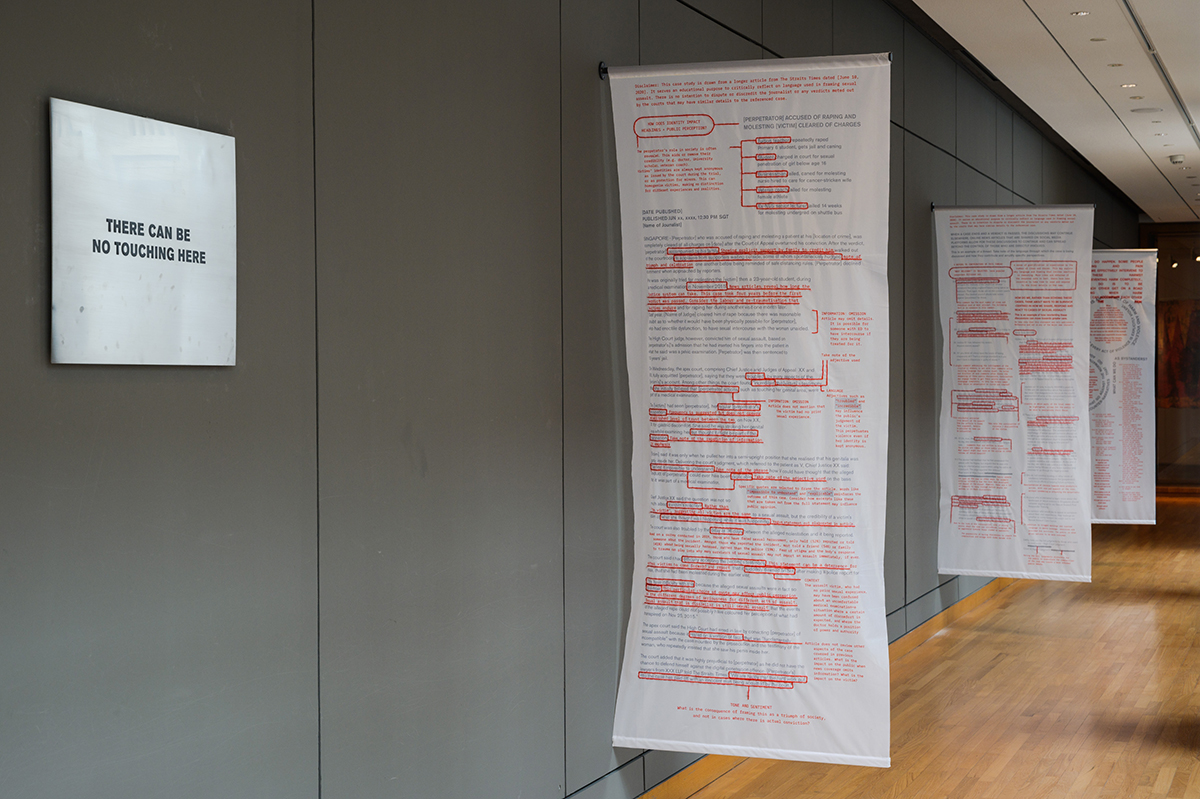 Meanwhile, Time Passes, as its title suggests, is the more languid show. It is inspired by the middle section of Virginia Woolf 's To the Lighthouse (1927), where ten years were encapsulated in that one phrase. During this time- bending pandemic, where time seems to have come to a standstill, the protofeminist idea of artmaking as an act of care – towards things, oneself and others – is a recurring theme. So you have a fictional reiki healing centre (Divaagar, Render Tender); an artist documenting her removal of snails from harm's way (Yeyoon Avis Ann, Passage Moist Beings) and flowers placed at sites of hostile architecture, such as dividers on benches to prevent the homeless from lying down (Diana Rahim, Interventions).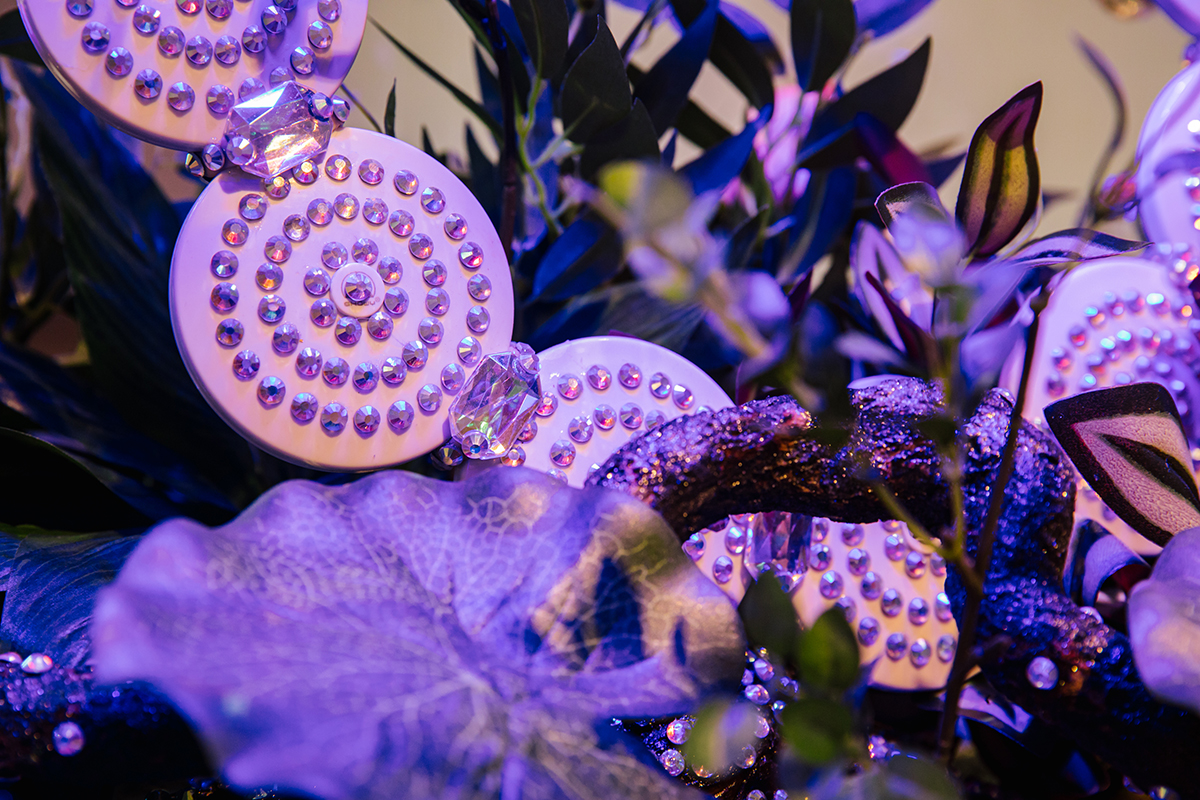 More compelling are the artworks that make strenuous efforts of forming new worlds out of the pieces of this broken one. In his Frame(works) (2019) series of sculptures, Victor Paul Brang Tun takes apart an old rattan chair and creates new things out of it. The dismantled legs are turned into curved minimalist pipelike forms, then framed on the wall; the webbing from its seat is transformed into a small basket; and some of the cane gets bent into U-shapes and stuck back into drilled holes in a branch, forming some kind of new plant with handles. The economy with which these pieces have been recomposed, compared to the wastefulness of so much artmaking, is graceful and touching.
Another type of reassembly takes place in Khairullah Rahim's installation Rendezvous, a fabulous, impossible aquarium. In it are showerheads joined into a crown, plastic plants and silvery rhinestones studded on leaves and twigs. With remarkable compression, this aquascape exudes a powerful nighttime, subcultural energy: the shower roses suggest the public bathroom – that classic gay cruising spot – and the bedazzlement evokes 'stoning', where drag queens stick rhinestones on everything to stand out. Not to mention that 'fish tank' is slang for a type of brothel that displays women in glass cases.
Seriousness is the default mode during the COVID-19 era, and both exhibitions are generally weighed down by this sense of necessary propriety. In this sense Rahim's Rendezvous is a breath of fresh air. Made up of coded objects, it celebrates something easily forgotten in the pandemic: pleasure.
An Exercise of Meaning in a Glitch Season and Time Passes are on view at National Gallery Singapore until 21 February 2021